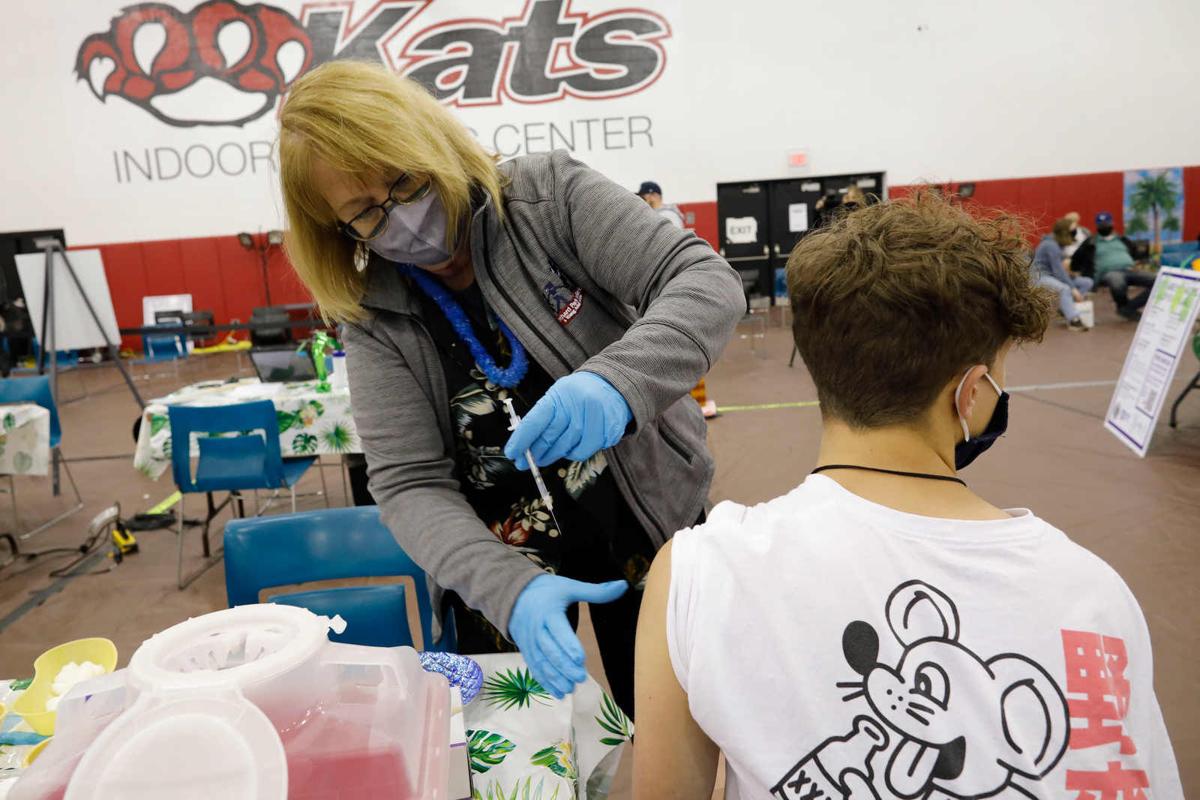 Erie Community College is among a handful of community colleges across the state struggling to make sure students comply with a State University of New York vaccine mandate that took effect earlier this week.
About 1,000, or less than 2%, of the 51,000 students attending public colleges and universities in Western New York have yet to submit proof that they are fully vaccinated, and most of them are enrolled at ECC.
"At this point, we have approximately 658 on-campus students who have not reported a vaccination status. We are currently working with those students to update their vaccination status, or look at other alternatives for them," said ECC spokeswoman Paula Sandy.
Nearly 88% of ECC students who attend classes in person were vaccinated so far. A total of 135 ECC students have received exemptions.
Across the SUNY system, which includes 64 campuses statewide, the student vaccination rate was 98%, with 6,529 students not in compliance.
SUNY had set Sept. 27 as the deadline for students to be fully vaccinated. Most campuses are now giving students 10 more days to comply.
"We don't want to punish students. This is not, 'Gotcha!' This is not, 'You missed a deadline and therefore you're going to be thrown out of school,' " SUNY Chancellor Jim Malatras said in an interview with The Buffalo News. 
ECC's student vaccination rate was much higher than the rate for the general population in Erie County, but it lags rates reported by the University at Buffalo, SUNY Buffalo State College and SUNY Fredonia. Niagara County Community College had a rate of 94%, with 78 exemptions.
SUNY officials said parts of Erie County are among several "very high resistance pockets" in the state that have led to lackluster vaccine rates at some community colleges, especially when compared with four-year colleges and universities, most of which have compliance rates above 98%.
"There are parts of the state where you see higher (vaccine) resistance. Suffolk County, in particular – parts of Erie County – are very high resistance pockets," said Valerie Dent, SUNY's deputy chief operating officer.
Statewide, of the 250,000 SUNY students who attend classes in person, 6,529 were at risk of being de-registered from those classes because they had not submitted proof of vaccination or had not received a medical or religious exemption as of Friday, according to SUNY spokeswoman Holly Liapis.
About half of the noncompliant students were concentrated at eight community colleges across the state.
"It's largely a commuter school problem because most of our residential students had the vaccine mandate prior to the official mandate," Malatras said.
Many students at community colleges attend part time while holding down jobs and do not live on campus.
ECC President William Reuter acknowledged that there were "still some challenges" with getting more students to comply with the mandate, especially when compared with a four-year campus such as UB, which had 99% compliance a month ago.
UB officials said just seven of the 28,988 students enrolled this semester are being de-registered for noncompliance. About 550 students were granted exemptions, mostly on religious grounds.
"We're a different type of student, a commuter school. We don't have housing. We don't have robust athletic teams. Those are all reasons why their numbers are so high," said Reuter.
Sandy also pointed out that ECC started its fall classes a week or two later than most other colleges and universities in the region, giving administrators a shorter window to gather student information.
About 82% of ECC staff were vaccinated, according to Mark Pacholec, interim associate vice president of college safety and security. 
Colleges will work with vaccinated students to make sure they submit the proper paperwork, he said. And vaccines are still being offered on campus for anyone who hasn't received them, Malatras said. 
Students who can't get the one-shot Johnson & Johnson vaccine within 10 days but receive the first dose of the two-shot Moderna or Pfizer regimens in that time will not be de-registered, even though they won't be fully vaccinated for several more weeks, Malatras said. They will have to be tested weekly and observe other precautions while on campus until they are fully vaccinated.
Malatras said the SUNY student vaccination rate statewide shows that students were eager to have a traditional college experience again.
"People want their campuses to be open. Students want to be back. Students want to go to a UB football game. Students at Fredonia want to go to a musical event where they can see their colleagues perform. Students want to be able to gather on campus," said Malatras. "So the motivating factor and force has overwhelmed any sort of negativity towards the vaccine, which ends up turning the page on Covid."
In Western New York, SUNY Fredonia had a student vaccination rate of 97%, with 3% of students getting exemptions, President Stephen H. Kolison Jr. said in a campus email Thursday afternoon.
"It indicates how seriously SUNY Fredonia students take this pandemic, and how much they desire to be in class and succeed academically," said Kolison.
At SUNY Buffalo State, 75 students had not yet complied with the vaccine mandate, while 173 received a medical or religious exemption, according to college spokesman Jerod T. Dahlgren. The college has about 6,616 undergraduate and graduate students on campus this fall.
SUNY Alfred reported that 166 of 2,943 students on campus this semester received a vaccine exemption and none of its students were out of compliance with the SUNY vaccine mandate.
Most SUNY institutions also require mask-wearing indoors for students. SUNY reported 616 Covid cases systemwide over the past 14 days, with a test positivity rate of .53% during that time, well below the statewide rate of 3.44%.
"Even when we've seen cases pop up, we're able to address it really quickly and limit any potential spread without disrupting the entire academic enterprise," said Malatras.