Why are Bills fans struggling so badly over THIS loss?
The story arc broke, and we're not sure how it happened.
If you're wondering why this particular Buffalo Bills playoff loss hurts so bad, that's the answer. The team's 27-10 divisional round fall to the Cincinnati Bengals last week was one of many defeats the franchise has experienced over the decades. That includes four Super Bowl losses in the 1990s, and a generation-long playoff drought that ended in 2017.
It's tough enough for the average Bills fan when the season abruptly ends. It's that much harder for season ticket holders who plan their weekends around soaking up the full game day experience.
The Bills' trajectory has followed a tried-and-true story arc: The underdog protagonist (the small-market Bills) battles against bigger, better-known foes from metropolises like New York, Miami and Boston.
They come close to winning their sports' greatest honor – a Super Bowl championship – but never quite make it. The Bills then fall, deep and hard, into a place where true victory (the playoffs) isn't felt for 17 years. But they are resilient. A new coach, Sean McDermott, assured his team and their fans to "trust the process." A new quarterback, Josh Allen, leads the reinvigorated team. They become perennial playoff contenders, but still don't make it all ... the ... way.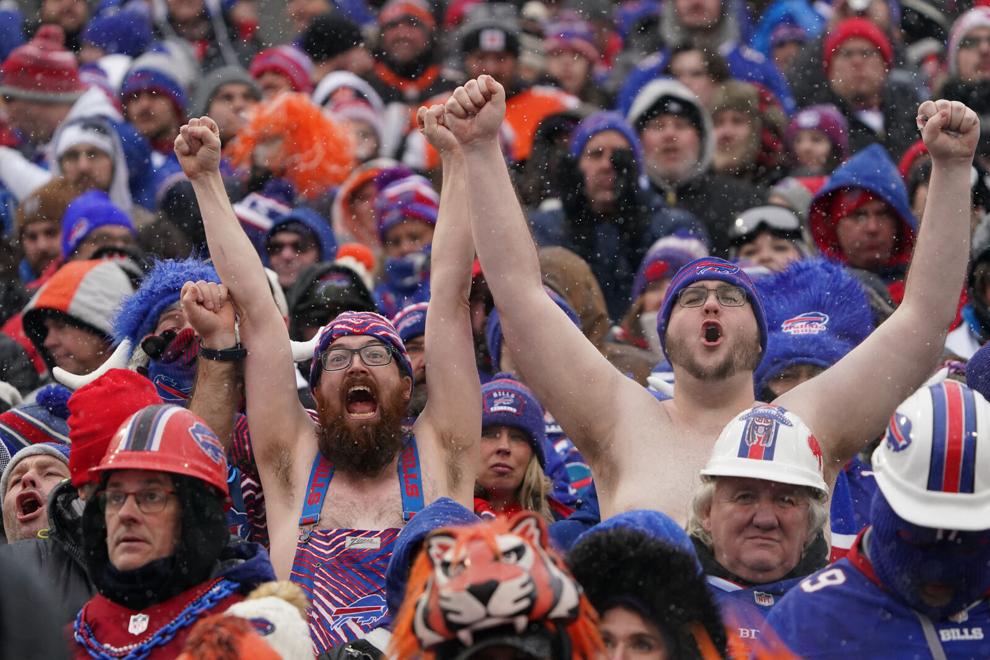 But we understand that. There was always a reason why. Maybe the team was too young. The quarterback, too new. Or those pesky rules, or that evasive thing called good luck, just didn't fall in our favor.
We always had a reason to hope, to not feel a frustration that was too deep, too dark.
Until this season, when it finally seems possible that the Buffalo Bills could not only make it to the Super Bowl, but actually win it, too.
"We controlled our own destiny," said Chris Gallagher, a fan from Kenmore, in an informal Buffalo News fan survey conducted a day after the game, "and it hurt."
It did hurt, and still does, and it hurt more than the losses from the past. Here are five reasons why.
"We just didn't have it today," quarterback Josh Allen admitted after the game. Succinct, but devastating. In other disappointing years, there was always something, or someone, to blame: Bad luck. Bad officiating. Bad rules.
But this time, there was no foe to blame; the loss could be attributed to nothing but the Bengals' strong play (which is expected of a 12-4 playoff team) and, worse, the Bills' own failures.
"A better showing would have been disappointing, but would have given us hope for next year," said Marty Denecke, a Bills fan from Hamburg. "Yesterday's effort tells me we've regressed."
We care about that – more than most other places.
2. We're an NFL city that acts, and feels, like a college town.
Buffalo is the NFL's second-smallest market, ahead only of Green Bay. That's a disadvantage for the Bills in most ways, but it does give the team incredible market penetration.
"There are 20 million people in a (major) metro area, how big a deal is it to get 75,000 people out to a football game?" said Mike Lewis, a fan analytics expert and professor at Emory University's Goizueta Business School. "You go to a market like Buffalo or Green Bay, then suddenly this is something pretty special. This is more like a college town where every fourth person or every fifth person might be in that stadium."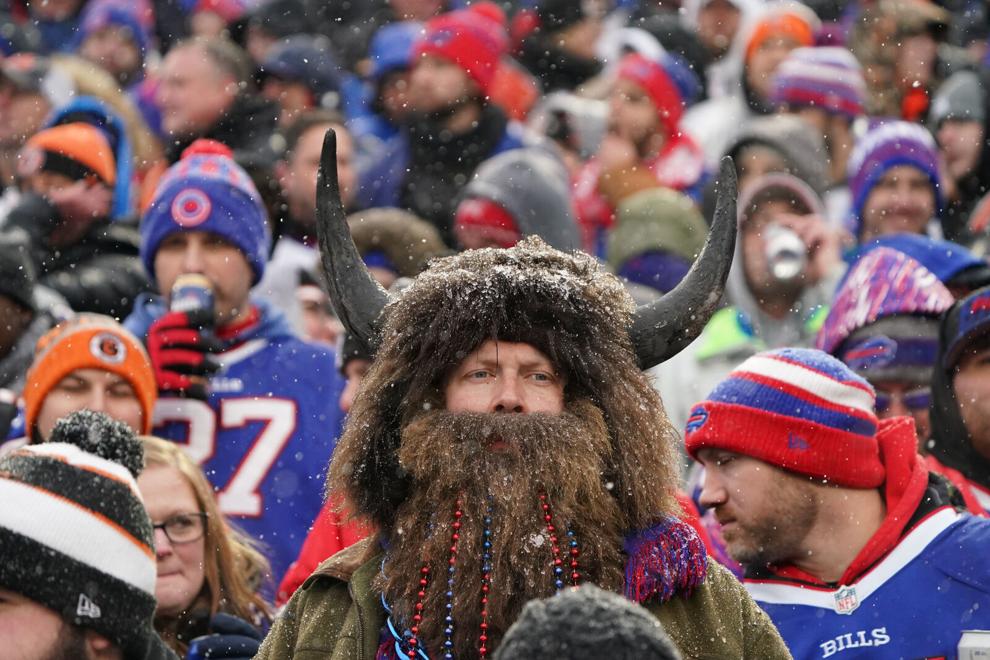 That means more people around you have experienced firsthand the joy of victory – or over this last week, the pain of defeat.
3. We're engaged, deeply. The numbers prove it.
In Lewis' annual NFL Fandom Rankings, which gauge the marketing power of a fan base, he noted last year that the Bills' social media results "place the club in the lower portion of the league. The Bills combined social following exceeds only the Titans and Jaguars."
We asked Lewis how much that changed this year, especially after the Bills' strong regular season and the national attention devoted to the team digging out of two storms and the still-captivating story of Damar Hamlin. He did a quick pull of numbers, comparing the Bills to two other teams – the Bengals and Tennessee Titans – that were in a similar social media position at the start of the season.
The Bills' social media results are up 30%, Lewis said, while the Bengals have grown a much smaller (but still healthy) 15%. The Titans rose 2.5%.
"My guess is the Bills' pre- and early season hype, combined with the Hamlin coverage, are the difference-makers," Lewis wrote in an email.
Lewis' analysis encompasses Facebook, Twitter and Instagram. The Bills are also faring well on the Gen Z-friendly platform TikTok. A report released last week by gambling.com, a media site, cited the Bills as having one of the best TikTok engagement rates in the NFL. The team is second in likes per video, behind only the Detroit Lions.
That doesn't mean the Bills are suddenly the marketing darlings of the NFL. "The numbers show the challenge in building brand equity," Lewis added. "It's a slow process that takes decades."
But it does mean people are engaging – and when we're engaged, we grip tight for an emotional ride.
4. We wear, talk and think Bills.
From Zubaz-style striped pants to hoodies, T-shirts and New Era caps, you might be hard-pressed to find a fan in your own circles, or even the loftiest circles, who doesn't unabashedly wear Bills gear.
The day before the Bills-Bengals game, Buffalo Mayor Byron Brown showed up in a Bills cap and quarter-zip at an event hosted by Gov. Kathy Hochul to honor first responders and "community heroes" from the deadly December blizzard. Brown told the crowd that he was coming from a Bills rally at Buffalo City Hall. "I called the governor and I said, 'Governor, should I try to get home and put on a suit?' " Brown shared. "She said, 'No, wear the Bills gear.' "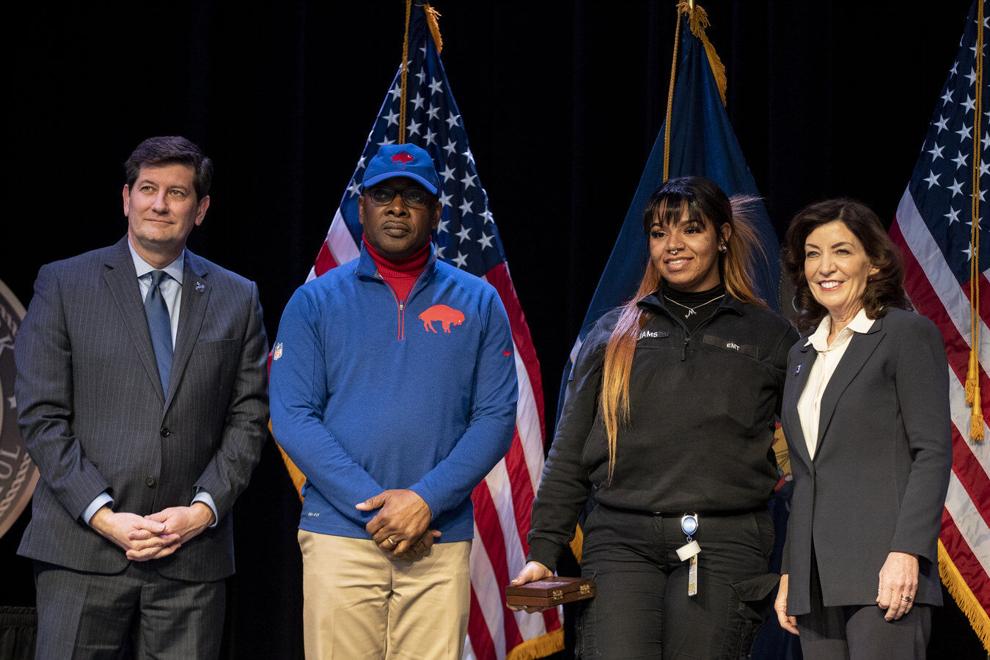 The song, recorded in 1987, has endured through the heyday of the Bills' 1990s Super Bowl teams, a 17-season playoff drought, and the Josh Allen-led resurgence of recent years.
College teams have fight songs and instantly recognizable chants. Bills fans have been "Shout!"-ing for 35 years. "Hey ey ey ey" is an iconic call-and-response that could ferret out Buffalo people anywhere in the world.
If you live in Buffalo, the phrase "Go Bills!" likely becomes a casual form of small talk, especially during the playoffs. You're checking out at a grocery store, and the cashier doesn't say "thanks" or "have a nice day!"
It's simply this: "Go Bills!"
If you spend most of your days in Western New York, this is so normal that it's likely unnoticeable. But it's actually quite unusual for most big-league cities. You'll find Yankees and Dodgers caps in New York and Los Angeles, and some – but not nearly all – of the people wearing them will actually be loyal fans.
In Buffalo, it's harder to find people who aren't Bills diehards. The actor William Fichtner, who grew up in Cheektowaga, notices this whenever he visits from his home near Los Angeles.
"I get off the plane in Buffalo and I'm driving to downtown or wherever, and I'm always shocked," he said. "I cannot believe how many flags I'm seeing on people's front lawns for the Bills. It's so lovely."
5. We don't know where the story goes next.
Humans instinctively relate to the drama of a well-crafted storyline. This is why we watch movies and binge TV shows, and why we love sports.
Fichtner, as an actor and filmmaker, is a Bills fan who understands a well-told tale. We asked him to consider where we stand in the Bills' overall story.
"What part of the story are we at right now?" he repeated, mulling it over. "I feel like we hit the pause button."
Pause buttons don't enhance a story. They break from it. But they are not a permanent state of being. Eventually – and in the case of the Bills, when training camp starts in seven months – you hit play once again.