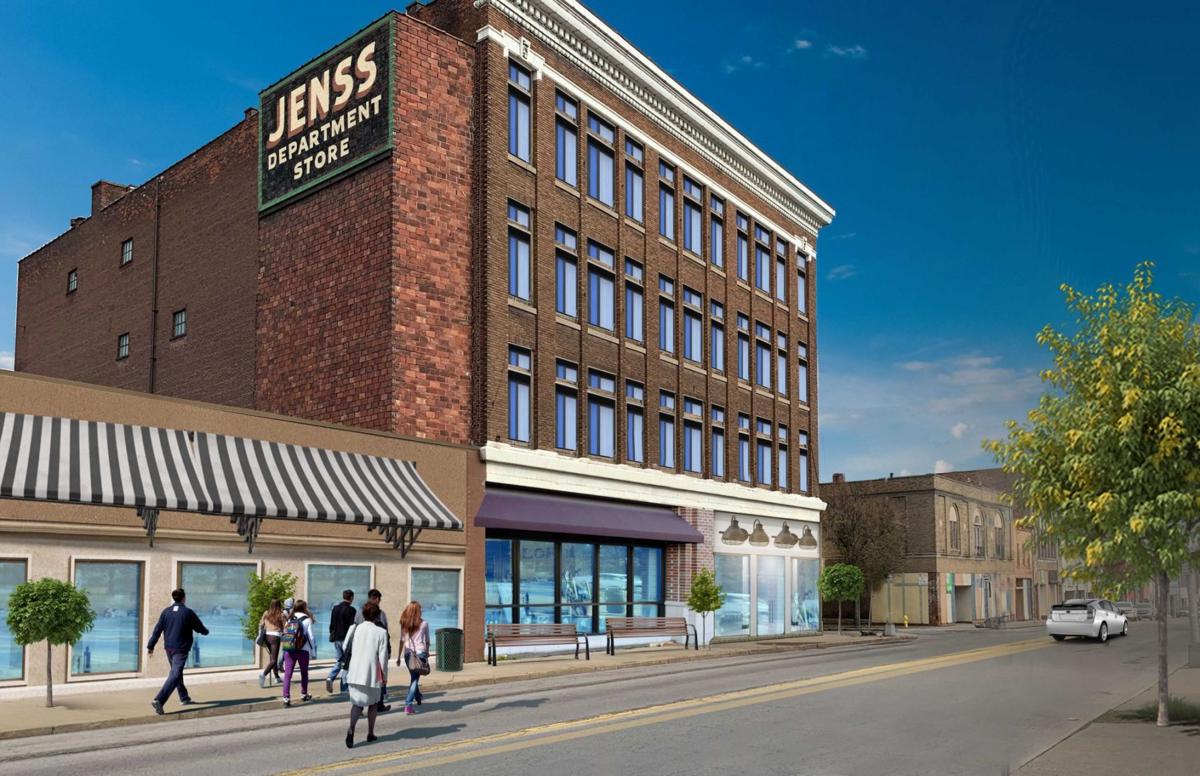 A boutique hotel, multi-use buildings and a Niagara University facility are among the projects approved by the state Friday for funding with a $10 million grant for use on Niagara Falls' Main Street.
Other projects in the Main Street makeover include completion of public spaces at the Public Safety Building and the Amtrak station, and turning the Falls' iconic DiCamillo's Bakery into a public attraction.
Gov. Andrew M. Cuomo praised the city's plan when he announced that Niagara Falls was this year's Western New York winner of the Downtown Revitalization
In August 2019, Gov. Andrew M. Cuomo announced Niagara Falls had been selected for the Downtown Revitalization Initiative, which has given $10 million to several small upstate cities.
The city submitted ideas, but the projects chosen and the amounts allocated were selected in Albany.
The application focused on the "Bridge District," a 26-block area centered on Main Street.
The City of Niagara Falls has issued an open call for potential projects in the Bridge District, as the area on both sides of Main Street is now called. The projects could be included in a state-funded redevelopment plan for the 210-acre district that covers 26 city blocks. Gov. Andrew M. Cuomo announced the $10 million Downtown Revitalization Initiative
"I really think the projects that got through this are important for creating a different environment in that area," Mayor Robert M. Restaino said. "The front door for the business district needs to be improved."
The largest chunk of the money, $3.72 million, is to be used for "streetscape enhancements" on Main Street: new sidewalks, trees, street furniture and LED street lights. Restaino said he's working on a plan to have the brighter but less expensive lights installed citywide.
The mayor said a Niagara University "academic innovation hub," priced at $1.1 million, is planned on Cleveland Avenue just west of Main Street.
"The facility will include professional workforce training, job promotion services, English as a second language programs, urban development and planning, small business development, early childhood care and an eSports lab," the state announcement said.
The state will spend $1.5 million on Freedom Plaza, an event space and overlook at the old Suspension Bridge site, where the Amtrak station and Underground Railroad Heritage Center now stand.
The City of Niagara Falls will issue a request for proposals from sculptors interested in creating a statue of Harriet Tubman.
Harriet Tubman, the famous escaped slave, is believed to have led other former slaves to freedom in Canada over that bridge in the 1850s. The city has a separate state grant in hand to hire a sculptor to create a Tubman statue there.
Another public plaza would be created in front of the police and courts building at Main Street and Cleveland Avenue. The $295,000 project will include unspecified public art.
"We're not trying to remove the green space, but make it more inviting," Restaino said. "Right now it's just a flat patch of grass, but if you remove that green space, there isn't any green space on that part of Main Street."
In 2018, the City Council rejected a proposed statue of Black abolitionist Frederick Douglass in front of the police station, after an outcry from Black residents. No new site has been chosen, but Restaino said, "I think it's a statue that needs to go up."
Seven other parcels are slated for "public art mural installations," a total allocation of $615,000.
A Buffalo firm has bought 200,000 square feet of largely vacant buildings and 2 acres of vacant lots with a plan to restore what has turned into a shabby stretch of Main Street in Niagara Falls. "It's not a short-term prospect, but it can be done," said Bob Richardson, managing partner of Blue Cardinal Capital. The real estate financing
The list includes $700,000 to transform two vacant buildings at 1810-1812 Main St. into a boutique hotel.
Those buildings were among 38 Main Street and nearby parcels purchased in 2019 by Buffalo's Blue Cardinal Capital, whose president, Bob Richardson, said in the fall that he wanted to place a hotel there.
Another Blue Cardinal-owned site, 2025 Main St., would receive $500,000 to enhance a convenience store and add another retail space and some apartments.
A second Blue Cardinal multiuse site would be 2002 Main St., a former shoe store slated for a $400,000 project to create retail, office and community gathering space.
The state also created a $620,000 small project grant fund that property owners could tap for small-scale building improvements.
DiCamillo's main store on Linwood Avenue will receive $250,000 to buy new equipment to expand production and to install "a small museum and gallery space, an outdoor dining area, sidewalk and landscaping improvements," the state announcement said.