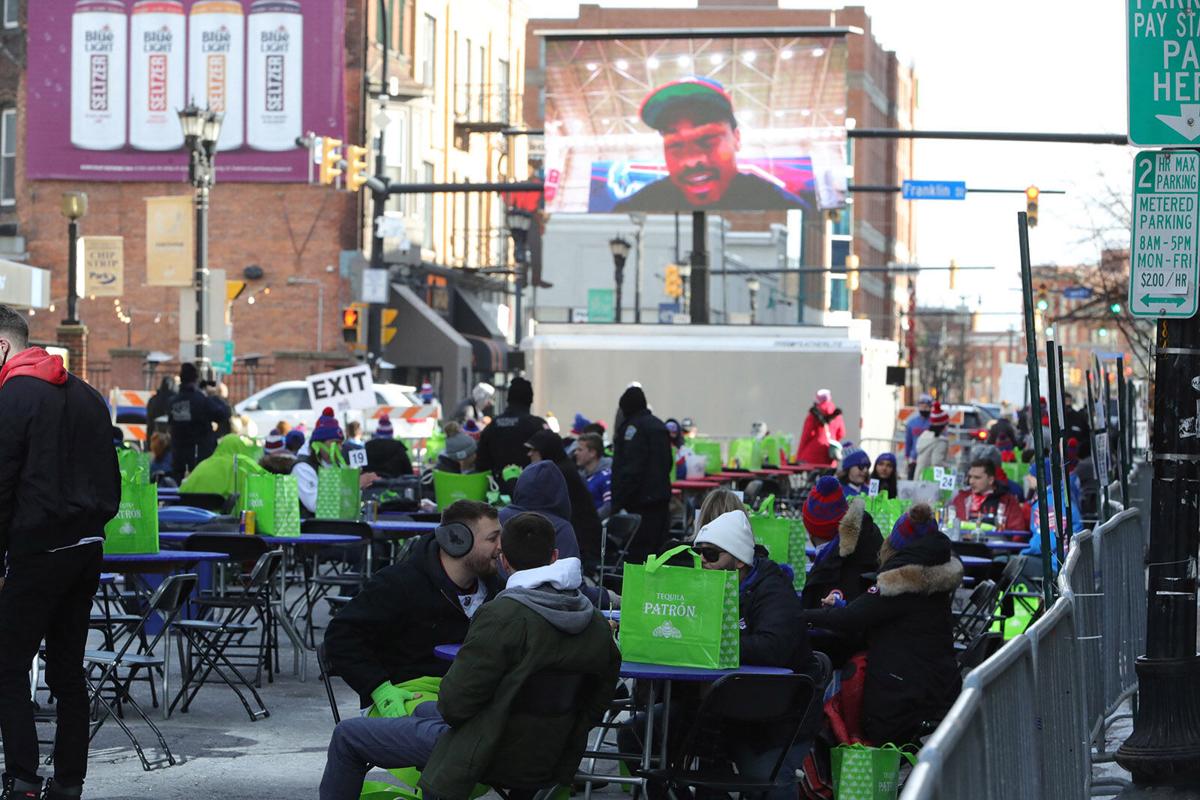 The Buffalo Bills' playoff game against the Baltimore Ravens on Saturday won't end in the third quarter – but that's when bars and restaurants will have to stop serving customers under the state's Covid-19 safety regulations.
That's why local officials and restaurateurs are asking New York to ease the restrictions for the 8:15 p.m. game, which will end more than an hour after the state's 10 p.m. dining curfew.
"It's going to be very difficult to get people out if they have to leave at halftime," said David Schutte, owner of Britesmith Brewing in Williamsville.
As one example, a repeat "Playoffs on the Patio" watch party, which drew nearly 270 people to a block of Chippewa Street for last weekend's wild-card game, wouldn't be practical with the rule in place.
"It doesn't make sense to have them there for only a half," said Jay Manno, owner of Soho Buffalo, who helped organize the viewing party and who praised the support he's received from Buffalo and Erie County leaders.
The state has not yet responded to the request or announced a decision.
The curfew, established Nov. 11, closes all restaurants and bars in New York to on-premises dining between 10 p.m. and 5 a.m. They are still allowed to offer delivery and curbside pickup for food, though not alcohol, after 10 p.m.
Buffalo and its most-populated suburbs are in a microcluster "orange zone," which bans indoor dining altogether but allows outdoor dining, delivery and curbside pickup.
A less-restrictive "yellow zone" covers the rest of Erie County and a portion of Niagara County. In that zone, indoor dining is allowed but with a capacity limit.
Manno said he doesn't know how late the city and county have asked the curfew to be extended for Saturday's Ravens game. It's possible the game may not end until 11:30 p.m. or later.
Michael DeGeorge, a spokesman for Buffalo Mayor Byron Brown, didn't have an update Tuesday. 
Lt. Gov. Kathy Hochul in a statement said she's glad the state and the team found a way to allow a small number of fans to begin attending playoff games but she did not directly address whether she supports easing the dining curfew.
"We've come too far as a team and community to jeopardize our collective success and must continue to follow guidance that has proven to keep fans safe and prevent further community spread of Covid-19," she wrote.
Erie County Executive Mark Poloncarz on Tuesday said county officials are well aware of this 10 p.m. closing time issue as it relates to Saturday's Bills game.
"It is a legitimate concern," Poloncarz said at his news briefing. "It is a concern that we have passed on to New York State."
Even though the rule applies to all restaurants, Poloncarz linked the curfew to his ongoing frustration that much of Erie County remains in an "orange zone" while other counties and communities in Western New York and upstate with higher Covid-19 rates haven't gone orange.
He said he raised this directly with Cuomo in a phone call over the weekend.
"We've got to be treated fairly," Poloncarz said.
The curfew has affected businesses for a number of recent Bills games. The team's on-field success has meant playing in prime time on Sunday and Monday nights far more than is typical. But Soho didn't even bother opening for the games, Manno said.
A.J. Baynes, president and CEO of the Amherst Chamber of Commerce, had initially urged Manno to organize a watch party and helped coordinate getting the required approvals for last Saturday's Colts game, which closed off a one-block stretch of Chippewa.
The event – which ended in hugging, dancing, high-fiving and cheering as the Bills beat the Colts in dramatic fashion – was "an opportunity for just a couple of hours to feel somewhat normal again" during this difficult pandemic year, Baynes said.
He said he hopes the state will lift the curfew for the night and that other communities will grant permission for outdoor viewing parties, whether for Saturday night or for future playoff games.
Baynes said he had gotten interest from restaurants along Main Street in Williamsville for a similar event this past Saturday, but Mayor Deborah Rogers declined to give the OK to shut down the street.
The village said in a statement last week that the event proposal lacked specifics and that closing a portion of Main Street to vehicle traffic was too disruptive and holding the party was "neither a feasible nor a healthy decision for our community."
Paul Santora, who owns three Santora's Pizza Pub and Grill restaurants in Erie County, said state regulations are denying him the boon to business that such an excellent football season brings to sports bars like his.
Even at 50% capacity and under current restrictions, his locations can hold 100 to 200 people. He estimates he's out as much as $300,000, conservatively.
"We're not just talking about the game itself. It's the celebrations before and after, the whole process," he said. "Everyone is just excited. They go out to eat more. The value is immeasurable."
Bars and restaurants can manage social distancing, sanitizing and other safety protocols according to state regulations, he said. Without them, it only encourages fans into higher-risk house parties to watch the game.
"This is our moment. We're Buffalo," Santora said. "You're taking the No. 1 thing on everybody's mind and not giving Buffalonians the opportunity to celebrate in the proper environment."