Covid-19 hit many of New York's nursing homes with illness and deaths, but a facility in a rural pocket of the state best known for its slate quarries has fought off the virus.
For seven months, Slate Valley Center for Rehabilitation and Nursing was one of only 16 nursing homes in the state untouched by the novel coronavirus, according to federal and state statistics. 
Not a single one of its approximately 80 residents and more than 100 workers had tested positive for the virus or were suspected of having it through Sept. 27. 
Elsewhere in New York, more than 27,000 nursing home residents and workers had tested positive and more than 6,000 died with Covid-19 during that same time period.
When two Slate Valley staffers and a resident tested positive for the virus in late September and October, they showed no symptoms and follow-up tests came back negative, officials at the facility said.
So how has this nursing home managed to protect its residents and staff?
"It was education, education, education and the staff respected that education. The staff wanted to learn and they wanted to do it right," said Tamme Taran, the facility's director of nursing who until recently doubled as its onsite infection control specialist.
Longtime certified nursing assistant Savannah Lee Parker said she and her coworkers realized that if they kept themselves safe at work and in their off hours, everyone benefited.
"If we as a team keep each other safe, we keep our residents safe as well," Parker said.
"We've avoided crowds and there are some licensed practical nurses and certified nursing assistants who are a little older and do not go to the grocery store. They still have their groceries delivered," Parker said of the extra precautions.
Janice Doughman, the nursing home's administrator, is reluctant to say her nursing home did anything out of the ordinary.   
"We took it seriously, but I think everybody was trying to do that. I don't think we are unique in that," Doughman said.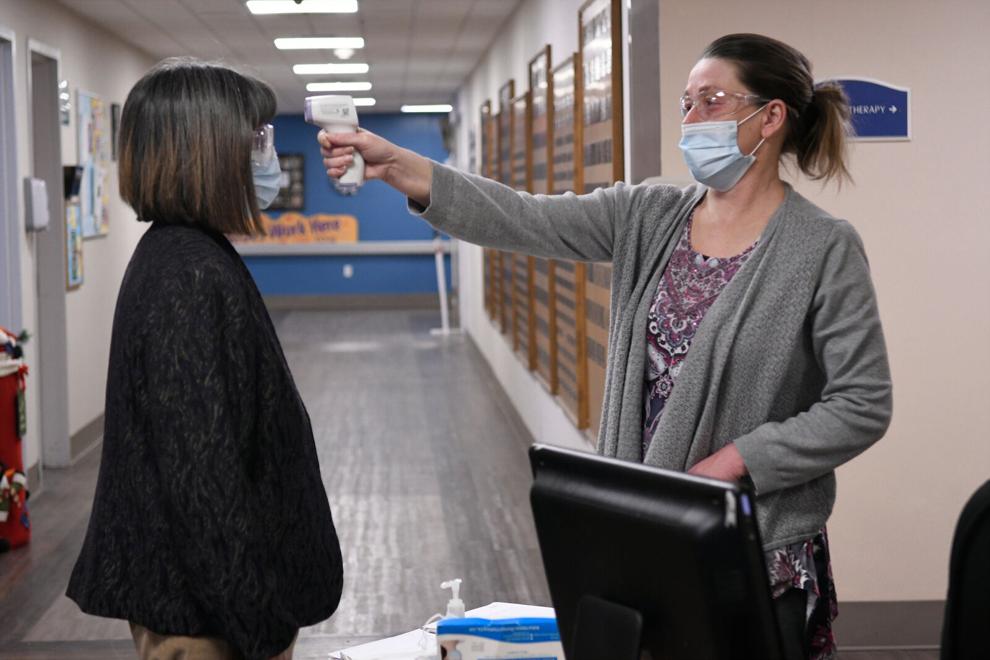 Working in the nursing home's favor, Doughman said, may be the fact that it is situated in sparsely populated Washington County.
According to the U.S. Census Bureau, there are 61,204 residents in the county. The closest city, Glens Falls, is a 35-minute drive and has a population of 14,348.
While Slate Valley's administrator said she can't point to one strategy or practice that kept her facility safer than others, experts in long-term care identified some factors that may help nursing homes in general. 
Low community spread, which lessens the odds that workers or visitors will bring the virus to senior living campuses.
A stable, well-informed staff working regularly with the same patients.
Nursing home designs that split residents and workers into subgroups and limit interactions with others on-site. 
Slate Valley didn't follow all of those strategies, but low community spread may have benefited it.
As of Dec. 23, Washington County had a total of 677 people test positive for Covid-19 and 14 of its residents die with the virus.
It had a positive test rate of 1.3%. Statewide, the positive test rate is three times higher, at 3.7%. Only three of New York's 62 counties had a lower positivity rate than Washington County, as of Dec. 23. 
"The best action states can do is to focus on reducing the level of Covid in the surrounding communities, ensuring nursing homes have adequate PPE and testing resources and getting the vaccine rolled out as soon as possible to long-term care residents and staff," said Mark Parkinson, chief executive officer the American Health Care Association and National Center for Assisted Living.
Another nursing home that had success keeping Covid at bay, Kendal at Ithaca, is located in Tompkins County. Just .2% of the 847,969 residents tested were positive for Covid-19 as of Dec. 23, the lowest rate for any county in the state. 
Same community, different experiences
While the amount of spread within a community can play a role, nursing homes within the same community can have very different Covid experiences. 
For instance, Canterbury Woods in Amherst had success against Covid-19 through the spring and summer that mirrored Slate Valley's. Through Nov. 29, the 50-bed facility, ranked at five stars, or "much above average," had four residents test positive for Covid-19 and none die from the virus, according to data it provided to the U.S. Centers for Medicare & Medicaid Services. Five workers had also tested positive. 
Just four miles away, Comprehensive Rehabilitation & Nursing Center of Williamsville, a 142-bed facility with a one-star "much below average" rating, had 70 residents test positive and 12 die through Nov. 29. Thirty-nine workers there also tested positive, according to the federal statistics.
Kendal at Ithaca checks other boxes that experts recommend for keeping Covid-19 out of nursing homes and keeping caregivers safe.  
Many nursing homes rely on nursing staff hired through employment agencies to supplement their own staff. But Kendal at Ithaca does not hire agency workers, said Laurie Mante, the facility's executive director.
Kendal at Ithaca sits on a 105-acre campus and includes 167 cottages and 69 apartments for independent living, as well as three skilled-nursing care "neighborhoods," each with 16 residents. The same nurses and certified nursing aides are assigned to work in the same pod each day, which limits the number of people coming into contact with each resident.
That strategy and facility design helped limit staff and resident spread to one of those "neighborhoods" until mid-November, when two Kendal at Ithaca residents who live together in an independent living apartment tested positive.
Mante said frequent coronavirus-prevention training, encouragement from supervisors and co-workers, and regular signals from owners and operators that they put staff and residents first are cornerstones of "a culture of shared accountability and caring" that helped protect that facility against the virus.
"This virus will look for an opportunity," she said, "so you're only as strong as your weakest link."
Like Canterbury Woods, Kendal at Ithaca in recent weeks has also had a relatively small number of residents and staff test positive.
"We're in the middle of an outbreak, so I'm certainly not comfortable putting ourselves out there as experts on prevention," said Mante, who, like administrators at Canterbury Woods, declined to be interviewed at length about the keys to their successes because they said their luck could change in an instant.
"It's literally a minute-to-minute battle," said Rob Wallace, Canterbury Woods' president and chief executive officer. "We are doing everything we can to stay ahead of things, especially as the dynamics in the surrounding community continue to change on a daily basis."
WGRZ-TV interviews Buffalo News reporters about nursing homes having success against Covid-19
There are long-standing problems in some of New York's long-term care facilities – including low wages, understaffing and infection control – that contributed to the spread of Covid-19, according to some experts.  
Long-term care facilities have accounted for 6% of positive tests in the U.S. but 39% of deaths from Covid-19, according to the Kaiser Family Foundation. One in five of the 35,000 New Yorkers who've died lived in long-term care.
Many nursing homes that have succeeded in limiting the number of Covid-infected residents in Western New York focus on intense training, work hard to keep a stable, well-supplied workforce, and share the true extent of coronavirus-related challenges on their campuses, said Lindsay Heckler, supervising attorney at the Center for Elder Law and Justice in Buffalo.
Public health inspectors can assure these steps are taken across the state by checking more often on staff operations, especially during off-hours, Heckler said.
"Nursing homes are best staffed during the day, however what we see through (federal) payroll data is that on weekends and holidays, they're severely short-staffed," she said.
The pandemic also underlines one of the biggest factors that can make elder care settings tinder boxes for an infectious spread, Heckler said.
"People who are providing care to another human being should not be making minimum wage," she said. "What they're doing is literally backbreaking labor and they're paid less than someone working at Tim Hortons. If you want people to do a good job, they have to be supported in their career. If they're having challenges, whether it's child care or whatever, does the facility or the operator group do enough to support them?"
A Government Accountability Office report published in May said four of every five nursing homes across the U.S. were cited for infection prevention and control lapses from 2013 and 2017. Roughly half had persistent problems over multiple years.
"Before Covid hit, our nursing homes were risky, risky places for both nonserious and life-threatening infections," Troen said. "This pandemic is a clarion call that we need to fix them." 
Slate Valley in Granville achieved its success against Covid-19 without employing some of the factors that some industry leaders recommend. 
The 88-bed nursing home, which the federal government ranks overall at four stars, or "above average," has a traditional layout, with two wings of mostly double occupancy rooms.
It is not on the cutting edge when it comes to advanced nursing home industry models, such as the "greenhouse" approach, which features smaller residential-like units with private rooms and permanent staffs.
Slate Valley, a for-profit facility owned by Centers Health Care in New York City, also relies on agency workers to fill staffing gaps, a common practice among nursing homes, one that experts have said may be responsible for spreading Covid from facility to facility. But Doughman added that most of the contract workers are considered "regulars," and not strangers.
Doughman thinks an on-site prayer group started by workers to cope with the demands of the pandemic might have played a role in her facility's success.
"We don't know of one thing we've done differently from any other nursing home, except the prayer, and I don't even know if that is unique to us," the administrator said.
This story was produced through the New York & Michigan Solutions Journalism Collaborative, a partnership of news organizations and universities. The group is supported by the Solutions Journalism Network.
The collaborative's first series, Invisible Army: Caregivers on the Front Lines, focuses on potential solutions to challenges facing caregivers of older adults.