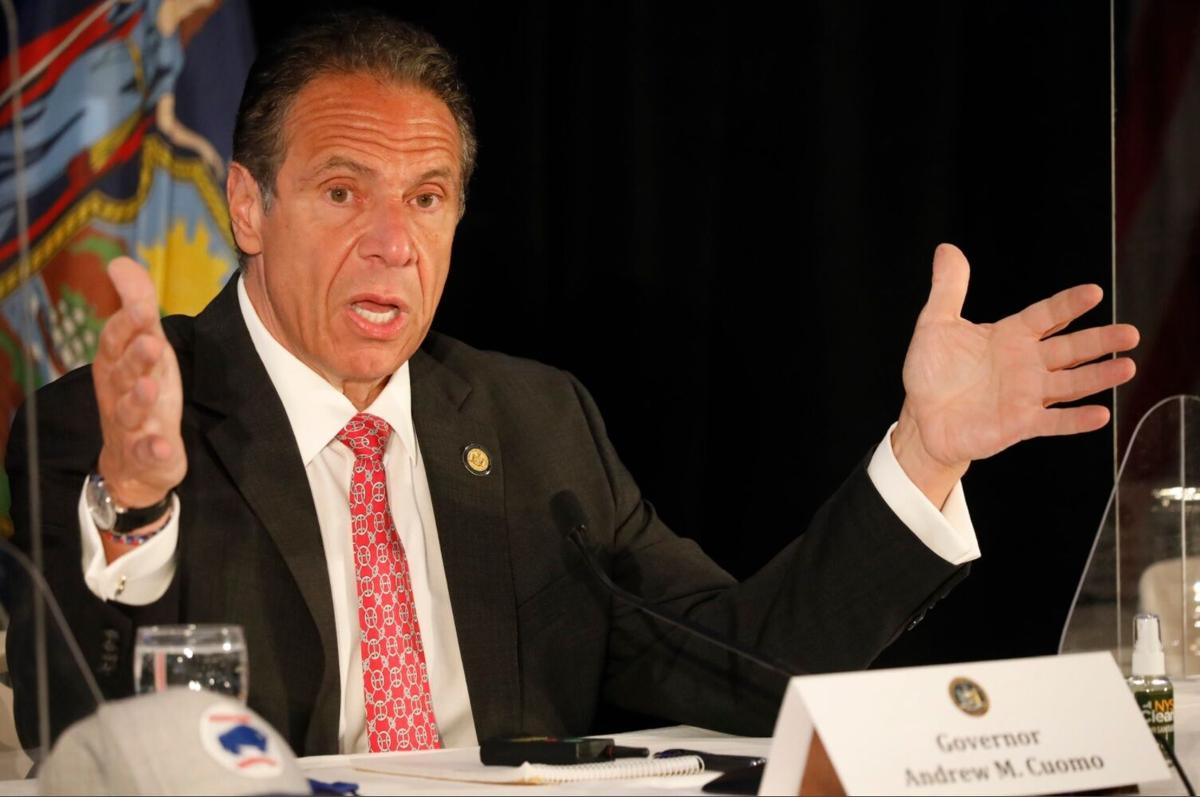 If you won't come to a vaccine clinic, the Covid-19 vaccine will come to you.
But will enough people take the shot when it's offered?
The new message from elected leaders fighting to find a way to end the pandemic hinges on convenience and incentives. On Wednesday in Buffalo, Gov. Andrew M. Cuomo upped the ante.
Going to a Blue Jays game at Sahlen Field? Get the Johnson & Johnson, one-dose vaccine shot and snag a free ticket to a Buffalo Bisons game next season.
Riding the Metro system? Stop by one of five transit hubs for the J&J shot and get a free, seven-day ride pass from the Niagara Frontier Transportation Authority.
"I'm going to find out where you go, day to day, and I'm going to go to you," Cuomo said during a news conference at the downtown ballpark. "I'll meet you there."
It was a variation on a theme pitched by Erie County Executive Mark Poloncarz, who in recent days has touted the attention-grabbing "Shot and a Chaser" promotion at local breweries and promised to send clinicians door to door to deliver vaccine doses.
The new approach represents a shift that recognizes the state has reached the adults who sought out the vaccine and now must focus on those who are hesitant to get the shot.
Cuomo said Wednesday he believes those who absolutely refuse to get vaccinated are a relatively small share of the population and he is focusing on the larger group that is persuadable. But polls show it's possible that millions or perhaps tens of millions of Americans will never get vaccinated, whether for political reasons or because of health concerns – the latter often based on misinformation.
Experts say the unvaccinated present challenges in ensuring public health, particularly as the return of fall will bring more respiratory infections and larger indoor gatherings.
"I'm confident we'll do better in Western New York than the national numbers and maybe the state numbers. We'll have to see," said Dr. Thomas Russo, chief of infectious diseases for the University at Buffalo Jacobs School of Medicine and Biomedical Sciences. "But we're never going to keep 100% vaccination and those individuals are going to be at continual risk."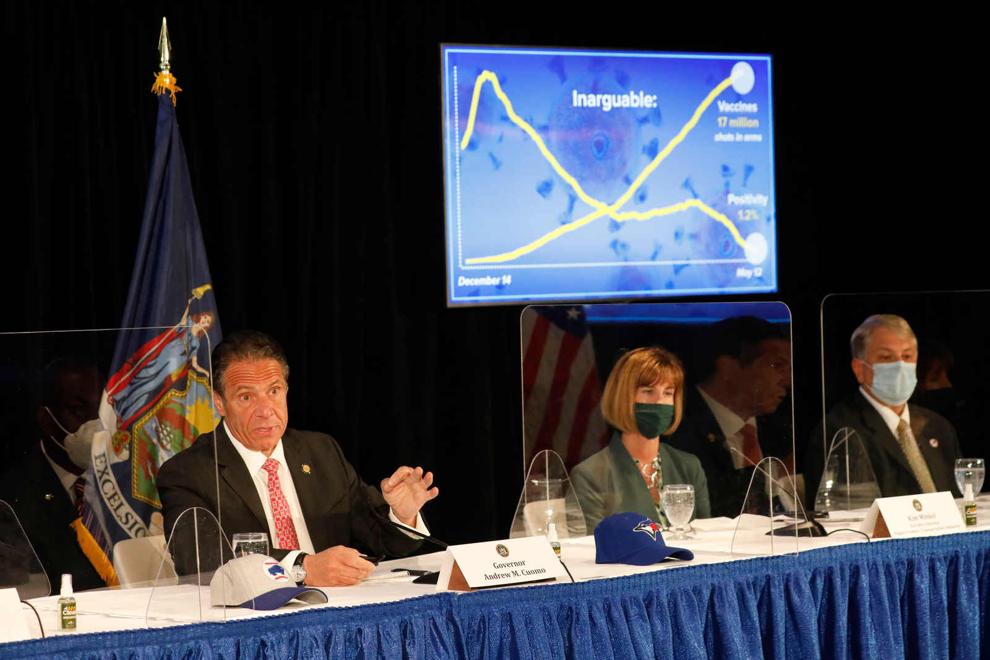 Cuomo announced the new, locally focused vaccine incentives as he revealed updated regulations for fan attendance at Sahlen Field, where the Toronto Blue Jays begin playing home games on June 1.
Half the available seats are set aside for vaccinated fans, with the other half allocated to unvaccinated fans.
Fewer tickets will be sold in the unvaccinated section because of a 6-foot, social distancing requirement there. Everyone at the downtown ballpark must wear a mask.
Unvaccinated children younger than 16 can sit in the section for vaccinated fans if they attend with a vaccinated guest.
Covid-19 vaccines also will be offered at Blue Jays games, and those who get a shot will receive a free ticket to a Bisons game next season. To make way for the Blue Jays, who still can't play in Toronto, the Herd is playing home games in New Jersey.
This seating plan will allow for a total of up to 6,000 fans initially, according to Cuomo's office.
The Toronto Blue Jays on Wednesday said the new rules would allow fans to fill the stadium to 35% of its overall capacity for each of the first eight games.
Proof of a negative Covid-19 test is not required for entry, the club said. Tickets for the first set of Blue Jays games in Buffalo go on sale next week. The club has not announced how much tickets, which are sold in groups of up to four, will cost.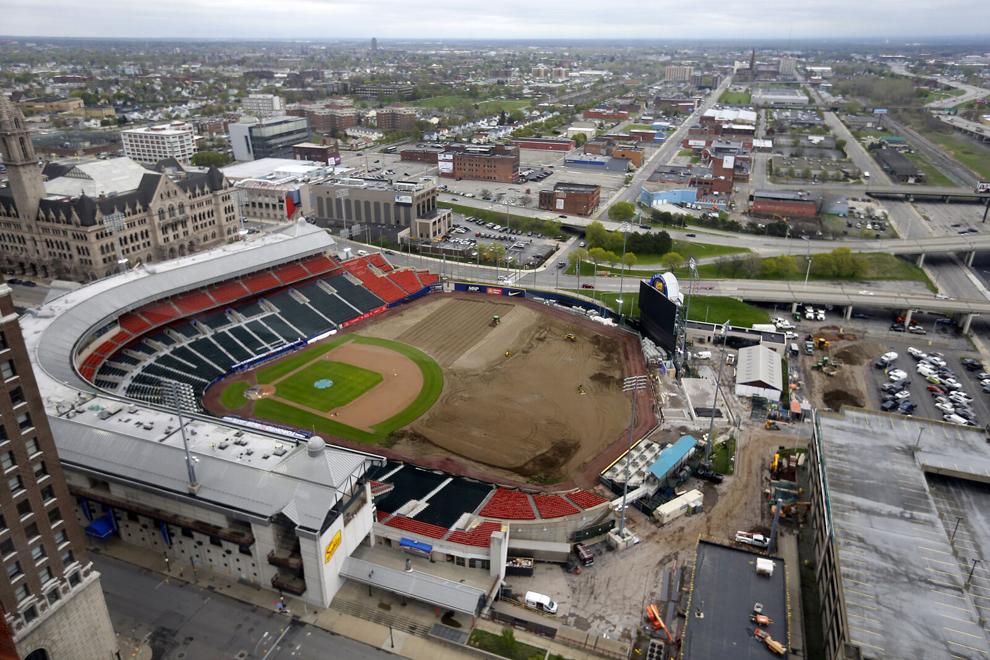 Cuomo said Wednesday the 50-50 rules for Blue Jays games also would apply, for now, for attendance at the Buffalo Bills' first home game of the season this fall.
"But," he added, "September is a long way away."
This plan conflicts with Poloncarz's previous proposal to require all fans attending Bills and Sabres games next season to be vaccinated.
"The county executive continues to advocate for as many people as possible to get vaccinated as soon as possible, which increases the likelihood of full attendance at sports events and lessens the need for distractions like vaccinated and nonvaccinated sections," spokesman Peter Anderson said in an email.
Cuomo's Buffalo visit brought another vaccine sweetener: a week's worth of free rides on the Metro system.
Starting Friday, five NFTA transit stations will host vaccine clinics where the one-dose J&J vaccine will be administered, Cuomo said.
The program will run Friday and Saturday and again Monday through next Wednesday.
The hubs, where people don't need an appointment, are the University and Utica Metro Rail stations and the Buffalo Metropolitan Transportation Center, all in Buffalo; the Portage Road Transportation Center in Niagara Falls; and AppleTree Business Park in Cheektowaga.
Those who get the shot receive a seven-day Metro pass.
"What could be easier and simpler than that?" Cuomo said.
A similar program started Wednesday on the New York City subway system.
The governor also set a goal to have all state pools and beaches open at 100% capacity by July 4.
And he said the state is considering guidance for allowable crowd size at the Erie County Fair, with a decision coming next week.
Much of this return to normal depends on getting more New Yorkers vaccinated. The governor noted 17 million shots have been delivered so far, with 61% of the state's adults receiving at least one dose and 50% being fully vaccinated.
But, he said, the number of shots delivered each day has slipped, from a peak of 216,000 shots on April 12 to just under 142,000 shots on Tuesday.
Cuomo said he believes a combination of incentives and easing access will reach more of those who are indifferent about the vaccine, while education can sway some who don't have faith in vaccines.
UB's Russo said the unconvinced should talk to their family physicians, pastors or other trusted figures.
"There's no serious safety concerns at this point at all, and over 400 million doses have been given worldwide," he said. "These vaccines are better than we could have possibly dreamed."
Cuomo acknowledged there are those who reject other widely provided vaccines, such as for measles, but said he's not "resigned" to the idea that hundreds of thousands of New Yorkers, or more, will never get the Covid-19 vaccine.
However, a recent NPR/Marist poll, echoing findings in other national polls, found 1 in 4 Americans would refuse the Covid-19 vaccine if it were offered.
This has the potential to keep us from reaching herd immunity, the point at which enough people are inoculated from the virus that it limits its ability to spread.
"I think 'refusal' is kind of a strong word. I use 'hesitancy.' I think that covers a wider swath of the people who we're trying to convince to get it," Niagara County Public Health Director Dan Stapleton said. "I think that hesitancy group, let's say it's 25%, we do everything to convince them that this is important to do."
News Staff Reporter Thomas J. Prohaska contributed to this report.