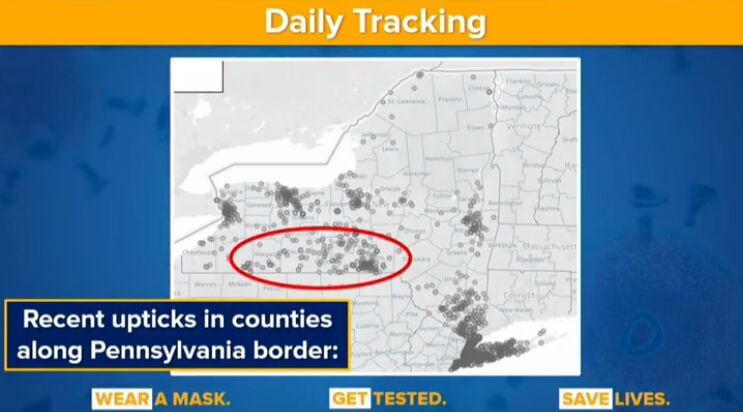 It was a day of high coronavirus numbers – in Western New York and for the entire state. 
New York's daily positive coronavirus test rate for Tuesday was 1.6%, a level the state has only reached twice since June.
Western New York's rate hit 2.0%, driven by 40 cases from Chautauqua County, while the five-county region's hospitalizations continued to rise.
There were 2,026 positive cases statewide Tuesday, which marked the first time since May that New York's daily total has been over 2,000.
The state has continually ramped up testing throughout the pandemic, with 124,789 tests Tuesday its eighth-highest total. But the 1.6% rate was a rarity, matching the rate from Sept. 27; one has to go back to June 4 to see another daily rate that high.
Western New York's 2.0% rate resulted from 140 positives among 7,070 tests Tuesday, according to state data. The 140 cases was a highest daily total since late May. Western New York's rate hasn't reached 2.0% since Sept. 12. 
The region's high rate was driven by Chautauqua County's 7.4% daily rate as it had 40 positives among 540 tests. Chautauqua's seven-day rolling average is 2.8%.
Cattaraugus County also contributed to the region's high rate with 17 positives among 410 tests for a single-day rate of 4.1%; it's seven-day rolling average is 2.4. 
Allegany County has recently seen pandemic highs of cases and positive rate, which prompted additional rapid testing through the state's Department of Health this week. However, while Allegany shattered its single-day record for testing by nearly 200 tests Tuesday, there were very few positive cases.
There were only four cases among 627 tests for a daily rate of 0.6%; the county's seven-day rolling average remains very high at 3.9%. 
Niagara County (1.0% seven-day rolling average) had an above-average rate of 1.6% after recording 18 cases among 1,095 tests.
Erie County had 61 cases among 4,398 tests for a single-day rate of 1.4%; its seven-day average is 1.2%. 
The region's seven-day rolling average increased from 1.3% to 1.5%, which is the second-highest among the state's 10 regions, behind only Mid-Hudson region's 1.7%. The statewide rolling average rate is 1.2%. For Tuesday's daily rate, Western New York was also second behind the Mid-Hudson region (2.6%).
Western New York's total of patients hospitalized due to the coronavirus rose by seven to 86, a total not seen in the region since mid-June. 
Gov. Andrew M. Cuomo on Wednesday addressed the topic of outbreaks the state has defined as "microclusters," modifying restrictions that had been imposed on downstate regions while adding two new microclusters upstate, in Steuben and Chemung counties.
Cuomo showed a state map entitled "daily tracking" which he said displayed microclusters, noting many that were occurring near the Pennsylvania border. Pennsylvania's positive test rate is 9.67%, according to Johns Hopkins University.
The map showed a concentration of cases in the Buffalo area as well as New York City, Albany, Syracuse and Rochester, but the governor made no mention of any additional problem areas.