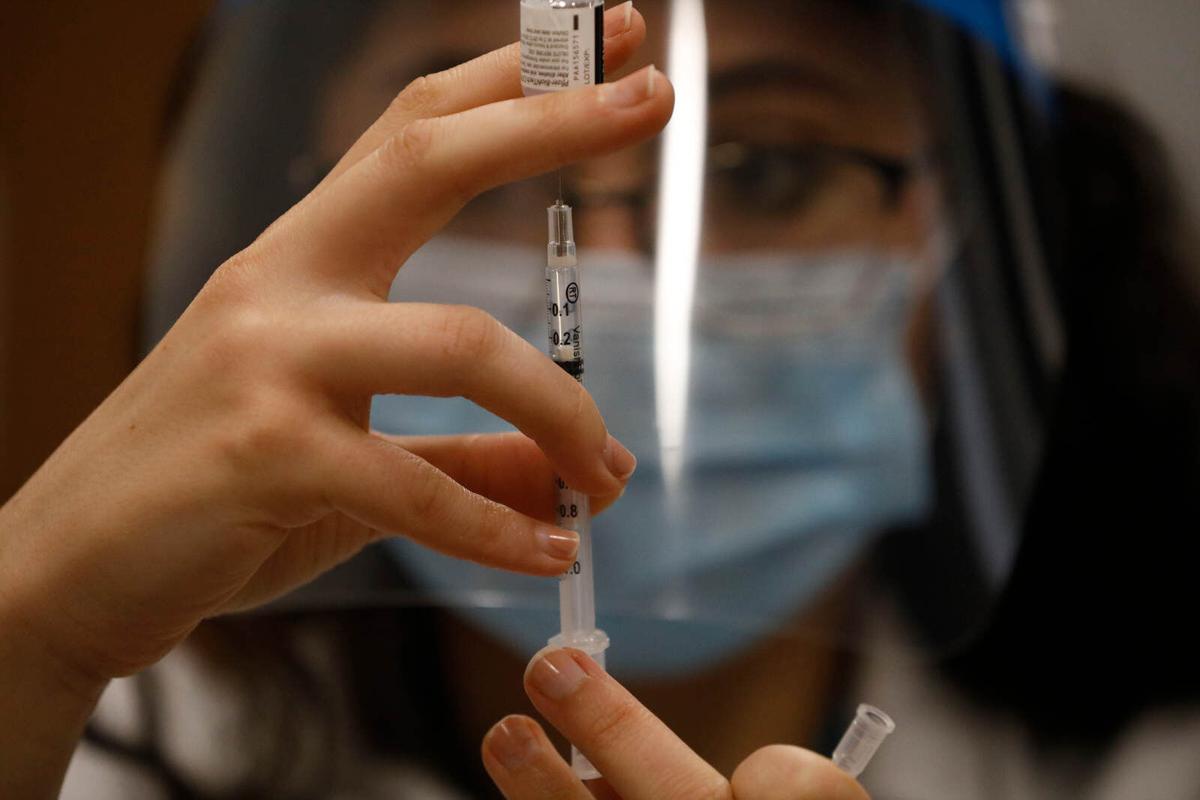 New York State's rollout Monday of an online system billed as a way for residents to make appointments to receive the Covid-19 vaccine turned out to be disjointed and frustrating for many eager to sign up.
Even with warnings that inoculations would be weeks away, if not longer, users of the site found that it amounted to more of an online screening tool followed by a list of phone numbers for nearby vaccine distribution locations.
Once a person using the screening tool was found to be eligible for the vaccine, the site pointed users to nearby locations that will – at some point – have doses to distribute. From there, the next stop required a phone call placed to the distribution sites to actually schedule the appointment.
But some users reported being offered few, if any, nearby distribution sites. Some who called individual distribution points reported the sites weren't scheduling appointments and didn't know when they would schedule any.
"Spent an hour calling every site listed on the NYS vaccine distribution page only to be told that none of them have the capacity to take registrations (and they don't know when they will)," one Twitter user wrote. "None of them had any additional information or direction."
A state Department of Health spokesperson did not answer questions about problems with the new system, but just pointed to a news release from the governor's office.
Monday's website launch was coupled with a scheduled 4 p.m. start of a state vaccination telephone hotline.
Both state initiatives come as New York expanded eligibility for the Covid-19 vaccine to what it called Phase 1B – individuals age 75 and above, teachers, first responders, as well as public safety and transit workers. The state on Monday also revealed a more detailed list of who's vaccine-eligible under Phase 1B.
That means about 3.2 million more New Yorkers – on top of the health-care workers who were part of Phase 1A – may receive the vaccine.
People can check whether they are eligible to get the vaccine at am-i-eligible.covid19vaccine.health.ny.gov. Those who are found to be eligible after answering screening questions would be able to make an appointment to get the vaccine through the website, state officials said. The state also published 11 pages of instructions for using the online eligibility tool.
Users across the region and the state reported technical glitches with the website, such as having to provide the date of the person's first dose and having no available vaccine locations within 100 miles.
Frustration grew for those who thought they were eligible under 1B but who were told by the screening tool that they were not.
A message posted Monday on Gov. Andrew Cuomo's Twitter account noted that all vaccinations will be administered by appointment only.
"Due to limited supply from the federal government, all New Yorkers are encouraged to remain patient when scheduling appointments," Cuomo's account tweeted. "Do not show up to any vaccination site without an appointment – you will not get the vaccine."
The state's new website incorrectly listed Erie County's Sexual Health Clinic as a vaccine distribution location, according to the county Department of Health.
"Please do not call or show up at the clinic," Erie County Executive Mark Poloncarz wrote on Twitter. "It has no vaccine nor is expected to get receive any."
The state's incorrect inclusion of that county clinic as a vaccination site has also caused people to call the county's phone line used to make Covid-19 testing appointments, interfering with that scheduling.
"Our department is not making vaccination appointments over the phone," the county Health Department wrote on Twitter on Monday morning. "Please do not call our Covid-19 information line or main office for vaccine scheduling."
Those eligible to be vaccinated in Phase 1B who would like to be notified about upcoming vaccine distribution sites in Erie County may fill out an online form, according to the county.
"Please note that those in the 1B category should not expect an appointment until February at the earliest," the form states.
The state vaccination hotline number is 1-833-NYS-4-VAX (1-833-697-4829).
The Niagara County Health Department will offer vaccinations against Covid-19 for eligible persons at sites in Lockport, Niagara Falls and North Tonawanda, starting Tuesday.
The shots are being given by appointment only, and this week's appointments are already full, the department said. Public Health Director Daniel J. Stapleton said about 900 people will be vaccinated from Tuesday through Thursday at the county-run sites.
"Appointments will be made available for the current number of vaccine doses we have on hand to administer," Stapleton said. The county will use the Moderna vaccine, which requires a second dose one month later.
The county will follow state eligibility rules, requiring patients to bring a printout or screenshot of the state's online eligibility form, which is needed to make an appointment online at the county Health Department website.
Stapleton said those over age 75, who became eligible as of Monday, should use pharmacies or other retail sites, not the county distribution points.
"After vaccination, it is still very important that you continue to wear a mask, wash your hands and practice social distancing," Stapleton said.
Based on the current pace people are receiving the vaccine in New York, Cuomo has estimated it would take until about mid-April for all the eligible health-care workers, who were prioritized in the state's Phase 1A, and those in Phase 1B, who became eligible Monday, to receive the vaccine.
There are about 349,000 Western New Yorkers who are eligible to receive the vaccine under Phases 1A and 1B, the state has said. Between 35,000 and 40,000 Western New Yorkers have received at least one dose of the vaccine, Lt. Gov. Kathy Hochul said Friday. That figure does not include vaccinations in nursing homes.
The state will expand the number of sites that will distribute the vaccine to include doctors offices, pharmacies and other facilities. About 1,200 pharmacies statewide have already committed to participating, with about 500 coming online this week, Cuomo has said.
As of Thursday, 363 local providers signed up to participate as vaccine distribution sites in the five counties of Western New York.
News Staff Reporter Thomas J. Prohaska contributed to this report.
The state Department of Health published online this list of 103 vaccine distribution sites in Western New York: