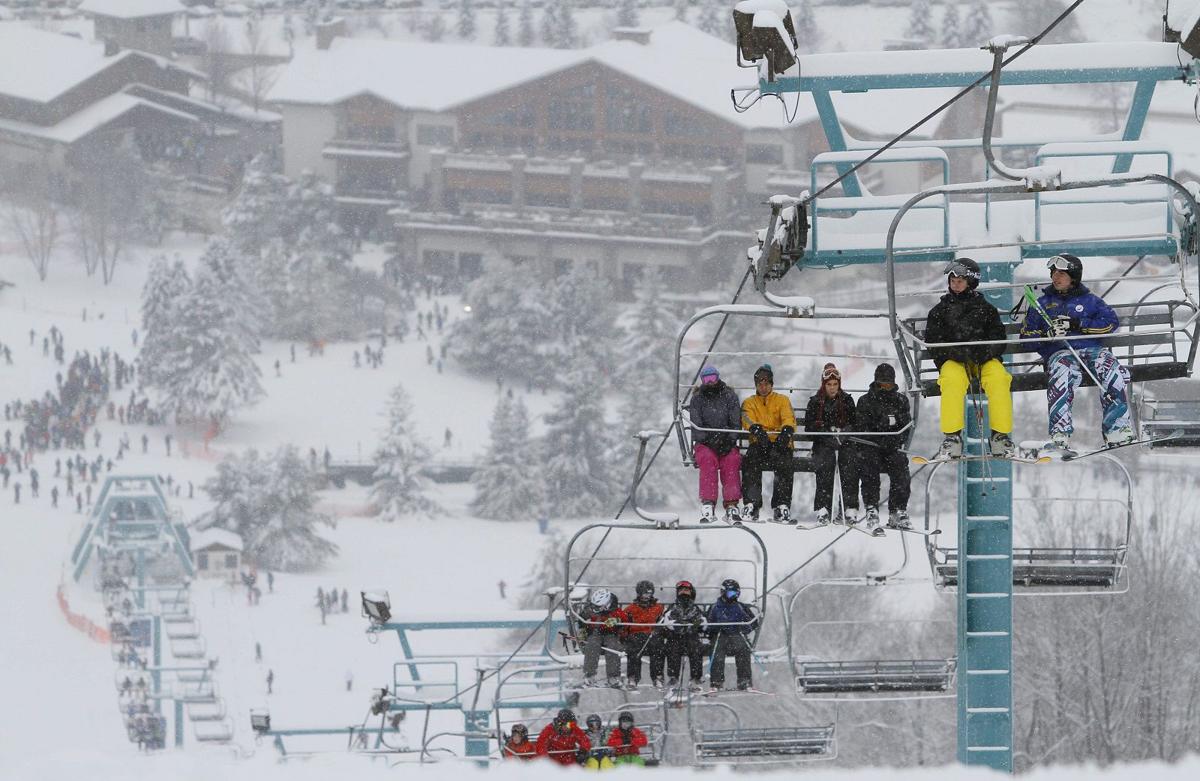 New York's ski resorts can open in a matter of weeks – and that's just the news that Holiday Valley Resort in Ellicottville has been waiting for.  
Gov. Andrew M. Cuomo said Sunday that ski resorts will be permitted to open up at 50% of their indoor capacity starting Nov. 6.
Speaking from a briefing in New York City, Cuomo said other coronavirus guidelines, such as mask-wearing and social distancing, will need to be followed. 
"Beginning next month, ski resorts will be allowed to reopen with limited indoor capacity," Cuomo said, "which will allow New Yorkers to have some outdoor activity this winter without having to quarantine when they come back." 
"This is actually basically what we've been expecting," said Jane Eshbaugh, director of marketing for Holiday Valley. "We've been planning for this pretty much since we closed on March 17 of last year."
Each department at the resort had made plans for how to handle the reopening "subject to what the governor actually released," she said.
The state guidance for the reopening of ski resorts includes the following precautions:
• Masks required at all times, except when eating/drinking or skiing.
• Social distancing between parties required at all times.
• Restrict gondolas/lifts to members of the same party.
• Limit ski lessons to no more than 10 people.
• Thorough cleaning and disinfection of shared/rented equipment.
• Shuttles, food and beverage and retail services must conform to state-issued guidance.
• Reduce outdoor capacity on mountain by 25% during "peak" days or if multiple trails are closed due to unseasonable conditions.
For ski trails, following the guidelines should be easy; social distancing comes naturally as skiers are supposed to stay out of each other's way.
"Obviously, you don't want to be skiing down and getting too close to somebody," Eshbaugh said. "That's not good for either of you!"
Seating has been reduced in buildings, including the resort's three lodges.
An uptick in the positive rate often, though not always, precedes an increase in hospital and intensive-care unit admissions.
"We are going to be putting up some outdoor tents and heaters, so people can run inside, get their hot chocolate and grab-and-go food and go outside and eat," or eat inside on a quieter day, she said.
On the four-person chairlifts, only members of the same party will be able to ride together, Eshbaugh said.
The bars at Holiday Valley, which have been open all summer as people used the golf course and pool, have been following the state rule that requires those who drink to also order food.
Although the governor's announcement allows ski resorts to offer skiing starting Nov. 6, Eshbaugh said Holiday Valley plans to open on the day after Thanksgiving, as usual.
"But it's completely dependent on the weather," she said. "We like to try to make snow somewhere in the middle of November, and get enough snow to open at least a few slopes on the day after Thanksgiving."
With the Covid-19 restrictions limiting travel, she said, many new people have checked out Holiday Valley, which also offers summer attractions such as its outdoor adventure park.
For the first time in seven months, most Western New Yorkers will be able to buy a movie ticket Friday and escape to a darkened theater with a bucket of popcorn.
"We were very encouraged because a lot of people wanted to get outside and enjoy the outdoors, because they couldn't do things indoors. So a lot of people in the area discovered Holiday Valley."
Officials at Kissing Bridge ski resort in Glenwood did immediately respond to a voicemail seeking comment after the governor's announcement Sunday.
Cuomo emphasized that New York skiers should take advantage of facilities in New York State rather than traveling elsewhere because of the 14-day quarantine in place on travel from other states.
"Go ski in one of these other states, then you have to quarantine for 14 days," Cuomo said. "Ski for two, quarantine for 14." 
Concerned about COVID-19?
Sign up now to get the most recent coronavirus headlines and other important local and national news sent to your email inbox daily.