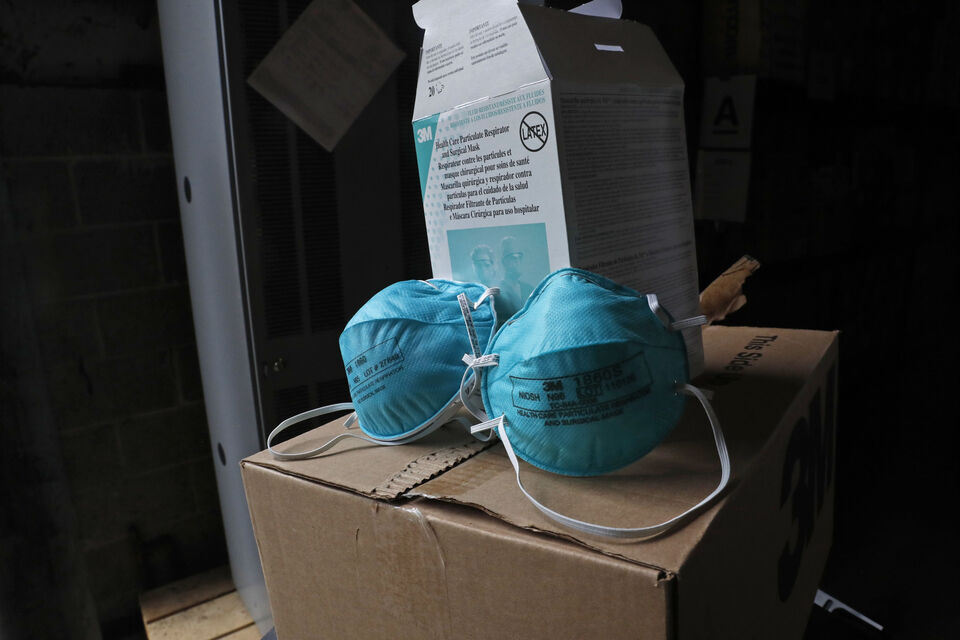 Starting Wednesday, New York State will no longer require fully vaccinated residents to wear masks outdoors or in many indoor settings, Gov. Andrew M. Cuomo announced Monday. But that doesn't yet mean that face masks – a ubiquitous sight and symbol of the pandemic – are going away.
Masks will still be required in schools, nursing homes, hospitals and prisons, as well as on public busses and trains, Cuomo said.
Masks will still be required on public transit, in nursing homes, health care facilities, schools, homeless shelters and correctional facilities. 
Private businesses and venues can also set their own rules for masking on their premises.
And people who are not fully vaccinated yet – roughly 58% of all New Yorkers – must still wear masks in public, though it is unclear how such a rule will or could be enforced. In states that have already dropped their mask mandates, voluntary mask-wearing remains the norm for many people and businesses wary of the new honor system.
"It's all very confusing for us," said Ellie Grenauer, co-owner of Williamsville's Glen Park Tavern, after a conference call with other restaurateurs. "For me personally, I think I'll maintain the 6-foot social distancing, because I'm not comfortable asking people for their vaccination record."
The rollback of New York's 13-month-old mask mandate follows new guidance from the U.S. Centers for Disease Control and Prevention, which last week ruled that fully vaccinated people do not have to wear a mask or socially distance "in any setting" unless a business, employer or local jurisdiction requires it. The agency came to that conclusion, CDC officials said, after two new studies confirmed that vaccinated people very rarely catch or transmit Covid-19, and that existing vaccines are effective against coronavirus variants.
More than 47% of Americans have received at least one shot of vaccine, according to the CDC, as have half of all New Yorkers. In Western New York, more than 536,000 people are fully vaccinated, according to data from the state Health Department.
"We are managing Covid," Gov. Cuomo said during a press briefing Monday. "We have to get back to life and we have to do it the way New Yorkers do it, quickly and robustly."
A number of significant businesses and cultural venues have already announced plans to do away with masks. National retail chains including Walmart, Target, CVS, Starbucks and Trader Joe's have all said they will allow customers to shop without masks if they are fully vaccinated, following the CDC's most recent guidance.
Radio City Music Hall will also reopen next month at full capacity and without masks, Cuomo said. The venue will verify that every ticket holder has been fully vaccinated.
In the Buffalo area, some chain gyms have also instructed staff to ask unmasked people for proof of vaccination, employees said Monday on social media. Russell's Steaks, Chops and More in Lancaster will drop its mask requirements, but will post signs at its doors warning customers that staff may ask them if they're vaccinated.
"We are asking you to please be honest with yourselves and don't come in without a mask unless you're vaccinated," owner Russell Salvatore said.
But he had not yet decided how the restaurant would respond if a server uncovered an unvaccinated person not wearing a mask.
Other businesses have indicated that they are less eager to bestow that kind of trust in their customers – or take on the job of policing who can and cannot go maskless. The Toronto Blue Jays will still require all ticket-holders to wear masks to at least the first eight games of the season, even in vaccinated seating sections, a spokeswoman for the team said. The Buffalo Philharmonic Orchestra will also likely continue to require masks and limit capacity through the end of its season, said Patrick O'Herron, the BPO's vice president of marketing and communications.
On Monday, the managers of Iron Buffalo, a retail store and take-out coffee bar in Amherst, tweeted that the governor's announcement put them "in the difficult position of either posting a bouncer at the door to check proof of vaccination before entry, or continuing to require masks." The store opted for the latter, co-operator Dan Vander Kooy said.
"While it's generally safe for vaccinated people to be around each other unmasked, the risk is still present for folks who are unvaccinated," he added. "We would generally prefer not to have to police that."
In addition to the relaxation of the state mask mandate, Monday's announcement lifted most capacity restrictions on restaurants, retail stores, offices and museums and ended an outdoor food and beverage curfew. The indoor food and beverage curfew will be lifted May 31. Indoor gatherings can now include as many as 250 people.
David Fillenwarth, the executive director of the 1,100-seat Riviera Theatre in North Tonawanda, said he was "very excited and encouraged" by the changes. But even his theater, which is scheduled to host its first event in more than a year on June 25, will need time to "analyze" the requirements around mask-wearing, he added.
"It sounds like it's going to fall on the venue to monitor who comes in and who doesn't," Fillenwarth said. "That could be a tricky situation."