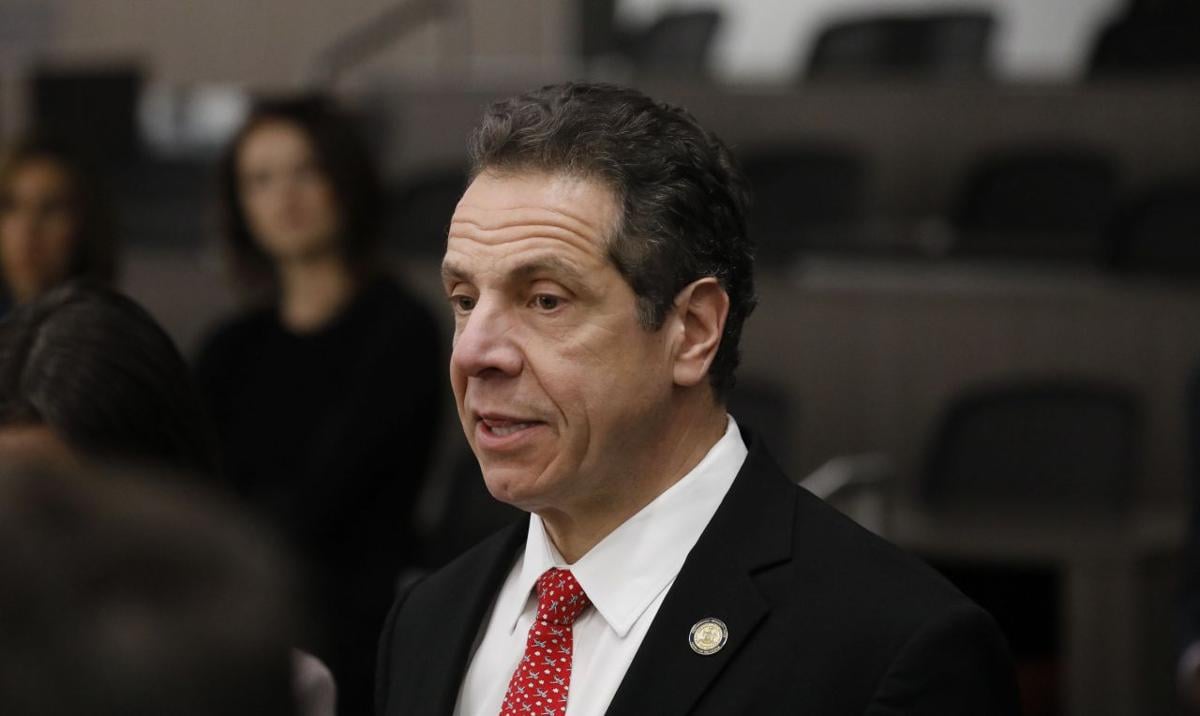 ALBANY, N.Y. – A former aide to Gov. Andrew Cuomo published a lengthy essay on Wednesday morning accusing the governor of sexual harassment and outlining several unsettling episodes, including an unsolicited kiss in his Manhattan office.
The aide, Lindsey Boylan, described several years of uncomfortable interactions with Cuomo, a third-term Democrat, including an invitation to play strip poker on a government airplane and an email from another top aide suggesting that the governor thought she was a "better looking sister" of another woman.
Boylan, who worked for the state's economic development agency at the time, published that email from December 2016, and said the governor began calling her the other woman's name in professional settings, an experience she described as "degrading."
Boylan, who is running for Manhattan borough president, first publicly accused the governor of sexual harassment in December, in a series of remarks on Twitter. At the time, Boylan did not speak to the media, offer details of the alleged harassment or provide corroboration.
On Wednesday, however, Boylan wrote that she had told her husband and mother of her concerns about the governor. She also offered new details, including an incident in 2018 when she said that she and Cuomo were alone in his Manhattan office.
"As I got up to leave and walk toward an open door, he stepped in front of me and kissed me on the lips," Boylan wrote. "I was in shock, but I kept walking."
When Boylan first went public in December, the governor vehemently denied the accusations.
"Look, I fought for and I believe a woman has the right to come forward and express her opinion and express issues and concerns that she has," Cuomo said during a news conference last year. "But it's just not true."
His office on Wednesday did not immediately return requests for comment.
Boylan wrote that in her early days working for the Cuomo administration, her boss at Empire State Development had once told her that "the governor had a 'crush' on me," adding that Cuomo had gone "out of his way to touch me on my lower back, arms and legs."
"His senior staff began keeping tabs on my whereabouts," she wrote, publishing an email from 2016, in which a top aide to Cuomo asked Boylan's boss if she was going to be attending a governmental event.
The attention from the governor also included a private invitation to his office in late 2016, Boylan said, in which she says he showed her a cigar box Cuomo said had been given to him by President Bill Clinton when Cuomo served in his administration, as Secretary of Housing and Urban Development.
"The two-decade-old reference to President Clinton's affair with Monica Lewinsky was not lost on me," she said.
In 2017, Boylan wrote that the governor joked that they should play strip poker while on a flight, in close quarters, an episode she said was witnessed by a press aide and a state trooper.
Boylan said she replied: "That's exactly what I was thinking," in a sarcastic manner.
"I tried to play it cool," she wrote in the essay, which was published on Medium. "But in that moment, I realized just how acquiescent I had become."
Boylan's allegations come as Cuomo faces one of the most turbulent moments of his decadelong tenure.
The governor came under fire this month after his top aide, Melissa DeRosa, disclosed in a private meeting with state lawmakers that the administration had withheld data on the full extent of deaths of nursing home residents during the pandemic.
The revelation immediately roiled his administration, leading federal prosecutors to open an investigation and state lawmakers to consider stripping Cuomo of his pandemic emergency powers.
The governor's conduct has also faced renewed scrutiny after Ron Kim, a Queens assemblyman, said Cuomo had threatened to "destroy" him in a phone call after Kim publicly criticized his administration's handling of the nursing home controversy. The governor's office called Kim a liar, while Cuomo went on to publicly attack Kim during one of his coronavirus briefings.
On Monday, The New York Times reported on the governor's long-standing tendency toward aggression and instances in which he has berated aides, bullied elected officials and threatened political opponents over the years. Some former staffers described the governor's office as a toxic workplace and Cuomo, 63, as a demanding and controlling boss who governs by fear and retribution.
Unlike previous crises that Cuomo has weathered – from the conviction of close associates to his abrupt disbandment of a commission investigating public corruption – the nursing home scandal and reports of his private behavior have begun to spread beyond Albany's political confines.
Over the weekend, the nursing home controversy even got several mentions on "Saturday Night Live," including a skit where Cuomo was portrayed by comedian Pete Davidson, sheepishly acknowledging the "nursing home stuff."
Boylan joined the Cuomo administration as a top aide at Empire State Development in 2015 before taking a job as a special adviser to the governor in 2018, something she said she did with a precondition that she would keep her old office and "remain on a separate floor from him and his inner circle."
After the unwanted kiss, Boylan says her "fears worsened," and her work relationships with female members of his senior team "grew hostile."
"I was reprimanded and told to get in line by his top aides, but I could no longer ignore it," she wrote.
Boylan, 36, left the administration in late 2018. She did not return a request for comment via phone or text.
"Telling my truth isn't about seeking revenge. I was proud to work in the Cuomo administration. For so long I had looked up to the governor," she wrote. "But his abusive behavior needs to stop."