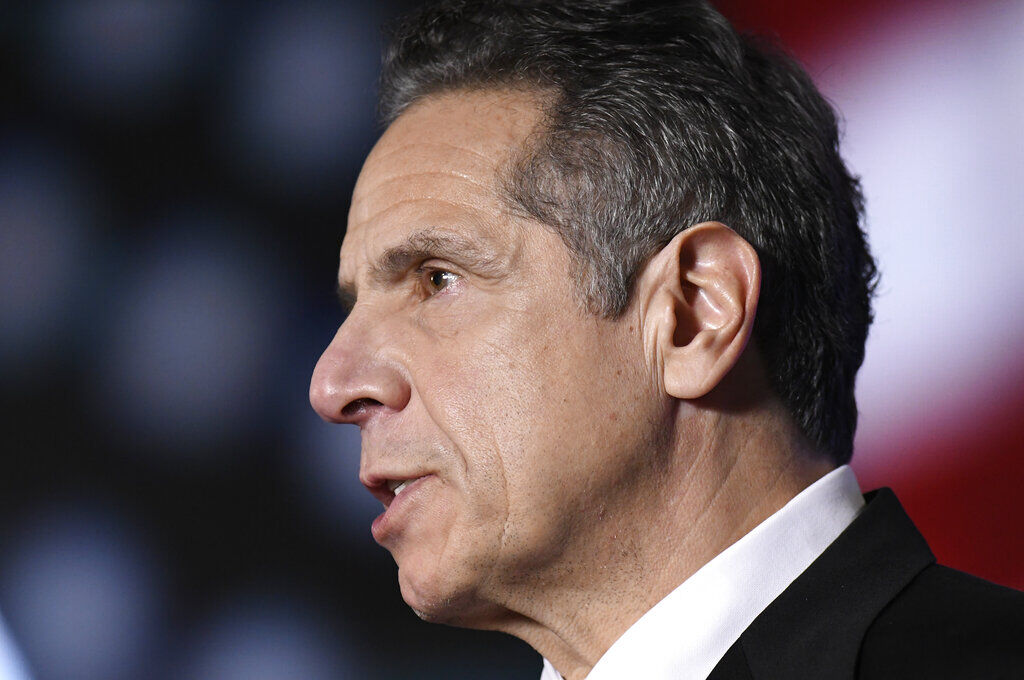 New York expected to get more Covid-19 vaccine from the federal government this week after officials promised to release doses being held in reserve. 
Instead, it got about 50,000 fewer doses from the Trump administration, Gov. Andrew M. Cuomo said.
New York received 250,000 shots of vaccine this week, the governor said, but has 7.1 million people eligible under the expanded federal guidelines that include anyone 65 years old or older. 
"Our constraint is the federal supply," Cuomo said. "They increased the eligibility, they did not increase the supply."
Limited vaccine supply means the Erie County Department of Health will run out after two clinics on Saturday, unless more doses are received, County Executive Mark Poloncarz said .
And Erie County isn't the only place running out – Niagara Falls Memorial Medical Center canceled its clinics next week because of a supply shortage.
Aside from supply concerns, the rollout of the state's vaccine distribution system has continued to frustrate many who have been trying unsuccessfully to make an appointment.
In some spots in Western New York, people with appointments waited hours in line but never got inoculated.
The state Friday began accepting vaccine appointments for a mass distribution site at the University at Buffalo's South Campus, though many reported problems with the state's website.
Separately, New York had to cancel thousands of appointments made Thursday at several mass vaccination sites after an "unauthorized" link was shared.
Niagara Falls Memorial Medical Center canceled a vaccination clinic scheduled for Friday after difficulties with online scheduling.
When asked about the website problems during Friday's state briefing in Albany, Melissa DeRosa, secretary to the governor, said the state's website has been overwhelmed with users as more people became vaccine-eligible.
"What ended up happening was all of the sudden we went from a manageable universe to 7.1 million instantly," DeRosa said.
Vaccine supply limitations continue to haunt New York, just like the rest of the country.
On Tuesday, the same day Health and Human Services Secretary Alex Azar made the announcement which led many to believe there would be an increase in vaccine supply released across the country, state officials said they would follow federal guidance and expand what groups of the population were eligible to receive the vaccine.
"I am not a big fan of the current administration," Cuomo said Friday. "Shocker."
"I believe what they did was politically motivated," referring to expanding the population eligible to get the vaccine.
"So on their way out the door they can say they made it available to everyone, and we increased supply ... except they didn't," he said. 
Erie County about to run out
Erie County is on the brink of running out of Covid-19 vaccine, the county executive said Friday.
"We have enough vaccine to get through Saturday's clinics and then we run out," Poloncarz said in a telephone interview. "I've let the state know and others know that unless we get more doses by the end of Saturday, we're going to be calling people on Sunday, canceling the appointments that the state asked us to schedule."
A small amount of vaccine is expected to remain on hand so that some of the people who have vaccination appointments early Monday will be able to get their shots. But Poloncarz said appointments for later Monday will be canceled if the county doesn't receive more vaccine by Saturday.
Poloncarz attributed the tight local supply to the reduced allocations of vaccine that the state has been receiving from the federal government.
He said that there are more than 300,000 Erie County residents – about a third of the population – who are eligible to get the vaccine. 
"Everybody thinks they're going to get it, and there's just no vaccine to deliver," he said. 
He said the county has efficiently distributed the vaccine it has received, vaccinating more than 1,700 people at its two clinics on Thursday alone.
"We've done a very good, efficient job of getting doses into the arms of our citizens," Poloncarz said. "Not a single drop has been wasted."
Poloncarz said more than 1,000 people have signed up for vaccinations on Monday, but that the limited supply means only a couple hundred people will be able to get their shots that day.
Vaccine distribution numbers vary
Overall, the state has injected into arms 74% of the vaccine it received for first doses over the first four weeks of distribution, the governor said. In Western New York, 82% of the allocated first dosages were injected in arms.
Statewide, 827,715 doses have been administered: 731,285 first doses and 96,430 second doses, Cuomo said. Those figures do not include vaccinations under the federal program for long-term care facilities, including nursing homes, officials said.
The state has received about 1.1 million doses over the first four weeks of vaccinations, said Gareth Rhodes, a member of the governor's Covid-19 Response Task Force.
The state expects 96% of nursing home residents statewide will have gotten vaccinated by Sunday, the governor said.
Over the first three weeks of vaccine distribution, many Western New York hospitals administered all of their allotted doses. The two lowest performing hospitals over that time were Mount St. Mary's Hospital in Lewiston at 65% and Roswell Park Comprehensive Cancer Center at 75%, according to figures shown in Cuomo's presentation.
Additionally, the governor said New York's hospitals have not vaccinated enough of their workers, and are in danger of having staff shortages due to illnesses.
The region's hospitals have vaccinated, as of Thursday, from 41% (DeGraff Memorial Hospital in North Tonawanda) to 83% (Millard Fillmore Suburban Hospital in Amherst) of their health care workers, he said.
Overall, 63% of eligible hospital workers in Western New York have been vaccinated, while 23.5% have declined to accept the vaccine, according to a slide shown during Cuomo's briefing. Statewide, about 60% of health care workers have been vaccinated, Cuomo said.
"If you're not vaccinating the nurses and the doctors, they will get sick ... they will be superspreaders," he said.
No further details have been released about the eligibility of individuals with compromised immune systems. 
State officials are still talking with federal officials and the incoming federal administration about it, the governor said. State officials want to get more guidance, Cuomo said.
There are roughly 5 million New Yorkers who would could be considered to have compromised immune systems, Cuomo said, noting that adding that population would essentially make 12 million of the state's 15 million residents age 16 and above who are eligible for the vaccine.