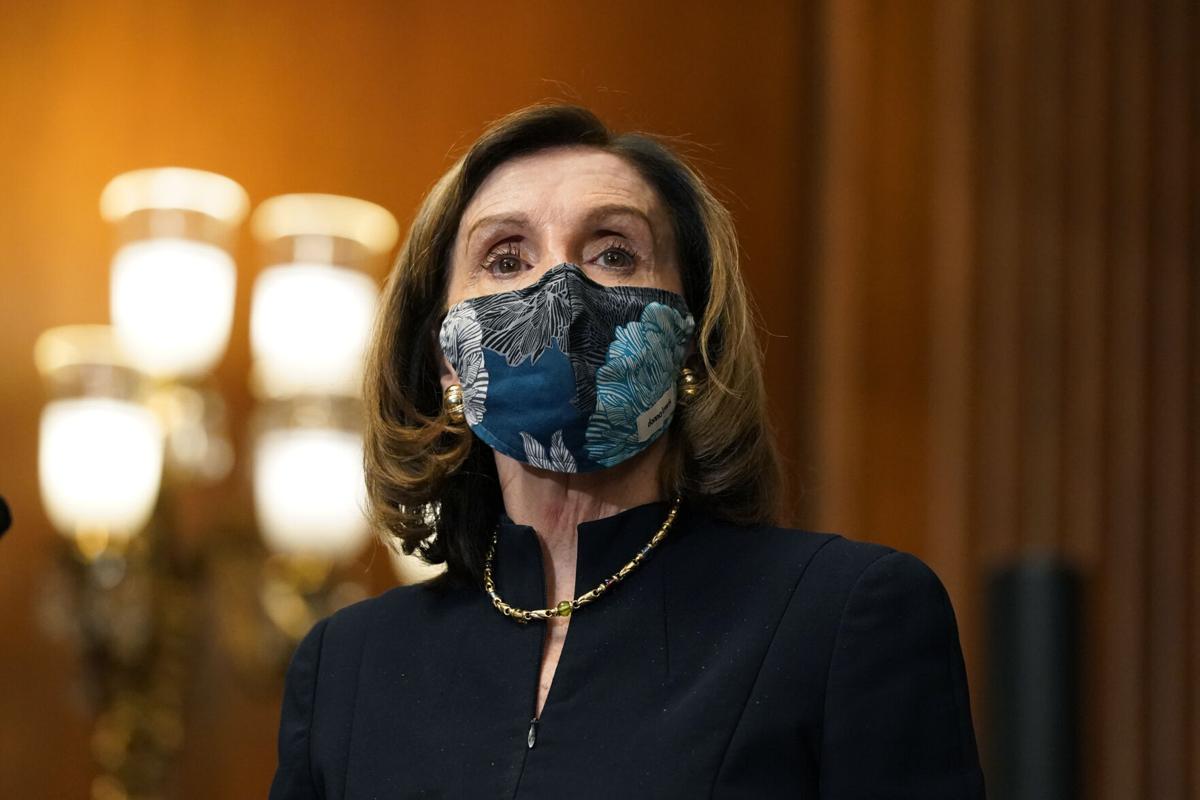 WASHINGTON – Gov. Andrew M. Cuomo, who's been demanding $15 billion in federal aid to cover the state's budget gap, met with President Biden on the issue Friday – a day after House Speaker Nancy Pelosi told the state's federal lawmakers that New York will actually receive a $70 billion influx under Biden's Covid-19 relief package.
Cuomo joined a bipartisan group of governors and mayors in the meeting to discuss Biden's $1.9 trillion coronavirus relief package. And afterwards, Cuomo – who chairs the National Governors Association – issued a joint statement with Gov. Asa Hutchinson of Arkansas, the group's vice chair, that made no direct mention of Cuomo's insistence on $15 billion.
Calling the meeting a productive one, Cuomo and Hutchinson said: "The President and his team made clear that they recognize and appreciate how critical this targeted relief is for our ability to recover from this pandemic."
At the start of the meeting, Biden said: "What I really want to know about is what should that recovery plan, should we have more or less of anything in it, what do they think they need most?" 
The meeting – which also included Vice President Kamala Harris, the governors of Maryland and New Mexico as well as five mayors – was Cuomo's first with Biden since his inauguration Jan. 20. And it came amid the backdrop of a letter from Pelosi that detailed the windfall that New York could expect under Biden's relief plan.
The Thursday letter to the state's House Democrats, which was obtained by The Buffalo News, stresses that the state will receive $12.67 billion in the kind of direct aid that Cuomo has been seeking, but also much more. 
"Overall, New York State will receive over $50 billion in state and local funding, and more than $20 billion in additional funding to support families' health, financial security and well-being," Pelosi wrote.
New York's interests in the stimulus package are moving forward "with the enthusiastic advocacy" of Senate Majority Leader Charles E. Schumer and Sen. Kirsten E. Gillibrand, both New York Democrats, Pelosi added.
The governor indicated earlier this week that he wanted $15 billion in direct aid, saying: "The state needs $15 billion, and that's the actual need and that's what we should get and if we don't get $15 billion I will be disappointed and I don't think it's fair."
Pelosi stressed, though, that the state will receive plenty more money in other ways. For example, she said the state will receive: 
• $9.47 billion for K-12 schools and $2.85 billion for higher education
• $10.64 billion in aid to local governments, a figure that, sources said, is likely to shrink when the relief package goes to the Senate
• $8.8 billion for New York City transit
• $3.1 billion in Medicaid assistance
• $1.8 billion for child care
• Hundreds of millions of dollars in aid for the homeless, small business lending and funding for other programs
"Your delegation has secured strong funding for New York governmental services," Pelosi wrote.
Pelosi wrote in response to a letter the New York's House delegation wrote to her on Tuesday that largely echoed Cuomo's demands.
"We urge you to ensure that New York receives the stabilization funding it needs to bridge its two-year, $15 billion budget gap," the Democrats, including Rep. Brian Higgins of Buffalo, wrote. "Without these funds, the state will face a dire financial crisis and be forced to take drastic and damaging steps to address the shortfall."
In her letter, Pelosi stressed that New York will also get plenty of federal Covid-19 relief that isn't even included in her $50 billion tally. 
The Biden plan includes an additional $50 billion nationwide for coronavirus testing, $20 billion for vaccine distribution and $8 billion to bolster the public health workforce.
"We expect a significant portion of those funds will be distributed directly to state and local health departments," Pelosi wrote.
Beyond that, Pelosi detailed $20 billion in aid that will be going directly to New Yorkers. Some $12.19 billion in stimulus checks will be sent to state residents, while a new child allowance will bring families in the state $7 billion. New Yorkers will also receive $1.58 billion in homeowners and rental assistance as well as $1 billion more in food stamps.
House committees spent the week drawing up pieces of the $1.9 trillion Biden relief package. Pelosi said the House will finish work on that package and send it to the Senate later this month.
The Democratic House majority will do that with little if any support from House Republicans, who have been critical of the relief package.
Rep. Tom Reed – a Corning Republican who has been pushing for more state and local aid – lauded the inclusion of that money in the bill. But overall, he said the aid package "has largely prioritized the policy objectives of the far left over bipartisan compromise."
But in her letter, Pelosi said bold action is needed to help New York and other states that have suffered amid the Covid-19 pandemic.
"During this time of immense crisis, the entire Congress stands with the people of New York – and all who are suffering – as we work to secure urgent and bold relief to save lives and livelihoods," Pelosi wrote.