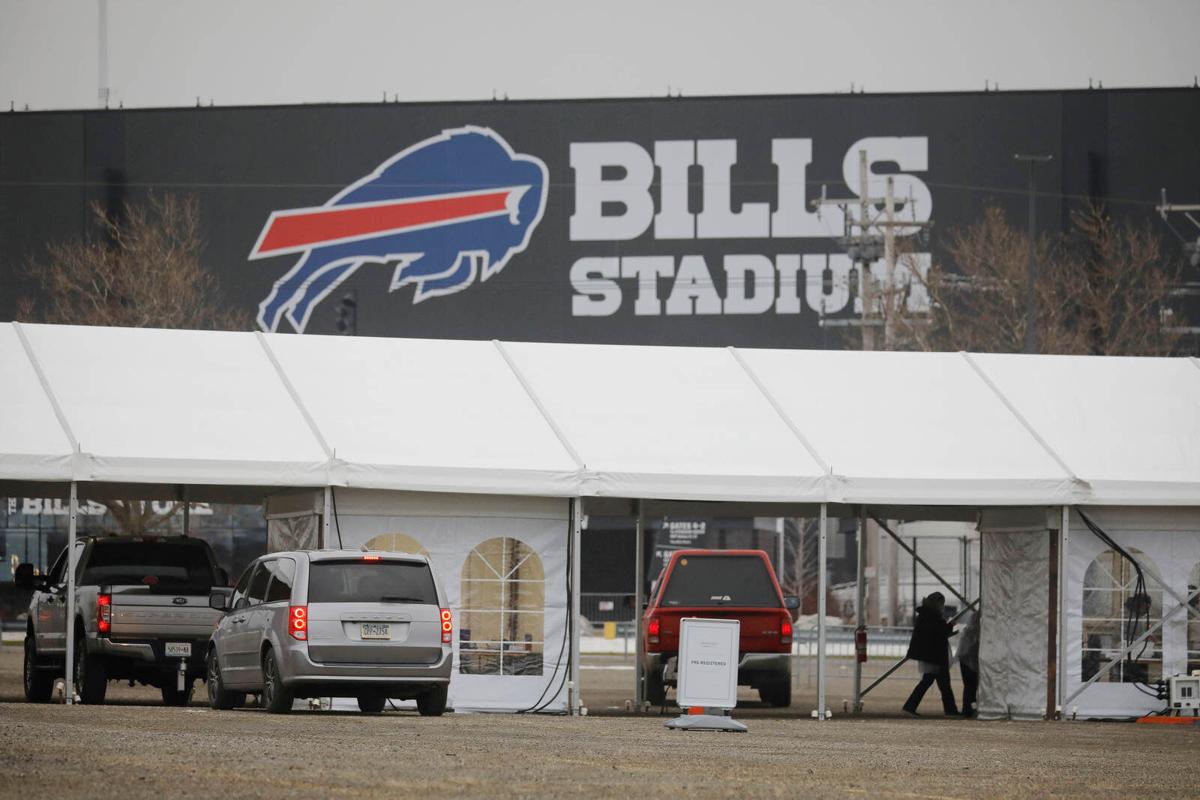 The Buffalo Bills' home playoff wins weren't just big for Western New York, they provided a path for venues to reopen across the state.
That could be good news for the Buffalo Sabres and the team's fans – but don't bust out your favorite jersey and start lining up at the foot of Washington Street just yet.
Citing what he called the "unparalleled success" of fans attending Bills playoff games in January, Gov. Andrew M. Cuomo announced Wednesday that the state's large arenas would be permitted to again host events starting Feb. 23.
Venues that seat 10,000 or more people will be able to reopen to 10% of their capacity, given that they meet state guidelines, including testing of all attendees.
"The Buffalo Bills demonstration program ... was an unparalleled success," Cuomo said during a video briefing Wednesday afternoon from Albany. "Seven thousand people in a stadium, everyone tested.
"We are going to now extend the Buffalo Bills example. Any large stadium or arena ... can open on Feb. 23."
That would seem to include KeyBank Center, the home of the Sabres. With a capacity of more than 19,000 for hockey games, close to 2,000 fans would be allowed to watch games.
The arena would be able to seat no fans on the bench side of the building in the 100 level because the glass has been taken out from behind the benches due to new NHL Covid protocols.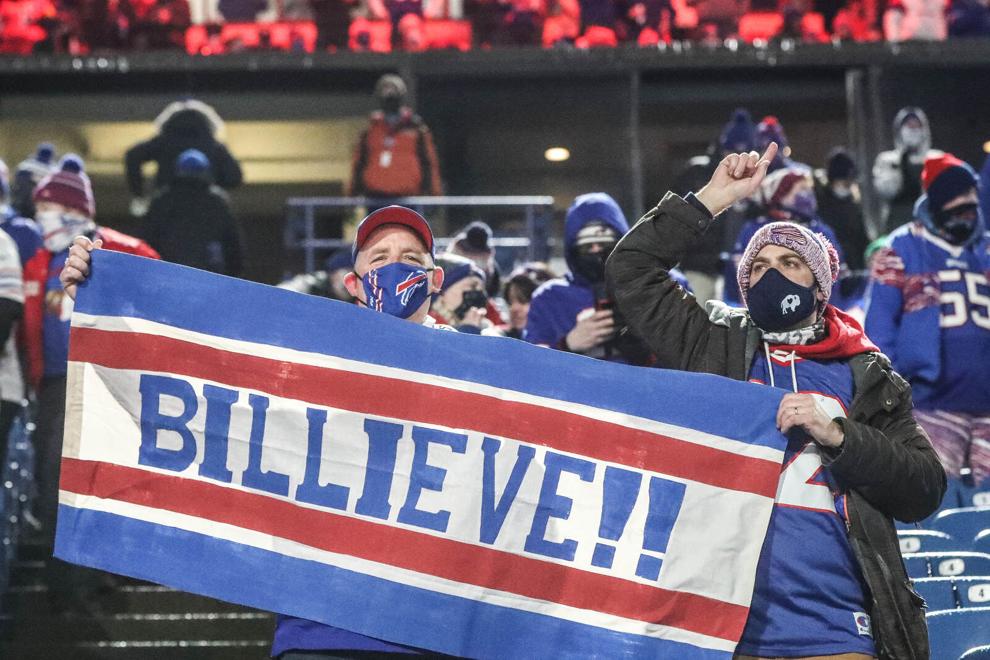 There would be 18 home games after the Feb. 23 date. The first one would be Feb. 25.
But in a statement posted Wednesday afternoon on Twitter, the Sabres did not quite throw open the arena doors and yell, "Welcome back!"
"Gov. Cuomo's announcement providing the opportunity to allow Sabres' fans back to KeyBank Center is a great step forward. We continue to work closely with the New York State and Erie County Departments of Health to ensure a safe, healthy, and fan-friendly environment to enjoy Sabres hockey. Ticketing information and game-day protocols will be announced as they become available."
The Sabres would have to determine which season ticket holders could attend and what it will do about allowing fans in luxury suites. The organization has to determine ticket and concession policies, with many arenas and stadiums that have opened to fans going mobile and cashless in those areas to cut down on contact points.
It has to match testing with ticketed fans, a chore that was not too arduous for a single Bills playoff game on a weekend but one that could be difficult for an NHL schedule that could have up to four home games in a week.
The team also could opt to only allow fans into the building for certain games, perhaps those on weekends or against marquee opponents in their division.
Still, Sabres winger Kyle Okposo said Wednesday he welcomes the idea of having fans back in the building.
"It's definitely something that has been missing," he said, adding: "Everybody's just trying to do the best with the information that they have, including Gov. Cuomo. ... I know that my kids will be pretty thrilled and hopefully they can come to a game, too."
The Sabres have not played since their season was put on pause last week following a Covid-19 outbreak.
KeyBank Center appears to be the only sports venue locally that would be immediately affected by the new guidelines. The next largest arena that would normally be hosting sporting events at this time of year is Alumni Arena on the campus of the University at Buffalo, but it has a capacity of about 6,800.
The decision would eventually affect Sahlen Field, the home of the Buffalo Bisons. The team's schedule has not been set, but could begin play as early as April.
The guidelines are for any arenas or stadiums for any kind of event, sports, concerts or other performances.
The overall guidelines include:
• Limited attendance of 10% of capacity
• Negative PCR tests required within 72 hours of event
• Social distancing, masks and temperature checks are required 
• Mandatory assigned, socially distanced seating
"This hits the balance of a safe reopening," Cuomo said. 
Cuomo said Bills Stadium was the only football stadium to open for fans "with testing."
"If you are negative, you are negative," Cuomo said. "So the testing is the key. ... A PCR test is as safe as you can get." 
Cuomo said that the NBA's Brooklyn Nets will host a game Feb. 23 against the Sacramento Kings at the Barclays Center. 
"Using this model they've been approved to do that," the governor said. "Anyone else who is interested should let us know."