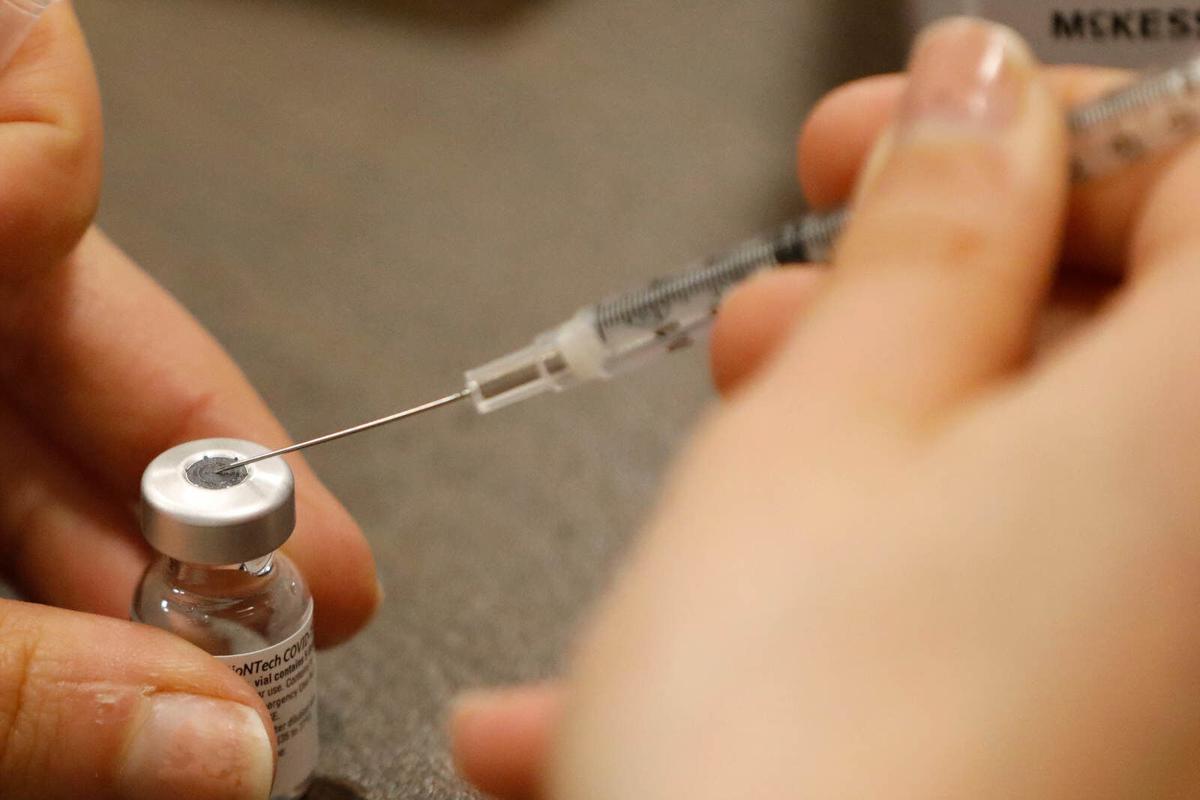 The vaccination rate among hospital workers across New York State has tripled over the last two days, Gov. Andrew Cuomo said Wednesday.
Over the last three weeks, hospitals across the state were inoculating staff at a rate of 10,809 people per day.
In the last two days, the daily rate has jumped to 31,157, Cuomo said.
"So I'm glad they heard me," Cuomo said Wednesday during a briefing in Albany. "But you have to keep it up because we need that hospital staff vaccinated. We need them vaccinated quickly."
Keeping hospital staff healthy is important to making sure communities maintain sufficient hospital capacity to deal with Covid-19 cases, Cuomo said. If hospital staffers get sick, facilities will lose capacity to treat patients, and if hospitals become overwhelmed, that would trigger regional economic shutdowns, the governor has said.
Cuomo released new vaccination rates for some hospitals and hospital systems. Among the latest top 10 list is Kaleida Health, which has administered 98% of its vaccine inventory.
Wyoming County Hospital was listed among the state's bottom 10 hospitals, having administered 26% of its vaccination dosages. 
The governor mentioned a "Catholic Health - St. Joseph's Hospital" that was also listed on a presentation slide as being among the bottom 10 hospitals, but that referred to Catholic Health Services of Long Island's hospital in Bethpage, not Cheektowaga's St. Joseph's Campus hospital that is a part of Western New York's Catholic Health. 
So far, the state has seen a 70% vaccine acceptance rate among hospital staff, while an ongoing state survey shows about 85% of hospital staff say they want to get the vaccine, Cuomo said Wednesday.
The state has been receiving about 300,000 Covid-19 vaccine doses per week and so far has received about 950,000 doses, the governor said. There are about 2.1 million New Yorkers, including health care workers and nursing home residents and staff, who are eligible to receive the vaccine in the first phase of the state's vaccination plan.
The governor said the state expects all nursing home residents and staff will have received their first dose of the vaccine by two weeks from now.
The next phase of vaccinations covers essential workers and those 75 and older. There are about 5 million essential workers and about 1.3 million who are age 75 and above, Cuomo said. 
"Supply is still going to be the issue," he said.
The governor also said he will not be attending Saturday's Buffalo Bills playoff game in Orchard Park, but will donate his ticket to a nurse at Erie County Medical Center.
Cuomo said that the Western New York region's positive coronavirus test rate is 8.76%. 
While the rate is below several other of the state's 10 regions, it is an all-time high for the five-county Western New York region.
The statewide positivity rate is 8.41%. There were 161 deaths statewide Tuesday, while hospitalizations increased by 75 to 8,665.