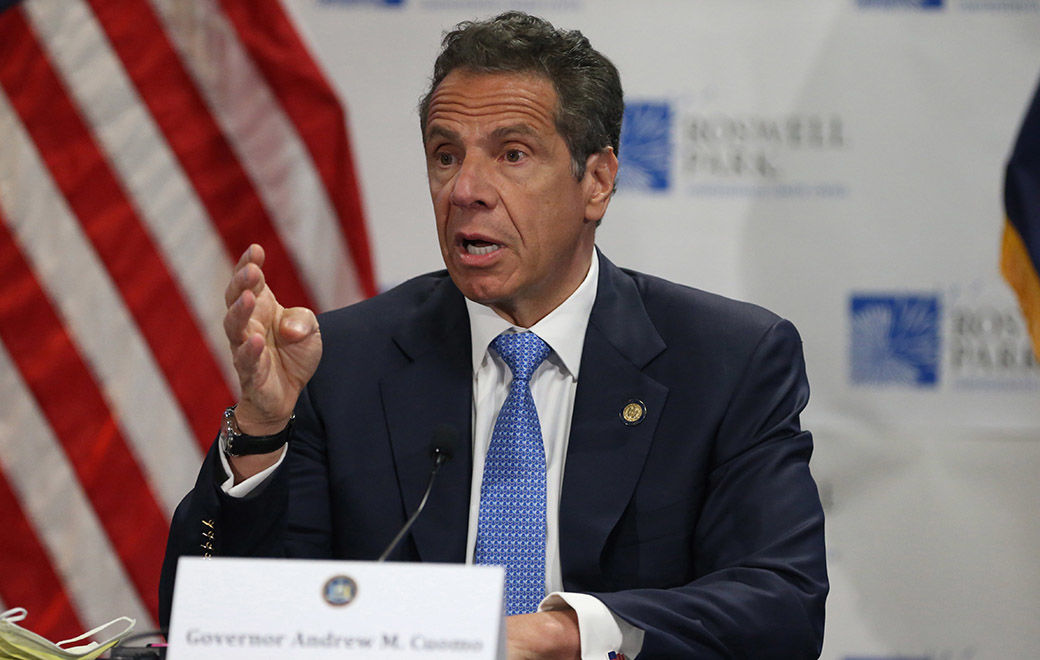 Lifting the ban on elective surgeries at Erie County hospitals could be just the start of a loosening of pandemic-related economic restrictions now that the region's rate of Covid-19 infections has fallen from an all-time high earlier this month.
The relaxed restrictions could be announced as soon as Wednesday, Gov. Andrew Cuomo said Monday.
The governor said he expects to announce "adjustments" to the restrictions on Wednesday, most likely those related to rules that fall under the state's color-coded microcluster zones.
Cuomo announced an end to the elective surgery ban Monday during a briefing at Roswell Park Comprehensive Cancer Center. The ban on elective surgeries went into effect Dec. 4.
Cuomo signaled that the state would loosen restrictions after noting improved metrics related to the spread of Covid-19 across New York State.
Key measures of Covid-19 spread have been dropping, including positive test and hospitalization rates, Cuomo said. When those measures decrease, "then you can increase economic activity," he said.
In Erie County, the positivity rate – the percentage of Covid-19 tests that come back positive – on Sunday was 5.2%, based on a seven-day rolling average, Cuomo said. That's a decrease from its most recent high of 7.8% on Jan. 5, according to state data. It also was the lowest rate since the county recorded 5.4% on Nov. 11.
Western New York's positivity rate, measured on a seven-day average, dropped to 5.7% on Sunday. It reached an all-time high of 8.8% on Jan. 5, according to state data.
Most of Erie County has been in an "orange zone" – the middle tier of the three-tiered system – since mid-November.
State officials believe the time is right to make adjustments as the period of increased spread triggered by small, indoor gatherings around the holidays has ended, the governor said.
"We're seeing that spike come down," he said.
The available hospital capacity in Erie County is 48%, a measure Cuomo called "very good."
Hospitalization rates have been dropping in all of the state's regions, the governor said.
The governor declined to offer further details about which microcluster rules might change or how they may be adjusted, other than to say changes would be "statewide." He said the state Department of Health is reviewing the data.
"We're focusing now on the microcluster zones," he said, when asked if the changes may involve indoor dining rules in New York City.
Cuomo also said the state has found no evidence of Covid-19 spread from those fans who attended the Buffalo Bills' two home playoff games. The state was to conduct contact tracing of attendees following the games.
The governor also announced a new hotline for people to report vaccine scams, abuse or fraud: 833-VAX-SCAM.
Erie County Medical Center, in a statement after the governor's announcement, said patients are being called to reschedule elective surgeries as soon as possible.
"We know that compliance with recommended actions to prevent the spread of the Covid-19 virus has contributed to the improved circumstances in Western New York, and we urge everyone to continue to wear a mask, maintain social distancing and perform regular hand hygiene," according to the ECMC statement.
Robert J. Nesselbush, Kaleida Health's CEO, said lifting the ban "will undoubtedly have a positive impact on patient care and outcomes, not to mention our operations and our overall financial position." 
"The pandemic has had a catastrophic impact on the health care delivery system here in Buffalo, Western New York and across New York State," Nesselbush said in a statement. "Covid-19 has also put tremendous stress on thousands of patients who have had to put their health on hold as we battled this crisis together. We are most happy for these patients."
Eddie Bratko, president of Mercy Hospital, which is part of Catholic Health, said the system has been planning with its surgical chiefs and chairs for whenever the state would allow elective surgeries to resume.
He said Catholic Health surgeons will reach out to patients in the coming days to schedule their procedures and their required pre-operative testing. Because a negative Covid-19 test is required before surgery, Bratko added, it likely will take several days before elective procedures can start up again.
"Fortunately, we have the necessary processes and procedures in place from when we resumed elective surgeries in the spring and expect this to be a smooth transition for our surgeons and patients," Bratko said in a statement.