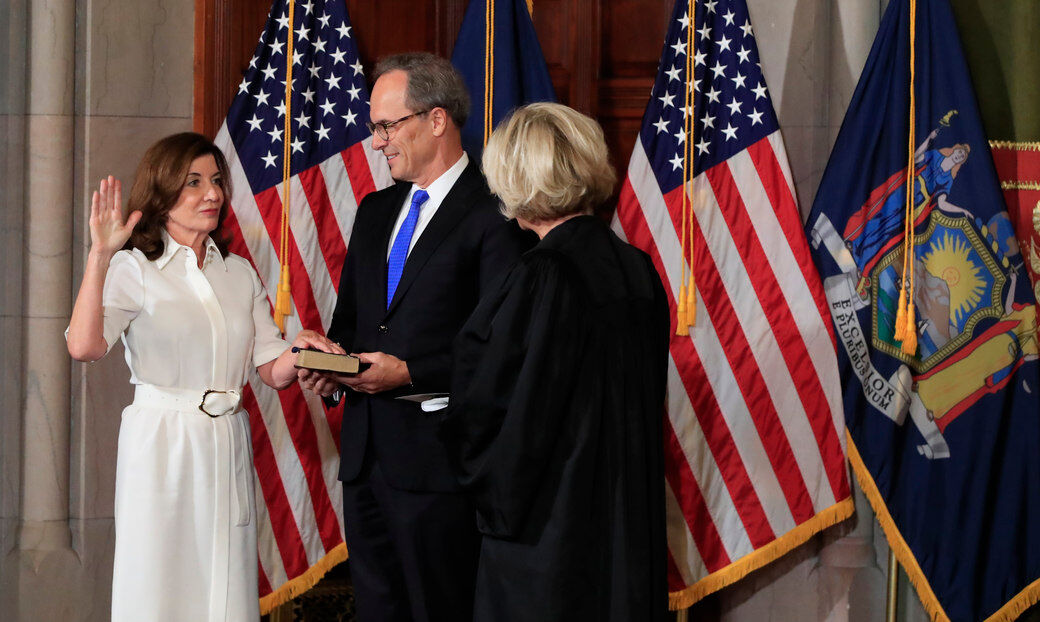 ALBANY – Treading the halls of H.H. Richardson's grand New York State Capitol masterpiece, you can't help but dwell on all those who came before.
There were historic names such as Dewitt Clinton, Samuel Tilden and Charles Evans Hughes who served as governor. Then, along came a couple of Roosevelts, a Rockefeller and, oh yes, a couple of Cuomos, too.
Gov. Kathy Hochul was ceremonially sworn into office this morning in the Capitol's Red Room, just 10 hours after she officially became the 57th governor of New York at midnight.
But the venerable old building had never before witnessed a woman reciting the oath of office as governor until Kathleen Courtney Hochul on Tuesday.
"Any time a glass ceiling is broken, it's good for all of us," said Assembly Speaker Carl E. Heastie, a veteran of Albany's decades-long, "three men in a room" method of governance. "It's a strong message to send."
A sense of history draped the Capitol Tuesday as Hochul, often ignored as former Gov. Andrew M. Cuomo's second-in-command, took over the reins of New York's vast government. Not only is Hochul the first woman to occupy the building's second floor office, but the first upstater since Nathan L. Miller of Syracuse was elected in 1920, the first Western New Yorker since Frank W. Higgins of Olean in 1904 and the first Buffalonian since Grover Cleveland in 1882.
After a meeting with Gov. Kathy Hochul, Senate Majority Leader Andrea Stewart-Cousins and Assembly Speaker Carl Heastie used words like "premature" and "more discussions to follow" to sum up what lies ahead.
So a political establishment so exclusively ruled by New York City men seemed a little taken aback by the events, even if nobody was complaining.
Former Gov. David A. Paterson can appreciate Tuesday's historic events more than most. In 2008, he became the state's first Black governor when he assumed the top job following another resignation in disgrace – by Eliot L. Spitzer.
"It's an historic event," he told The Buffalo News in a Tuesday phone conversation that dwelled on the incredulity of it all. "New York has been a member of the union for 234 years, and this is the first day we've had a woman governor?"
But following the morning ceremony in which Hochul acknowledged being "emotional" but "prepared," the new governor had to get to work. She met with Heastie and Senate Majority Leader Andrea Stewart-Cousins, and they didn't talk about the normal business of state government, such as crafting a budget. This time, the new trio of "two women and one man in a room" had to dwell on life and death matters presented by a coronavirus still wreaking havoc on New York's government, its finances and its people.
They have to find a way to successively pull New York out of its Covid-19 mess. And if Cuomo could chalk up success in inspiring the state during its darkest moments of 2020, then Hochul must somehow do the same. That means she must govern effectively. That also means mastering the intricacies of New York politics in a way she has never faced before.
"During the about-to-end Cuomo era, Erie County Democrats more often than not found themselves isolated from the inner workings of New York Democratic politics," writes Robert J. McCarthy.
On Thursday, she started down what appears to be her own path. After distancing herself from Cuomo for the past several months – perhaps in anticipation of this day – the new governor set her own tone. No, she will not rule autocratically or though intimidation, she said, but rather through consensus and collaboration.
When asked at her first gubernatorial news conference what she wanted to set as her top priority – her "one big thing" – Hochul paused for a moment and seemed sincere about what she wants to immediately accomplish.
"I want people to believe in their government again," she said. "It's important to me that people have faith."
Already, she faces challenges. New York Republicans convened in nearby Cohoes on Tuesday evening for an "Andrew Cuomo Going Away Party" – a sign the opposition will work hard to link Hochul to her old boss. Paterson noted Tuesday that if she runs for a full term next year, opponents in her own Democratic Party will resurrect that top notch NRA rating from the days when she represented the most Republican congressional district in all of New York.
"I didn't have that, but she'll have to explain that to downstaters who have different views," he said, adding that the novelty of an upstate governor presents even more challenges.
Hochul must straddle both the upstate and downstate worlds in a way like no other Democrat before her. Can she do it?
"Yes," Paterson said, pointing to her need to constantly command the attention of downstate media – a natural byproduct of her office.
All of this means that Hochul, on the day after making her own mark in the historic old fortress atop Albany's Capitol Hill, is already running for election in her own right.