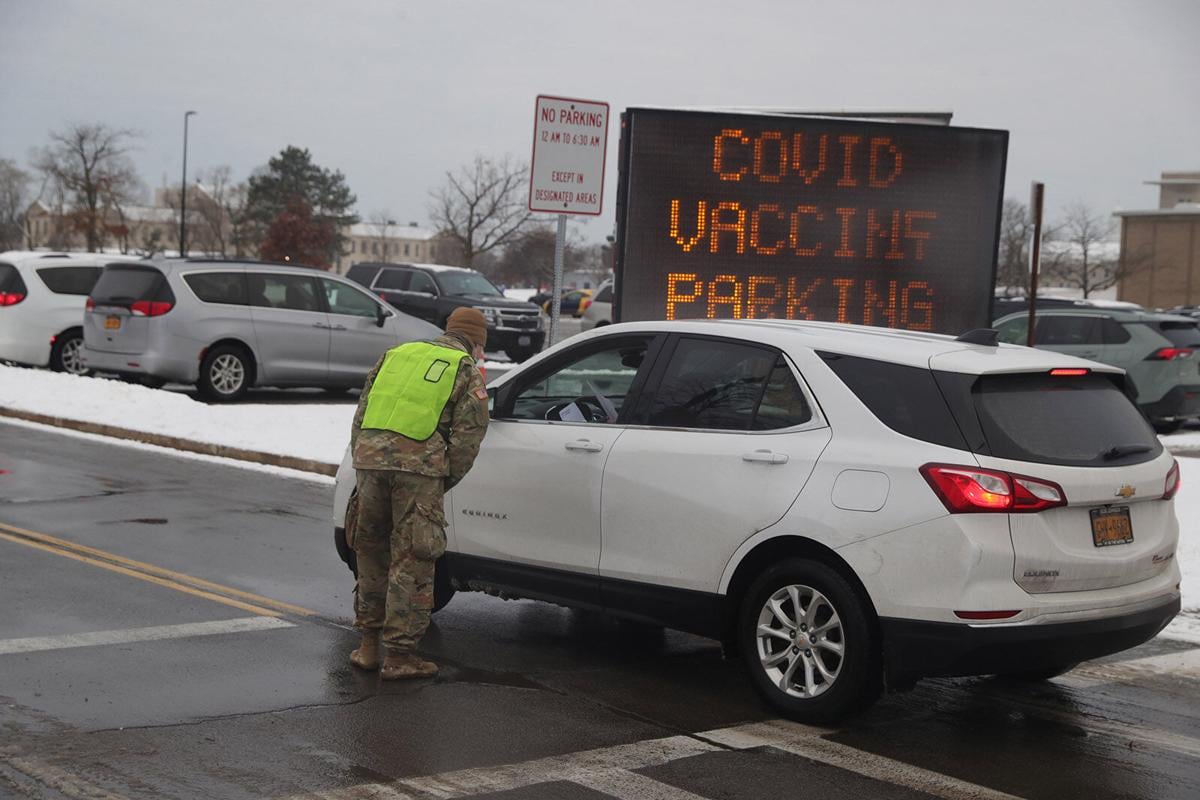 The process to make an appointment for the Covid-19 vaccine had some well-publicized problems, but the actual process to be inoculated got rave reviews Tuesday morning at the University at Buffalo's South Campus.
"It was surprisingly easy," said Angelo Pitillo, a 90-year-old from Lackawanna. "You read the reports about how bad things were going and how unorganized it was and everything ... then you get here and see how smooth it went."
"It is so well-organized. It's amazing," Lynette McGrath of Orchard Park said through her Buffalo Bills face mask."There are so many people to help you if you get confused or whatever. Just the best setup ever."
The vaccination site at Harriman Hall is run by the state and is the first of its kind in Western New York. It serves eligible groups and requires appointments through the state's website.   
McGrath, 65, couldn't say enough good things about her experience Tuesday – particularly after she was among those who lined up in the cold at Niagara Falls High School last week, only to be turned away. "This is like night and day," was how she described it.
"It's like a relief," McGrath said of receiving vaccine. "Especially for my kids, who are all worried about us. Every day they were calling: 'Did you sign up? Did you sign up?' "
Deborah Gangloff, 72, of West Seneca described her vaccination experience as "perfect" and said there was no line. Her husband, Daniel, a fellow retiree, has an appointment for next week after several tries at signing up, over several hours, due to the website crashing.
Kate Scaglione, 67, a retiree from Buffalo, called her vaccination "very smooth, very easy," and said she appreciated that the nurse who injected her with the dose had come out of retirement to assist.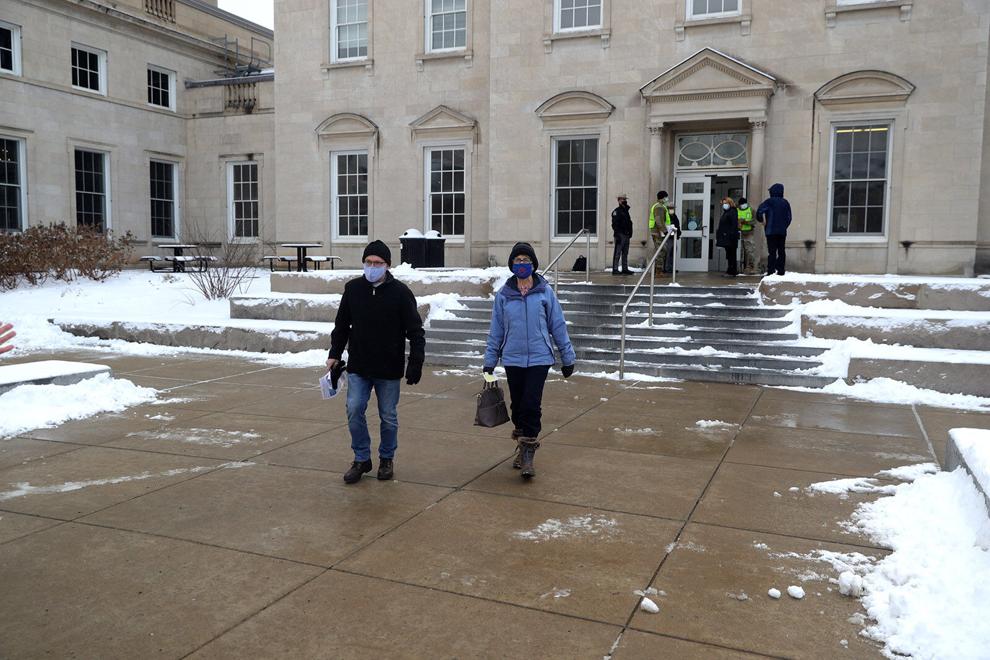 Scaglione said "the signup is tough; you just have to keep at it. I feel sorry for people who don't have computer skills."
Elaine Rubenstein, 71, a retiree from Williamsville, called the process "super well-run" and "great." She said she didn't have a problem signing up – "it feel like it was just a fluke that I happened to look when I did, and it had just opened up probably just a few minutes before."
"I feel fortunate," Rubenstein said of her experience. "I immediately called everybody I know who's in the age group, or who has another kind of condition that's complicating, and a few relatives."
The vaccine requires two doses and public officials recommend people continue mask-wearing and social distancing after receiving the vaccine for several reasons, including the possibility that those vaccinated may still be able to transmit the coronavirus.
Upon getting the vaccine, Rubenstein said, "the first thing I was thinking is: I get to see people in person. I get to eat in restaurants.
"A definite positive feeling that I didn't have two weeks ago."
"It's a little bit of a relief," said Gangloff. "It feels like maybe there's light at the end of the tunnel."
"Let's hope this is over with, because we've got a lot of fun to have yet," said Pitillo. "We've got a lot of livin' to do."