WASHINGTON – The nation's top labor leader on Tuesday vowed to back Starbucks workers at three Buffalo-area stores who hope to unionize, saying the local movement could be part of a larger national effort to organize retail workers.
"When workers are standing up, they're not standing up alone," said Liz Shuler, the new president of the AFL-CIO, when asked about the Starbucks unionization effort in Buffalo. "They're standing up with the rest of the labor movement. And so we're going to do everything we can to support them."
Speaking at a breakfast for reporters, which was sponsored by the Christian Science Monitor, Shuler said retail companies such as Starbucks are "ripe for organizing."
"And, you know, Starbucks has always modeled itself or, you know, fancied itself as a high-road employer," Shuler said. "And they do a lot in terms of charity and providing educational benefits. But I think sometimes it's really about fundamental respect and dignity and being able to have a voice to be able to come to the table with your employer and not be afraid. So I think that's what we're hearing from workers in Buffalo."
Shuler spoke shortly before Starbucks workers in Buffalo announced that baristas at three local stores have filed petitions with the National Labor Relations Board in hopes of forming a union.
Spot Coffee employees will be some of the only barista workers in the country with union
At a news conference Tuesday in the Tri-Main Center, Gary Bonadonna, a leader with Workers United Upstate, said the workers want to hold union elections at three stores: on Elmwood Avenue in Buffalo, Camp Road in Hamburg and Genesee Street in Cheektowaga. 
"Starbucks says they are not anti-union, and I'm just simply saying, prove it," Bonadonna said. "You can't be on the side of workers if you're preventing them from having a seat at the table."
Under the name SBWorkersUnited, 50 Starbucks employees last week sent their demands to CEO Kevin Johnson regarding the union drive and their concerns about store operations. 
Organizers said the committee has since grown to nearly 80 employees from stores throughout the region.
"By forming this union, we are telling Starbucks that we want to bring our own chairs to the table that was built upon our backs," said Katie Cook, a barista at a Starbucks on Walden Avenue. "In my 11 months at Starbucks, I've been promoted and made amazing friends. But I've also seen almost 30 partners leave and working conditions fall to the wayside."
A bunch of baristas in Buffalo voted recently to form a union. And to hear the nation's top labor leader tell it, there's nothing unusual about
Michael Sanabria, a Starbucks worker at the Transit Commons store, said workers feel increasingly pressured to work quickly to accelerate drive-thru service.
"Corporate decisions don't align with the day-to-day struggles of what we face," he said. "Since I joined the company four years ago, emphasis has been placed on both short drive-thru times and meaningful customer connections, which are at odds with each other. Recently we've been told we're not allowed to turn off mobile ordering, which is usually what starts to overwhelm the team." 
And while the initial focus of the union organizers is just on three stores, local Starbucks employees suggested that will just be the beginning.
"We hope to inspire fast food and restaurant industry workers in Buffalo and from around the country," said Danka Dragic, who works at the Genesee Street store. "We deserve to have a say in the conditions of our labor, and we deserve a better share of the rewards that we create."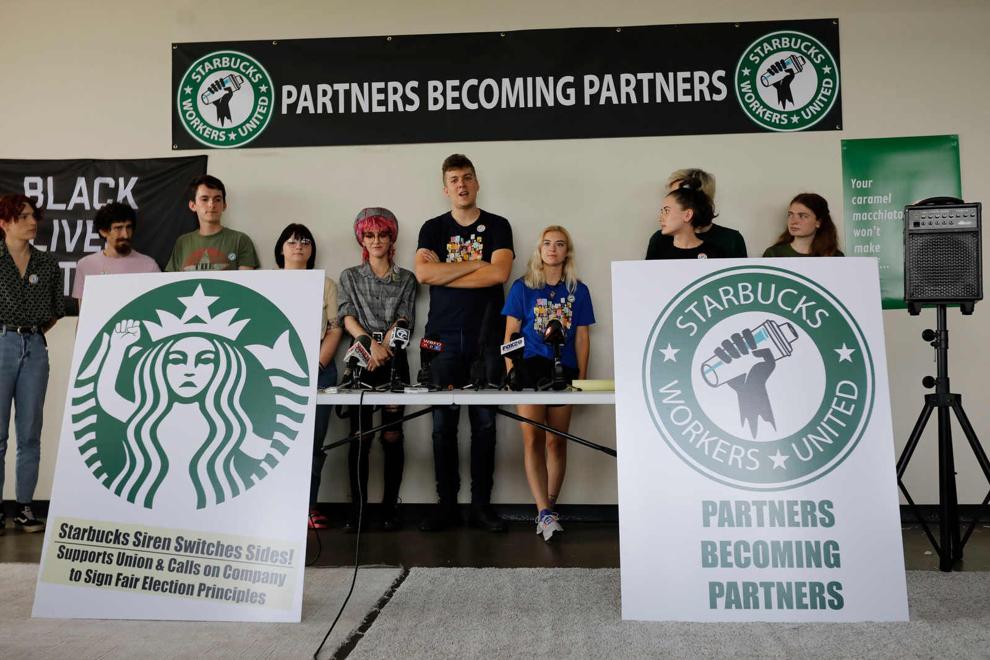 At Tuesday's news conference, about a dozen baristas from local Starbucks locations echoed those sentiments. 
"When Starbucks says they're inspiring the human spirit one cup of coffee at a time, I take them at their word," said William Westlake, who works at Starbucks' Camp Road store in Hamburg.
Lee Want, who works at the Lancaster Regal Center Starbucks, said Tuesday's news conference was not about workers airing any particular grievances, but having a voice and making sure they were on an equal playing field with their employer.
U.S. Rep. Brian Higgins was among elected officials who voiced their support for the workers' effort to unionize.
"This takes courage," Higgins, a Buffalo Democrat, said.
"You are certifying a national effort to unionize Starbucks workers. You will succeed because you are right on the merits of the issue," he told the workers. 
State Sen. Tim Kennedy lauded the workers as visionary leaders in the mold of past labor leaders and activists in Buffalo before them.
"They're standing up and saying, you know, we love serving the community. We love our corporation, and we want to be treated like our corporation loves us," Kennedy said. 
India Walton, the Democratic nominee for Buffalo mayor in the Nov. 2 election, also gave the workers her backing.
"I'm here today to stand with these brave workers for organizing union protection, good wages ... and what's right on the job. Buffalo has a long history as a union town, and it will take organizers like this to build a safer, healthy Buffalo that we all deserve," Walton said.
"Today, I'm calling on Starbucks not to interfere with the workers' right to organize, but instead embrace them, organize with them and hear their demands," she added.