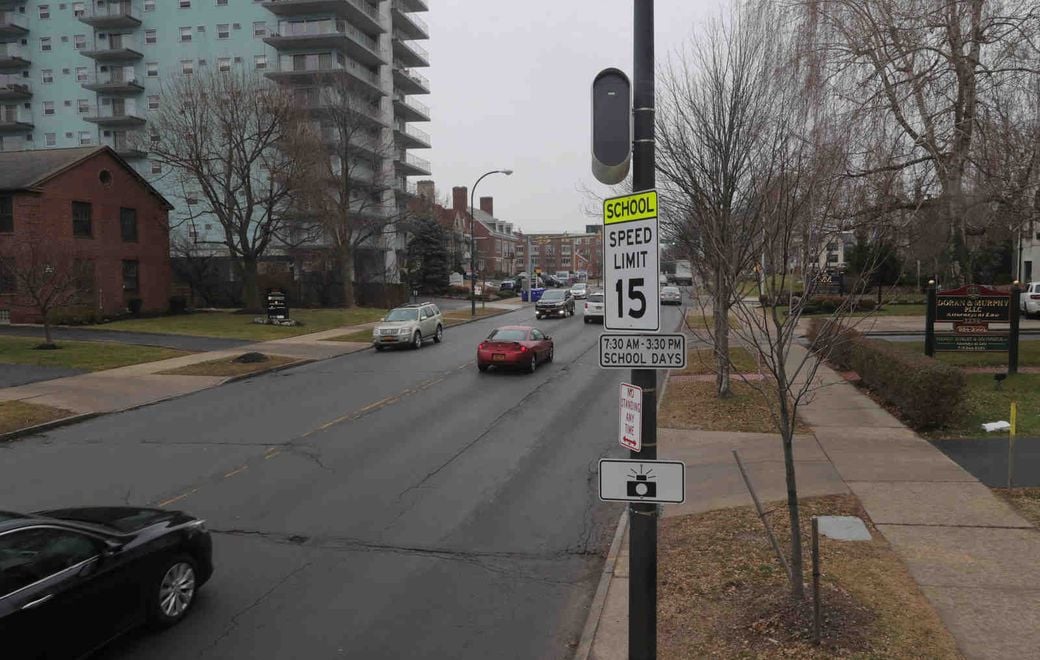 About half of the $50 citations issued under Buffalo's School Zone Safety Program are going to people who live outside the city, according to the company that provides the speed cameras.
But the statistic from Sensys Gatso did not sway Common Council members and residents who are critical of the program.
Buffalo Public Schools has appealed to Common Council members to activate speed-zone cameras all day at its schools.
"That means half the (citations) are to city residents," said Delaware Council Member Joel P. Feroleto, chairman of the Council's Legislation Committee.
"We don't care about where the money comes from," University Council Member Rasheed N.C. Wyatt said. "We can still prioritize child safety, and it doesn't have to attach a dollar figure to it."
The lawsuit contends that the photo speed monitoring system near Buffalo Promise Neighborhood Children's Academy doesn't meet the statutory definition of a school speed zone.
Colleen Kristich, a Buffalo resident and community researcher for Partnership for the Public Good, spoke in support of Wyatt's plans during the Council's Legislation Committee meeting Tuesday.
"Every single Buffalo resident on either side of this issue … cares far more deeply about the safety of our children than Sensys Gatso," she said.
Kristich was among about two dozen speakers during the meeting who mostly supported getting rid of the cameras. But six members of Families for Safe Streets spoke in favor of keeping them. The New York City-based group is made up of people who have had loved ones killed or injured in crashes. Some of them were featured in a video Sensys Gatso submitted with written comments to the Council. 
The School Zone Safety Program sets a 15 mph speed limit around 20 public, private and charter schools. Drivers captured on camera traveling at least 26 mph receive a citation mailed to the car's registered owner. The city gets $36 of each $50 citation; Sensys Gatso receives $14.
"The program is failing the citizens of Buffalo. The Common Council has a duty to act," said Peter Rizzo, a certified fraud examiner, government auditor and urban planner who works for the federal government.
The program has drawn criticism that it was poorly rolled out and executed. Others have complained that the cameras target the city's most impoverished residents by placing many of the cameras in high-poverty, minority neighborhoods.
But Sensys Gatso President Andrew Noble said in its response to Wyatt's proposals that the program is working and saving lives.
He said the cameras have increased compliance by Buffalo drivers to 82% since February 2020.
"This is not the result of a failed program, but that of a successful program," Noble said.
The data presented by the company also showed that when speed cameras have been active in school zones, the speeds of some motorists have reached over 70 mph. As of late January, some 100,427 citations had been issued.
"Why would anyone want to reward these thousands of speeding drivers who could significantly injure, or worse, cause the death of a child or pedestrian?" Noble said.
"My commitment to protecting children in every neighborhood of this City will not waver," said Mayor Byron W. Brown in a written statement.
The committee tabled Wyatt's ordinance amendment Tuesday so that changes could be made, Wyatt said. The amendment calls for changing the speed limit in school zones to 20 mph, and replacing the cameras with radar speed signs and overhead signs with flashing beacons on main thoroughfares such as Main Street and Delaware and Bailey avenues. Wyatt also wants the city to place "school" pavement markings and crosswalks by schools.
The committee adopted Wyatt's resolution Tuesday that included rescinding the Council's 2019 approval of the contract with Sensys Gatso, but the resolution does not include language to remove the speed cameras.