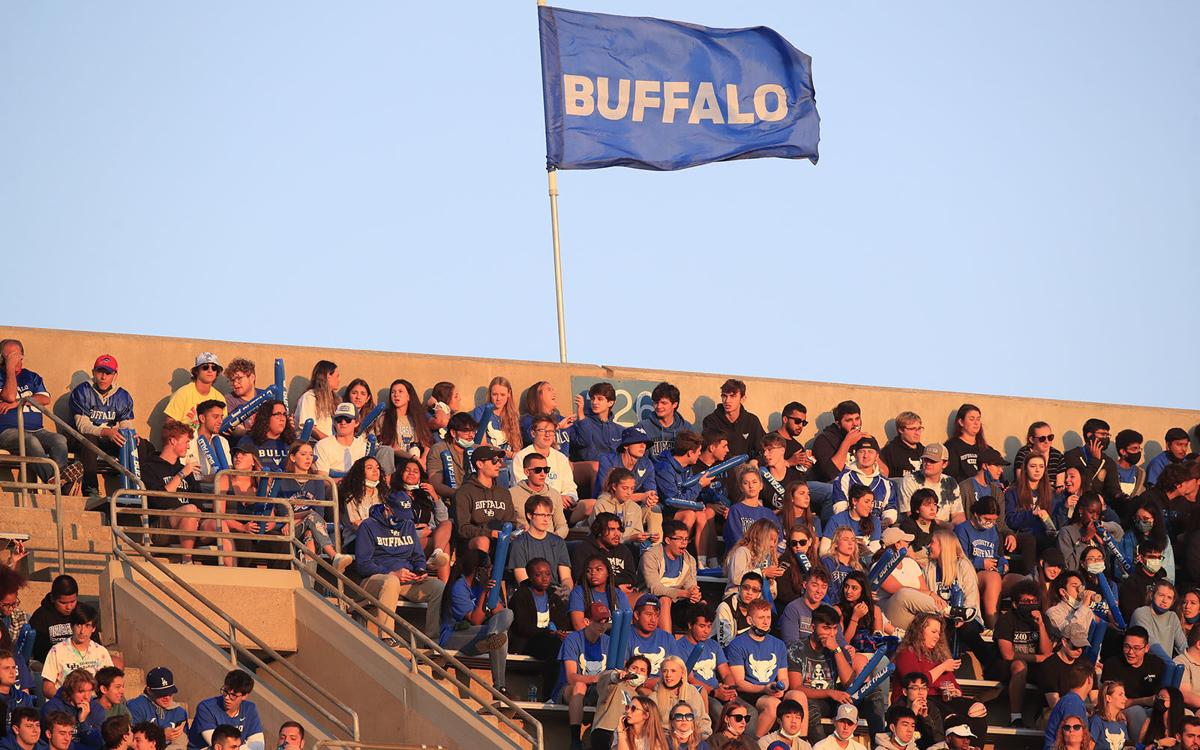 The Seattle Seahawks on Tuesday announced that fans attending games at Lumen Field must show proof of vaccination or a negative Covid-19 test to enter the stadium.
The Seahawks are the first NFL team that plays its games in an open-air stadium to announce a vaccination attendance rule, joining two other teams that play in domed stadiums – the Las Vegas Raiders and the New Orleans Saints – in putting this policy in place.
But as the NFL's opening weekend approaches, in Orchard Park and across most of the league, tens of thousands of fans in soaring stadiums will cheer on the home team without knowing the vaccination status of many of the people sitting around them.
The Buffalo Bills, following guidance from Erie County, require fans, regardless of vaccination status, to wear a mask while in enclosed areas of the stadium, such as the concourses. Outdoors, unvaccinated fans must continue to wear a mask at all times, except when actively eating or drinking, though it's unclear how stadium staff will enforce this rule.
Erie County Executive Mark Poloncarz earlier this year had said the county would require all fans to be vaccinated, but he backed off from that stance when Covid-19 cases and hospitalizations were at a low point. Since June, the rate of people getting infected and sickened by Covid-19 has risen sharply in Erie County and elsewhere, but Poloncarz and county officials have not announced a change in requirements for Bills fans.
Rules for fans vary at large sporting events – such as Buffalo Bisons baseball and University at Buffalo football games – in Erie County.
The Bills played the entire 2020 regular season without fans at home games. Nearly 6,700 fans were allowed at each of two home playoff games, but they had to show proof of a negative Covid-19 test.
Highmark Stadium can hold almost 72,000 fans, and there are no pandemic-related restrictions on capacity for Sunday's season-opener against the Pittsburgh Steelers.
Poloncarz in the spring had called for all fans attending Buffalo Sabres games, Bills games and other events at Highmark and KeyBank Center to be vaccinated, a position that drew pushback from then-Gov. Andrew Cuomo, who argued that the county executive did not have the authority to impose such a policy. Poloncarz held that he did, because Erie County owns the venues.
However, by June, Poloncarz had changed his mind, saying his decision was based on the low number of Covid-19 cases and hospitalizations and promising vaccination rates.
"We will revisit in future if circumstances warrant," Poloncarz wrote on Twitter.
On June 20, Covid-19 cases in the five counties of Western New York had fallen to an average of 10 per day, and hospitalizations had fallen to 30 for the region. As of Sunday, with the Delta variant spreading, average daily cases for the region had reached 305 and hospitalizations had hit 152.
Kara Kane, a spokeswoman for the Erie County Health Department, on Tuesday said the department had no new announcement to make about a vaccination requirement.
Last month, with cases soaring, the Bills announced rules on mask-wearing affecting people attending the Aug. 14 Billy Joel concert and future home games, including the Aug. 28 preseason game. Fans in indoor spaces within the stadium, such as the suites and restrooms, must wear a mask regardless of vaccination status. Only unvaccinated fans must mask up in outdoor areas, such as the main seating bowl. The team does not seat fans based on vaccination status.
Erie County officials deferred to the Bills on any questions regarding rule enforcement. A Pegula Sports and Entertainment spokesman did not respond to a request for comment Tuesday.
"Individuals attending any large, crowded event, or even smaller private events indoors or outdoors, should consider the risks for Covid-19 transmission when making those plans," Kane said in an email.
The UB Bulls, who did not have fans at their 2020 home games, are letting in fans this season, but with the requirement that, regardless of vaccine status, they wear masks at all times except when eating or drinking.
At Thursday's home game against Wagner, the first of the season, however, photos showed packed stands with nearly all of the faces exposed and only a few wearing masks covering their nose and mouth. The team drew about 13,000 fans, the school said, which noted that all of its students must be vaccinated to attend class.
"It is a stringent requirement and we believe many of our students and other fans simply were not entirely aware of it because similar requirements have not been in effect at most other outdoor events around the region and state," UB spokesman John Della Contrada said in an email.
He said the school would make a concerted effort to improve compliance at future home games, including additional signs throughout the stadium and frequent public-address announcements and messages on the scoreboard.
The Bisons did not play any home games in 2020, and the Toronto Blue Jays, who did play in Buffalo, did not have fans in the stands that season. This year, fans attending Blue Jays games in Buffalo faced a mask mandate – when indoors at the ballpark – for the earliest games of the season. The park also for a brief period sorted fans attending the games into vaccinated and unvaccinated sections.
Those requirements were eased as the Blue Jays season went on in Buffalo. By the time they flew off to Toronto and the Bisons returned home, the indoor mask mandate was all that remained, along with the team "strongly suggesting" that all fans wear masks even when outdoors.
"The safety of our guests, the players on the field and the ballpark staff is and always will be the Buffalo Bisons' top priority," the team posted on its website.