The positive novel coronavirus test rate has climbed during the last three weeks and the start of a new school year raises prospects for greater spread – but there is at least one silver lining.
Those hospitalized in the region with Covid-19 are far less likely to die than if they got sick during the first several weeks after the coronavirus pandemic struck Western New York in mid-March.
The hospital death rate fell dramatically as primary care doctors encouraged patients to get help earlier and hospital staffs improved treatments for even the most troublesome symptoms of the disease caused by the new coronavirus.
"It's too early to determine the precise approach to treatment but take it to the bank, we do a heck of a lot better with Covid now than we did four months ago, five months ago," said Dr. Joseph Izzo, chief of medicine at Erie County Medical Center.
ECMC lost 28% of patients hospitalized with Covid-19 through April. The death rate fell to 7.5% by the end of June and has continued to tumble slightly since, Izzo said.
Front-line physicians at Kaleida Health and a Catholic Health administrator also said patients now treated at their hospitals are far less likely to die from Covid-19.
All of them temper their optimism with caution, however, as roughly 900 Americans continue to die daily from the virus while experimental treatments proceed and researchers work toward an effective vaccine and a cure.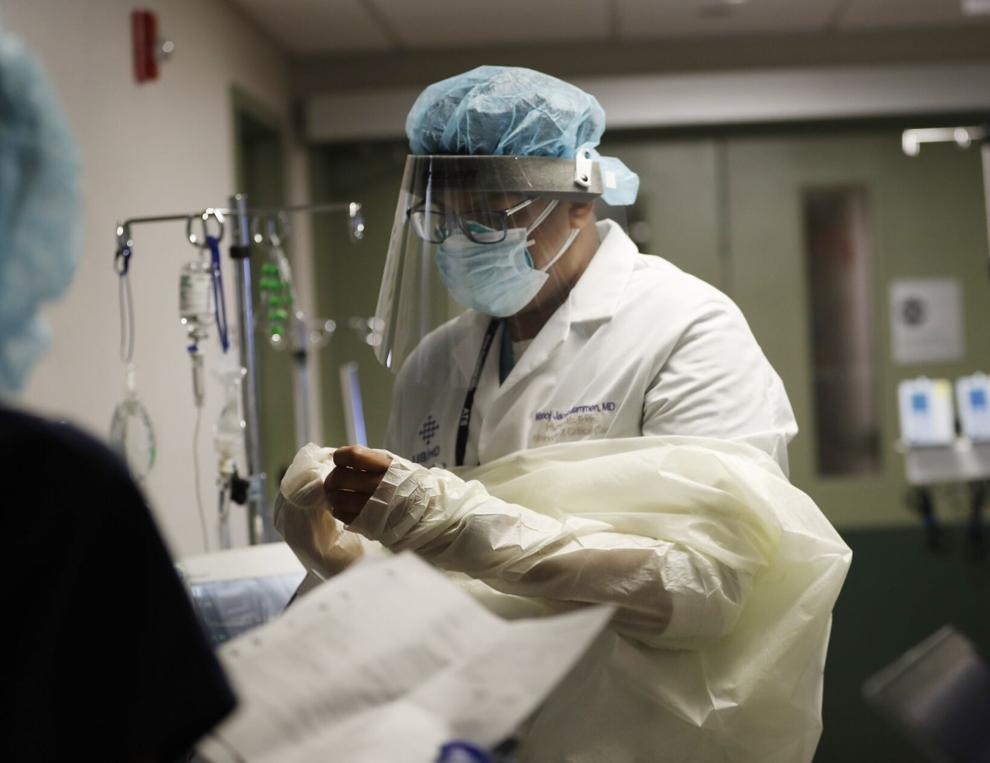 Infectious disease control specialists already know that SARS-CoV-2 is easily transmitted, including by those infected who have yet to show symptoms as well as an estimated 30% to 45% who are asymptomatic and don't get sick.
The majority of children have few or no symptoms if they contract the virus but are among those who can spread it to those at greater risk, including the elderly and people who are obese or have conditions that include diabetes, hypertension and heart, lung, kidney and autoimmune diseases.
Covid-19 has become the third-leading cause of death in America this year, behind heart disease and cancer, surpassing other leading causes that include accidental deaths, diabetes, Alzheimer's and lung disease.
The rate stands at nearly 236 per 100,000 for those ages 50 to 64 and 425 for those 65 and older.
It's 775 for people 85-plus.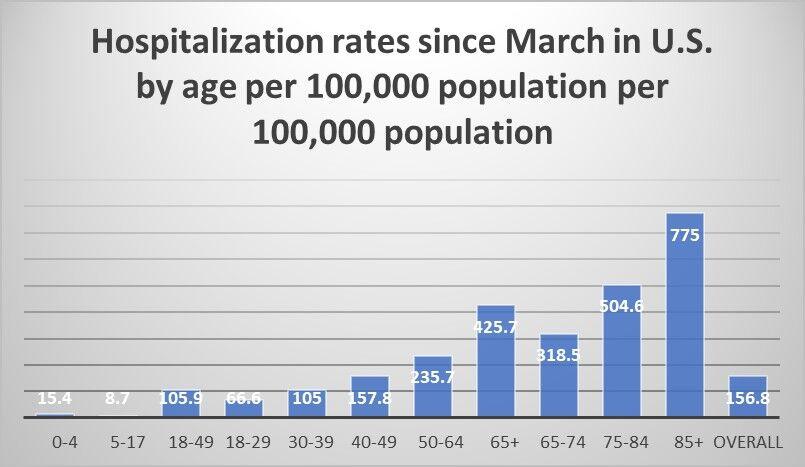 Many patients admitted to regional hospitals with Covid-19 symptoms early in the pandemic were started on the antibiotic azithromycin, as well as hydroxychloroquine, typically used to prevent malaria and treat lupus and arthritis, because a small French study suggested they might help. Patients also got supportive care that included oxygen and pain management, fluids and proper nutrition to address dehydration, and medications to fight congestion and reduce fever.
Treatment often provided limited relief, particularly to patients at high risk. Those patients were more likely to end up on ventilators if their breathing flagged. Federal guidelines also limited using experimental treatments only on patients who needed intensive care.
Those dynamics changed as data-driven understanding grew.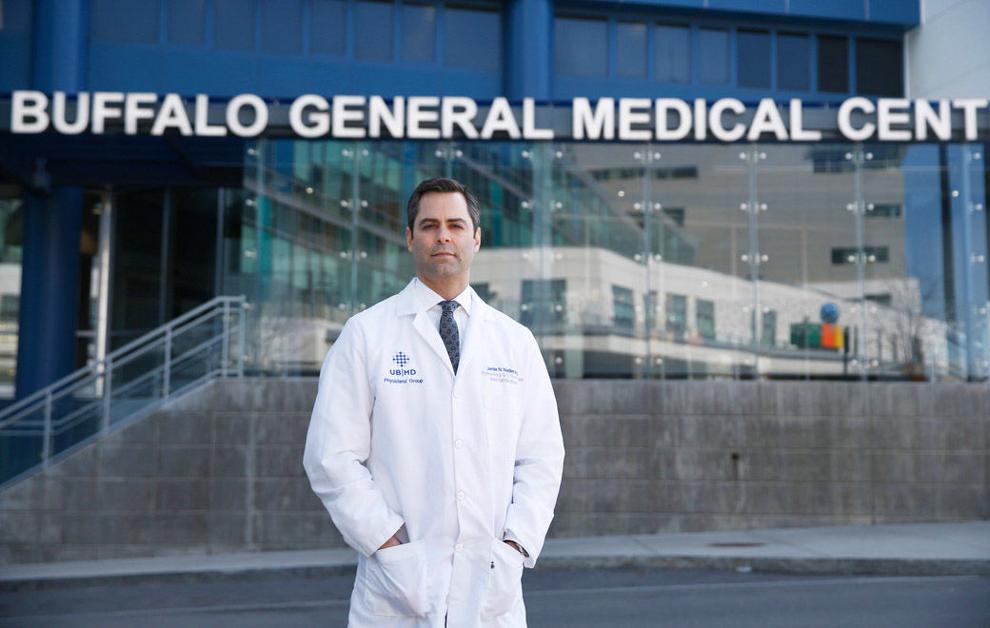 Collaboration – internationally and among hospital systems in Western New York – helped hasten advances, said Dr. Brian Snyder, medical director of clinical pharmacology programs with Catholic Health.
"At the beginning of the pandemic, we really had nothing," he said. "There were a lot of ideas, but no sure things."
Greater availability of virus testing by May gave primary care providers more confidence to encourage patients to visit hospital emergency rooms earlier in the Covid-19 disease process, said Dr. Manoj Mammen – a critical care physician who helps lead experimental treatment studies at Buffalo General Medical Center and Millard Fillmore Suburban Hospital.
Those who didn't need oxygen support and were at lower risk of serious complications were sent home with appropriate medical advice and prescriptions if needed, while those with other health conditions could be hospitalized and watched more closely, said Mammen's colleague, Dr. Jamie Nadler, medical director of quality and patient safety at Buffalo General and Gates Vascular Institute.
Hydroxychloroquine fell out of favor when studies showed risks of complications outweighed little perceived benefit for hospitalized patients. Blood-thinners were added to early treatment regimen as doctors learned blood clots in the lungs and elsewhere were killing patients. Supportive measures continued.
The high percentage of those placed on ventilators who died in the spring jarred treating physicians. Instead of taking that course when patient oxygen levels fall below 90 millimeters of mercury (mm Hg), physicians now keep those who are breathing comfortably at levels in the high 80s on less invasive breathing assistance, Nadler said.
Experimental treatments also began to show more promise as summer approached.
Studies – including new research that withholds experimental treatment from some patients – have begun to help better prove benefits of some therapies.
Meanwhile, greater survival seems associated with others that federal regulators deem so important they want all eligible patients to receive them, especially if they see little downside.
Three of four experimental treatments deployed in the region show early
Those include sarilumab, an anti-inflammatory injection used to treat rheumatoid arthritis flare-ups; remdesivir, an antiviral infusion treatment designed to weaken and kill Ebola by reducing its disease burden; and convalescent plasma, which includes antibodies of those sickened by the new coronavirus who tested positive and recovered.
All of those treatments were first used on only the sickest of patients but have become more available in recent weeks.
Physicians suspected that using plasma and remdesivir earlier in treatment could limit coronavirus damage. Early indications suggest they might be onto something, Izzo said.
The most important change, he said, looks to be the decision to use a corticosteroid – usually dexamethasone – for patients who appear destined for the ICU because of the second, most severe phase of Covid-19: a "cytokine storm."
This often fatal complication arises when the body supercharges its immune system with aims to destroy an infectious invader. In the worst case, the storm ravages the lungs, heart and blood vessels.
Corticosteroids are used to tamp down the immune system when it runs amok. They now are commonly used when Covid-19 symptoms appear headed that way.
College nursing student Alex Hubert got over a mild case of Covid-19 in March. Retired college professor Gerald Krzemien spent 33 days at Buffalo General Medical Center – including 11 in intensive care – with a much more serious case. Both landed on opposite ends of an antibody infusion, a new treatment expected to grow more common around the
"There is no doubt in my mind," Izzo said, "that the dexamethasone, or any of the steroids given at the right time – which means people who've got evidence of progressive lung disease – has saved lives."
Treating doctors better understand the two distinct phases of Covid-19 and have adjusted treatment regimens accordingly.
Antivirals and antibody-rich convalescent plasma are now mostly given in the early or middle stages of treatment, Izzo said, while corticosteroids and sarilumab work best in middle or later stages when a patient signals that an anti-inflammatory response might minimize a cytokine storm.
"If you gave dexamethasone at the beginning, you would be ahead of the game," Izzo said. "The plasma, in theory, might have effect anywhere along the spectrum, but most of us believe that the likely best application is early, before someone gets to the ICU and needs a ventilator.
This complimentary form of treatment starts as soon as Covid-19 is strongly suspected or confirmed, and gives patients a better chance of survival.
"The sooner we can offer them treatment," said Nadler, "the better they're usually going to do."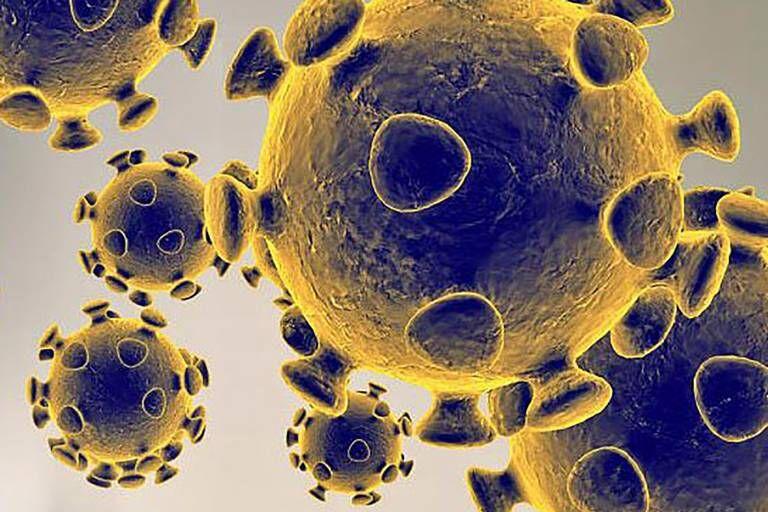 Regional doctors credited the two-phased protocol with the boost in Covid-19  survival in Western New York.
Catholic Health treated 59 patients with convalescent plasma as of late last July, Snyder said. Forty-eight patients were discharged, three remained hospitalized and eight died. None of the 25 patients treated before entering intensive care was among the fatalities.
ECMC used convalescent plasma on 57 of the first 207 patients admitted during the first 14 weeks of Covid hospitalizations. During that time, 41 of 64 patients put on ventilators died. The death rate for those who got convalescent plasma was slightly lower, Izzo said.
The same was true for the first 95 patients who received it at Kaleida Health hospitals, Mammen said.
The National Covid-19 Convalescent Plasma Project, which the Mayo Clinic coordinates across the country, has been proven safe, said Mammen, who coordinates the program for Kaleida Health and, along with Nadler and Izzo, has a position with the University at Buffalo Jacobs School of Medicine and Biomedical Sciences.
It seems to help patients, all three doctors said, but it isn't easy to tell how much because the amount of antibodies in each donated unit varies and the emergency authorization means that all deemed eligible will receive it, so there is no measure against an eligible control group that doesn't get it.
Continuing research and cooperation should spawn a clearer link.
ECMC researchers analyzed their limited hospital coronavirus data the best they could to try to figure out why patients in the last eight weeks of their study period did so much better with mortality than during the first six weeks. They looked at factors including age, gender, race, duration of symptoms and blood type. The biggest thing that stood out was age, Izzo said.
"Over the age of 65, the mortality starts ramping up," he said, "and in terms of comorbidities that we're seeing, it's the same as everywhere else. Hypertension seems to be a significant risk factor, as does obesity."
Izzo cautioned that the ECMC numbers are small when it comes to research parameters.
He felt confident that new treatment strategies explain most of the dramatic change in survivability, particularly providing dexamethasone during severe stages of the worst Covid-19 cases.
But there is still lots more to learn.
Hospital providers approach Covid-19 treatments with a cautious sense of hope as they head into the fall.
They stressed that corticosteroids and early oxygen support have shown statistical clinical improvement, but not a cure.
New prospective treatments are on the horizon and more old standby therapies for other health conditions also may end up playing a role.
Izzo said cholesterol-lowering statin drugs appear to give some patients fighting Covid-19 an immunity boost. He also is among doctors excited about an investigative intravenous monoclonal antibody treatment that attacks the spiked novel coronavirus protein researchers strongly believe is the key to virus spread inside the body.
"That's the good news," Izzo said, "but are we going to cure everybody? No. And you'll never get a billion doses of vaccine ready in anything less than two or three years. That means that this concept of herd immunity has to be modified, too."
That likely will mean first immunizing essential workers and those most at risk, continuing to limit the spread of the virus to protect those people, and focusing on new and improved treatments.
"What people can't deal with is the uncertainty," Izzo said. "I can make a decision based on an 80% likelihood, but other people want it to be 100%, right? You've got to make your best judgments at the time, then assess what you did. That's what we do, and that moves you slowly, incrementally in the right direction. That's exactly what's happened during this pandemic."