Opponents of solar power projects in Western New York have often contended that the projects take needed agricultural land out of production.
But recently, solar proponents have come up with an answer to that objection: tending sheep, chickens and other animals amid the solar panels.
New solar projects in Amherst and Lockport will feature sheep as living, breathing lawn mowers.
"It's fast becoming an industry-preferred method of vegetation control on solar sites, but still, less than 1% of the ground-mounted solar in our country is being maintained that way," said Caleb Scott, owner of Ithaca-based United Agrivoltaics, a company that supplies sheep to solar developers.
"Our sole purpose is to help small farmers gain access to solar," Scott said. "I think what we're doing here will eventually become the industry norm."
His company has a contract with Renewable Properties, the San Francisco company that won approval Tuesday for a 46-acre solar project in the Town of Lockport.
The purpose of the sheep is to eat the grass that grows  between the rows of solar panels.
"We can come in at or right around the same cost as mowing, but we provide a much better service," Scott said.
"You can really do a good job getting around all of the units, and it looks better long-term. It's more of a prairie look than mowing it down once or twice a year with a brush hog, but it's great for the environment," said Scott.
It also protects ground-nesting birds who otherwise would be mowed down.
Sheep eat around their nests, said Scott, whose company has contracts with nine solar farms in New York State. He anticipates five or six more, including the Lockport project, to be added to its portfolio in the next year.
Last month, Catalyze of Boulder, Colo., started site development work for a 5-megawatt solar project on Schoelles Road in Amherst.
"We will have sheep, who are naturally suited to the job of solar grazing, at the Amherst site and we'll work with local shepherds to determine the appropriate amount needed," Kristen Brandt, senior director of environmental, social, governance and marketing, said in an email.
She said the animals will control vegetation "in a more sustainable and lower-carbon manner" than mechanized mowing.
"Shepherds and flocks will be contracted locally to support the local community and minimize transport and feeding/water supply costs," Brandt wrote.
Renovus Solar uses sheep at a 1-megawatt solar site it installed for the Candor Central School District, about 20 miles south of Ithaca.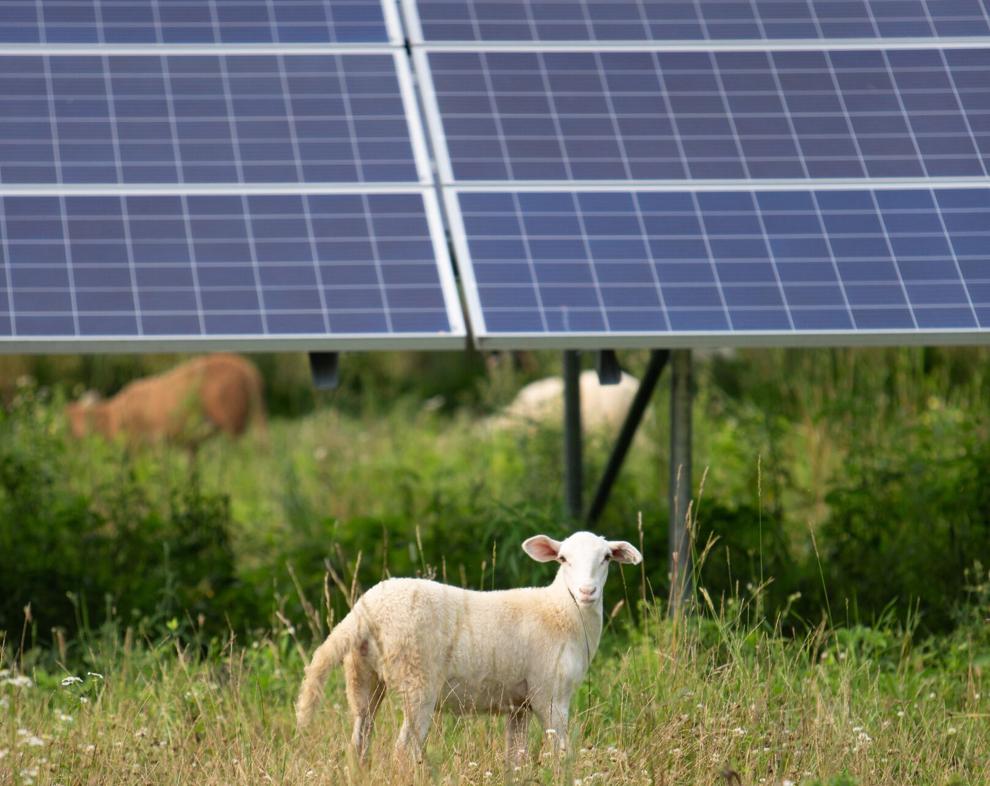 "Sheep are naturally suited for solar grazing because they are the perfect size to hang out underneath the panels, enjoy the shade they provide on hot days, and graze," Renovus posted on its website.
"In a ground-mounted solar array, grass that gets too high can cast shade on the panels, lowering the energy production. Sheep are incredibly effective at controlling vegetation, specifically right underneath the panels where it is difficult for humans to reach," the Renovus article said. "Other livestock tend to cause damage to the panels and wiring, or even cast a shadow onto the panels due to their size. Sheep are really the perfect fit."
But it's possible to use other animals to control grass around solar panels. For example, Geneva Peeps in the Finger Lakes uses chickens.
Jeff Henderson, owner of the 6-year-old egg co-op, said he installed four rows of 48 solar panels each about five years ago, and the results have been all positive. He said he encouraged a chicken-farming friend to do likewise.
"Everybody told him that it was impossible, that chickens can't live under solar panels, that they would sit on the solar panels and scratch them, that it would be a mess," Henderson said in an interview. "We've actually had the exact opposite experience. It's been an incredibly symbiotic relationship between the two."
His chicken farm was installed on a treeless 1-acre field, and the chickens had no protection from the hawks in the area – until he installed the solar panels to cover about half the space.
"The chickens love being under the solar panels because it offers them protection from predators," Henderson said. "They almost are always underneath them instead of being out in the open."
Also, the panels can be a source of water for the 180 chickens.
"Solar panels collect a tremendous amount of water because of their surface area," Henderson said. "We're producing electricity, we're collecting rain water and we're protecting the chickens from the predators from the sky."
Scott, who also is vice president of the American Solar Grazing Association, works with developers to provide sheep and shepherds, who often are local farmers. Sometimes the sheep stay on the site year-round.
"We have big gravity-feed water systems so we don't have to worry about watering the sheep. They just practically live wild on the site like a deer in that type of scenario," Scott said.
But sheep also can be brought in temporarily to eat the grass and then be hauled to another project, Scott said.
"Here's an opportunity where Western New York farmers can extend their grazing season and get paid to graze under solar while they farm their own fields for hay for the winter. It's truly a win for everyone," Scott said.