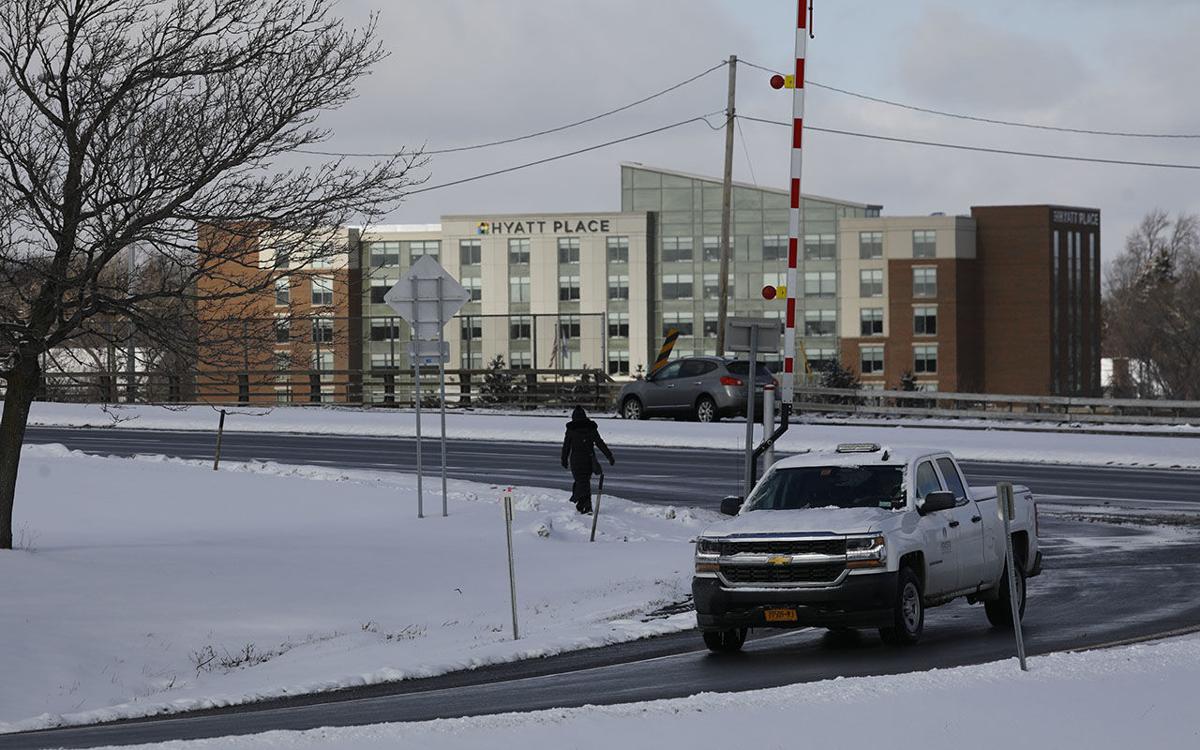 Amherst Supervisor Brian Kulpa knows how to get a round of applause in his town: by promising to fix traffic problems.
During his state of the town address last month, Kulpa had the crowd cheering when he said that within the next two years, the town plans to install a network of artificially intelligent signals at intersections around the town that can make real-time adjustments to improve traffic flow.
"Signals talking to other signals and building a smart grid throughout the Town of Amherst," he said during the speech at the Buffalo Marriott Niagara.
If his proposal comes to fruition, it promises to reshape how people get around the region's largest suburb – including one of the area's most notorious bottlenecks – while also trying to solve the problem of pedestrian safety on town thoroughfares.
But because the proposal relies on the use of 360-degree high-definition cameras that would sense and adjust based on traffic conditions, it is raising privacy worries.
"Advanced surveillance raises a host of concerns that the Town of Amherst needs to seriously address before moving forward with this proposal," John A. Curr III, Buffalo-area director of the New York Civil Liberties Union, said. "There need to be protections and limitations on the data collected and shared, and the town must be transparent about how this system could be used by or shared with law enforcement."
The AI signals highlight several traffic-related programs proposed in the town, including the overhaul of the heavily traveled I-90/I-290 interchange at Main Street and the extension of Main Street roadwork west into Snyder. But the cameras figure to get the most attention and have the greatest potential impact.
Amherst would install smart intersection technology designed by an Ontario-based company called Miovision, Kulpa said. Detroit, Arizona's Maricopa County and the Town of Milton in Ontario already have installed Miovision TrafficLink software and hardware.
Most intersections rely on timers to control traffic signals along with wire coils under the asphalt to determine, for example, how many vehicles are waiting in the turn lane. Communities can adjust the timers depending on whether it's rush hour on a weekday or overnight on a weekend but, Kulpa said, "That's all 1950s technology."
The Miovision pole-mounted cameras connect to traffic signals and a computer network and are programmed to determine the best response to congestion at one or more intersections. Town traffic engineers would have live access to the view from any camera, Kulpa said, which also can sense and adjust for pedestrian movements.
"And instead of a human trying to guess at it, it's a computer basically saying, 'If we use this sequence we can move the traffic the best,' " Kulpa said in an interview.
In the future, the town could use the predictive smart-signal technology to coordinate a route free of traffic and red lights for ambulances, fire engines, snowplows and other vehicles when needed.
The town controls 65 signals, Kulpa said. The smart-signal project could cost about $2 million. Amherst hopes to get a grant to cover a portion of that cost.
Amherst chose the Miovision system because Tonawanda has installed the technology at six intersections on Brighton Road. Amherst would begin installing the system on the east side of Niagara Falls Boulevard, where Brighton becomes Maple Road. It already has set up one Miovision signal at Maple and Flint roads as a demonstration.
The new system should save on the cost of maintaining the older traffic-control system, but Tonawanda hasn't fully activated the AI technology, Town Engineer Matthew Sutton said. "To do that it takes a regional perspective," he said.
Tonawanda is streaming – but not recording – video from the cameras because the town hasn't established guidelines on how police could access the footage, Sutton said.
This recording of driver and pedestrian movements at intersections is concerning to some advocates. In Amherst, the cameras can't be used to issue red-light tickets, Kulpa said, but the system does retain high-definition video. So, for example, instead of police relying on witness accounts to determine what caused a T-bone crash or a car-pedestrian accident, investigators can turn to the cameras to see who had the green light, he said.
Amherst won't use the technology to spy on people, said Kulpa, who noted the extensive surveillance that already exists in the community. He referred to everything from traffic cameras on area expressways, police body cameras, cameras in publicly accessible buildings and smartphones to doorbell cameras.
The AAA of Western and Central New York encourages the use of technology to improve driver safety but urges caution and transparency in its use, said spokeswoman Elizabeth Carey.
"AAA recommends that any pilot program should explore the effectiveness of the technology and ensure the cameras do no harm," Carey emailed. "Any data collected by the cameras that will be used for purposes beyond traffic flow and signal light timing sequence needs to be made public."
Some of the other transportation initiatives planned in the town also are eye-catching.
The state Department of Transportation said it is studying various proposals for a redesign of interchange ramps, intersections and the flow of traffic in the I-290 corridor in Amherst. The office of Gov. Andrew M. Cuomo last year announced $5 million in funding for the reconfiguration of the I-290's Main Street interchange.
Kulpa said the on- and off-ramps south of Main Street would be removed and all traffic would be shifted to the north side of Main Street at new traffic signals. People trying to walk along Main Street there also would get a new, safer sidewalk to use.
"It's a high accident area for us," Kulpa said.
It's particularly problematic for drivers making a left turn onto Main Street from Iskalo Development Corp.'s campus of hotels and restaurants at the former Lord Amherst property who face traffic merging westbound onto Main Street from the 290.
"There's a very short distance with which to react," said David Chiazza, Iskalo's executive vice president.
Kulpa said people don't realize how difficult it is for pedestrians to make it across Main Street at Harlem Road, noting the street there is wide enough to land a fighter jet. The DOT recently informed the town that some repaving work on Main Street between Bailey Avenue and the Thruway could begin as soon as March.
And, in a further bid to improve pedestrian and driver safety, Kulpa said he'd like permission to lower the speed limit on the town's side streets to 25 mph, from 30 mph, where appropriate, and to have a consistent 30-mph limit on Main Street.
The speed limit on Main varies frequently and with little warning from 30 mph to 35 mph to 40 mph within Eggertsville, Snyder and Williamsville, said Michele Marconi, a community activist who urged substantial changes.