One proposal calls for a 10-story glass tower, while another would add a 13th-floor restaurant on its top floor. Still another would redevelop nearby, underused buildings long coveted by developers.
Those ideas were among six dramatic proposals unveiled by the City of Buffalo on Friday to redevelop a city-owned parking ramp at 477 Washington St., bound by East Mohawk and Ellicott streets.
City officials hope to make a selection by early fall.
"These six compelling proposals really shows the confidence that the development community has in the City of Buffalo," Mayor Byron W. Brown said.
The number of apartments in the proposals range from 100 to 233 on the site, with one development team proposing 600 apartments over several buildings. The percentage of affordable units proposed ranged from 10% to 100%. All of the proposals would also include retail and office space, parking and emphasize transportation options.
The proposals were in response to a request to developers to remake the city-owned 629-space parking ramp, built in 1959 on 1.1-acres at 477 Washington St. and bound by East Mohawk and Ellicott streets. The city told developers, in part, that it wanted the project "to activate public spaces, walkable areas and new business development in downtown Buffalo."
City officials said the project could be a public-private partnership or the city could sell the property to a developer.
Construction is expected to begin in 2023, said Brendan Mehaffy, executive director of the Office of Strategic Planning.
"This project will be an engine for the next wave of downtown development," the mayor said. "This will spark dynamic public and private sector developments and attractive urban spaces that will make Buffalo a place that the next generation of talent will want to live and work."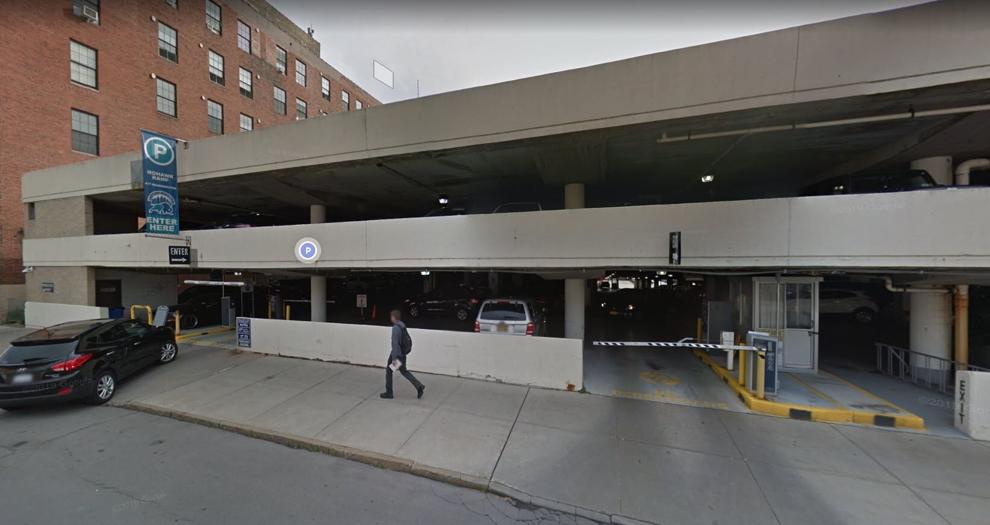 This was the first project guided by "The Future of Mobility: Remaking Buffalo for the 21st Century," a report by the Congress for the New Urbanism that emphasizes the importance of mobility and equity in future development.
Recommendations from that report found their way into the proposals, with a priority put on pedestrians and bicyclists, public transit, walkability and street-level "vibrancy" intended to make the new project appealing to younger residents and workers.
Mehaffy said it was unusual to receive six quality proposals, noting LECOM Harborcenter and a mixed-use development at 201 Ellicott St. each received two proposals.
Some of these development teams matched out-of-state and local partners, which was also different, he said.
In sharing each of the proposals, Mehaffy said the city was surprised that the one submitted by developer Douglas Jemal included the Simon Electric buildings, located by Big Ditch Brewery.
"The Simon Electric properties have had the attention of many in the development community for many years, given their strategic location along Ellicott Street," Mehaffy said.
He said their redevelopment would stitch together the area from Genesee Gateway and the Flower District to Lafayette Square, while helping create the critical mass of residential units the city has been working toward.
"Imagine the vibrancy from all those additional units in that area," Mehaffy said. "The streets would be completely different."
Still, Mehaffy said each of the proposals had a lot going for them. A selection committee will be established, he said, and the public will have a chance to weigh in, although he said it is too early to say because of Covid-19 what form that will take.
"This is not a pretty picture contest," Mehaffy said. "There will be a lot of work to make sure that the finances work on this project, and that this is a project that is going to happen in Buffalo."
CB Emmanuel, BFC Partners, Carmina Wood Morris, in partnership with GO Buffalo Niagara/GObike Buffalo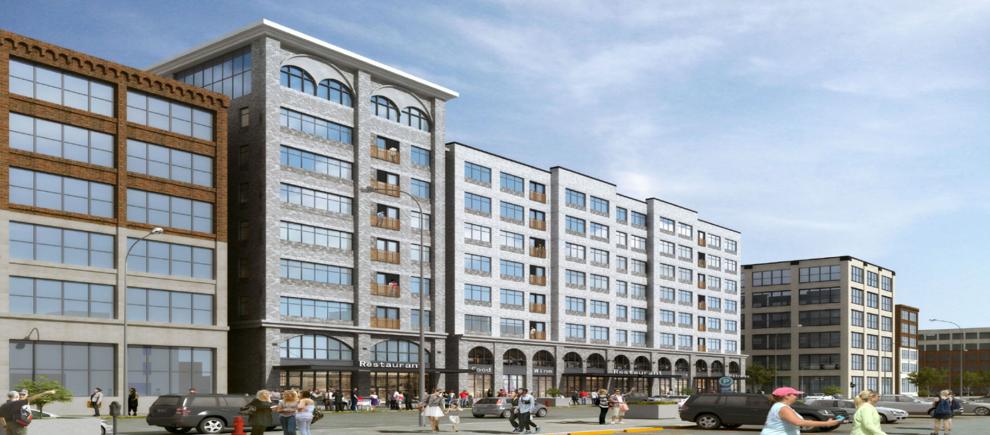 • 23,113 square feet of commercial space with mix of restaurant, fitness center, flagship retail or co-working space.
• 203 residential units – all affordable housing
Douglas Development and Antunovich Associates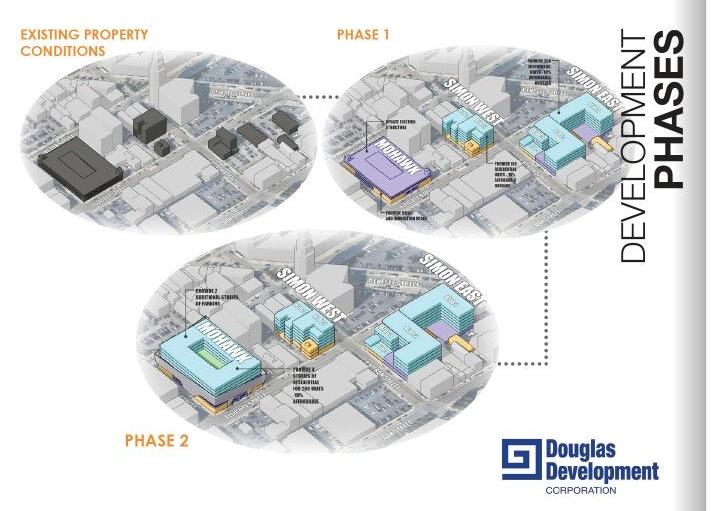 • Phase I: 4,500 square feet of commercial space with a mix of restaurant/café, research and development lab, ground floor retail
• 200 residential units with 10% dedicated to affordable housing
• 800 parking spaces with addition of approximately 300 spaces
• Phase II: Redevelopment of two Simon properties adjacent to the Mohawk Ramp with 400 new apartments, 10% dedicated to affordable housing
Gold Wynn and Colby Development
• 5,400 square feet of commercial space, with mix of restaurant/café, tech hub and rooftop restaurant
• 200 residential units with 103 units dedicated to affordable housing
• 584 parking spots, with 204 spaces for residential and 380 spaces for commercial and public use
SAA EVI, McGuire Development and Passero Associates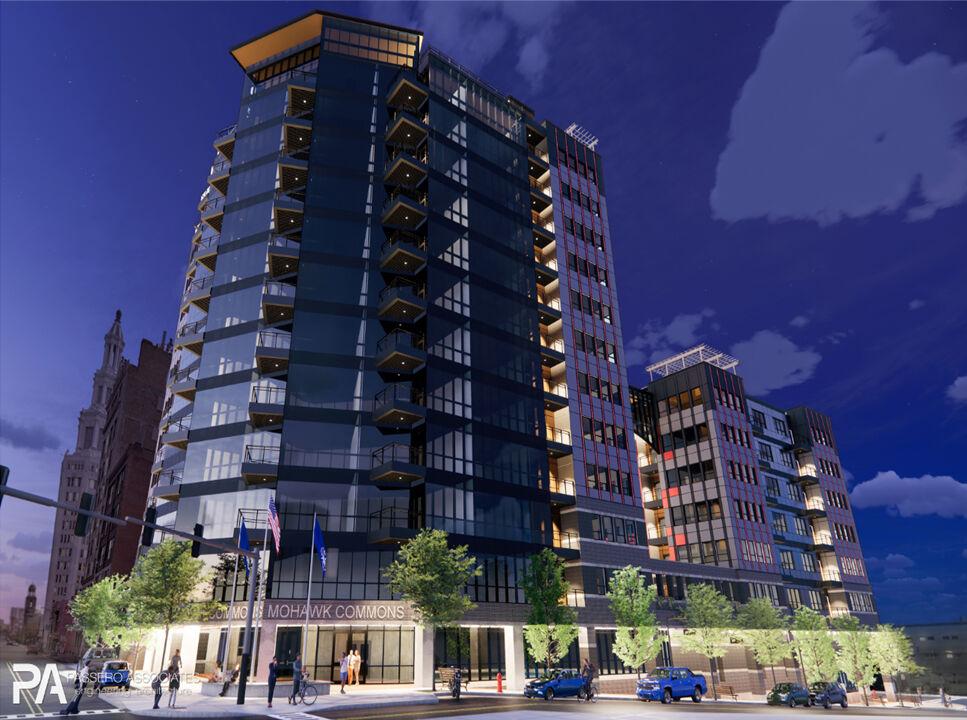 • 8,800 square feet of commercial space with 13th-floor restaurant, ground floor food-based amenities and retail and incubation hub
• 233 residential units with 168 income-restricted units
Savarino Companies, 34Group, CJS Architects and WGI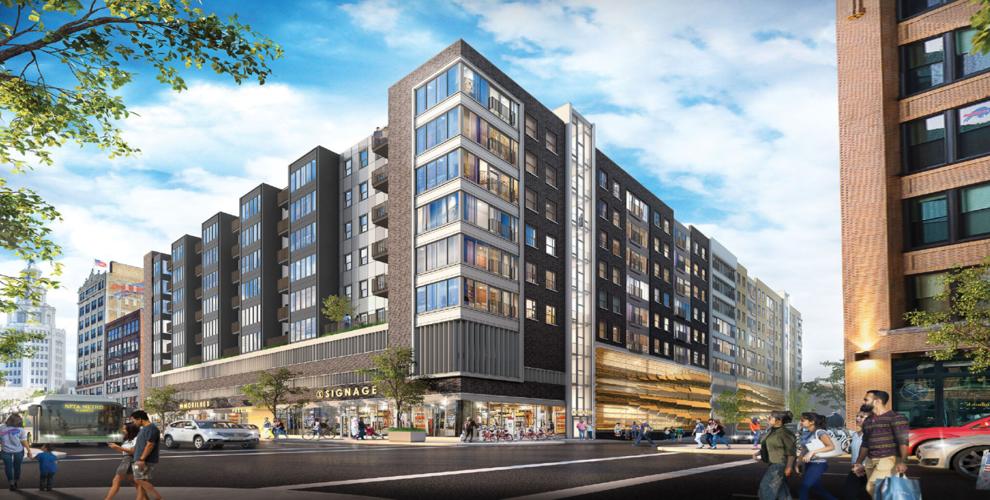 • 6,160 square feet of commercial space with mobility hub café, retail space and fitness center
• 168 residential units, with approximately 14% affordable units
Uniland Development Company, Belmont Housing Resources of WNY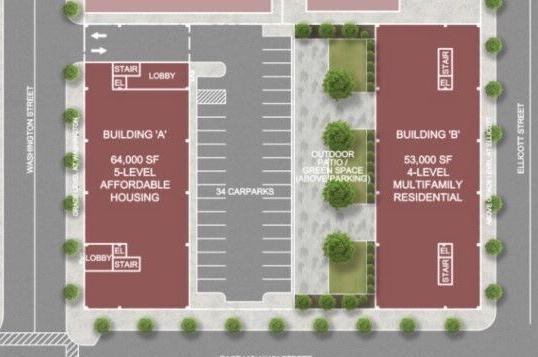 • 8,147 square feet of commercial space
• 100 units of housing, with approximately 50% affordable units
Mark Sommer covers preservation, development, the waterfront, culture and more. He's also a former arts editor at The News.