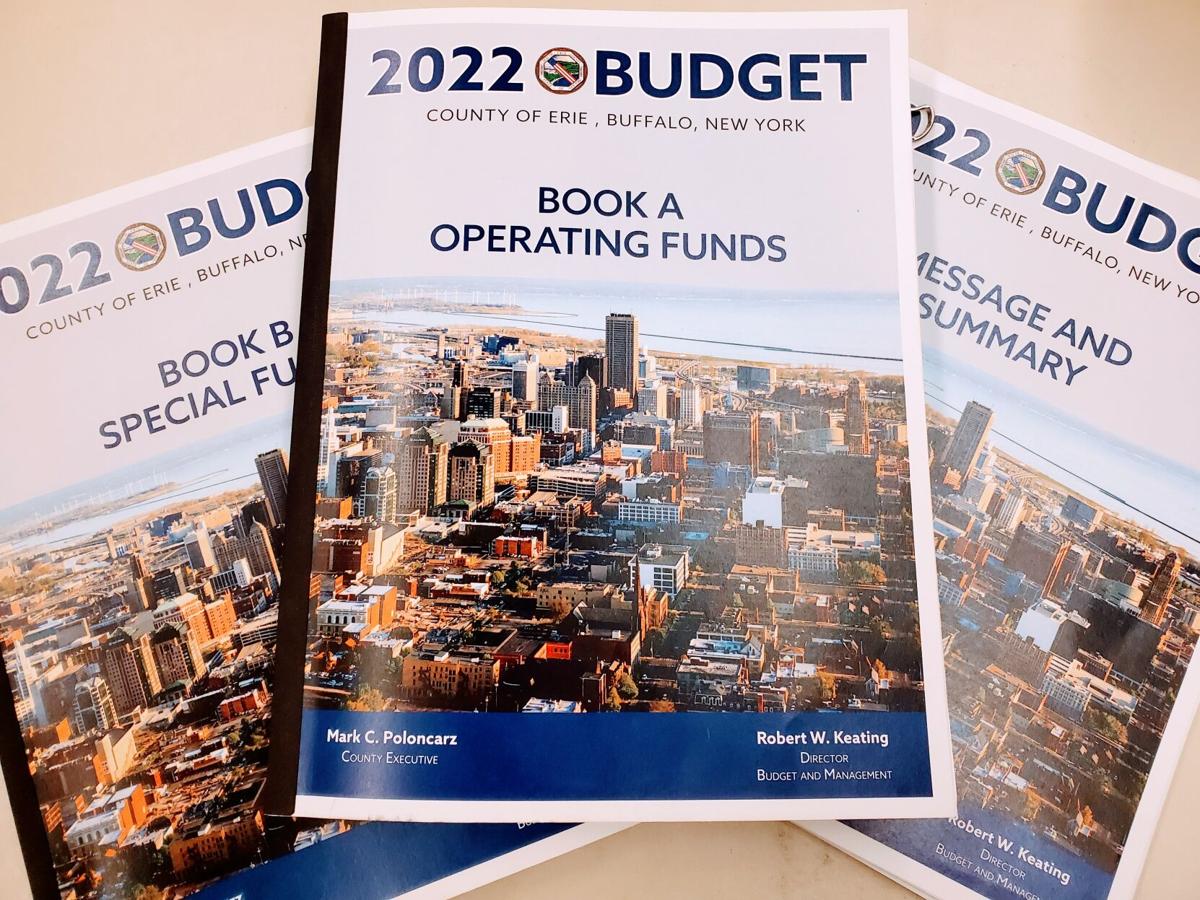 Covid-19 may have scrambled Erie County's financial planning for the past year and a half, but while everything isn't back to normal, the proposed $1.8 billion budget for next year is looking as close to normal as it can get as the local economy churns to life once again.
County Executive Mark Poloncarz's budget allocates millions in new grants to support businesses and struggling families; earmarks millions for major roads, buildings and parks projects; reinvests higher sales tax revenue; and creates more county jobs.
Under County Executive Mark Poloncarz's 2022 budget proposal, Highmark Stadium would see an investment of $5.3 million, which includes $2.2 million in county borrowing. The rest of the money would come from the state and other sources.
"It's focusing on projects that we wanted to do that we had to delay because of the pandemic," Poloncarz told The Buffalo News, relaying a sense of optimism and pride regarding his proposed budget.
The $1.6 billion general fund, the bulk of county operating expenses, would raise the property tax levy – the total amount of property taxes collected by the county – by 3%, or $9 million. 
But thanks to rising property values and new construction, the county property tax rate – the amount of taxes charged for every $1,000 of assessed value – would drop to the lowest level the county has seen in more than 60 years. The average tax rate would fall from $4.42 to $4.33 per $1,000.
"We are going to have the lowest property tax rate in modern history for Erie County," Poloncarz said.
The growth in Erie County property values and sales taxes are a positive sign for the local economy and a positive for county finances, he said. The county saw a 23% jump in sales tax revenue this year — a big chunk of which is attributed to additional sales taxes generated by online shopping, as well as sales related to federal stimulus spending.
Covid-19 related expenses remain, with the county administration setting aside $6 million a year through 2024 to provide Covid-related services. Much of that cost is covered by federal aid.
"I'm proud of this budget," Poloncarz said. "If you had asked me at this time last year, would we be releasing a budget like this for 2022, I would not have thought so. But because of the good work of many, and the rebounding economy, we are in a position where we can provide a budget that I think meets the needs of this greater community."
Poloncarz highlighted three new grant programs designed to help small businesses, families struggling to break free of their dependence on public benefits and nonprofit organizations. These include: 
• A $10 million storefront revitalization program. Borrowing a page from a similar federal program, the county would provide grants of up to $25,000 to small businesses that want to make exterior improvements. Small businesses throughout Erie County would qualify. Businesses don't need to put up their own money to qualify for a grant, but those that do would qualify for more money.
• A $9 million welfare-to-work program. This two-year pilot program is designed to help 200 families receiving public assistance make the transition to financial independence.
In collaboration with the Federal Reserve Bank of Atlanta, the program would provide scholarship, day care and other types of assistance to families over two years to help them over the "benefits cliff" – the point at which a family makes enough money to lose public benefits, resulting in an overall loss of income. By getting families off of public assistance, the hope is to save the county money in the long run.
• A $1 million program for nonprofit innovation. This is a new version of an old grant program that would fund nonprofit groups that have strong, innovative proposals to improve lives. 
Construction and renovation 
Everything from parks and libraries to the railroad lines and the old Bethlehem Steel site would receive investment under the county's construction-related capital budget, which combines county borrowing and outside government assistance.
Among the projects that would receive substantial county funds for improvements and renovations:
• $2.2 million in county money for the existing Highmark Stadium, part of a larger state and county investment. 
• $1.25 million for the Buffalo Niagara Convention Center. With the health crisis derailing talk of a new convention center, the county continues to invest in the existing facility, which is expected to reopen sometime next month.
• $1 million each for ongoing development of the Bethlehem Steel site, renamed Renaissance Commerce Park, and the 240-acre Agribusiness Park in Angola. Total state and county investment: $2.8 million.
• $500,000 for the Buffalo and Erie County Public Libraries.
Erie County is preparing to spend $32.7 million of its first batch of American Rescue Plan money on county sewer system improvements, more than any other infrastructure spending category.
Though not included as part of the capital budget, the second windfall of American Rescue Plan money from the federal government will result in $34 million going to fund the construction of the ErieNet high-speed broadband network across Erie County. If all goes as planned, the laying of ErieNet cables would begin later next year.
Another $31 million in federal money has been set aside to upgrade the county's extensive sewer system.
Road and bridge investments
Investments in roads and bridges is also rising considerably under the new budget proposal, which anticipates a series of multimillion-dollar projects. Some are being financed entirely with county money, while others fold in millions in federal money. Major reconstruction is anticipated for parts of Kenmore Avenue, Borden Road, Elmwood Avenue and William Street. (No county roads are located in the City of Buffalo.)
Folded together, investment in county roads and bridges would grow from $59.8 million this year to $80.8 million next year, said Deputy Budget Director Benjamin Swanekamp.
When the coronavirus health crisis struck in 2020 and it was unclear whether the federal government would send aid to counties, Poloncarz took the unprecedented step of eliminating roughly 150 full-time county jobs, most of which were vacant positions. But with more federal dollars and rising sales tax revenue, Poloncarz restored many lost positions mid-year this year.
The Erie County Legislature – with votes split along party lines – approved a $1.7 billion 2021 budget Thursday.
The proposed budget adds 39 new full-time county jobs, in addition to the 124 that were restored mid-year, according to a review of personnel adjustments provided by the county budget office. Compared with the county's pre-pandemic 2020 budget, the county is adding 11 positions.
In terms of year-over-year percentage growth, the biggest winners on the job front include the county's information technology department and Department of Parks, Recreation of Forestry.
Both departments would see full-time personnel gains of roughly 25%, when comparing the initial approved budget for this year with the proposed budget for next year. Poloncarz said the investments are being made to address major park projects and personnel needs, as well as to upgrade and better secure county technology networks and central police systems to withstand cyberattacks.
Lawmakers voted 7-4 along party lines for the $123.7 million plan presented three weeks ago by County Executive Mark Poloncarz, with Democrats voting in favor and Republican-supported legislators voting against it.
Poloncarz expressed more concern over the need to continue to add jobs to the District Attorney's Office, which is growing by 22 positions, specifically to deal with state mandates that limit the amount of time the DA's office has to turn over certain case materials to defense attorneys. Another $100,000 would be set aside for equipment to help meet the mandate.
Because of the newer demands now being placed on the DA's office, Poloncarz said, criminals have been going free.
"More than 200 individuals with pending cases were basically let go because the information that needed to be provided by the DA's office to the defense counsel couldn't be provided in time," he said. 
In the proposed budget, overall county spending is rising by 13%. But the property tax levy growth is more modest. At 3%, it remains within the 2% to 3% range that the county's budget has seen over the last four years.
The budget remains under the state property tax cap, as it has most years, and unrestricted county savings are expected to grow. 
"I look at this as a good, solid budget that relies on the positives that we've seen in our local economy in the past year and is able to provide the services that the public demands and wants," Poloncarz said.
It's true that the property tax rate is falling to its lowest level since prior to 1960, which would help homeowners whose properties have maintained or lost market value over time.
However, far more property owners in Erie County have seen their property values rise significantly, resulting in higher tax bills.
For instance, when former County Executive Joel Giambra reduced the county property tax rate to $4.34 per $1,000 of assessed value in 2005, he raised $157.6 million in property taxes.
Comparatively, Poloncarz's proposed budget would reduce the tax rate of $4.33. But because property values have risen so much, that property tax rate is expected to raise $321.4 million in property taxes – more than twice as much money as was raised in 2005. 
The county executive said higher tax levies reflect economic growth, which is a good thing. Though the county has received hundreds of millions in federal stimulus money, that money cannot be used to lower taxes.
Finally, budget officials anticipate closing out this budget year with a giant surplus. Swanekamp said that as of July, the county expected to see a surplus of $73.7 million. But that year-end surplus is now expected to be even higher. 
The Poloncarz budget proposal now goes before the Erie County Legislature.