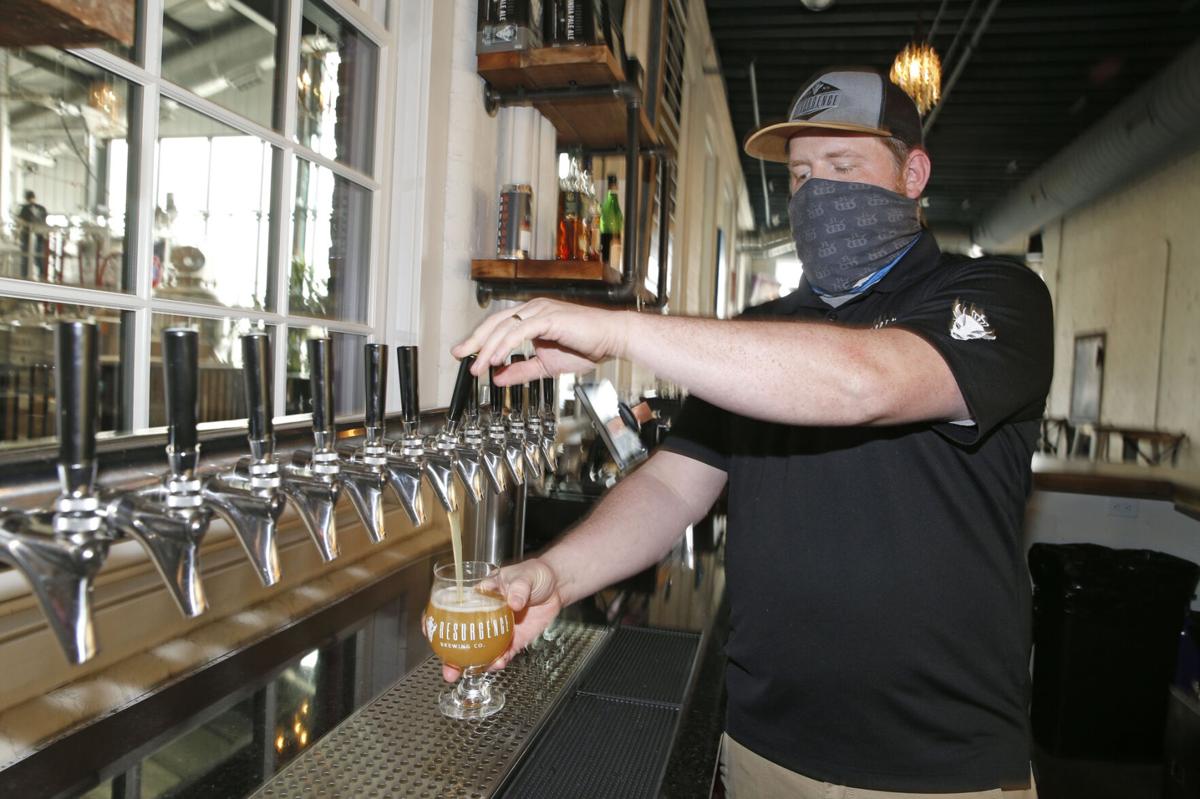 As demand for the Covid-19 vaccine continues to fall, the county is taking a new approach.
It's not quite a government handout. Local breweries are partnering with the county Health Department to host pop-up vaccination clinics next to their taprooms. 
Get a shot – the Moderna kind, not the alcoholic kind – and get a free drink on the house.
Actually, it's two free drinks since people would be receiving the Moderna vaccine, which requires the inoculated to return for a second dose four weeks later in order to be fully protected.
The county's new "Shot and Chaser" program is the latest sign of how the vaccine script has been flipped in a few short weeks, from not having enough vaccine to meet demand to now actively shopping the vaccine to breweries, schools and churches in an urgent effort to get more people vaccinated against the virus.
"Here's a good incentive," Erie County Executive Mark Poloncarz said Tuesday during his weekly briefing. "If this doesn't work, I don't know what will."
The program, whose ultimate vaccination goal could not be more serious, still represented a rare moment of lightheartedness during the pandemic. That was evident when Poloncarz displayed a slide featuring Homer Simpson with a Duff's beer bottle to announce the program.
"Help get on the vaccine train, and if it takes a beer to do it, that's OK," Poloncarz said. "This is Buffalo. We love our beer. We've got some incredible microbreweries here."
County leaders hope the vaccine-for-beer effort will attract younger residents, particularly those in their 20s and 30s who have consistently had the highest rates of positive Covid-19 cases in recent weeks. More than 800 residents in these age groups have tested positive over the past week alone, according to county data shared Tuesday.
Comparatively, only 41 county residents ages 80 and older tested positive in the same time frame.
Rob Free, the Buffalo Bisons' vice president of food and beverage and chairman of the New York State Restaurant Association, said he hopes the effort not only will attract younger people who may have a relaxed attitude about getting vaccinated, but also restaurant workers.
"It's kind of a cool little thing to make it a little hipper," he said.
Both Resurgence and Flying Bison brewing companies, both in South Buffalo, have signed on as partners in the program. The county is also looking for more interested participants.
Resurgence Brewing will hold its pop-up vaccination clinic May 8, with the clinic setting up in an adjacent parking lot.
"We've always been for the pandemic ending and everything going back to normal," said Resurgence Brewing owner Jeff Ware. "Obviously, we've made it very well-known we wanted to help out any way we can."
Tim Herzog, founder of Flying Bison Brewing Company, said he had been talking with Jason Hurley, the county's director of community affairs, about crafting a new local beer to help Erie County celebrate its 200th anniversary. 
While in discussions about what would eventually be dubbed the "EC200 Parks and Rec pilsner," one thing led to another, Herzog said. He and Hurley got to talking about the outdoor tent that Flying Bison uses to cover its side yard space and the need for pop-up vaccination locations that could use a tent set up. From there, the germ of an idea blossomed, Herzog said.
"I'm kind of a militant guy about this because I had Covid early on," he said. "I don't even want people that I don't like to get this."
The concept grew quickly, with Health Commissioner Dr. Gale Burstein reaching out to Free, and Free reaching out to Resurgence. A date for the pop-up clinic for the Flying Bison site has not yet been set.
In answer to several potential questions: The free beer offer is not retroactive – you can't get a free beer just because you were proactive about getting vaccinated. And you don't have to use your free drink offer on beer, or any alcoholic beverage. Coke is fine, too.
County leaders acknowledged they have been forced to get more creative about vaccination delivery now that even walk-in status for county hub clinics aren't attracting many residents.
The lack of demand at the local level is being mirrored at the state level. Gov. Andrew Cuomo announced that all state vaccination sites will accept walk-ins starting Thursday. The state had been delivering an average of about 175,000 vaccine doses every 24 hours, but that has fallen to about 115,000 doses a day, the governor said Tuesday.
Poloncarz said the county-run hubs are still needed for the many people who are still returning for their second vaccines, but that won't last forever.
"Eventually, I would imagine we do plan on pulling back on using those sites and using more specialized sites we've already talked about," he said.
He encouraged other breweries with an interest in hosting a Shot and a Chaser vaccine clinic to contact Hurley at 858-2827 or jason.hurley@erie.gov.
Aside from promoting vaccines, Poloncarz said he also hopes local brewing companies can benefit. Other restaurants and bars aren't prohibited from participating in the program, but they would need to have adequate space and be able to guarantee a certain number of individuals willing to get the vaccine, he said.
"If this gets another 600 or 1,000 people vaccinated," he said, "we're all better for it as a community."