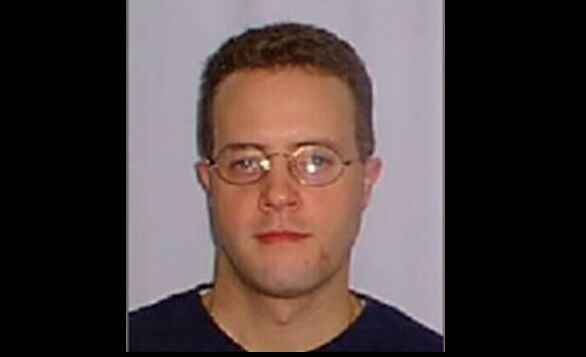 A misstep popped up less than two years later. Internal records show Capodicasa was among three deputies falsifying their timesheets as they staffed the lockup at the Family Court building.
Looking at January 2018, a captain found it was common for the three to write that they worked until their designated quitting time of 5 p.m. when they actually departed at least 30 minutes earlier, according to records from the internal investigation.
Their practice, referred to in some police circles as "the slide," came to light after the deputies left a man in their lockup for the evening when he needed to be returned to the Holding Center, the internal records show.
The documents say Capodicasa and the other deputies jeopardized the inmate's safety and security, increased liability for the Sheriff's Office and created overtime pay for the jail employee who later retrieved the inmate on the night of Jan. 23, 2018.
In the January weeks leading up to the event, at least one of the three deputies had left work early every day but one, the records show.
Both public- and private-sector employees can be prosecuted for collecting pay they did not earn. In 2013, a former NFTA officer pleaded guilty to two misdemeanors for changing his timesheet to add unearned overtime. His crimes involved more than $11,000, prosecutors said at the time.
While some employees have been prosecuted, some local police agencies instead leveled internal sanctions against officers who collected pay they did not earn. That's how Sheriff Timothy B. Howard's team dealt with Capodicasa and the two other deputies at the Family Court lockup. None faced criminal charges. All were given letters of reprimand.
As for Capodicasa, the disciplinary papers filed against him did not mention the last-chance agreement he signed when he pleaded guilty to insurance fraud months earlier. The agreement had expired days before his new wrongdoing was discovered, a sheriff's spokesman told The Buffalo News.
Like the two other deputies, he kept his job but was told "future occurrences of misconduct" might lead to more serious discipline.
None of the deputies responded to Buffalo News emails or telephone messages seeking comment for this article, nor did their union.
District Attorney John J. Flynn's predecessor, acting District Attorney Michael J. Flaherty Jr., prosecuted the insurance fraud case.
Capodicasa's vehicle had been in a crash with another vehicle on June 9, 2015, but the deputy instead told his insurance company the vehicle had been stolen, Flaherty's team said when it announced charges in 2016.
Capodicasa received a check from Progressive for $21,608, made out to the leasing company that owned the vehicle. Two days after Capodicasa received the check, the damaged car was spotted in a downtown parking garage with a parking ticket from the date of the accident, prosecutors said. 
The plea agreement required Capodicasa make restitution, which he did, and serve three years' probation, on top of the 30-day suspension the Sheriff's Office gave him in 2016. 
Days ago, Flynn's spokeswoman said county prosecutors were never told Capodicasa had been falsifying his timesheets and was in trouble again. Prosecutors have collected information from the Sheriff's Office and are looking into the matter, she said.
After a change in state law, the once-buried disciplinary records of New York's police and deputies are coming to light through Freedom of Information requests. In some of the internal cases The Buffalo News obtained so far, the Erie County sheriff has allowed deputies to remain on the job after serious violations, only to have them violate rules again.
No example of this is more glaring than Capodicasa's, who had worked for the Sheriff's Office for 17 years when convicted of a Class A misdemeanor that could have sent him to jail. While on probation for that crime, his employer found he committed four departmental infractions related to the doctored timesheets: unsatisfactory performance, leaving a duty post, unbecoming conduct and a general violation of rules.
In some of the internal cases reviewed by The News, Howard's top officials gave leniency to deputies who admitted wrongdoing. But the reports about Capodicasa say he was less than forthcoming when questioned about his hours. Capt. Jeffrey K. Hartman wrote: "Deputy Capodicasa's answers were often indirect, vague and non-responsive."
But Capodicasa's last-chance agreement, like others, was not meant to last forever.
It expired Jan. 6, 2018, the sheriff told The News through a spokesman. That date was roughly 18 months after Capodicasa's guilty plea.
More crucial to the deputy's job status, the last-chance agreement expired 17 days before a male defendant was left behind in the Family Court lockup and before the falsification of time sheets was discovered.
Still, the investigation found Capodicasa had left work early without permission on two dates prior to the expiration – Jan. 2 and Jan. 5 of 2018. The sheriff and spokesman Scott Zylka had no comment when asked about that in an email. And they refused to say why the District Attorney's Office was not told of the matter when considering Capodicasa was under probation supervision.
Capodicasa, the records show, left work early without permission four times in January 2018. Deputies James Delio and Robert Pfalzer each left work early eight times that month, according to the records.
Like he did with Capodicasa, Hartman wrote that Dello's answers when interviewed were not forthcoming. The captain offered this example:
"Since the first of the year, on a day that you were scheduled to work 09:00 – 17:00, have you left your post early but signed on the payroll sheet 17:00 anyway?" Delio was asked.
"Not that I can recall,'' Dello answered, according to the Hartman memo. He called the answer "evasive and untruthful."
"The regularity with which he engaged in this conduct during the previous month proves that it was deliberate, and he was aware of what he was doing," his memo said.
In their letters of reprimand, Capodicasa, Delio and Pfalzer were told their violations warranted unpaid suspension. However, in an agreement with their union, Teamsters Local 264, they were reprimanded and stripped of their rights to select their work assignments for the rest of 2018.
They were placed into the "float pool," in which a watch commander determines daily assignments. In return, the three agreed not to challenge their discipline through a grievance or arbitration.
Capodicasa and Delio ended up making about $63,000 that year, Pfalzer about $88,000, according to records on See Through New York, a database of public payrolls compiled by the Empire Center.