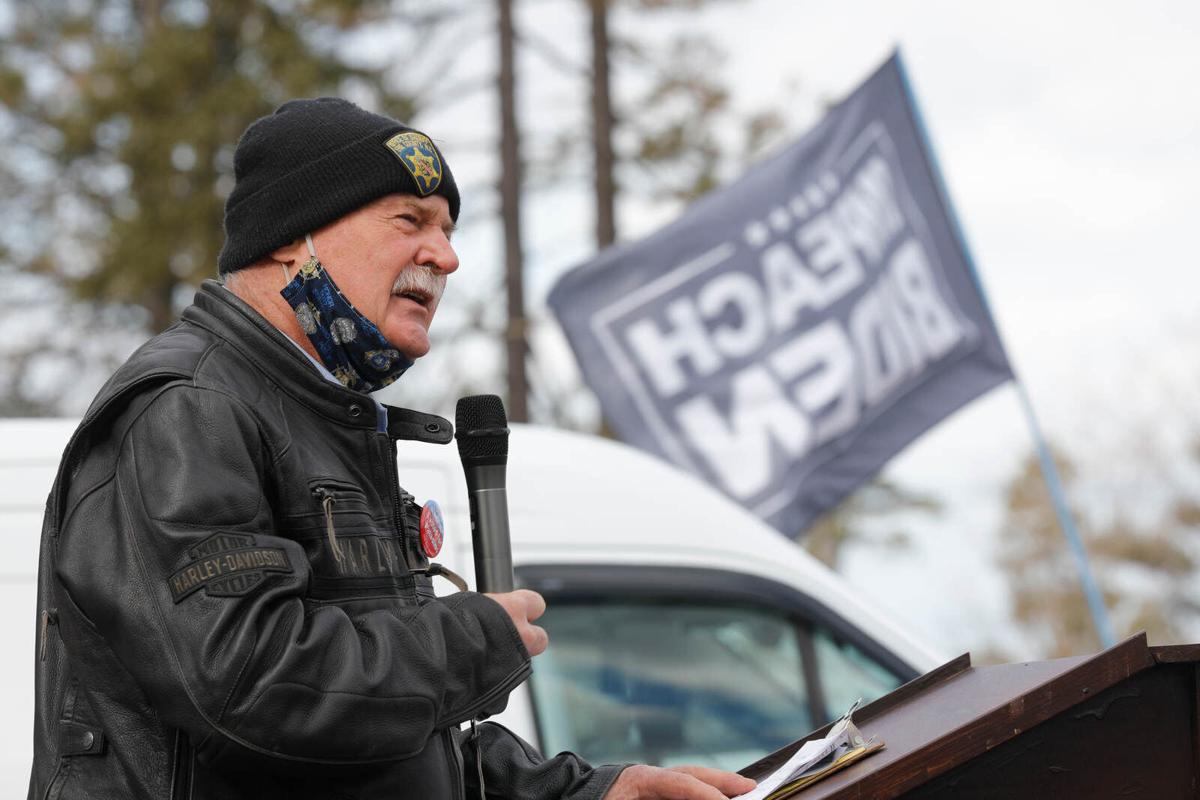 Erie County Sheriff Timothy B. Howard on Sunday joined the chorus of elected leaders calling for Gov. Andrew M. Cuomo to resign.
"Based on what I know and what I believe, I believe that the governor should resign now from his public office and allow our elected leaders to focus on serving the people, instead of it being the other way around," Howard said.
Howard's comments came at a "Remove Cuomo" protest in Orchard Park organized by the 1791 Society Political Action Committee, a gun rights group that takes its name from the year the Bill of Rights was ratified.
The rally, held in a parking lot across from the Chestnut Ridge Park casino, drew between 100 and 150 people on a chilly, windy morning. Howard was not in uniform but wore a Sheriff's Office knit cap and a button on his leather jacket that read, "Don't Blame Me, I Voted for Paladino." The button referred to Buffalo businessman Carl Paladino, who ran against Cuomo in 2010.
Cuomo is facing allegations of sexual harassment and sexual misconduct, which he has denied. State Attorney General Letitia James has started an investigation, and the state Assembly has launched an impeachment investigation. Lawmakers across New York State, including both of the state's U.S. senators, have called for Cuomo to resign, but the governor has said he will not do so.
Howard told the rally he believed in the American justice system and said he didn't know whether Cuomo was guilty of what he is accused of. But Howard went on to criticize Cuomo in other ways.
"I believe that he is a bully who threatens and intimidates people in order to get his way," said Howard. "I also believe that he believes that the end justifies the means, and that it is his own ends that are most important."
Howard, who has refused to support provisions of the SAFE Act gun control law that the governor pushed through, also blasted Cuomo's policies.
"I've seen him tread on our Constitution, particularly on the Bill of Rights, starting with the Second Amendment and his ridiculous gun controls, moving quickly from the Second Amendment on to the other amendments, shutting down our church services and even limiting the size of our family gatherings, within the privacy and sanctity of our own homes," he said, referring to limitations Cuomo imposed during the pandemic.
Members of the crowd held American flags and flags supporting former President Donald Trump. There were also anti-Cuomo signs, including "Prison for Cuomo" and "Not My Governor." Frank J. Panasuk, president of the 1791 Society, led the crowd in a chant of "Cuomo's gotta go."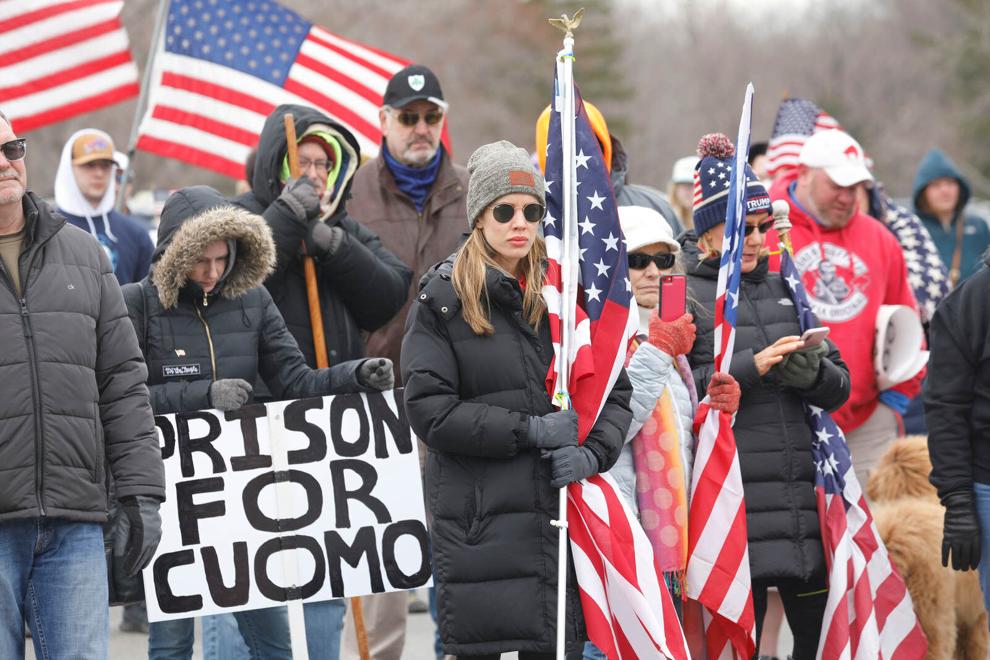 Panasuk said the 1791 Society is preparing to launch a new political party, called the Guardian Party.
"Your Second Amendment rights have been pretty much ignored by the Republican Party, the Conservative Party, and certainly by the Democrat Party," Panasuk said. The group will begin circulating petitions April 13 to support that effort, he said.
Meanwhile, Cuomo kept a low profile on Sunday, releasing pandemic and vaccine updates through press releases.
The state reported there were 155 Covid-19 patients in Western New York hospitals, and that the region's seven-day average Covid-19 positive test rate on Saturday was 1.76%, compared to the statewide average of 3.15%.
Cuomo also said more than 6.5 million total Covid vaccine doses had been administered across New York State, including 130,350 in the previous 24 hours. The state reported 160,269 people in Western New York have received a complete vaccine series, among 2.26 million people statewide.
"Thanks to our robust distribution infrastructure across the state and the men and women who work tirelessly to get shots into people's arms, we are quickly working through our weekly vaccine supply," said Cuomo, who has tried to project a business-as-usual persona amid the controversies swirling around him. "We are still millions of shots away from critical mass, and as our weekly allocation from the federal government grows, we will ramp up our efforts to continue our outreach to underserved communities and the most vulnerable New Yorkers."