By what should have been his senior year, the 18-year-old Hamburg High School student had racked up 44 instances of misconduct reported by 22 teachers and staff members.
So the high school staff knew him well – for swearing, truancy, disrespect, throwing food and bottles in the lunch room, dealing drugs on school grounds and coming to class seemingly high on drugs, according to court records.
But as well as they knew his disciplinary record, authorities at the high school could not have foreseen what happened in the storage room next to the ceramics arts classroom on May 21, 2010, said Appellate Division judges in a recent decision dismissing a negligence lawsuit against the Hamburg Central School District.
Carly Knaszak – then a shy 16-year-old sophomore – didn't know the older student at all.
She went into the storage room about 9:30 a.m. that day to retrieve her project for class. She saw the older student changing his shirt. She had her back to him as she reached for her project, according to court records, and that's when he suddenly placed a shirt over her head and pinned her against the wall. He reached under her shirt and down into her pants and then sexually assaulted her, according to civil court records. The attack ended abruptly, and the older student quickly left before the next class began.
Knaszak, identified by name for this story with her approval, went to her class, distraught and confused. She texted her older sister, who was also a student at the high school at the time, and the two met at their lockers after class and found a school counselor to report what happened. Her mother came to the school, and when the school refused to call the police, she drove her daughter to the police station to file a report. The older student, eventually charged with second-degree harassment, was sentenced to five months in jail, according to court records.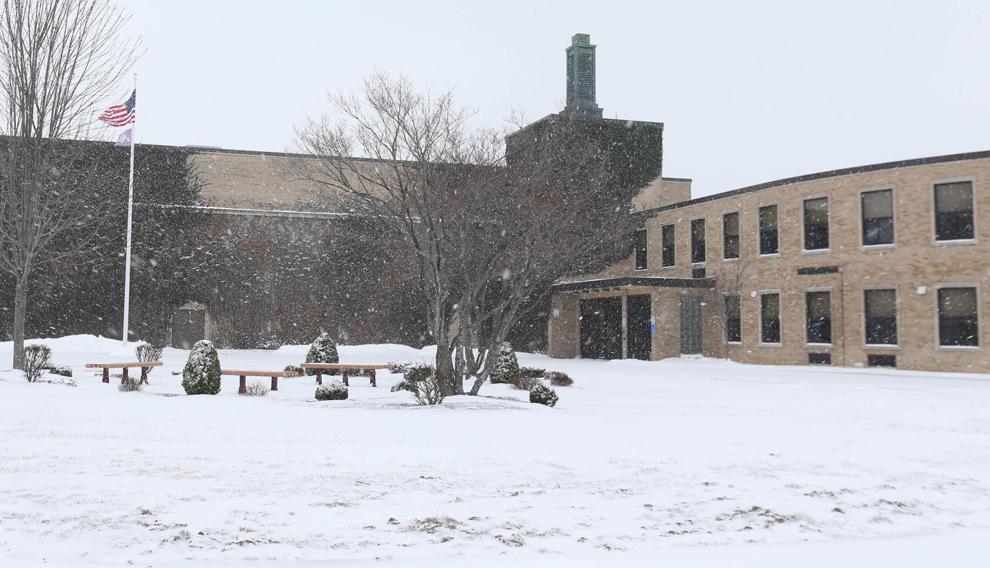 Knaszak filed a negligence lawsuit against the district in 2013, asserting school authorities failed to protect her from a student with a longstanding history of misconduct.
"If a student has behavioral problems and had 44 write-ups against him, maybe he shouldn't be allowed back in school?" she said to The Buffalo News. 
The district, in turn, asked the State Supreme Court to dismiss her lawsuit before holding a trial, saying school authorities had no basis to know the older student posed a physical, dangerous threat to others and so it should not be held liable for what happened to Knaszak.
Justice Dennis Ward refused to dismiss her civil suit, but the Appellate Division judges in Rochester reversed his decision, calling the sexual assault "an unforeseeable act" that "could not have been reasonably anticipated."
"Yes, it was foreseeable," Knaszak said. "I had women approach me afterwards saying that he showed unwanted sexual behaviors to women before. But he was only caught with drugs and throwing bottles, so of course he couldn't have raped anyone, right?"
Knaszak said the appellate court's ruling on July 16 left her "in a state of shock."
"I know the justice system isn't great for rape cases," she said, "but I really thought the Me Too movement would really bring a new light to people in the justice system because now people realize that rape is super common and your family and friends can be victims of it."
'A danger to other students'
In his June 2020 ruling, Ward reviewed the older student's lengthy disciplinary record and described the law used to decide lawsuits like Knaszak's.
Schools have a duty to supervise students and they're held liable for foreseeable injuries that happen because of the absence of supervision. Schools, however, cannot reasonably be expected to continuously supervise and control all movements and activities of students, so schools cannot be held liable for every thoughtless, careless or spontaneous act when a student injures another student, Ward said in summarizing the law. So courts must determine if school authorities should have reasonably anticipated the misconduct because of sufficient specific knowledge of prior similar conduct. 
Ward noted troubling aspects of the older student's life:
• A history of sexual abuse by an older sibling.
• His long-standing drug abuse problem.
• Suspensions that kept him out of class for all but about 11 months from 2007 to 2010.
• Forty-four separate instances of misconduct over three years beginning in 2007.
Ward called the 44 misconduct charges "all the more remarkable" given how little time the student actually spent in school. 
School officials were aware of his disciplinary record, with one describing him as a "high profile" student, Ward noted.
Given his record, a jury could reasonably conclude the student should have been kept segregated from the student body, permitted to attend classes but escorted to and from class and not permitted free rein in the school building, including the ceramics classroom, which is not visible to the general classrooms and hall areas because of its fire wall, Ward said.  
"A student who was on the verge of permanent expulsion, a student who had also turned 18 years old and was thus older than many of the underclassmen, was a danger to other students," Ward said.
He came back from his suspensions "demonstrating even more defiance" to school authorities, Ward said.
"And given his unaddressed issues for his own sexual abuse and drug addiction, it cannot be said that the district in this case lacked notice that this student posed a threat to classmates and should not have been allowed to mingle freely, especially with the younger students," the judge wrote.
'No reason to anticipate'
After losing the lower court ruling, the school district appealed to the Appellate Division.
The crux of the case for the five-judge panel turned on what part of the older student's past misconduct rendered the sexual assault of Knaszak foreseeable.
"The district was aware that (he) had a substance abuse problem," Anastasia McCarthy, the attorney representing the district, told the appellate panel during oral arguments on April 7. "But the district was not aware that in consuming an illegal substance, (he) would ever act in a physically aggressive or sexually aggressive manner. He had never done so before, and they had no reason to anticipate that he would do so at this time."
The law requires the district have sufficient prior knowledge of dangerous conduct that is the same or similar to what injured Knaszak, McCarthy told the appellate judges.
"No one is going to say (he) was a star pupil by any means," McCarthy said. "But he was not someone who anyone at the school would have predicted would act in this particular manner."
His past infractions – absenteeism, suspected substance abuse problems, back talk – "are not of the same kind that caused the plaintiff's injuries in this case, which is sexual assault," McCarthy told the appellate panel. 
Justice Tracey A. Bannister asked McCarthy about the district's own description of the older student.
"The record that you submitted categorized this particular student as being troubled, a behavioral concern, vengeful, angry, disrespectful, using bad language," Bannister said. "If I call somebody troubled, vengeful, angry, I would think there's a problem here, a behavior problem we have to be on the lookout for."
Attorney Carl Morgan, who represented Knaszak, was asked to pinpoint which past misconduct should have prompted the district to anticipate a sexual assault – not just further disruptive behavior.
"How could the behavior of this student, besides being a general disciplinary problem, cause the district to be on notice that he would engage in sexual misconduct against another student?" asked Justice Shirley Troutman, who would side with Justices Erin Peradotto, John Centra and Joanne Winslow to dismiss Knaszak's lawsuit.
The district at the student's disciplinary proceeding for his first suspension recognized his behavior "had an impact not just on him but on other students," Morgan said.
When suspending him, school officials "directed that they be informed further as to ... his substance abuse and they didn't follow up," Morgan said. "Foreseeability can be foreseeable, but it can't be closing your eyes."   
The student's prior misconduct did not have to be of a sexual nature to put the district on notice about him, Morgan contended, urging the panel to allow Knaszak's lawsuit to proceed because it raised questions about whether the district fulfilled its duty to properly monitor the older student.
In throwing out the civil lawsuit, the appellate judges said the older student's history did not include any sexually aggressive behavior. The judges also said Ward "impermissibly drew an unsubstantiated and speculative inference that the student's disclosure to a school social worker about being a victim of sexual abuse during his childhood, coupled with his substance abuse," should have provided notice to the district about the student's propensity to commit sexual assault.
Bannister, the appellate panel's lone dissenter, said a jury would need "little more than its own common sense" to conclude the district had sufficient notice of a dangerous situation and could have reasonably anticipated the sexual assault.
'Red flags were everywhere'
More than a decade after the sexual assault, Knaszak remains angry at her high school.
"Eleven years of my life was gone, and in one decision," she said of the appellate ruling. "I fought so hard for years and honestly, I feel like I got nothing through the school's head. They are more worried about their reputation than actually protecting their students. This is why I'm doing this." 
She wants students kept safe in schools, so they don't have panic attacks in their sleep or suffer from severe anxiety like she did after the attack, or get diagnosed as she was with post-traumatic stress disorder. 
For Knaszak, the effects of the trauma have lasted years, as she struggled to trust men and at times found herself "in a very dark place."
With the help of others, she's better, she said. Acceptance has replaced fear.
"I still deal with it, and I have issues with going places alone, people coming up behind me and certain triggers, but I've come far from where I was," she said.
She's offended by the district's legal argument and how the appellate court accepted it.
She wonders how the appellate court would have ruled if the older student had hurt her simply by throwing a bottle at her in the storage room. He had shown that specific misconduct before, so would the court have allowed her case to go to trial if he had done that – which would have been something less vile – against her? So why should the district be let off the hook because he did something more vile to her?
"So, he didn't sell me drugs or throw a bottle at my head, but he raped me and the school was like, 'Oh well, he had no history of that before.' Red flags were everywhere and they're saying they had no clue? That's totally wrong. 
"Anger does not even cut it," she said of her feelings toward Hamburg High School. "I was a 16-year-old who went to school and came out that day raped in a building that told me I would be protected."