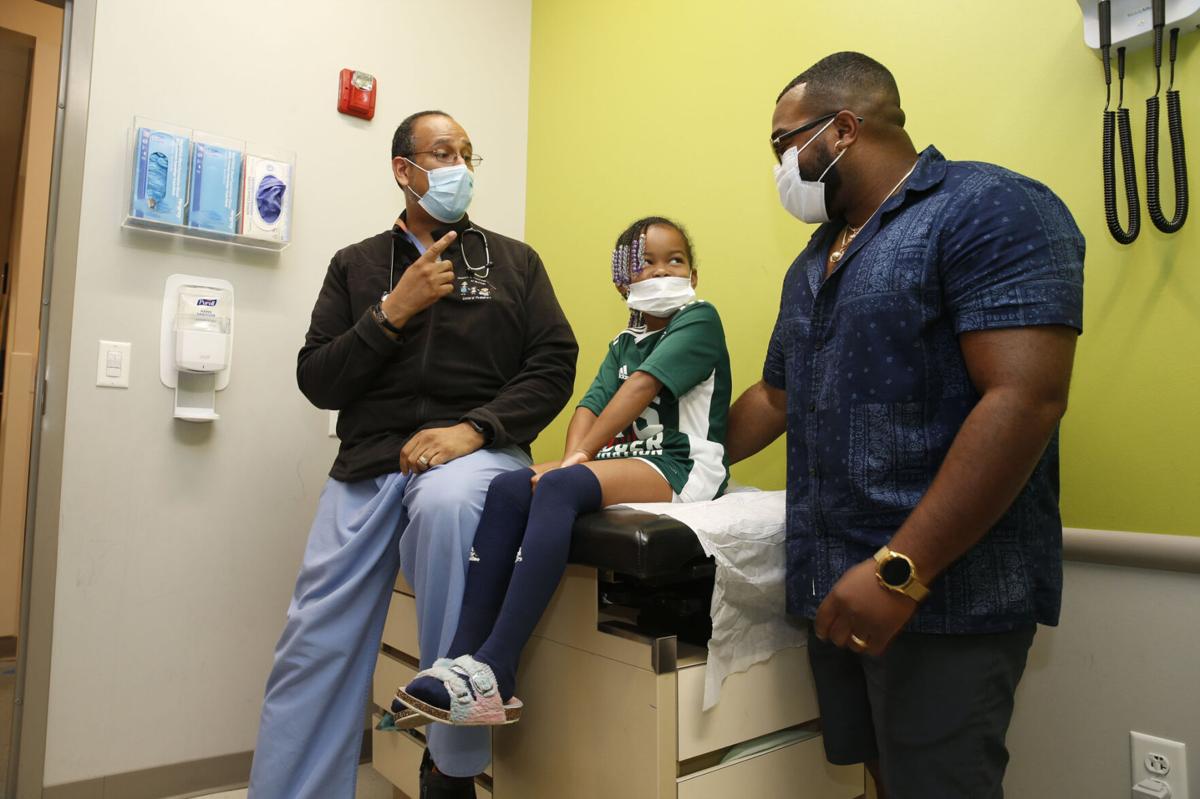 Rodney and Krystal Rutherford have five children, four of whom spent all last school year learning in online classes from home, including 6-year-old Ava, who starts first grade next month in Niagara Falls.
Her oldest brother, Rodney Sr., 12, starts seventh grade and longs most to play saxophone in music class. He and brothers, Cameron, 7, and Isaiah, 10, are eager to participate in sports.
All four also look forward to hanging out with a larger circle of friends.
Their parents look forward to their children returning to a more typical school life, even if it means wearing masks.
"I worry about the schools being safe," said Krystal Rutherford, who aims to learn more about classroom size, seating arrangements and distance between students when the school year begins, as well as how gym classes and lunchtime will work.
They are not waiting around to get their kids ready for the rigors and routine of the start of what they hope will become the first full year of in-person education for their kids since 2018-19.
They've worked with their pediatrician to set the stage.
"The biggest concern I hear from parents is, 'If I send my kid to school, are they going to get Covid?' " said Dr. Fred Archer, who sees all five Rutherford children at Niagara Street Pediatrics on Buffalo's West Side. "They're also worried about all the time their kid has been home and if they're going to function well.
"You want to be pre-emptive and proactive."
Archer and Dr. Sarah Ventre, who also works at the clinic, are part of UBMD Pediatrics and clinical assistant professors in the Division of General Pediatrics in the University at Buffalo Jacobs School of Medicine and Biomedical Sciences.
Both shared the following tips for parents as they prepare children for school in less than four weeks.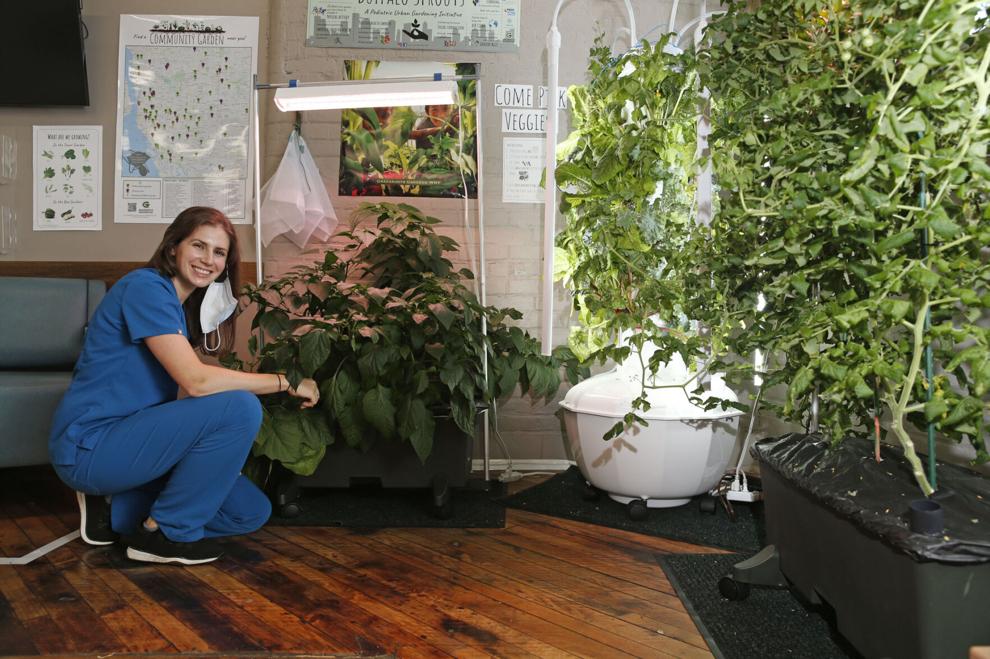 It's important to get on a routine sleep schedule in the weeks before the school year starts, as well as afterward, the doctors said.
That means seven to eight hours a night for parents, and "a good eight hours, if not nine," for students in elementary and secondary school grades, Archer said.
This helps set structure in other ways.
The Covid-19 pandemic helped bring back family meals in many households. It never disappeared for the Rutherfords, former Buffalo residents who moved to the Falls.
"I grew up knowing already that sitting with your family for dinner, talking with your family, were important, so we've kept that normal," Rodney Rutherford said.
The couple also involves their children in making and cleaning up after meals, offering some input to what will be served but limiting choices.
Those choices matter. "If you're not putting the right things in the body, you're not going to get the right things out of the body," Archer said.
The typical American diet includes about 60% ultraprocessed foods, which can cause fatigue and raise the risk of sickness and disease, Ventre said. She recommends a whole food diet rich in leafy greens and other vegetables, fruits and whole grains. Pizza, wings, burgers, chips, cookies, cake and sugary sodas should serve as occasional treats. It's best to keep those things out of the house, Ventre said, and focus on healthy fruits and veggies kids can help make as snacks.
She underlines those points in the office waiting room, where she has added a hydroponic garden with leafy greens, peppers and cherry tomatoes – and welcomes a farmers market Friday morning that offers $6 savings vouchers for patient families.
A healthy breakfast should start the day for everyone, particularly children, said Archer, one of several UBMD Pediatrics doctors who serves part time at clinics at some Buffalo Public Schools. He ascribes some behavioral problems to students who start their day with unhealthy meals, or no breakfast at all.
Organized sports can help kids, Archer said, but only if a child shows enthusiasm over time for those activities – and has fun. Walks, runs and bike rides after school and on weekends are great ways for families to catch up on busy school-year lives – and show children that parents also value exercise.
"If you do it, the kids are gonna model it," Archer said.
Rodney Rutherford has taken that message to heart. His two oldest sons often get up with him at 6 a.m. to work out in their home gym.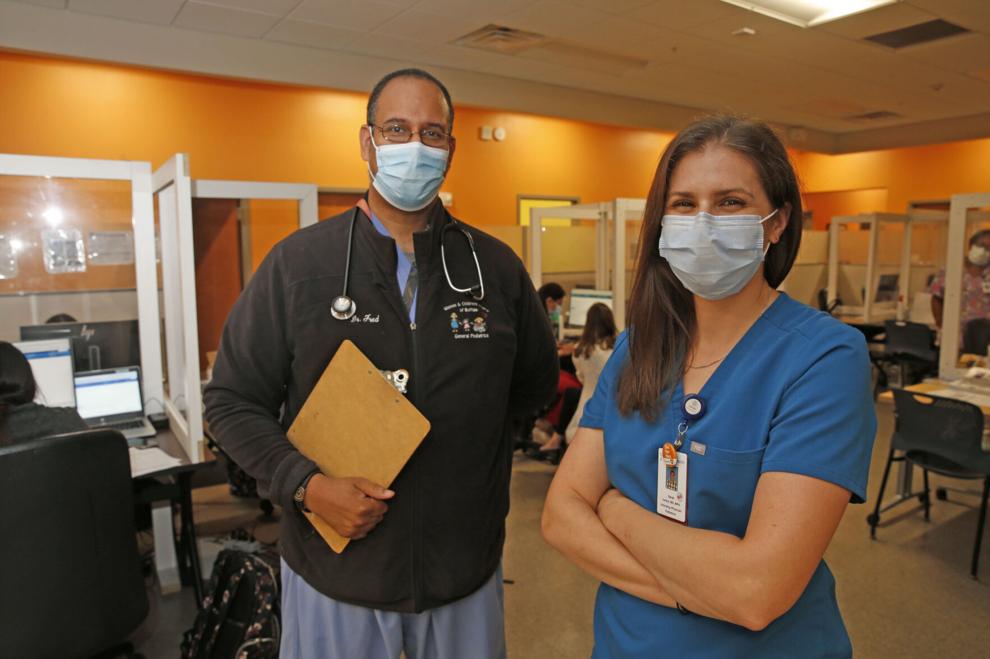 If you haven't taken your child to visit a pediatrician since May, do it soon.
UBMD Pediatrics sees roughly 30,000 patients each year at its Broadway and Niagara Street clinics. The pace of visits began to tick up in June, the two doctors said, but a sizable minority hasn't been seen since before March 2020.
It is important to measure the overall health and wellness of every child since the pandemic began, Ventre said.
Those entering kindergarten must have the required series of the following vaccines: diphtheria, tetanus and pertussis (DTaP); measles, mumps and rubella (MMR); polio; hepatitis B; and chickenpox. Additional boosters of some of those vaccines are needed in middle school and high school. Parents also should talk with their pediatric provider about flu and pneumonia shots, as well as the human papillomavirus (HPV) vaccine for older children.
Primary care providers, including pediatricians, also are an important resource when considering a vaccine for yourself or a child 12 and older.
"I don't think there is going to be a mandate for school, but I think it's going to be highly recommended," Ventre said. "If you have questions about it, too, definitely talk with your primary care doctor or pediatrician about it. Anything we can do to decrease the rates of Covid is important. We know that the vaccine is effective in preventing severe disease and that's what we want to prevent."
The CDC and American Academy of Pediatrics at this point recommend universal masking for children in schools. Expect that to be the case at the start of the school year, both pediatricians said.
"Masking has been shown to decrease transmission," Ventre said, "so we have to stick with what we know." That includes honoring individual decisions to wear masks regardless of mandates, the doctors said.
"The number one priority is getting children back to in-person learning so that they can have that socialization and improve their mental health, because we know that mental health has taken a hit during the pandemic," said Ventre, co-medical director with the Buffalo Public Schools.
Pediatricians are likely to ask about mental health during every visit, and parents are encouraged to ask health providers about ways they can normalize their child's concerns without minimizing mental health concerns. Primary care offices also can connect families to mental health support when needed.
Another way to allay parental anxiety?
"Get involved with their kid's school, the decisions that are being made," said Archer, father of three.
He recommends parents get to know their child's principals, teachers, coaches, in-school health providers and guidance counselors. Any, or all, can provide added support and perspective during the school day.
"One of the things that has come from this pandemic is that the community has banded together," Ventre said.
That, too, can help families feel hopeful as they prepare for the school year.
"You've got to keep moving because you can't live with fear," Krystal Rutherford said. "You can literally make yourself sick by stressing and worrying, but if you pray and just go about your day and protect yourself the best you can, everything else will fall into place."