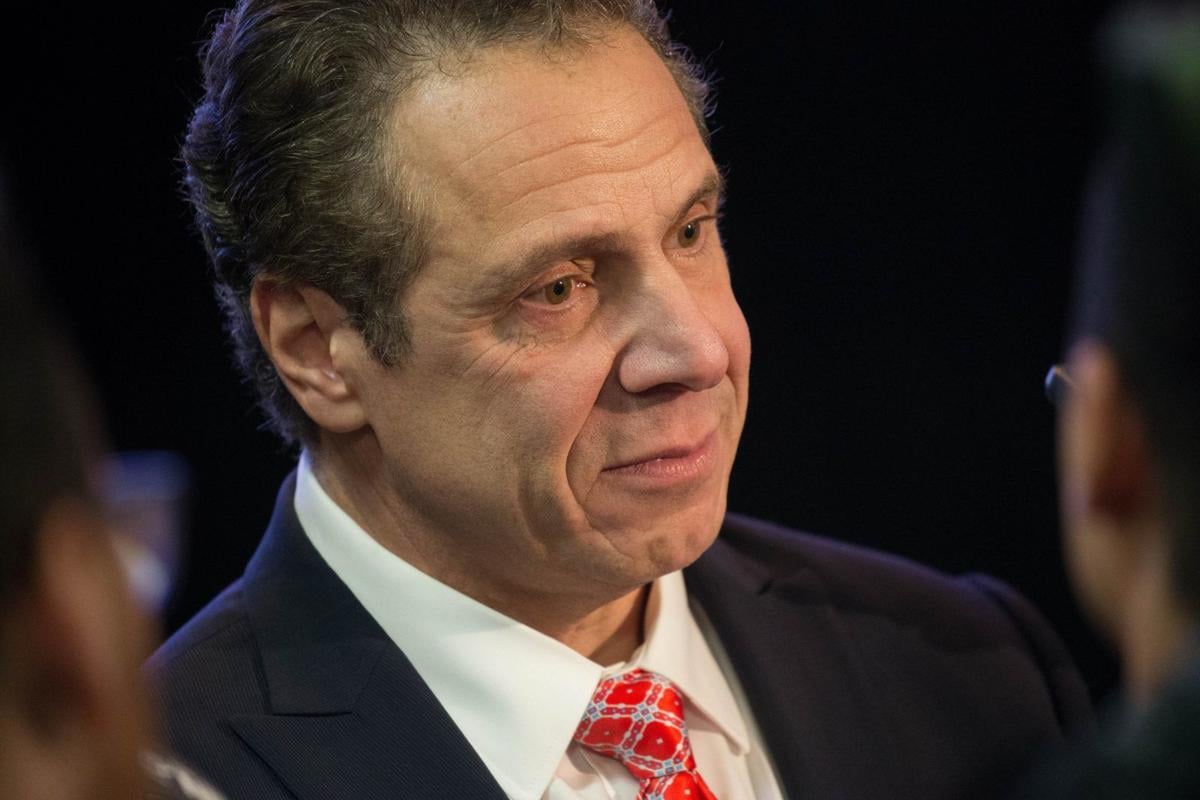 ALBANY – Less than three weeks after he proposed his 2019 state budget, Gov. Andrew M. Cuomo on Monday raised red flags over slipping tax revenues and suggested that some popular items in the fiscal plan, including state aid to schools, could face cuts from what he offered in mid-January.
Calling the situation "as serious as a heart attack," the Democratic governor said revenues are $2.3 billion below projections for the fiscal year that ends March 31. That is on top of a $500 million revenue dip from personal income taxes that the Cuomo administration recently projected when it put together a budget plan last month.
Whether the situation continues or improves is unknown, as is how the Cuomo administration will deal with the gloomy tax receipts in both the current and next fiscal years.
The timing of the announcement at the Capitol was not accidental. Lawmakers, who traditionally want to spend more than governors, are getting down to the nitty-gritty work of coming up with some budget alternatives – including more money for public schools – to Cuomo's plan. It comes before a final "cash report" on January's spending and tax revenues is complete, but Cuomo aides get daily numbers from the tax department on receipts.
State Comptroller Thomas DiNapoli, a former member of the Assembly who sat next to Cuomo in the ceremonial Red Room of the Capitol, said lawmakers need to be aware of the unfolding fiscal situation.
"This is the most serious revenue shock the state has faced in many years," DiNapoli said, before quickly adding that the situation could improve in the coming months.
Cuomo's fiscal aides first began seeing warning signs in December. That's when estimated state income tax payments began to sharply slide. That was at a time when the stock market was suffering a dire fourth quarter. Cuomo said it also is when wealthy people would ordinarily make estimated tax payments. Many did not, because they will be feeling the brunt of the federal tax law that restricts the ability of New Yorkers to deduct state and local taxes, such as their property taxes, on their federal forms.
Cuomo said the super-wealthy in New York – accounting for 1 percent of tax filers – end up paying 46 percent of the personal income taxes the state collects each year.
"Tax the rich. Tax the rich. Tax the rich. We did that. God forbid the rich leave," Cuomo said of a mobile group of people who can more easily switch residences to states with lower state and local tax levels.
Cuomo declined to say what spending might have to be trimmed to accommodate the lower tax revenue numbers, but he noted that education and health care are, by far, the two largest areas of the state budget.
Governors each year submit amendments 30 days after first proposing a new fiscal year's budget plan in January. Cuomo has until Feb. 14 to do so this year, and it will be those amendments that must show how he will deal with the revenue drop.
But taking down the spending base on what's left of this fiscal year means there will automatically be an effect on the coming fiscal year. Will it mean lowering what he wants to give to public schools? That will be a dilemma Cuomo faces as lawmakers insist his school aid number is already too low. Will it mean tax hikes, or perhaps freezing the next phase of a middle-class income tax cut that began several years ago? Cuomo would not say, deferring until the fiscal picture becomes clearer.
Assembly Speaker Carl Heastie, a Bronx Democrat, said Monday afternoon that he has talked with Cuomo but it is uncertain precisely what's behind the revenue drop or, perhaps more importantly for lawmakers, whether the situation might improve in the weeks ahead. "I share in his concern, but I'm just not sure what is actually causing it,'' he told reporters outside his Capitol office.
Asked if Cuomo had provided any spending cut or tax raising ideas, Heastie said: "It is way too early to say what we can do and cannot do and where we're going.''
Calls to bolster rainy day reserves
Fiscal groups have been warning the state for years to boost funds in reserve accounts. Cuomo this year proposed adding $488 million to reserve funds, taking them to $2.2 billion.
But DiNapoli said the state needs to be more disciplined about adding to what essentially is a savings account set aside for fiscal emergencies. He said the rainy day fund has not been increased since 2015.
"Frankly, if we're going to be in uncertain times, not just for this year but the out years, it would be wise to boost that up even more," DiNapoli said in an interview of the reserve funds.
Cuomo said the wealthiest of New York taxpayers account for only about several thousand people. The governor and administration aides say there is growing anecdotal evidence that some of those people have either moved from New York or are preparing for moves – acts that will have a disproportionate effect on personal income tax payments received by the state.
Cuomo has railed for a year about President Trump's tax program that blue-state governors say was politically written to help high-income taxpayers in Democratic states pay for tax cuts of people living in lower-tax, Republican states.
"There's definitely a change in behavior by high-income individuals," said Robert Mujica, Cuomo's budget director, of estimated personal tax payments that did not materialize in December and January.
In that two-month period, Mujica's office had projected estimated personal tax payments would total $6.2 billion. They came in, instead, at $3.9 billion. Such estimate tax payments, unlike withholding taxes on a worker's paychecks, often represent non-wage income. Officials say other high-tax states whose high-income residents will feel the effects of the new federal tax law also are experiencing state personal income tax revenue declines.