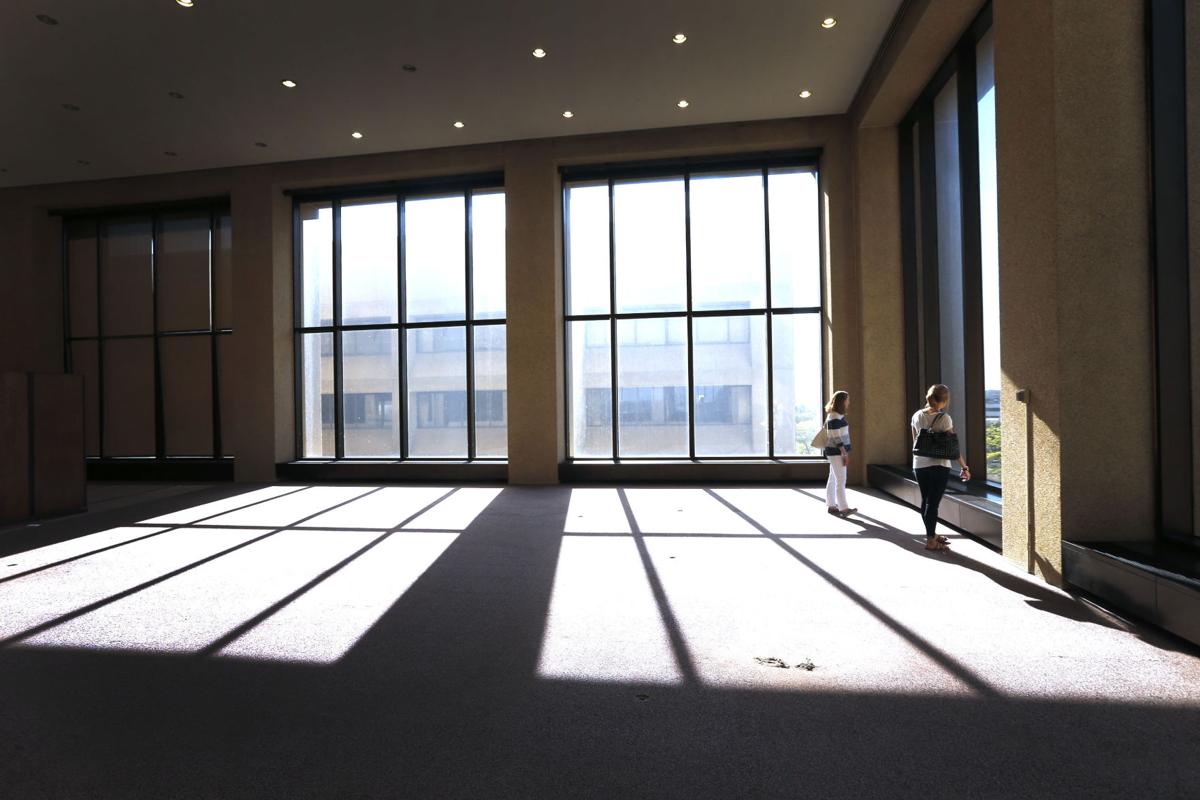 The second phase of work at One Seneca Tower is ready to go, adding another four-story building, more stores, a wind canopy and a driveway to the concrete plaza project, while cutting back the number of apartments.
Washington developer Douglas Jemal won a green light from the city Planning Board this week to proceed with his newest plans for the 38-story building that dominates Buffalo's skyline. Those include both new construction on the east plaza and a new road through the northwest corner of the site that Jemal purchased recently, as well as changes to the earlier plans.
Full-scale construction is yet to begin on the first phase, which was approved by the city in February, but asbestos remediation and other preparatory work is underway. Meanwhile, "as that portion of the project proceeds, the developer is looking for additional ways to activate and utilize the pedestrian plaza," said Adam Walters, an attorney at Phillips Lytle who represents Jemal.
Douglas Development Corp. still plans to renovate the annex buildings into retail space and apartments, while holding off on redeveloping the tower for the time being. But the new plan will reduce the number of apartments in those buildings from 183 to 100, while increasing the amount of retail or restaurant space. And it includes a new four-story mixed-use building and a single-story retail building on the plaza adjacent to the tower.
The project also includes a smaller wind wall, down to one story from the four stories originally proposed, with a wind canopy as extra protection for pedestrians. The new curved road on the northwest will mirror one on the northeast. Landscaping has been modified and a bus shelter will not be affected.
"We just want to break that expansiveness of the plaza, to allow for customers and residents to easily access it for pickup and drop-off," said Elizabeth Fuller, an architect with Antunovich Associates.
A proposed three-level pedestrian bridge also has been dropped for now. "We're going to focus on the other elements of the site," Fuller said. "There's a lot to tackle now."
The one-story retail building will have with 4,000 square feet of space. The four-story building, originally one floor, will have 11,000 square feet of retail space, plus 42 new apartments on the upper three floors. Both will be composed of metal panel, brick, cast stone and stucco.
Meanwhile, CBRE Buffalo continues to market the tower for lease, but there are otherwise no plans or changes for that space as Jemal focuses first on the plaza level and annexes.
"It's being marketed, but the developer sees the reactivation of the plaza as the critical first step in redeveloping the space," Walters said. "We think we're going to get more activity at the lower levels."