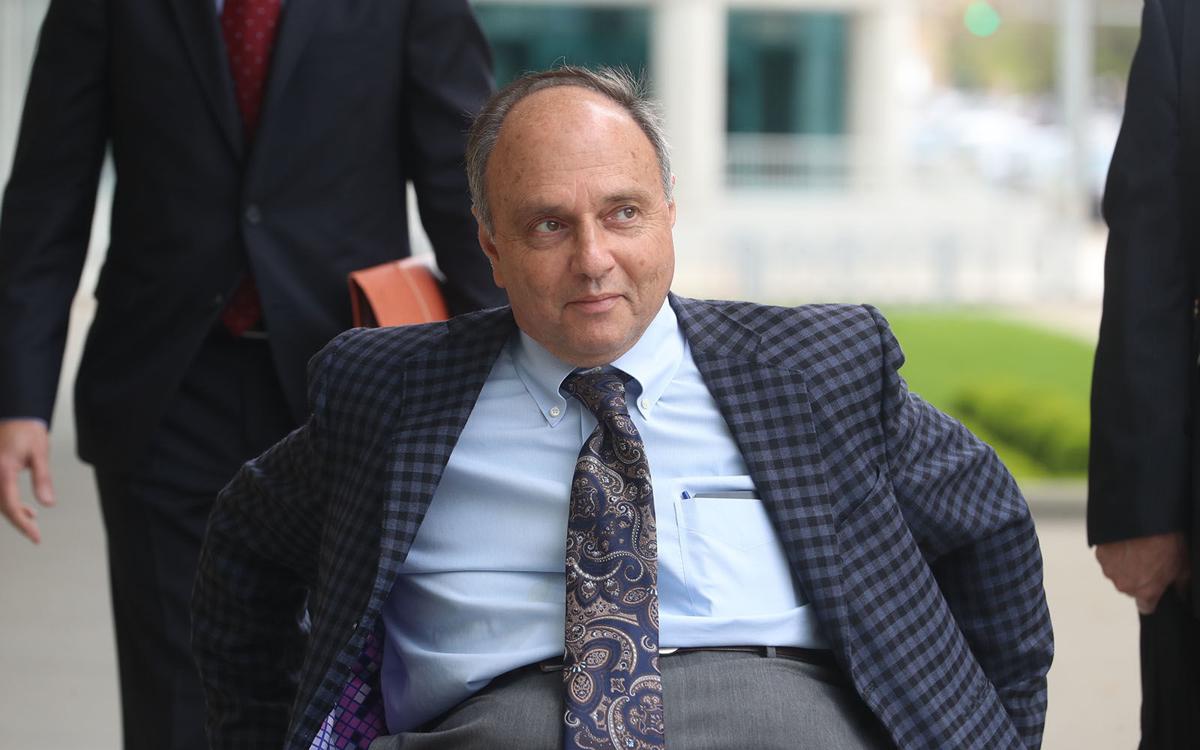 Mike Donoghue has known Rochester developer Robert Morgan for more than a decade, as a personal friend and a partner in a relocation business.
So it was only natural five years ago for the owner and president of Rochester-based Premium Mortgage to put $500,000 of his own money into investment funds that Morgan had just started.
"I knew he had funds, and I asked if I could invest, and he accepted my investment," Donoghue said from his Clarence office on Transit Road.
Donoghue said he understood Morgan would use the money as a bridge to buy and fix distressed apartment properties, often taking the place of regular bank loans until the deals could be refinanced. Morgan promised an 11% return along with a personal guarantee on Donoghue's investment. To this day, Donoghue said, Morgan has never missed a payment.
Those investments are now the subject of a federal securities fraud lawsuit, which accuses the founder and CEO of Morgan Communities and Morgan Management of running a "Ponzi scheme-like" operation.
The U.S. Securities and Exchange Commission accused Morgan of improperly using money from later investors to pay off prior investors or loans because his business wasn't generating enough revenue. Now, according to the agency, there may not be enough money in the funds to cover what's owed and redeem all of the investors. So it has asked the federal court in Buffalo to freeze Morgan's assets, particularly several accounts at M&T Bank.
The lawsuit was filed the same day Morgan and others were indicted on federal mortgage, insurance and wire fraud charges. They are accused of conspiring to falsify documents and deceive lenders into providing much larger loans on properties than would be justified by actual values.
"Mr. Morgan intends to defend himself vigorously against these allegations," according to a spokesman for Morgan.
Donoghue said he is unsure of what to make of the criminal and civil charges against his friend. He said he has not read the the indictments or SEC lawsuit. As a business owner who already deals with multiple regulators for his home mortgage company, Donoghue cited his skepticism of governmental heavy-handedness.
"I think the practices that Morgan has are not much different than every other developer in the United States," he said. "I think it's being made out to be far worse than it is."
He believes the properties are still worth far more than what he and other investors may be owed.
"I haven't even asked to get my money out," he said. "I'm not as pessimistic as everybody else is. I don't think I'm going to lose my money. And if I do, it's not going to change my life. I'm not a grieving old widow that put my pension there."
'Put the hammer down'
Donoghue is one of more than 200 individuals in 17 states who invested with Morgan after being invited and encouraged with attractive promises of an 11% return and the personal guarantee. Morgan's funds specifically aimed for "accredited investors" or "qualified purchasers," with net worths of at least $1 million or $5 million, respectively.
Many of the investors live in the Rochester or Buffalo areas. More than three dozen people put their retirement savings into Morgan's hands. A union pension fund for the International Brotherhood of Electrical Workers Local 86 in Rochester also invested.
In all, Morgan raised more than $110 million from 2013 through September 2018, including $80 million for four specific "Notes Funds."
The sale of securities investments in the funds was one of four ways Morgan financed his business, using the money to make loans to his "affiliate borrowers" for up to two years, at rates high enough to cover the interest to investors, according to the SEC.
Morgan pushed his general counsel, David Rumsey, to raise as much as possible, urging him at one point in 2015 to "put the hammer down and raise more funds," and telling him to "push as hard as you can," according to an email included in the SEC lawsuit.
Typically, Morgan and Rumsey met, spoke with or emailed potential investors, with Rumsey handling most of the initial client interactions and then setting up meetings or dinners at which he and Morgan pitched the investment.
Potential investors were emailed a "subscription package" with the offering memorandum, the operating agreement for the fund, a subscription or purchase agreement, a copy of Morgan's personal guarantee agreement and the redemption policy. The funds had terms ranging from two to seven years, and Morgan insisted that they had always paid the targeted return. The investment funds specified particular properties they were to be used for.
On paper, and in the words of Morgan and his team, those four funds were supposed to be used to support business growth, through purchases of existing apartment buildings or new projects that the developer was working on. And indeed, that was the initial function, with more than $63.1 million still held in outstanding loans from those funds to Morgan entities in at least six states,  according to the SEC.
'Siphoning and misusing'
But that's not the way it turned out, the SEC said in announcing its lawsuit, as it accused Morgan of "siphoning and misusing investor funds."
The mortgage fraud investigation against Morgan by the FBI and the U.S. Attorney's Office has been in the works for more than two years, and the initial indictments were handed down in May 2018, just days after a highly visible FBI raid of Morgan's office.
The securities case did not come to light until Morgan was charged last month. The SEC has based its case on "emails, spreadsheets and other documents" from M&T Bank, PNC Bank, Grand Atlas Property Management, Freddie Mac, Stewart Title Guaranty Corp., Kevin Morgan, EFPR Group and the Bonadio Group, according to an affidavit by SEC senior counsel Lee A. Greenwood.
Problems started in February 2017, when the properties Morgan bought didn't generate enough cash flow to support the loans and the payments to investors, according to the SEC. So to avoid 5% late payment penalties, Morgan used the investor funds "as a single, fraudulent slush fund," according to the SEC lawsuit.
That initially included routine redemptions as terms required, but also demands from investors for their money back as word spread of Morgan's legal troubles. Morgan returned about $16.9 million in principal to investors from January 2017 through February 2019, including the full redemption of one of the first funds, according to the SEC.
"Defendants misused Notes Fund assets in this manner because Morgan's multifamily business empire was in constant need of cash," according to the SEC lawsuit. "Morgan routinely used the Notes Funds to put up the equity necessary to obtain mortgage financing on his properties."
The SEC alleges three primary forms of abuse.
The agency's staff identified at least $15.6 million of what it called improper transfers to cover redemptions of earlier investors and pay off bad loans, which the agency said Morgan sought to cover up with fake paperwork.
Morgan also used the funds to pay the 11% return, instead of "making good on Morgan's personal guaranty," the lawsuit said.
And he "improperly directed" $11.3 million from the funds to pay off a loan on the Eden Square Apartments in Pennsylvania, along with $2.6 million in prepayment penalties, the SEC said.
By April 2016, Morgan was using the funds to "cover monthly operating deficits on multiple properties" and to cover routine bills and payroll, according to the lawsuit.
"Morgan knew, or was at least reckless in not knowing, that he was misusing investor assets because he controlled all aspects of the Notes Funds — he set up the Notes Funds, he provided his personal guaranty, he controlled the entities that managed the Notes Funds, he met and spoke with potential investors, he authorized all transfers into and out of the Notes Funds, and he signed the promissory notes purportedly documenting the various Portfolio Loans," the SEC wrote in a legal memorandum.
The agency also said Morgan tried to cover up the actions with "sham loan documents designed to make the transfers appear legitimate" — even retroactively — and also moved funds through multiple bank accounts to hide the "true flow of investor money." That included signing new promissory notes and flipping property loans from one fund to another so the payments could be allowed.
Seeking a freeze
Investors are now owed more than $63 million, with monthly debt payments to investors of $620,000, the SEC says. Investors also submitted redemption requests of at least $20 million as of February 2019. But the funds "have few if any assets" to cover those obligations, aside from less than $150,000 in cash reserves and the loans to 45 "affiliate borrowers," the SEC said.
The agency wants a temporary restraining order "to preserve the status quo," arguing that "there is a risk that defendants will continue to misuse investor assets." The freeze "is necessary to ensure that sufficient funds are available to satisfy any final judgment," the agency said, noting that Morgan has already listed his home for sale and is seeking to sell much of his business.
The SEC asked the court to appoint a receiver to administer and "unwind" the funds, make payments and pursue any claims.
Additionally, the SEC wants to prohibit any bankruptcy, foreclosure, receivership or other legal filings by other parties against Morgan. That would "prevent a race to the courthouse by different noteholders" that "would potentially remove assets from the receivership estate, and that would also require the receiver to spend resources defending litigation," the SEC said.
Morgan has pleaded not guilty to the criminal charges. So have his son, his finance chief and a Buffalo-area mortgage broker.
Three other individuals have pleaded guilty and are cooperating with prosecutors. They include former Morgan Management Vice President Kevin Morgan, who is Robert Morgan's nephew; mortgage broker Patrick Ogiony; and Morgan's former chief operating officer, Scott Cresswell.
"Everybody always says, how does Bob pay all this money for all these properties? That's always been the conversation," Donoghue, of Premium Mortgage, said. "I hope for the best. I see a lot of people are piling on the guy, and I feel bad for him. I hope it's not true. But if it is, I'd certainly be angry. I'll never talk to him again."
The Buffalo News: Good Morning, Buffalo
The smart way to start your day. We sift through all the news to give you a concise, informative look at the top headlines and must-read stories every weekday.