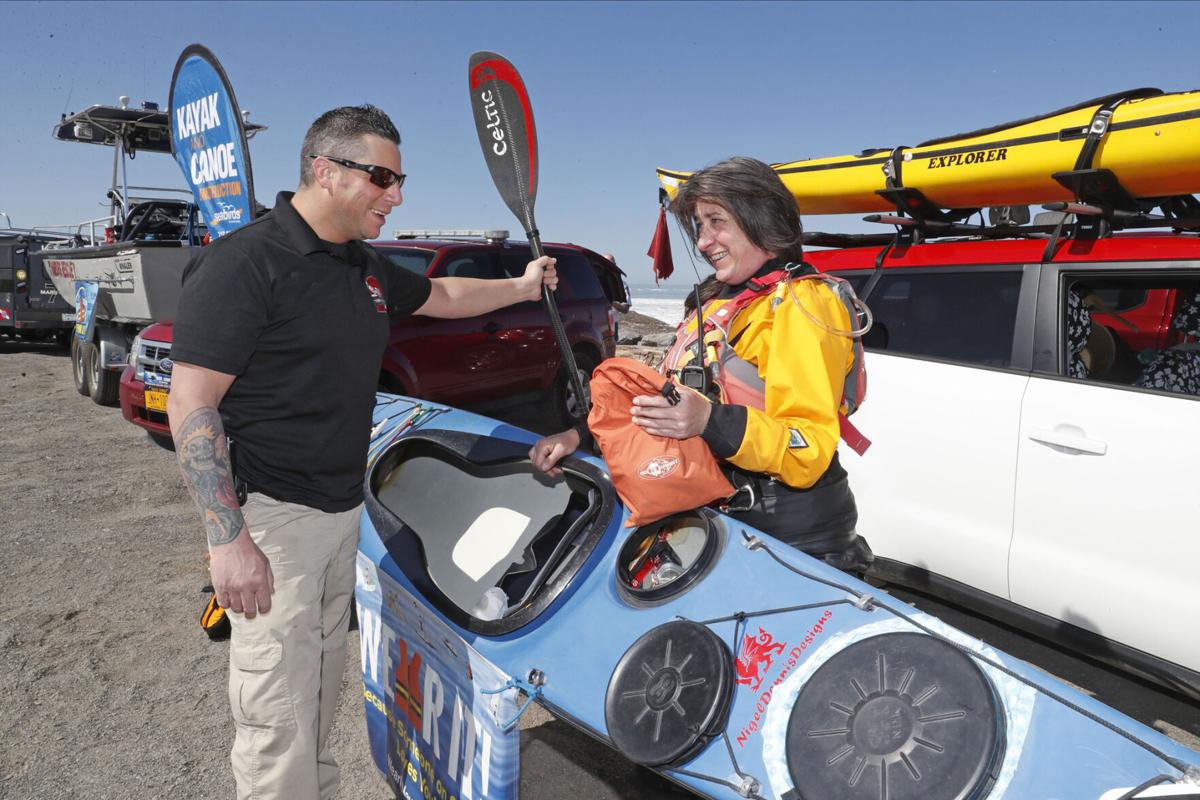 One side effect of the Covid-19 pandemic was a boom in the use of local waterways last year, especially by new kayak and canoe owners and renters looking for socially distanced outdoor recreation.
But that also caused an increase in water rescues carried out by the career and volunteer agencies that make up the area's Advanced Local Emergency Rescue Team, or ALERT, Region 1.
"With the Covid pandemic, millions of people were going out and buying kayaks and canoes, anything they could float on," said Ronald Klimowicz, assistant regional coordinator for ALERT Region 1 and chief of operations of the Hamburg Water Rescue Unit. "Unfortunately, they were buying the $200 kayak and they weren't spending $50 on the life jacket. We've had a lot of close calls, and those are just the ones where one of these agencies was part of the rescue."
Representatives of about a dozen agencies that participate in ALERT gathered on a mild, sunny Sunday at Hamburg Beach Town Park to meet new colleagues and greet people with whom they have worked on rescues for years but seldom see on dry land.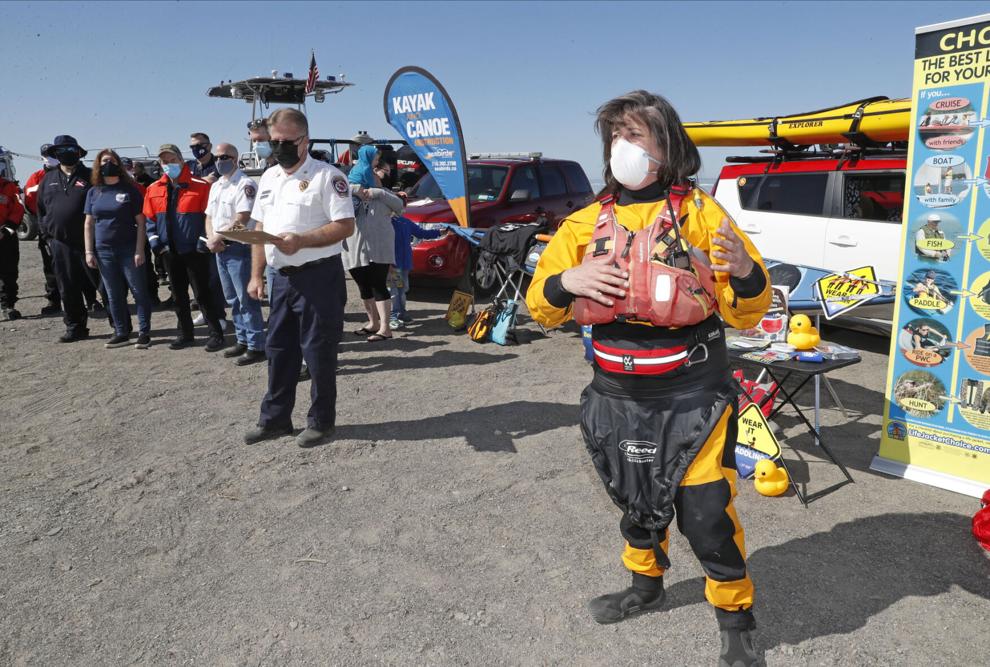 Despite ice chunks hugging the shore, it wasn't too early to think about water safety, they said. Intrepid kitesurfers "are already out there," wearing dry suits or heavy wetsuits, said AJ Ortiz, training officer for the Buffalo Police Underwater Recovery Team. Still, hypothermia is a risk if they run into trouble, he said.
"Last year, for those who don't know, there were 11 close calls just that we know about," said Klimowicz. "By 'close calls' we mean if one of the agencies didn't interact, more than likely someone would have died." 
Andrea Vaillancourt-Alder represents the local branch of Seabirds International, a group that encourages women to participate in paddle sports. She thanked the group for "rescuing our fellow paddlers." 
The Seabirds plan to raise awareness of safety – especially the need to wear life jackets at all times on the water – with posters, pamphlets and even floating rubber ducks. The group's experienced paddlers also volunteer to be rescued from the water during agencies' hands-on drills. In the scenarios, "we're unconscious, we've had heart attacks, we've ripped our shoulders out," Vaillancourt-Alder said.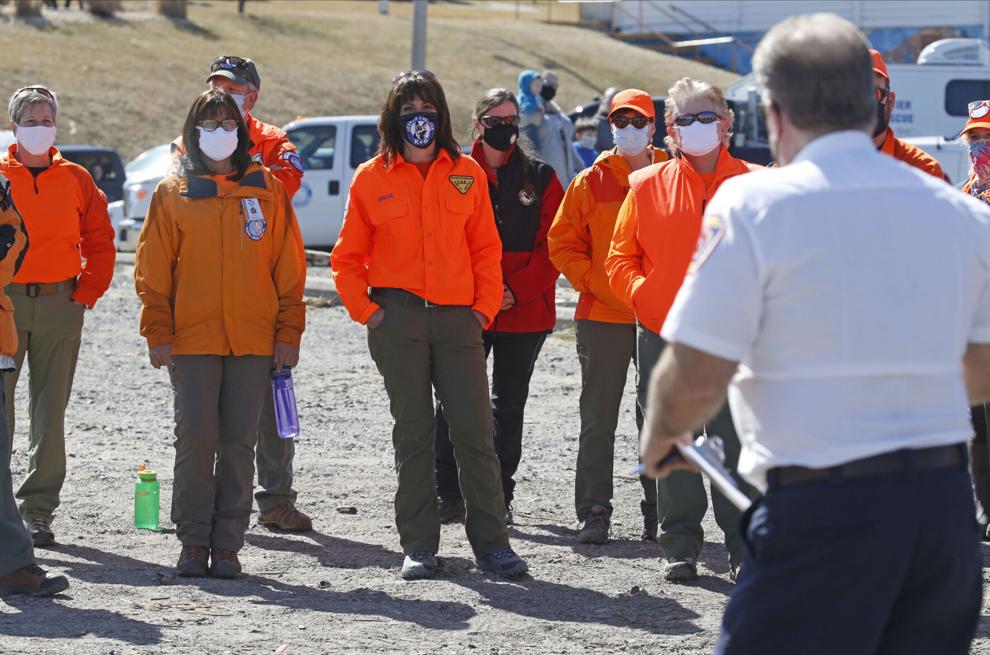 Niagara Frontier Search and Rescue members, dressed in high-visibility orange shirts and black pants, were accompanied by a half-dozen trained search K-9s, including Labrador retrievers, a couple of German shepherds and one Belgian Tervuren.
Marlene Crimmen, K-9 coordinator for the group, said that when searchers are trying to recover a body, dogs taken out on boats sniff the surface of the water and alert their handlers with a sign when they detect the correct scent molecules. Their input helps divers focus on an area to search.
Lt. Peter Kocol, commander of the Buffalo Police Underwater Recovery Team, said city officials have allowed his team to assist with searches of waterways adjacent to the city. "If they don't have the dive capability, we do," he said.
Klimowicz said ALERT also plans to ask every paddler to place a special orange sticker, available from the Coast Guard Auxiliary, inside each canoe or kayak. The orange sticker has the name and phone number of the vessel's owner. If a vessel is found washed up on shore or empty on the water, said Klimowicz, "we can call and say, 'Hey, are you missing a kayak or are you missing a person in a kayak?' That goes a long way to cutting our volumes and the time frames down."
Boats with motors already have registration numbers that can be used to trace the craft's owner. 
"We have searched with the Coast Guard after a kayak has been found floating a mile offshore, searching for 16 to 18 hours," said Klimowicz. "There are multiple resources being used, and the person whose kayak it is is watching us from shore, saying, 'I wonder what's going on.' "
Given the season, the Coast Guard's 29-foot response boat and the Hamburg Water Rescue Unit's Marine 1 were still set up for ice rescues.
The Hamburg Water Rescue Unit is staffed by members of Hamburg's nine fire departments and operated by the Town of Hamburg Fire Chiefs Association. Mike Chiacchia, assistant chief of the rescue unit, showed off the agency's utility truck, stocked with protective suits, boots, helmets, ropes and other gear for ice, swift water and lake rescue calls. The truck also pulls the trailer of the 25-foot Boston whaler boat.
Other agencies attending included the fire departments from Gowanda, River Road in Tonawanda, Seneca Hose in West Seneca, South Line in Cheektowaga and Big Tree in Hamburg, as well as the Massasauga, Ont., Search and Rescue K-9 Team. The Allegany Fire Department's drone, also available to help with searches, soared through the sky.