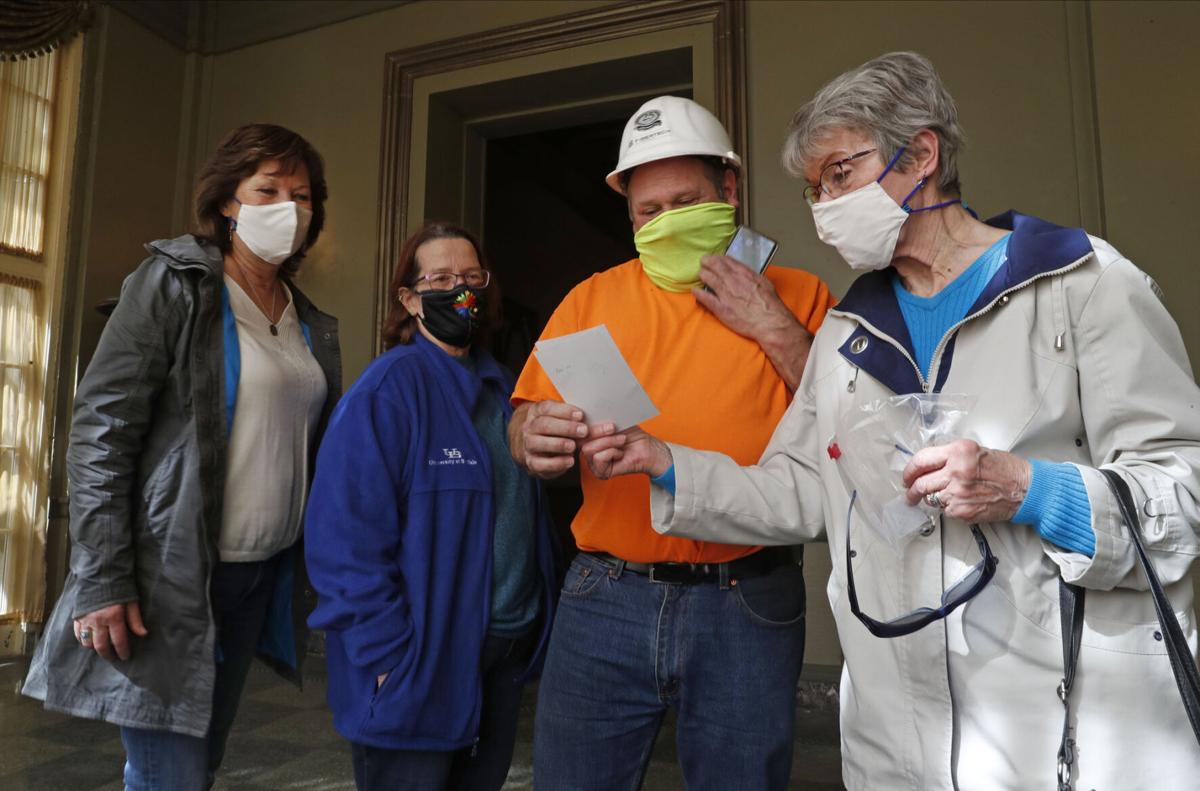 Jeff Haynes cannot tell you exactly what caused him to pose the question on Facebook.
Maybe it was because his parents both died within the last four months, and he finds it impossible not to associate their early years with the era evoked by Buffalo's old Statler Hotel.
Maybe it was because the building's new owner, Douglas Jemal, takes particular delight in little architectural surprises from the past, and this one held promise and mystery.
Whatever the motivation, Haynes – whose Fibertech Environmental is removing basement asbestos as part of Jemal's restoration work on the Statler – came to a quick decision late last month after he and Dan Oliveri, one of his workers, were renovating some old windows and pulled away panels to reveal what someone had scrawled a few feet away, inside the building, many years ago.
Two names, long hidden, were written in what appears to be chalk on a concrete beam: "Ralph Blainey, Jerry Toomey March 3 - 1935."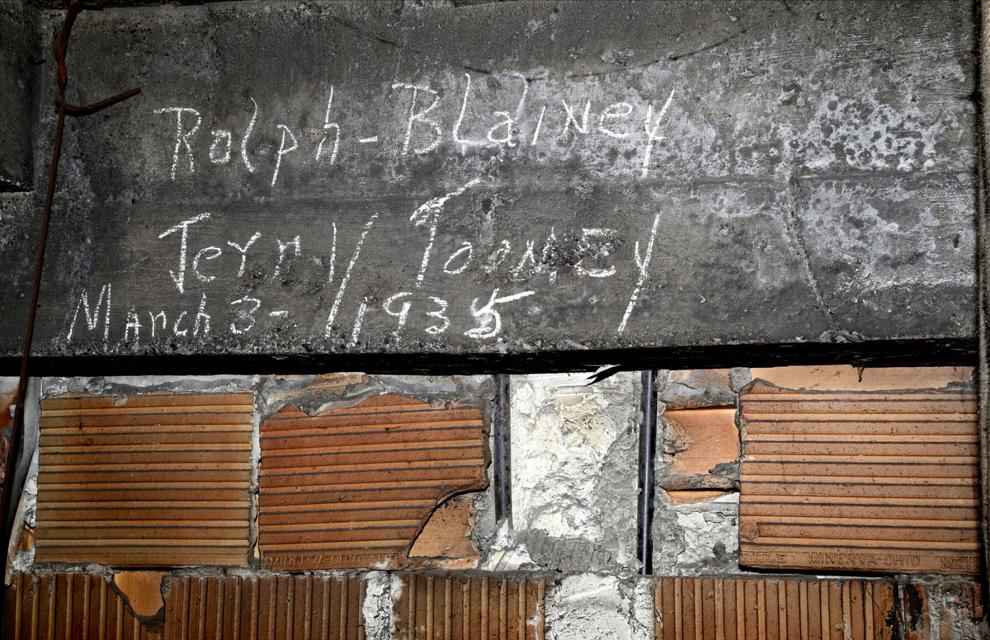 At that moment, with a landmark's worth of asbestos removal in front of him, Haynes could have shrugged and kept going. Instead, he felt a sudden tug of obligation. Eighty-six years ago to the month, a couple of workers in the basement of a then-booming hotel had written their names in some vague hope that someone, someday, might notice and wonder who they were.
To Haynes, it seemed like that relay came straight to him. So he snapped a picture of the names and thought it over. The best resolution would be finding friends or relatives who could put a face to these guys. He decided to post an image on "Buffalore," a Facebook page whose users love such forays into the past.
"I have been working at the Statler Towers and discovered these names written on an inside wall," Haynes wrote. "We are going to try track down any information about them or potential ancestors."
In 1956, at a celebration at the old Statler Hotel for the 50th anniversary of Alpha Phi Alpha fraternity, 27-year-old Martin Luther King inspired the crowd in a speech, "The Birth of a New
"Neat to think that these two characters were working on the plumbing way back then and spared a moment to say 'Hello, there' across the decades!" wrote one Buffalore follower, Jake Marek.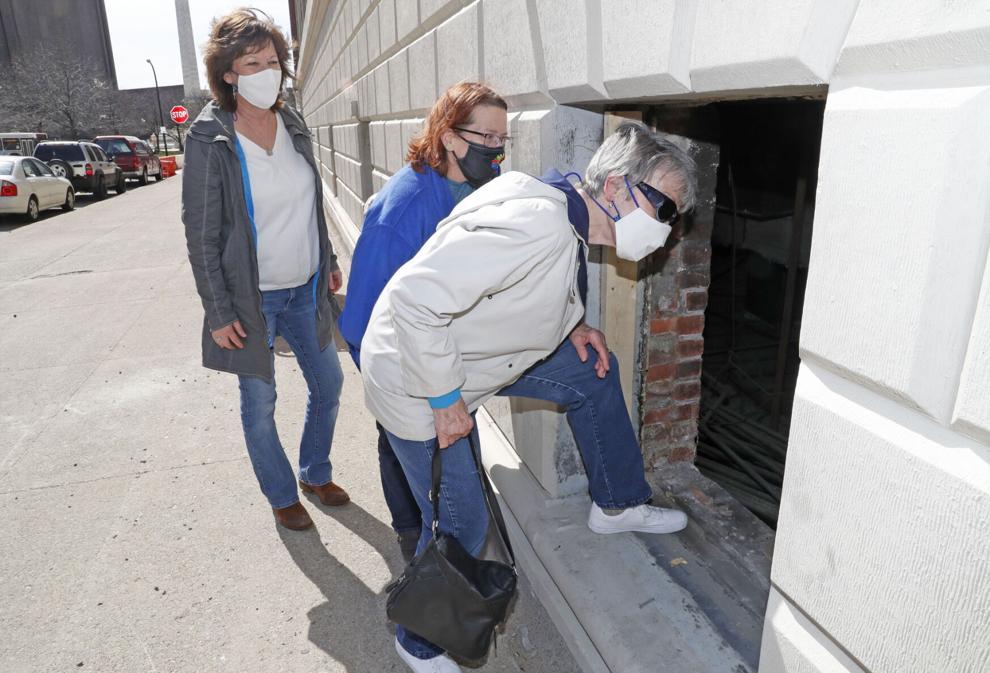 Others dug into old city directories and shared whatever records they could find. Both Toomey and Blainey were listed in the 1930s as plumbers, with Toomey identified as working specifically at the Statler. For a while, the Facebook sleuths discovered, Toomey lived on South Park Avenue, while Blainey resided – at least at that time – on Lemon Street. In the end, the post generated more than 80 comments, including some tips on descendants. The one thing missing was a living relative, which caused me to embrace a familiar strategy:
I turned to Megan Smolenyak of Florida, a prominent genealogical researcher who loves the idea of bringing a flash of light to quiet lives cloaked by the past.
As usual, she came through.
Thanks to Smolenyak, I learned of the accomplishments of Ralph Blainey's daughter, the remarkable Elaine Blainey, who became a stand-up comedian and a racewalking instructor in Colorado before her death in 2014, about 13 years after her father died in California.
I also found out how Jerry Toomey, born in Chippewa, Canada, died in 1962 of lung cancer in Harrisburg, Pa. He was 58 and – by that time – divorced from his wife, Lizzette Goldbach Toomey. But it turned out that before Jerry and Lizzette split up, they had one son in Buffalo – also named Jerry – who as a little guy used to sometimes tag along when his dad worked at the Statler.
That last detail did not come from Smolenyak, but from the key connection she established. Thanks to her, I called Judy Lasek Toomey of West Seneca, who told me how her husband – a younger Jerry Toomey, proper name Gerald, but with a different middle name – had died only a few months ago, at 87, meaning he was not quite 2 years old when his father wrote the name on the beam.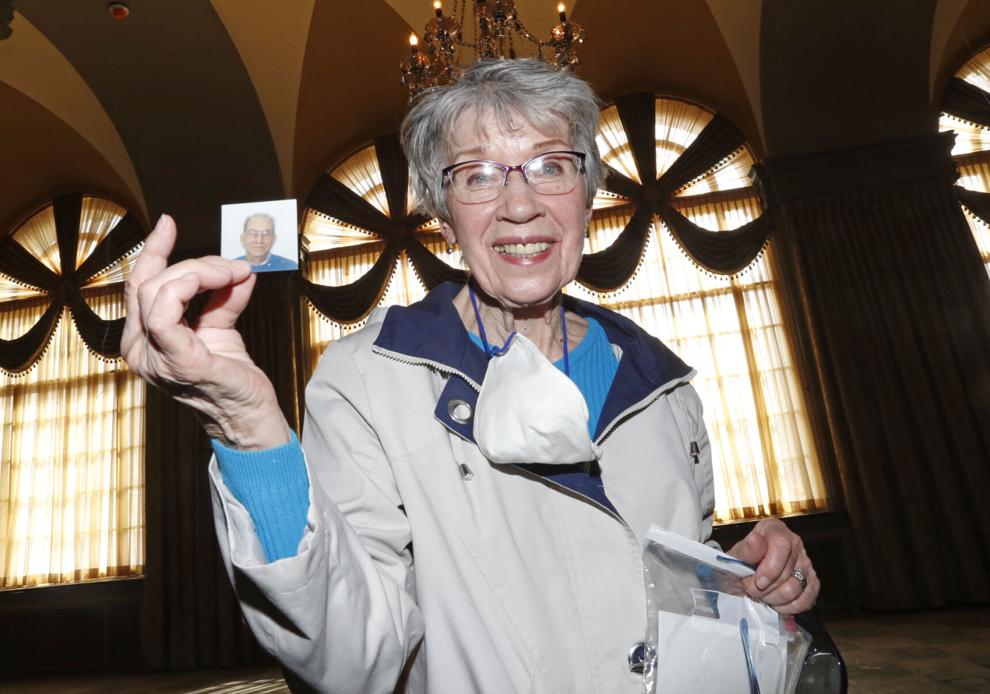 "He would have loved this," said Judy, who was preparing for a quiet Easter, her first without her husband. The couple had three children, all still in the area. Their son Jerry – his name a living tribute to his father and grandfather – had to work when we all met recently at the Statler. But Judy's two daughters, Cheryl Werelus and Kath Anderson, drove their mother downtown to see what her father-in-law wrote on the beam.
Catching a glimpse of the names was not easy. Haynes and Antonio Miceli, project manager for Buffalo Construction Consultants, led the three women to an open basement window on the Franklin Street side of the Statler. Haynes provided a flashlight while they leaned in, one at a time, to take a look.
There it was. In a sense, the Toomey descendants were receiving a message that waited 86 years to be delivered. Judy said she met the older Jerry Toomey a few times and remembered him as a pleasant enough guy, but the person she was really thinking about was her husband.
They were married for 64 years. She went to high school at Villa Maria while he went to Lackawanna High, and they met one day while they were both heading to Lerczak's in Angola – the beachfront hot spot that would come to be known to a different generation as Mickey Rats.
"Oh, he loved history," Judy said of her husband, in no small part because he was a part of it. He worked for years in the control tower at the Central Terminal, when he was employed by the New York Central Railroad in a job he loved.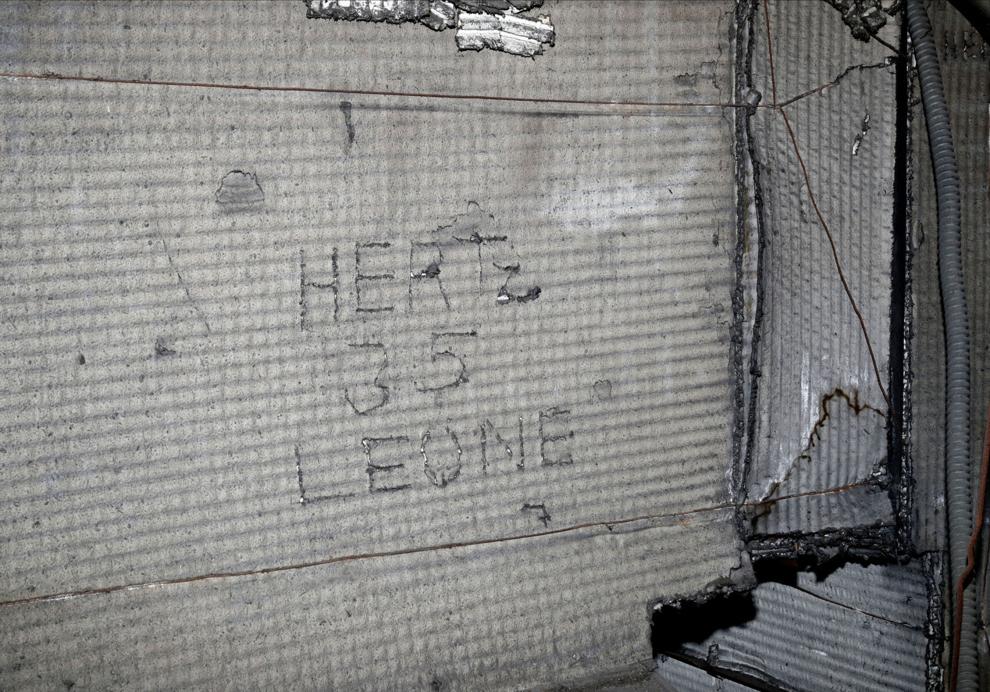 Jerry ended his career with the U.S. Postal Service, but he became a member of the Western New York Railway Historical Society, and Judy said he was involved with some early cleanup efforts at the majestic terminal.
That seemed fitting, because Miceli's company is part of separate restoration work at that railroad landmark – which Jemal has described from afar as one of the great treasures of Buffalo, while dreaming out loud about the imperative and potential of fully bringing it to life.
As for Haynes, he lost his father, Edward, in December, only two months before the death of Haynes' mother, Loretta. The couple took pride in the success of the business Haynes runs with his brother Patrick, and the revelations the old Statler seems to offer every day often cause Haynes to think of the Buffalo his mother and father knew long ago.
On that same day, for instance, work crews peeled away some dusty exterior coverings to find ancient glass windows along Franklin Street that proclaim DRUG and SODA in classic lettering, a reminder of some long-ago shop in the hotel.
The workers recently came upon a third name written in 1935 the basement – it looks like "Hertz Leone" – but tracking that one down was a mission for another day, especially with the Toomey descendants staggered to see their family name on the bones of the place.
"I can't get over this," Judy said. "I'm just so thrilled to be a part of it."
Before she and her daughters left the Statler, Haynes provided a tour of the lobby. The three women – masked and distanced – lingered for a while on a sidewalk, where Haynes told them he believes Jemal will do what he can to preserve the signatures on the beam. To Kath and Cheryl, their grandfather had never been a flesh-and-blood presence in their memories, and now – on a warm March day – they seemed hesitant to leave.
What they had witnessed bore out how Kath responded, when she first learned of the name.
"For something to keep for that long?" she said. "It's just amazing how some people make their mark on the world."
See photos of Statler Hotel renovations being made by new owner Douglas Development. Douglas Jemal acquired the property after the death of th…