Efrain Burgos froze during a conversation last week on Niagara Street, then raised one hand to his heart. His expression assumed a mesh of awe and joy, as if he had just seen or felt a sacred ghost.
"Here?" he asked, pointing to the ground, a gesture made beneath the West Side visage of a new mural of Roberto Clemente.
No one knew it at the time, but it was a gateway moment in baseball history. For the young Clemente, a native of Puerto Rico, it was the first regulation hit on the mainland of his professional career. Thousands more followed as he became one of the greatest players in the game.
While baseball's World Series continues between Atlanta and Houston – a team that faced the Toronto Blue Jays this year at Sahlen Field – Burgos is aware it is the golden anniversary of another big-league showdown:
Fifty years ago this month, Clemente was named World Series Most Valuable Player after his Pittsburgh Pirates defeated the Baltimore Orioles in seven games. His celestial performance is locked into memory for many of us who recall that era of daytime games, when teachers would often allow kids to watch the series during class.
Clemente, at 37, still held a commanding grace and presence. Burgos was a child in Puerto Rico in 1971, a 10-year-old devoted to Clemente and the Pirates. He remembers exactly where he was a little more than a year later, when his solemn grandfather walked through the front door with a newspaper whose headline shouted of tragedy: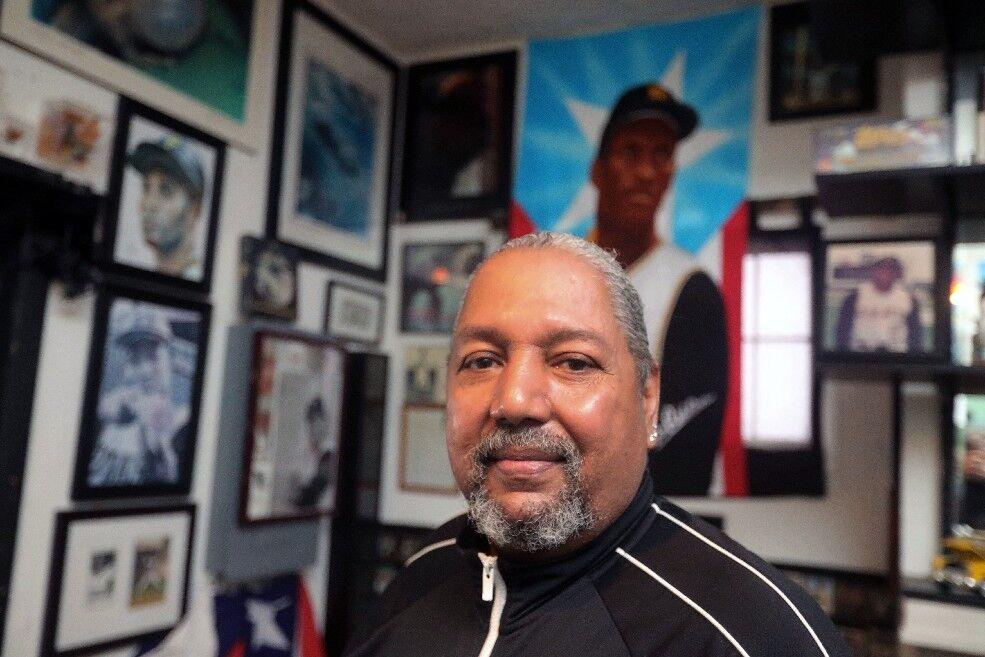 Clemente had died when a cargo plane, loaded with supplies for earthquake survivors in Nicaragua, crashed into the sea.
Burgos wept. To many Puerto Ricans, he said, "Clemente was a saint," a baseball immortal who sacrificed everything to help those suffering from a disaster. Burgos, throughout his life, continued to collect Clemente posters, cards and mementos, a collection that grew during his time in the U.S. Army and came with him when he settled in the 1980s near his mother, in Buffalo. He began cutting hair and met his wife Elizabeth. The couple raised two sons, Alexander and Alexandre.
That lifetime devotion would lead to the small Clemente museum Burgos maintains in the back of his salon at 472 Niagara St. – and was the impetus for the new mural this year.
Dinorah Santos, a grandmother who decades ago came to Buffalo from Puerto Rico, said the first time she saw the new Christmas lights along Niagara Street, she began to cry. Roger Rivera, who lives on that street above his Genesis Christian Store, said he sometimes sits by a second-floor window to simply contemplate the illuminated stars, candy canes and
Burgos is a stylist and a barber. The mural, on the exterior wall of his salon, was created by Los Artistas del Barrio Buffalo, a collective formed five years ago to highlight local Latino artists and strengthen their bond. The Clemente project was led by longtime street artist Vinny Alejandro, 47, and included fellow artists Aileen Gonzalez-Marti, Arayoan Tylec and Michele Agosto, who also serves as art director for the Buffalo City Schools.
The image is intended to offer, in a flash, a striking narrative. At the base, it begins with sugar cane, a symbol of the harsh toil surrounding Clemente's childhood. It wraps in brilliant images of Flor de Maga blossoms, a parrot and a coqui, a variety of tree frog – all intertwined with life in Puerto Rico – then rises into the central theme of a stalwart Clemente holding a bat emblazoned with a Puerto Rican flag. Above his head is a vapor trail of a halo, evoking that last humanitarian flight.
"Clemente has always been a symbol, a pillar of pride," said Alejandro, who sees his lineage – he is the son of a Puerto Rican father and an Irish American mother – as providing both witness and revelation about what he describes as different cultures and different worlds in Buffalo.
His earliest murals were clandestine efforts, involving spray cans and abandoned grain elevators in his teenage years in the Old First Ward. Alejandro returned from the Army to dedicate himself to his work. Today, he speaks of dozens of pieces of public art throughout greater Buffalo, a number that does not include the many prominent murals he has done for businesses.
Alejandro, who recently moved to Cuba, N.Y., is at a threshold where he can pick and choose his projects. Adding to the sense of fate: As a child, his father would take him to get his hair cut inside the building now owned by Burgos, which at the time held the venerable Tommy's Barber Shop.
The Clemente mural, Alejandro said, "is probably the most meaningful work to me I've done in the city, a point of pride for a neighborhood that didn't always have very much."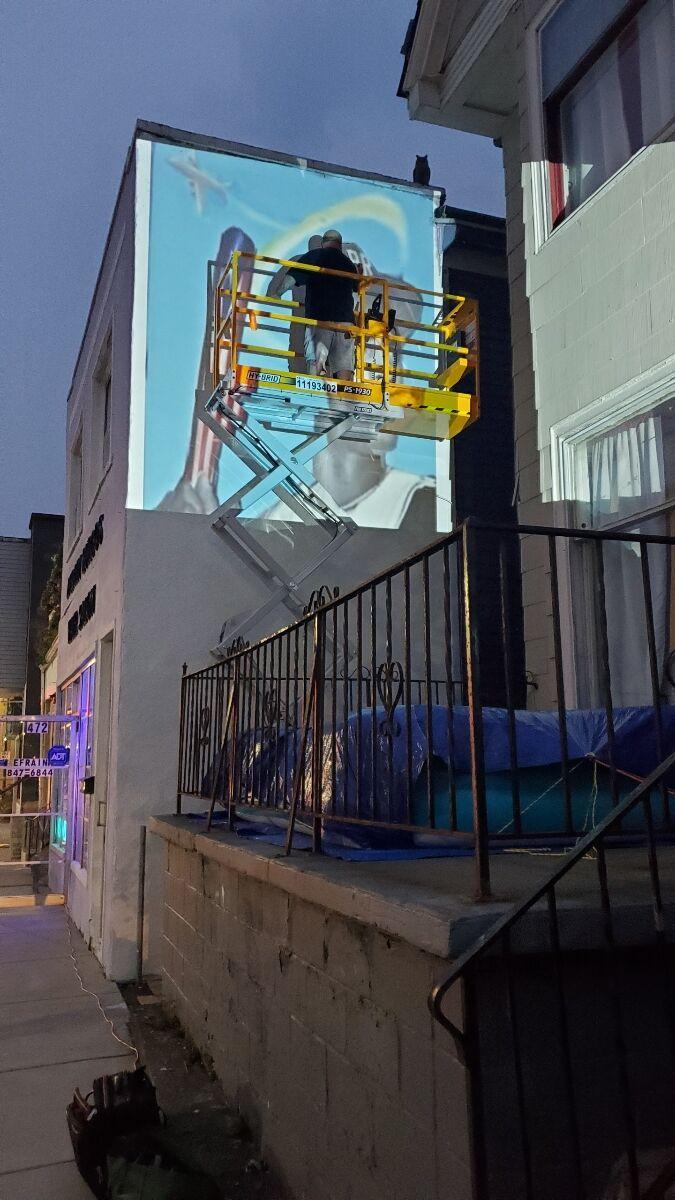 The tale really began six years ago, when Burgos commissioned Max Collins to do a wheatpaste mural of Clemente's face. Wheatpaste typically does not last, and before long Charles Torres – a retired state trooper and president of the Buffalo Puerto Rican and Hispanic Day Parade of WNY – would drive by to notice Burgos physically patting down the wall, doing his best to stop the mural from falling apart.
A year ago, Torres saw Agosto at a West Side trick-or-treat event, where they shared their dreams of helping Burgos with the mural. Before long, Los Artistas were on board and Torres was doing everything he could to gather $6,000 worth of sponsors.
Agosto moved to Buffalo as a newly hired teacher in the early 1990s from New York City, at a time when she felt Latino artists in Buffalo lacked a spotlight and any central forum for their work. She soon fell in love with Niagara Street, known now as the Avenida San Juan within the Puerto Rican community. She is pleased at the way several prominent new murals are helping resolve an absence expressed by Alexander Burgos, Efrain's oldest son:
"Our kids," he said, "should see some faces that look like them."   
Members of Los Artistas echo Alexander's take on his dad: Efrain has always been "altruistic," Alex said, quick to offer quiet aid while seeking no credit. The artists say they brought their gratitude for who he is to the work, where they each did specific tasks to complement Alejandro's focus on Clemente.
The finished product was unveiled during the big parade in August. The hope is the mural explodes with such energy that young people without any knowledge of Clemente might stop as they wander past to ask: Who was this guy?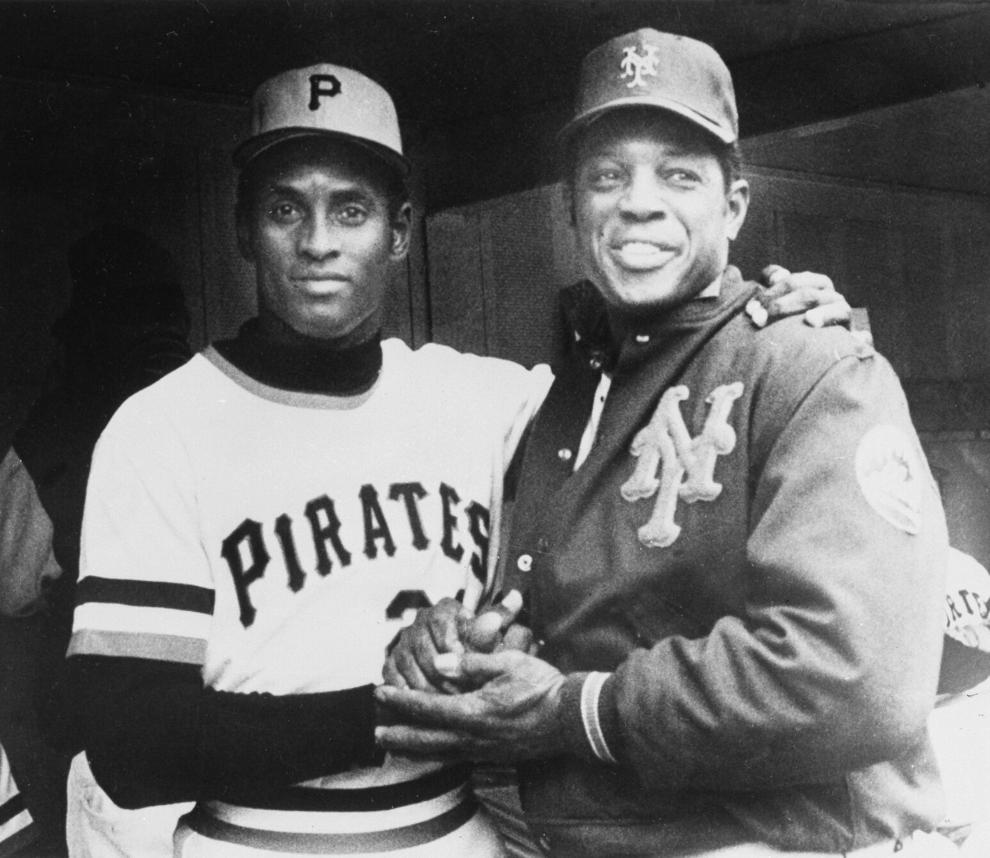 The answer, in the words of Torres: "A great man who inspires us all to do community work."
It was also the place where a still-unknown teenager from Puerto Rico, far from home and with a baseball future that seemed anything but certain, walked up to the plate for Montreal in the second game of a doubleheader in April 1954. He singled off a Bisons left-hander named Ken "Hooks" Johnson, a single at the dawn of what would become an unforgettable Hall of Fame career.
For any kid who contemplates the mural, Burgos has this message:

If the great Clemente could begin his epic climb with a swing of the bat in Buffalo, then – in a way that is your own – so can you.