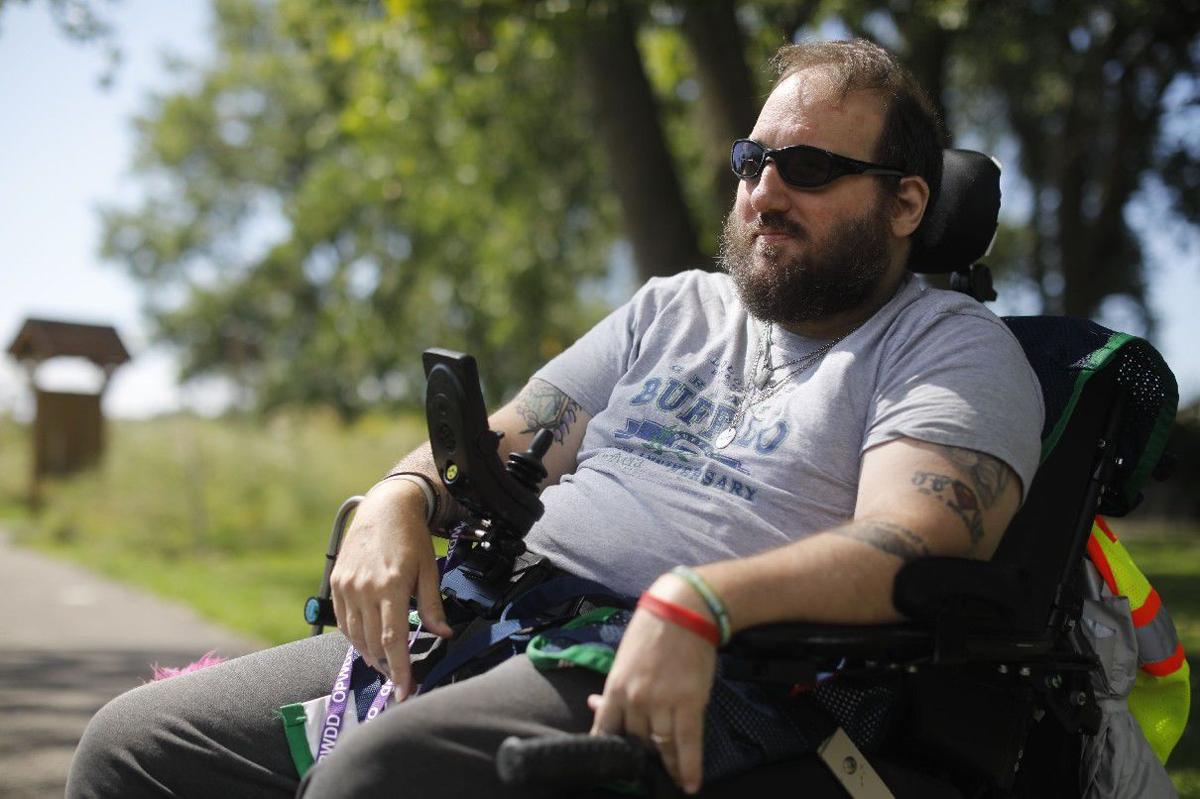 The reason BJ Stasio chooses the Wonder Coffeehouse for his regular meetings with some longtime friends, the Donatellis, intertwines with the whole point of their new plan.
The coffee house is in an old Ganson Street firehouse that once protected nearby grain elevators, not far from RiverWorks, where Kate and Joe Vacanti have convened their "Wonder Church" for the past three years. Stasio, 50, first met the couple at an Easter Sunday service, though he hardly came for religion at the start.
He went on the urging of his wife Amber, who told him former professional wrestler Lex Luger was showing up to speak. Stasio, who closely followed Luger's career, was eager to hear what he had to say.
As for church, he had given up on that years ago. Stasio, born with cerebral palsy, has used a wheelchair since childhood. As a young man, he went to a service where the minister called him forward and asked congregants to place their hands on him. The minister said they were asking God to "heal" him, and Stasio knew the whole place had it totally wrong:
He is complete as he is. There is nothing broken about him. He never returned to a church until the day he arrived at Wonder, where the Vacantis provided the same space and reception Kate says everyone receives. In that communion, Stasio realized:
In this space, he belongs.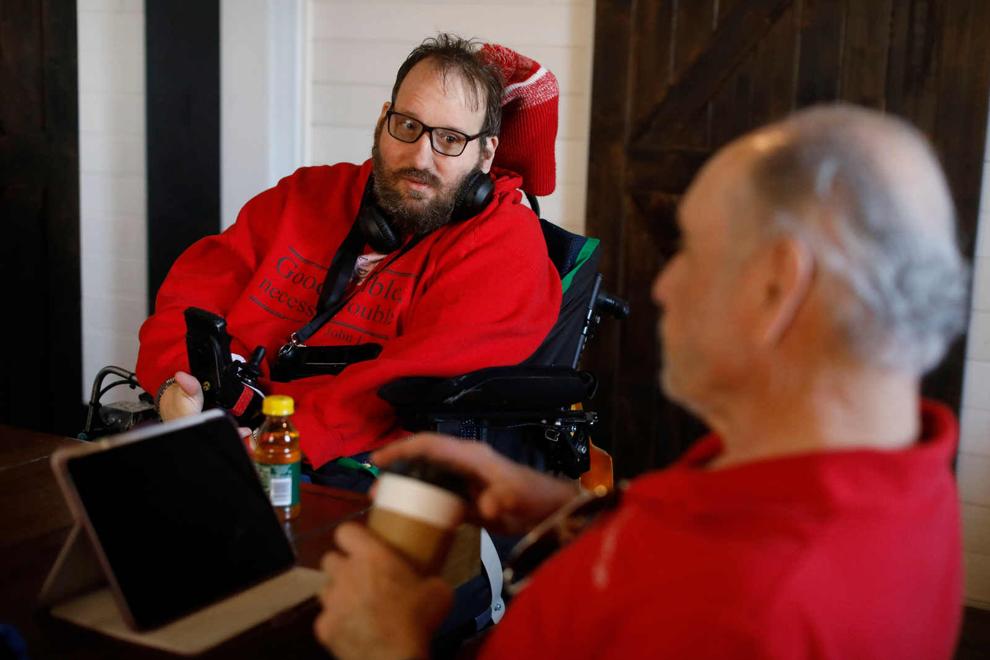 He is now a regular at their church and coffeehouse. Stasio and Max Donatelli meet there often – sometimes joined by Max's wife Joyce and their son Craig – to plan out the volunteer inspiration that defines their collective passion:
They call it the art of advocacy, needed more than ever.
Stasio is president of the Self-Advocacy Association of New York State, or SANYS. Max, a Vietnam veteran retired from OLV Human Services, is active in a myriad of organizations. He and Joyce honed their advocacy skills when Craig, born with Down syndrome, was a child – and they realized that challenging the system was sometimes the only route toward real inclusion for their son.
Workers overseen by the state Office for People with Developmental Disabilities have their main regional offices at a place in West Seneca that paratransit ride services will no longer take them
They grew close with Stasio over a shared concern: They witnessed a great civil rights movement for women and men with developmental disabilities. But the Americans who lived through the entirety of the arc – from the time of suffocating institutions into a daily struggle for access and equality – are turning gray. As we close in this month on the 31st anniversary of the signing of the Americans with Disabilities Act, Stasio and Max agree that it is critically important to support new generations moving toward much-needed change.
"The system, right now, is underserving and underfunding the people it should serve," Donatelli said, referring to massive worries laid bare by the pandemic. Advocates say the lack of direct support staffing is at a crisis point. Rhonda Frederick, president of both People Inc. and the Developmental Disability Alliance of Western New York, or DDAWNY, said nonprofit agencies have more than 3,200 vacancies from Rochester and west, part of a statewide vacancy rate estimated at roughly 25%.
The Donatellis, like other parents, have been forced to cover shifts because of staff shortages at the self-directed residence where Craig lives. Stasio, who contracted Covid-19 last winter and is only now recovering from blood clots in his legs, has encountered gaps where friends had to step in because a direct support provider could not be at his side – leaving Stasio worried about the legion of people without similar networks at home.
The goal, Frederick said, is finding state and federal sources to eventually cause the starting hourly direct care wage for nonprofits to climb to $18 an hour. While People Inc. spokesman Kevin Horrigan said there is hope the American Rescue Plan provides short-term answers, advocates seek a more lasting resolution.
Officials say the impact of a raise is evident at Heritage Christian Services, where regional vice president Chuck Collard said the starting hourly wage for residential care rose in May from $12.75 to $15.75 an hour. Collard said it is only a step toward paying workers what they deserve for "changing people's lives."
Carla Rodgers, for instance, has worked for three years at a Heritage Christian group home. She started at $12.90 an hour, and Rodgers – who goes home to Zacari, her 3-year-old son – took a second job delivering meals, just to get by. The financial pressure left her fearing she would need to leave direct support, work she said "makes me feel as if I have a purpose."
The latest raise brings her hourly salary to $15.90, or about $33,000 a year, which is hardly flush but at least gets her to this: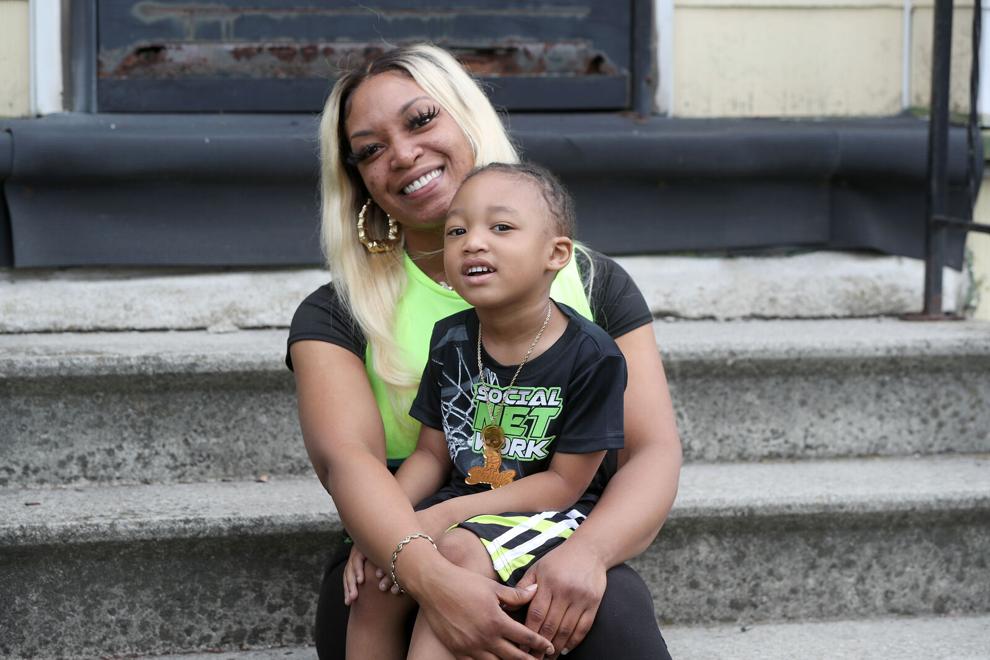 "Now I make ends meet," Rodgers said.
Stasio and the Donatellis say advocates constantly remind government officials of how direct support workers lauded as heroes early in the pandemic barely survive on what they earn. The old friends hope to host workshops and write a book on their strategy, modeled on the martial arts: A white wristband mirrors a white belt, symbolizing the first lessons in advocacy as you move toward higher tiers.
"Max and I kind of realized we're not going to be here forever, and we need to teach these things," Stasio said. I met them at Wonder Coffeehouse on the same day they learned of a long-awaited victory: The state Office for People with Developmental Disabilities had finalized its lease for a new and far more accessible satellite office at 1021 Broadway.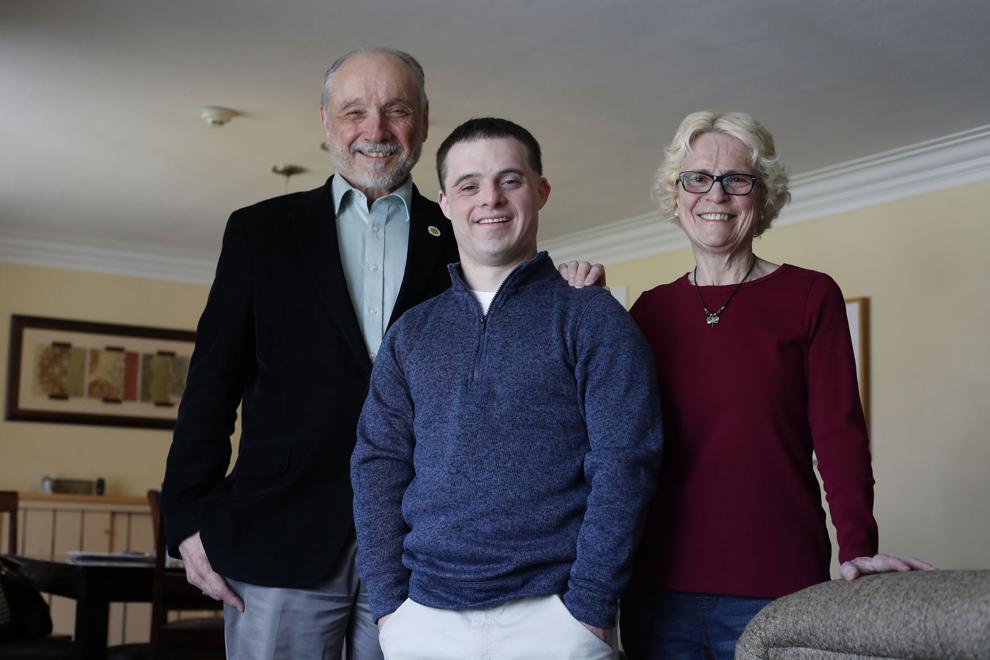 Over the years, marches and rallies highlighted the gap that office is meant to solve. For decades, many OPWDD services were housed in the old West Seneca Developmental Center, originally built as a state institution. Reaching that building – with the closest bus stop at Southgate Plaza – was a significant hurdle for those the place is meant to serve.
"A toast to one step forward," said Max Donatelli, lifting his cup to good news.
Stasio raised his drink and recalled his own movement toward advocacy. Twenty years ago, he began thinking about one day being married. He learned the way his benefits were set up would make daily life far more difficult if he had a spouse.
Wesley's "remarkable journey," said David Mack-Hardiman, associate vice president for People Inc., "serves as a role model to all people who desire an inclusive life."
"I thought, 'I've got to change this,' " said Stasio, raised in South Buffalo. The quest led him to Sophia Roberts, regional coordinator of SANYS, whose advice and support changed his life: Stasio is now a legendary advocate who has played a role in forming at least a dozen self-advocacy groups, a guy who created a statewide template for training people with disabilities in the use of new voting machines, a guy the OPWDD hired to serve as coordinator of self-advocacy.
Monday, he is going to Sahlen Field to watch Toronto's Blue Jays play the Boston Red Sox, his favorite team, in the final Jays homestand in Buffalo. When Stasio was young, he identified his own aspirations with the seemingly impossible Red Sox quest to shake the past and win it all. Now, whenever they are champions, he feels it in his gut as a statement of hope. Frederick, knowing of Stasio's allegiance, led an effort to buy him tickets as an early birthday gift – and he will be in the ballpark with a memento that sums up what he does.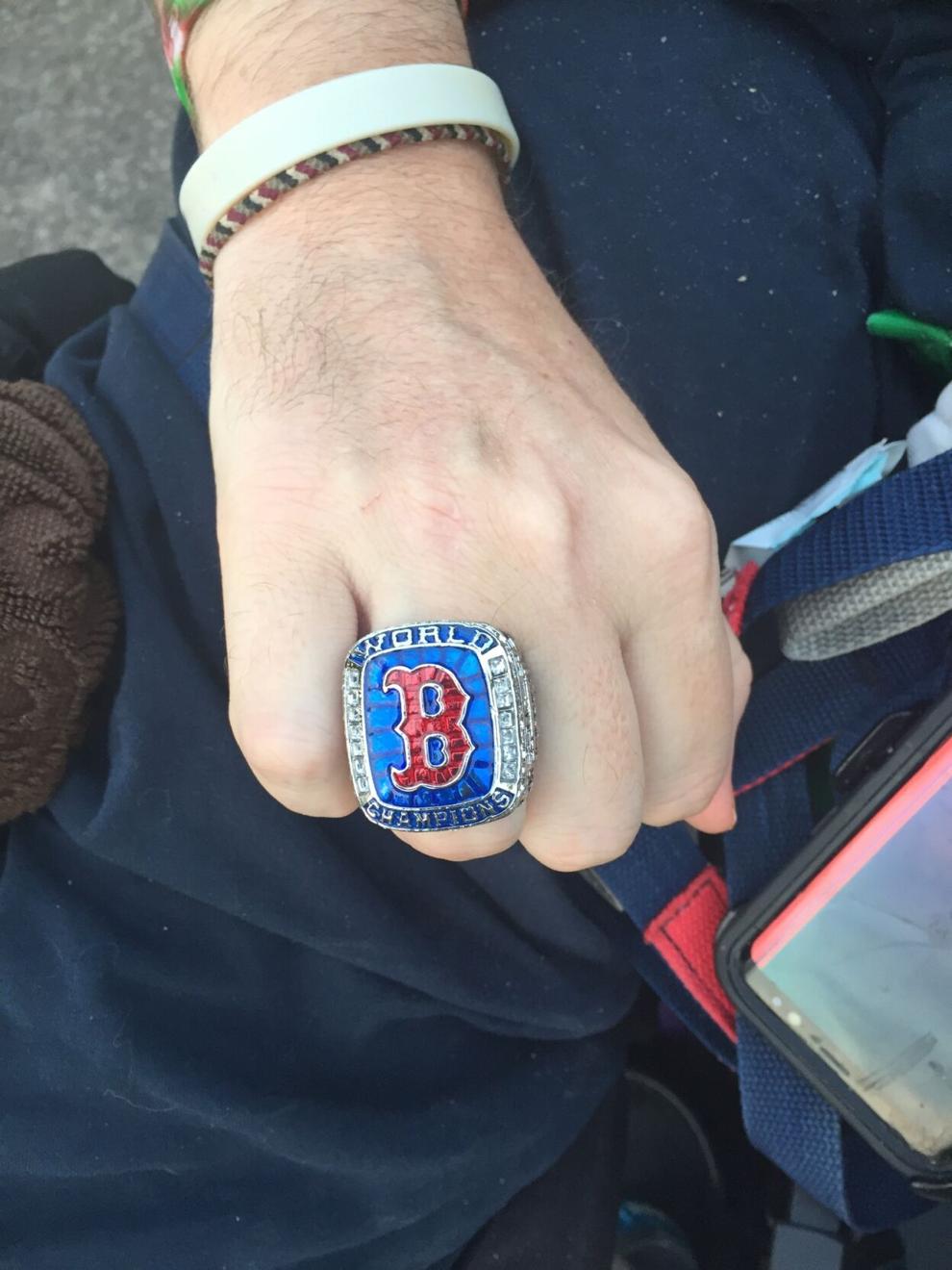 A few years ago, when the Red Sox last won the World Series, Stasio decided to take a long-shot chance. He contacted a team fan ambassador, wondering what a regular guy, a Red Sox diehard, had to do to receive a championship ring. A few days later, a box arrived by mail:
It held a replica of the rings the club presents to the players, replicas the team made for its fans in April 2019.
Stasio will wear the ring at the ballpark. To him, it sums up the fundamental notion of advocacy, especially in a nation where he said change comes inch by inch, through one obvious and passionate discipline for people with disabilities.
"The only way," Stasio said, "is if you ask."