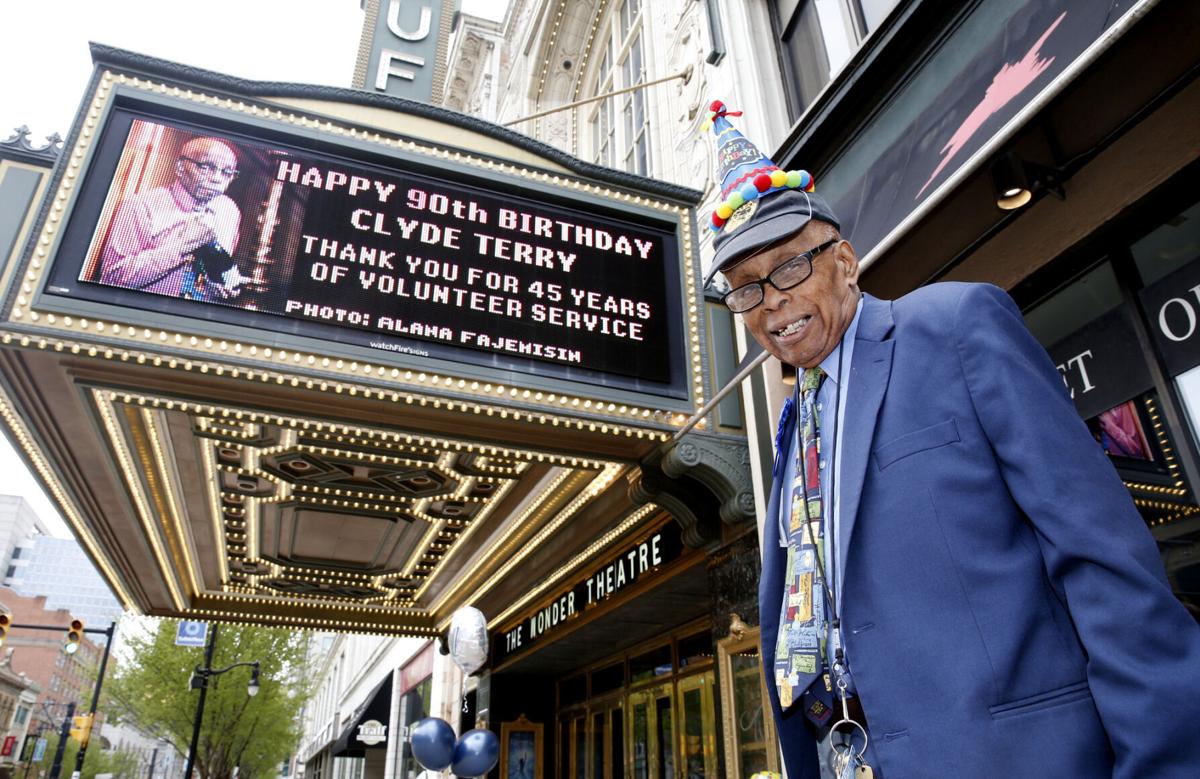 Imagine the Electric Tower without lights or the Liberty Building without its twin statues. For many regulars at Shea's Performing Arts Center, that is how it felt to go 11 months without seeing Clyde Terry, who is about as much of a fixture at that theater as the stage itself.
He was there in the 1970s as one of the volunteers who can remember sleeping in the building to protect it when it was at risk of demolition. He quickly became almost a constant presence, showing up to volunteer for countless shows and performances.
He was best known in recent years for standing at a champagne table and saying: Get your champagne! No waiting here!
Under the lights of the Shea's Buffalo Theatre marquee, Chad Nordin proposed to Emily Kaufman, and guess who just happened to be nearby?
Last Wednesday, he turned 90. Joyce DiChristina, an old friend and a veteran Shea's volunteer, drove to his house and picked him up, as she often does. Sometimes, during the pandemic, they would simply take rides around downtown Buffalo as a way to get outdoors – Terry was especially curious about seeing the new train station – and DiChristina would listen as he offered tales in razor-sharp detail about how buildings, streets and neighborhoods came to be as they are now.
"He remembers everything," DiChristina said. Her mission Wednesday was supposed to result in a surprise, but this was Terry, who misses nothing. She pulled up near Shea's and Terry, who has been vaccinated against Covid-19, climbed out. Tom Zawadzki, a longtime officer on the theater's volunteer Spotlight Committee, looped his arm into Terry's, and the two men walked along Main Street toward the most famous marquee in Buffalo.
It held an illuminated image of Terry, hoisting a bottle of champagne. Next to it was this message, courtesy of Shea's: "Happy 90th birthday Clyde Terry. Thank you for 45 years of volunteer service."
Terry looked up. He smiled. But he expected it.
"Someone let the cat out of the bag," he said. "Way out of the bag."
He worships at Holy Trinity Lutheran Church. Sunday, Pastor Lee Miller II came up with a tribute based on Terry's this-probably-will-never-happen request. Holy Trinity teed up a rendition of the familiar "Happy Birthday" song, but offered it "with trumpets and fanfare" – that is how Terry described it – through the magnificent Wendt memorial organ, after which his friends rose in a standing ovation.
There is plenty of overlap between that mask-wearing congregation and diehard Shea's volunteers, and someone at the church that day slipped up and said something out loud about the birthday plan for the marquee, a remark that to mere mortals might have gotten lost in the hubbub.
Terry heard. It registered. He did not forget.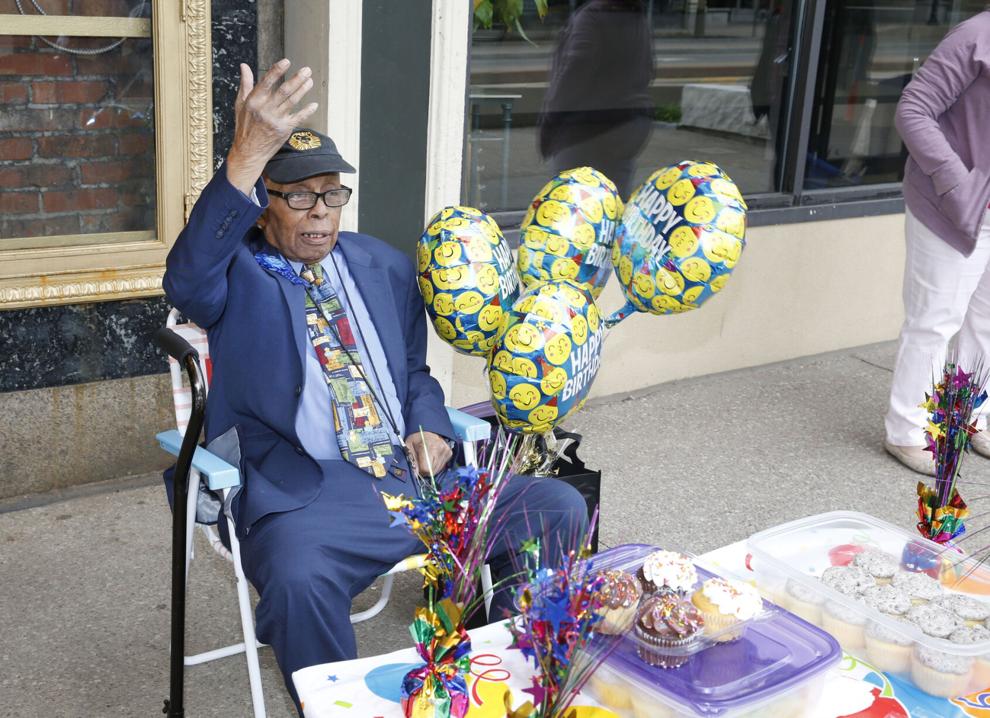 Yet the nice thing is: At Shea's, he was still surprised.
He expected the marquee. What he did not expect was the chair or table or balloons set out on the sidewalk, or the cupcakes with cookies-and-cream frosting made by a niece of Clare Dean, a volunteer who played a key role in putting it all together. He did not expect to hear all the honking horns from drivers going past, or to see the knot of people from the Spotlight Committee who cheered Terry through their masks as he settled in to hold court, solemnly balancing a paper birthday hat atop his "Lion King" cap, above his fabulous tie carrying the names of famous authors.
"Without Clyde," said Barbara Robinson, a Spotlight mainstay, "we couldn't operate."
"He's never met a stranger," said Kathy Franklin-Adams, who recalled his warmth and support in her earliest, learning-on-the-job days as a volunteer.
"It would take at least three people to fill his shoes," said Mike Mirco, an old friend, a veteran volunteer and a guy who handles Shea's security.
The crowd kept growing, friends showing up to offer tribute and also – since the last show at Shea's was 14 months ago – to revel in the company of people they miss. Terry greeted everyone, and between conversations he offered snippets about his life in Buffalo, including a reflection on how he once met heavyweight champion Joe Louis, a second cousin.
Terry's parents arrived in Buffalo in 1926, part of the "great migration" of African Americans from the American South to the industrial cities of the North. His father was a skilled upholsterer, a graduate of the famed Tuskegee Institute, while his mother did housekeeping to help support the family.
Almost a century later, their son's name and face lit up the marquee of the region's showcase theater, a high-profile honor for a guy who played a significant role in saving and restoring that landmark and who now – among various duties – sings both the U.S. and Canadian national anthems before the annual 5K race to benefit Shea's.
An international audience was treated to firsthand views of the Electric Tower, illuminated for the Yuletide, a skyline icon unique to Buffalo, on Sunday night.
Once, when Terry was a child, his parents took him to visit Louis on a farm in Michigan, where the great fighter lifted the kid and threw him in the air. Years later, Terry left a job at the steel plant in Lackawanna to go to work for a print shop that did business with some of downtown's legendary department stores.
He never married – "I never made that mistake," he said cheerfully – but he found other ways of building family. For years, he was a well-known Buffalo Sabres season ticket holder who was at the Aud for the famous "fog game" in the 1975 Stanley Cup finals. He was also a familiar member of the Buffalo Bisons Boosters Club, and he admits it would be another dream come true to see his beloved New York Yankees when they play the Toronto Blue Jays next month in a big league baseball series at Sahlen Field.
"My recollection of Clyde," said longtime Bisons Boosters officer Charlie Greene, "is that he's very enthusiastic."
In other words, Terry embraces whatever he loves – whether it is his church, the Sabres, the Bisons or volunteering at Kleinhans Music Hall – but that devotion ascends to another level when it comes to Shea's.
He said he got started in the 1970s, when the old movie palace was in danger and friends told him they worried about mice overrunning the place. He was among those who slept in the building to protect it, he said, and then – once the theater rose again into what it is now – he became a volunteer at virtually every show.
His favorites, by the way, were "West Side Story" and "Hamilton," of which he said: "There was a lot of history. Who knows how much of it was true?"
At Shea's, when they want historical truth, they ask Terry. Nikiya Campbell, operations coordinator, said she often spoke with him by phone after Shea's shut down its performances, which are expected to resume with "Frozen" in September. Before his birthday, Terry had not visited the theater since last spring, and Campbell said he always had the same question:
He would ask when he could return home.
Last Wednesday was a raw May day, and before long Terry grew cold in his jacket and his tie. Typically he is deadpan, dry, right to the point, and as he stood to leave he looked at all these women and men, there to see him.
"I know these people," he said, "and I love every one of them."
It was a beautiful thing to say, but that cat, clearly, was way out of the bag.