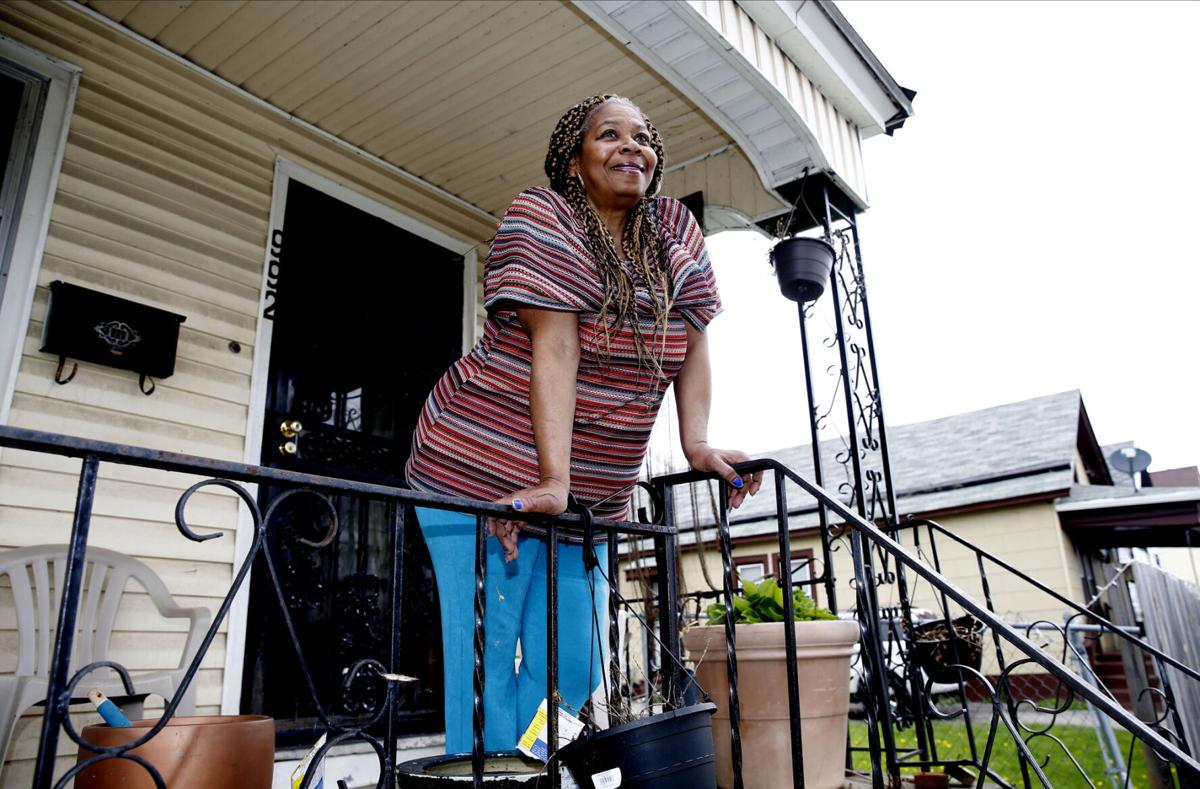 Half a century on her block, and Loretta White had never seen anything like this. She and her sister, Helen Gaiter, had just returned from church Sunday when they heard a rumble on Smith Street, and they went to the porch to marvel at a rolling tide of yellow.
About 150 bicyclists, many wearing bright lemon vests or jackets, were viewing landmarks in the Broadway-Fillmore neighborhood. The event was led by Chris Hawley, a city planner by day and a community historian who has poured his savings – and dreams for Buffalo – into restoring an old tavern a couple of blocks from the Central Terminal.
Hawley turned 40 in April, a milestone he celebrated last weekend by moving onto Peckham Street. Already known for organizing historic tours, he decided to spend day one in his new home and social club by coordinating with Buffalo Bike Tours for a ride in a neighborhood so rich with heritage, he said, "I couldn't pack it all in."
In a way, it closed a circle. Hawley's mother moved to South Carolina when he was 12, but he always felt Buffalo was home. Twenty years ago, on a train ride to Buffalo after graduating from New York University, he saw the terminal's illuminated tower and understood the fate of that railroad landmark and the streets around it are at the heart of whatever Buffalo is to become.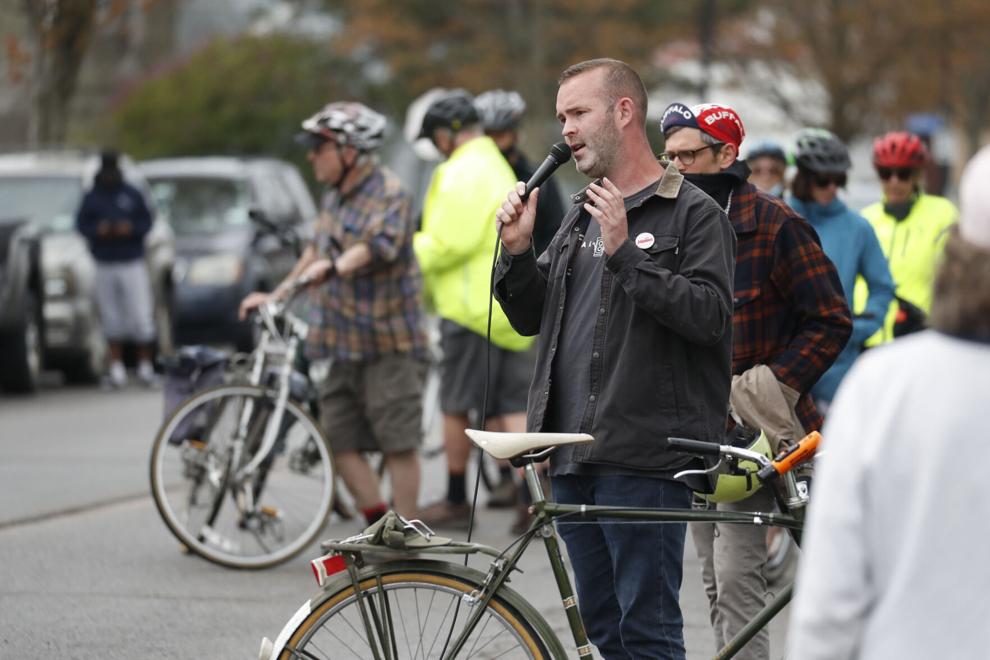 Four days ago, behind that same gut resolution, he moved into the neighborhood. It was a fitting symmetry that led the bicycle tour to White, whose life encompasses the ultimate statement of faith in where you live.
"All my memories are here," she said of Smith Street.
Her story goes back to when the area was the Polish-American epicenter of Western New York. White, who is African American, spent her early childhood in the 1960s on Krettner Street. Her father, Leon Sweat, worked on the old Penn Central Railroad with a guy named Frank Ulaszko. White remembers how Ulaszko, often loaded up with treats for the kids, would walk over to spend time with her dad.
"It was more than friendship," White said. "It was family-ship."
Here are just a few of the dozens of emotional replies we received when we asked readers to share their favorite memories of the terminal.
When White was 12, Ulaszko told her parents a house was available next to his on Smith Street. They made the move. The families grew so tight that White, as a teenager, was in and out of the Ulaszko house almost as if it were her own. Even now, as a retired front desk administrator, White puts out seed for the birds in the same way Frank's wife, Josephine, once did.
Eventually, when Frank was elderly and needed to move, the Sweats bought his house and owned two in a row. They stayed as thousands of primarily white families moved away or were dislocated, as population in the area plunged, as industrial jobs vanished and White's own heartbreak mirrored the pain for many families of color that remained.
She lost a brother at 12 to kidney disease and a sister at 17 to an aneurysm. Her son Leon, named for her father and brother, died in a chaotic 2005 shooting outside a birthday party. Mallicia Tipps, Leon's fiancée and the mother of White's grandchildren, was stabbed to death in 2019 at the McKinley Mall.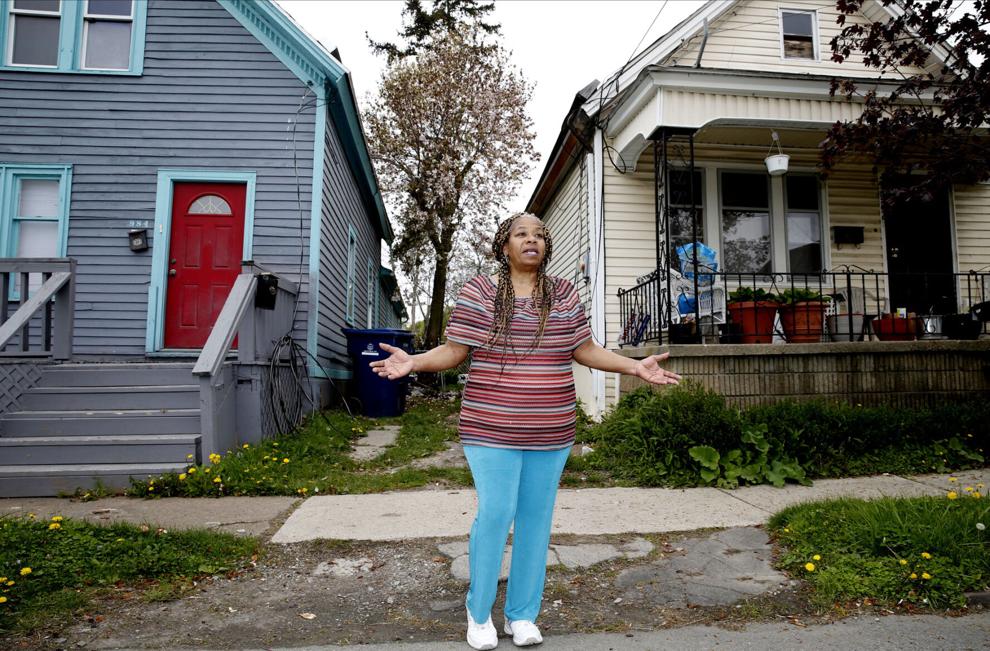 Sometimes White's grown children ask if she will move, and her answer – her discipline – is always the same.
"This is my home," she said, "and there's still more good than bad."
Hawley, the new neighbor, wants to honor that belief. He finds templates in city neighborhoods of a century ago, long before highways and automobiles touched off mass exodus. The classic "social club" often served as cultural mortar, he said, inspiring him to join many surviving clubs in Buffalo.
At the Adam Mickiewicz Library and Dramatic Circle, Hawley learned from neighborhood mainstay Bob Sienkiewicz about the old Al's Place, on Peckham. Closed for 30 years, it was remarkably intact – shaped by a 1914 renovation into a showcase tavern for the old Schreiber's Brewery, whose Fillmore Avenue building was on the bicycle tour.
The title of the hall is drawn from Hawley's passion for labor history. With a friend, it was Hawley who discovered the all-but-forgotten grave of Casimer Mazurek, a wounded veteran who survived World War I and was shot to death during a strike by steel plant police. As a gesture to such heritage, his nonprofit social club is named for Eugene V. Debs, American trade unionist and five-time Socialist candidate for president.
Hawley's mother died a few years ago, leaving him a modest inheritance. He could have spent it on travel or countless other things.
Instead, on Mother's Day – thinking of a mom who loved the city – he will wake up in the landmark tavern he bought from Sienkiewicz, for $40,000. The new Eugene V. Debs Hall has a beautiful old bar, classic woodwork, a throwback restroom. While anyone with shared belief in community can join for $10, Hawley routinely posts on Facebook about work that must be done, which is why Bill Shanahan and other volunteers show up.
Shanahan, a South Buffalo native and a contractor, moved back from Vermont with his wife Robin to be near his ailing father and then, after his dad's death, they stuck around. They admired Hawley – a guy they met on a couple of his bicycle tours – even before Shanahan saw a video in which Hawley cheerfully lamented trying to restore a landmark with zero knowledge of carpentry.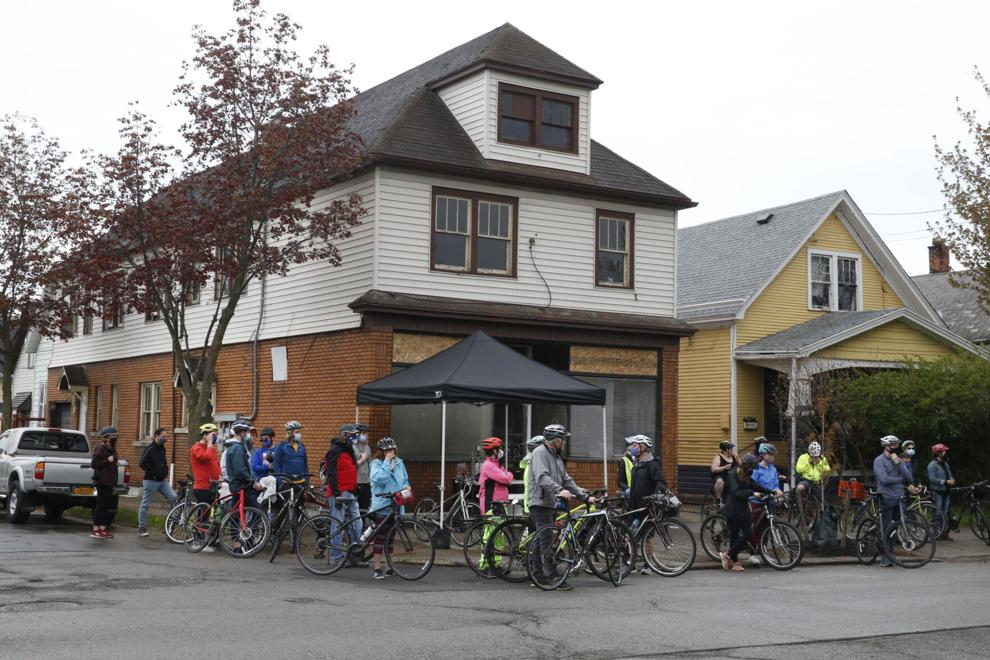 That did it. Shanahan offered to help. As he biked Sunday alongside Rick Ohler, an old friend, they both praised Hawley and his vision.
"It's just good to be involved in something so much bigger than ourselves," Shanahan said.
Hawley said he arrives on Peckham Street with profound respect and admiration for families long committed to Broadway-Fillmore, like Loretta White's – and for the many immigrants who set down nearby roots. His goal is making a point about how wise investment – hinged on conscience – can cause a difference in an area so intertwined with civic love and struggle.
The club, he said, is "one small step against the disinvestment and bad government policies and abandonment that led to the current situation."
A ceremony Monday will mark the 100th anniversary of Casimer Mazurek being shot and killed by steel plant police during the "great steel strike of
The tour itself was a classic Hawley mix. It included a Fillmore Avenue cellphone store that was the first McDonald's in the city; the great steeple of St. Stanislaus Church; and a stop at the Clark Street childhood home of Goo Goo Dolls frontman John Rzeznik. When the bicyclists paused outside Revelation Missionary Baptist Church – built long ago as a Jewish synagogue – assistant Pastor Benny Reese III came out to note the congregation was celebrating Rev. J.R. Christopher's 40th anniversary as pastor, before inviting everyone to stop someday for worship. 
The tour ended outside the Central Terminal, home to the concourse Hawley calls "the city's greatest room," near the tower he now sees all the time from his living room window.
Still, if you agree neighborhoods endure and rise because of heart and will, the chance encounter with Loretta White was the tour's defining moment and statement. The sorrow she has faced only leaves her believing, more than ever, that as Broadway-Fillmore goes, so does the soul of Buffalo.
"It's going to take off again," White said emphatically. The bicyclists caused her to wistfully remember being 12 and "riding bikes" up and down the block with friends, a memory of such welcome peace and warmth that White recognized the feeling for the two things it is:
"A blessing," she said, and her prayer for tomorrow.