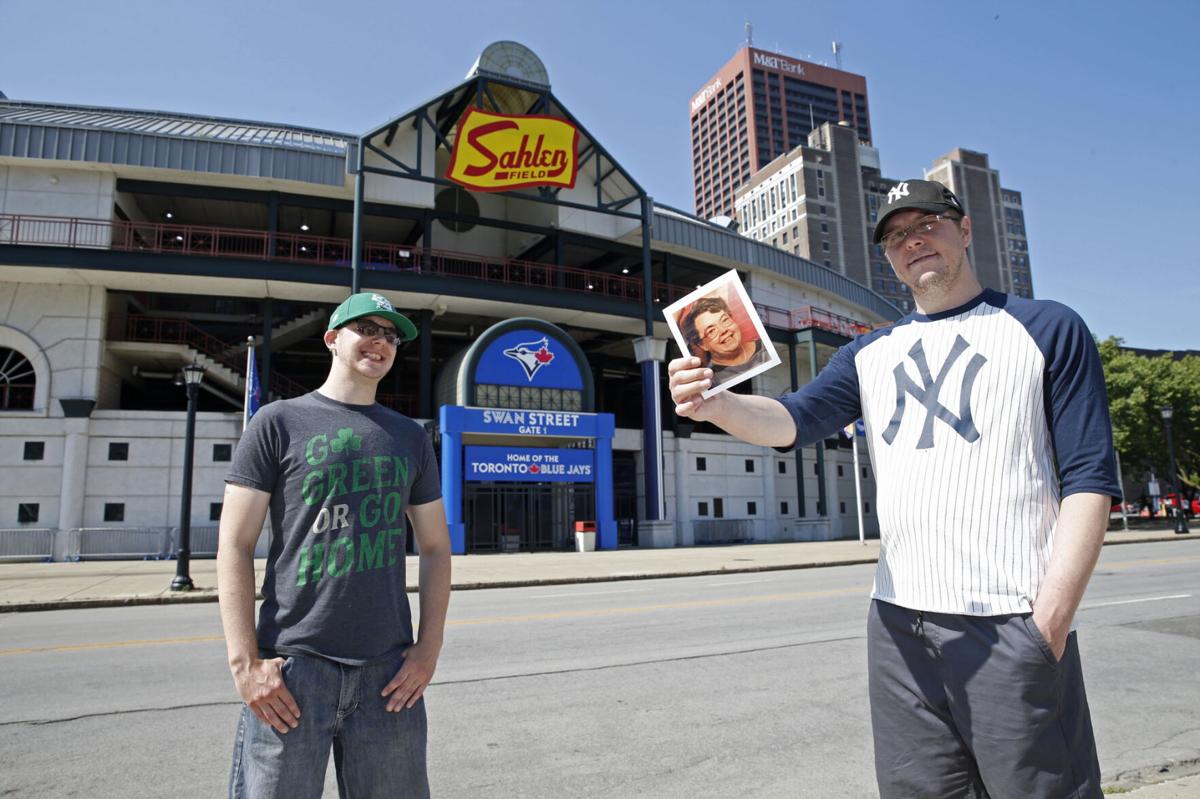 Adie Kiefer was at school when she received a text from her excited mother. Joann Kiefer-Warren had an early graduation present for Adie, 18, a senior at Williamsville South, and she could not wait to tell her what it was:
She has two seats for Wednesday's game between the Toronto Blue Jays and New York Yankees, at Sahlen Field. It would mean a lot in any situation to Adie, a Yankees fan, but mother and daughter understood the real importance:
To Adie, it is also a gift from her dad.
"I definitely correlate the two," said Adie, youngest daughter of Franz Kiefer, who died of multiple myeloma when she was 3.
Franz revered the game and its history, Joann said of the husband she lost 15 years ago. While she eventually remarried, she does her best to make sure their children – Adie and her older siblings, Odelia and Wyland – appreciate the world as their father saw it, because they were so young when he died.
She knows Franz would have been thrilled by big-league baseball at Washington and Swan, and while he did not share her allegiance to the Yankees – he was a devoted Cardinals fan – he would have marveled at the Bronx Bombers playing regular-season games this week in front of spectators in Buffalo, for the first time ever.
"A lot of things he loved, I try to keep up for the kids," Joann said, "and definitely, he would have loved this."
Who is the one person with whom you most wish you could watch a major league game in Buffalo?
She was among a flood of readers responding to a column built around famed ballpark vendor Tom "Conehead" Girot and this question: If you could ask anyone, living or dead, to join you for a game at Sahlen Field in this once-in-a-Buffalo-lifetime baseball season, who would it be?
To Girot, it was the late John Hopps, his stepfather and a guy with a big heart, an account leading to dozens of passionate and meaningful replies. While space makes it impossible to mention each one here, you can read them in full at Buffalonews.com.
Many readers sent in replies to Sean Kirst's question: If you had the chance to attend a major league game in Buffalo with any one person in your life, living or dead, who would it be?
Many involve memories fitting to the upcoming Father's Day – and they are all reminders of just how much baseball is ingrained in the lives of countless families throughout Western New York.
Consider George Corsoro, 64, now of Florida. He grew up in Dunkirk, within a neighborhood enclave of grandparents, aunts and uncles. Corsoro was close to many cousins, including Vincent "Jimmy" Rossotto, who lived two doors away.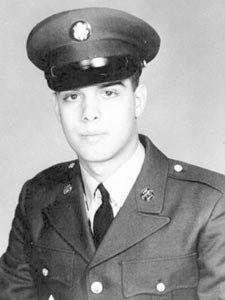 Rossotto, about 10 years older than Corsoro, was a guy whose good looks and easy cool made him a hero for the younger kids. In the late 1960s, he went into the Army. He stopped by not long afterward, while home on leave, to tell Corsoro's dad he was going to serve in Vietnam.
While Rossotto's own father had died, his uncles did what they could to fill that role. Corsoro, not far from the table, said it was one of the few times he ever saw fear on his dad's face.
Maybe, somehow, the older man had a premonition. Jimmy was killed in action on June 27, 1968. Corsoro found out when he was already in uniform for a Little League game. Aching with sorrow, he brought it all onto the field. He wrote of how he pitched and won and slashed a couple of doubles, "just so he'd be proud of me."
Fifty-three years later, if he had the chance to spend a big-league game with anyone?
"I'd go with my cousin Jimmy," Corsoro wrote.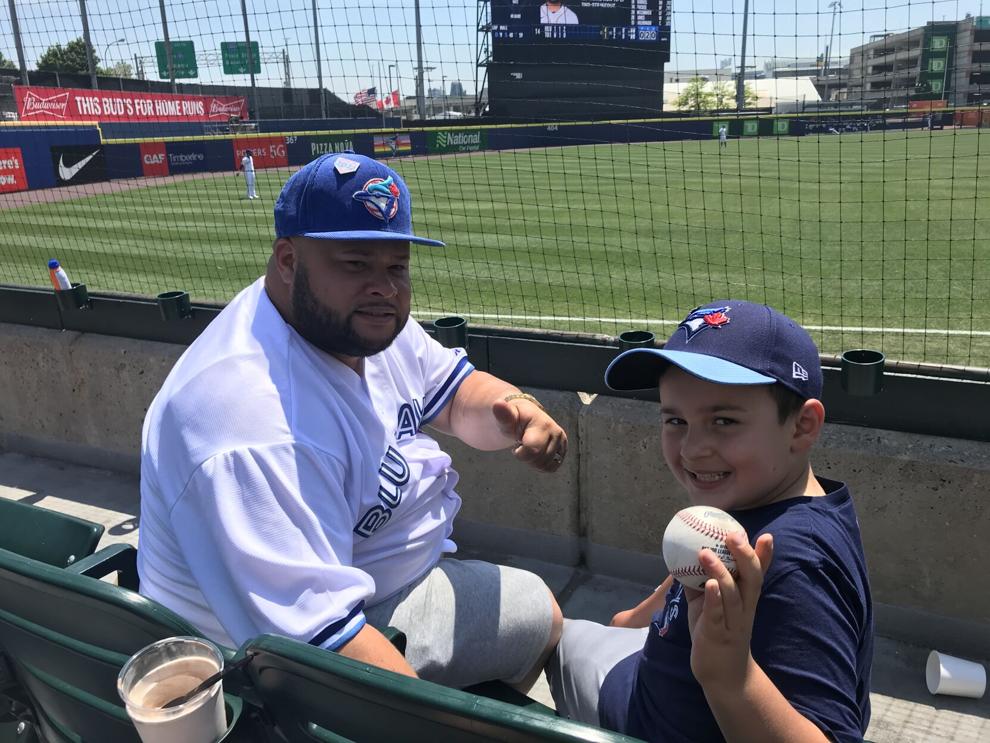 For Anthony Tripi-Gonzalez, in a way, the wish is already answered. He took his 8-year-old son John, who plays Lou Gehrig ball in East Amherst, to see the Jays face the Astros. They had seats so close to the field that a Jays staffer reached under the net and slipped a foul ball to John, and left-fielder Lourdes Gurriel Jr. could hear and respond when Tripi-Gonzalez called to him in Spanish.
To be there with his kid was as good as it gets. Still, Tripi-Gonzalez was missing one main presence. His dad, Bobby Gonzalez, a Mets fan, died of cancer in 2019. Not long before, Bobby's kid bought his parents tickets to a Yankees-Mets game in New York City, "because seeing a Subway series game was one of his last wishes."
The son will be there to watch the Yankees at Sahlen Field, a moment he describes "as a dream come true" for Buffalo – which makes it hard to imagine without his dad.
Every message seemed to offer similar intensity. Dan Goehle wrote about Rick "Stony" Stonebraker, a friend he worked with at Apple Rubber Products. They shared Bisons season tickets for a long time, giving them a place to shoot the breeze about their mutual passion for Buffalo Raceway, until Stony's death 16 years ago.
Like Goehle, Jim Macie of Florida – short for Maciejewski – knows exactly the person he would want in the next seat. Macie described his close bond with Doug Wielinski, going back to third grade in the Lovejoy neighborhood.
As kids, they attended Bisons games at the old Offermann Stadium, and as adults they were fervent collectors of sports memorabilia. Macie wrote that Doug was sitting at a table on Feb. 12, 2009, putting together a rare Buffalo Bisons jigsaw puzzle that dated to 1933, when Continental Flight 3407 exploded into his home. Doug died, with 49 others, in the disaster. His wife Karen and daughter Jill managed to escape, and Macie remains close to their family.
His buddy, since childhood, had one favorite baseball team. "Doug was a huge Yankee fan," wrote Macie, who cannot think of this week's Jays homestand without imagining what it would have meant to his friend.
Robert Petrusek wrote of how his grandmother, Charlotte Beanen, loved "anything to do with Buffalo." She worked for a law firm that had a suite when then-Pilot Field opened in 1988, and her grandson – after seeing the place as a 4-year-old – believed any baseball game he saw on TV must be happening at his grandma's place.
Beanen died from cancer in 2000. To Robert and his brother Brandon, she is baseball in Buffalo, and this column is where they choose to reveal an anniversary surprise for their mother, courtesy of their dad: In Charlotte's honor, there will be a family excursion Tuesday to see the Blue Jays-Yankees game.
Bob O'Connor wishes he could be in the stands with Frank Mooney, a baseball-loving legend of the Bisons front office who died at 96 in 2013. In Lockport, Joan Brewer, 88, recalled how she and her husband Walt would often drive into Buffalo and ride the train to watch the Bisons, a ritual they continued until Walt was in his 90s.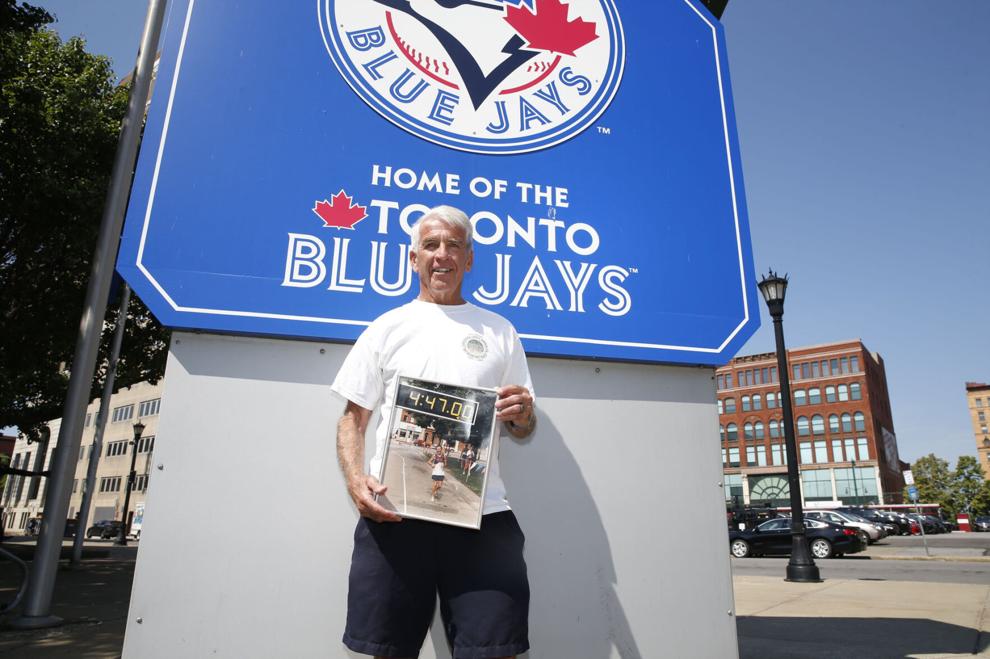 In 2019, he died from a fall while exercising, at 101. "How I wish he were here," Joan wrote, "to see a major league game."
Michael O'Sullivan and his sister, Maureen Machemer, were raised since early childhood by their dad, who selflessly accepted the role of single parent. O'Sullivan recalls one particular baseball lesson: With the Yankees coming to town for a 1963 exhibition against some International League all-stars, Jack O'Sullivan promised to buy tickets – providing his young son, who wanted badly to go, figured out how to order them.
Jack died years ago. Now, his son would write a check, for any amount, to be with him this week at Sahlen Field, a feeling understood to the core by Nicholas Amigone III.
"My father's life," he explained, "was inextricably connected to Buffalo's midcentury baseball lore."
As a child from Cold Springs, his dad – Nick Amigone Jr. – sold newspapers at Offermann. He was a high school third baseman who kept playing even in the South Pacific, where he earned a Purple Heart during World War II. As a young man, he revered Joe DiMaggio and the Yankees, and later took his son to see the Yanks twice in a back-and-forth 1960 World Series with the Pittsburgh Pirates.
Today he has great-grandchildren who play the game.
Now, years after the son lost his father, the Blue Jays are playing big-league ball in downtown Buffalo. When Toronto returned this month to Sahlen Field to face Miami, Nicholas III and his wife Gaile were in the stands.
In his words, the couple made sure the next seat over stayed empty, "just in case dad drops in."