Trey Gardner became a believer on a wintry night, 17 years ago. His family was new to St. Mark Church on Woodward Avenue, and Gardner brought his then-2-year-old daughter, Anna, to the Christmas Eve vigil and pageant that he had heard was a packed and joyous tradition for the church.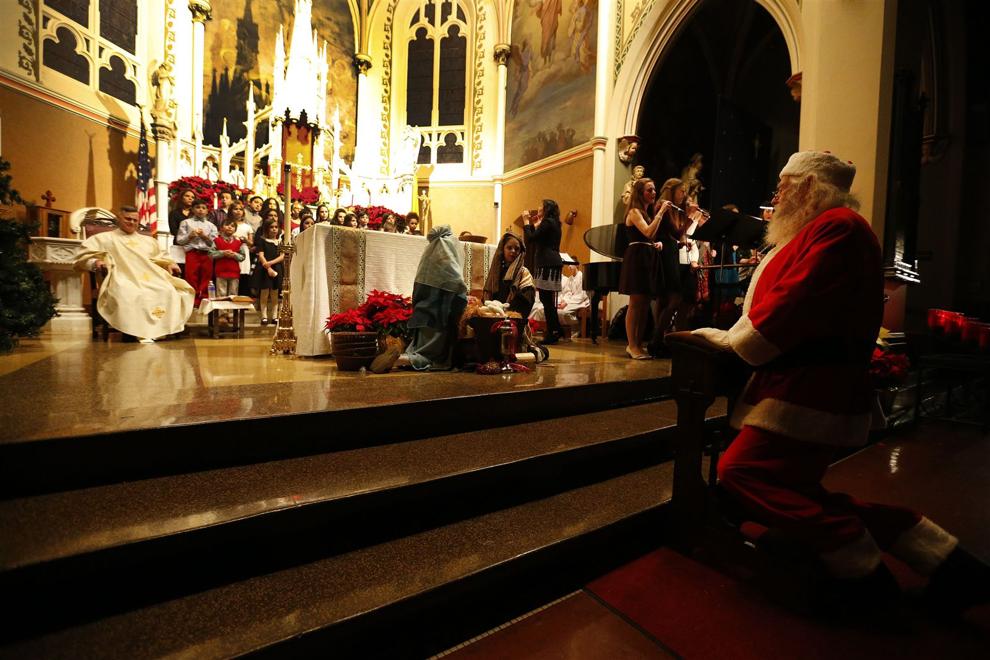 The emotional crescendo for the kids, witnessed by Gardner for the first time, was a moment after Holy Communion when the lights went down, except for a bright beam on the altar. The infant child of some proud parishioners had been gently set in a cradle at the front of the church, a living symbol of the baby Jesus, while nearby students portrayed Joseph and Mary in Bethlehem.
With a choir leading the whole place in "Silent Night," who emerged from the back of the church but Santa Claus himself, as solemn as solemn could be. There was something about this Santa that seemed, well, to-the-core-of-Christmas magical, and he slowly advanced to the altar, then dropped to his knees before the child.
It was unforgettable, especially for the little kids from St. Mark School. Gardner, too, was deeply moved, the scene still on his mind until he walked out of church after Mass. It was snowing like mad. Earlier, with empty parking spaces hard to find, he had maneuvered between two other cars into a tight space. When he climbed into his car, it was as he feared: The tires spun and the vehicle would not budge.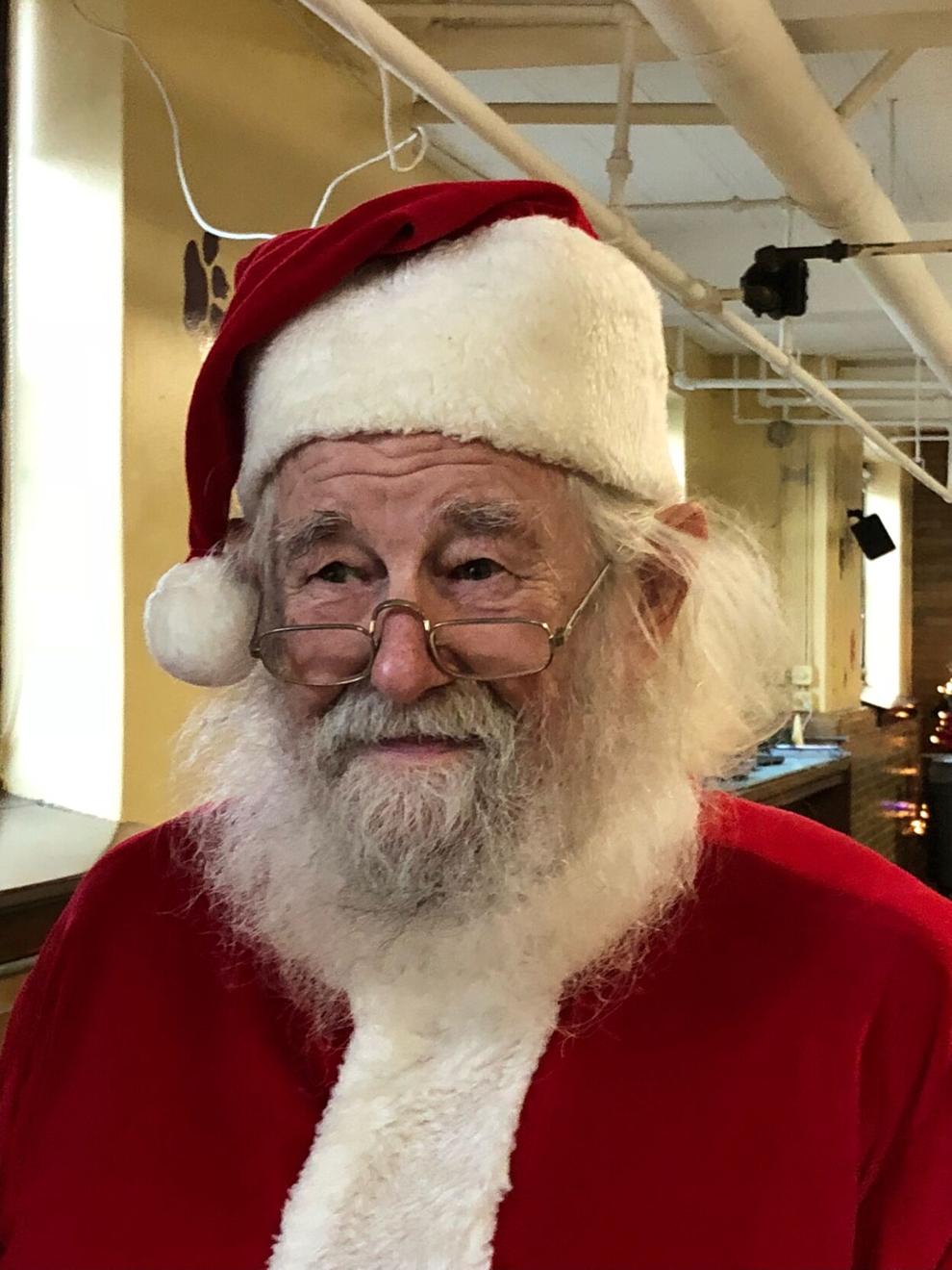 This was trouble. His little girl was in a car seat in a snowstorm, no one was there to help, and if he hit the gas too hard he might abruptly slam into a car in front of him.
Someone knocked on his window. Gardner looked up. It was Santa, ready to put his shoulder down to push. They had a few words of hurried conversation in the universal language of getting-out-a-car-stuck-in-the-snow – rather than reindeer names, Santa was calling out "Rock it!" and "Cut it!" and "Now try reverse!" – and all of a sudden the car lurched free.
Almost 20 years later, on another Christmas Eve, Gardner wants to make sure that Santa and his wife of a long, long time understand how much they are revered at St. Mark.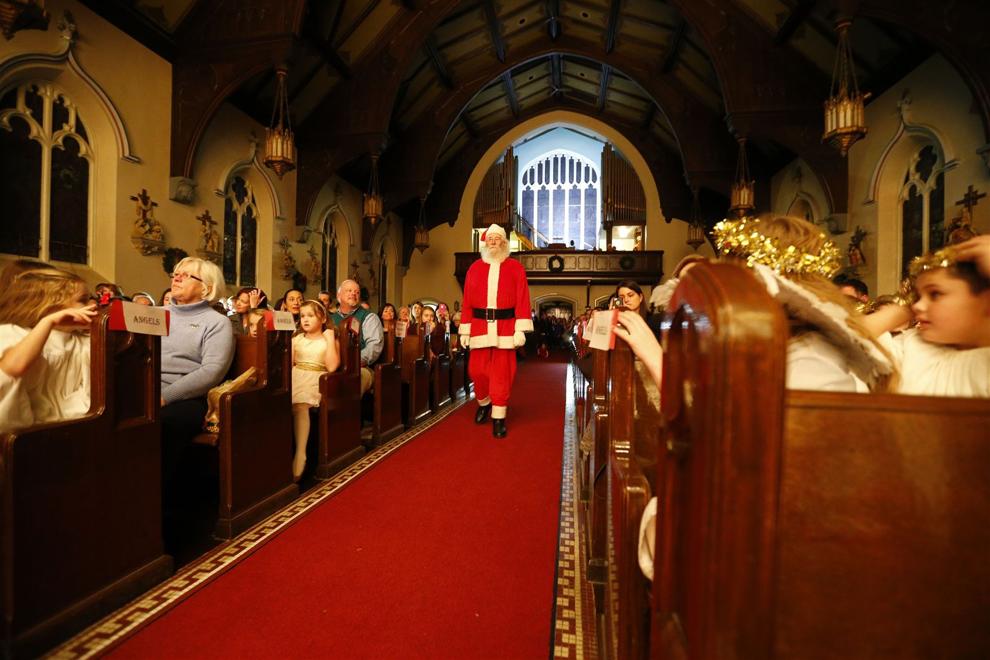 "Legend," Gardner said of them, and that word holds up.
While Christmas Eve pageant coordinator Megan Gallagher said that event will be canceled for the second straight time, wiped out again by the pandemic, the 4 p.m. Mass will still go on. What it will be without is that extra dramatic flourish so many in the parish  associate with the instant when Santa Claus appears, out of the shadows, to kneel before the wide-eyed infant.
Jim Honer, the guy who for years brought it together, cannot be at church. He and his wife, Mary, are both 90-year-old residents at the Brothers of Mercy campus in Clarence. Jim's rehabilitation from a fall means he stays in an area offering more continuous nursing care, while Mary has her own place in the nearby Sacred Heart Home, which provides assisted living.
They went there together to remain as close as possible, and they expect to make a little journey today to the home of one of their daughters, Peggy DeMartinis, for a careful celebration within this newest Covid surge. Both Jim and Mary got on the phone to talk about what Mary called the "great community" at St. Mark, and Jim offered this response to devoted generations of children and parents who will never forget Santa's walk down that main church aisle: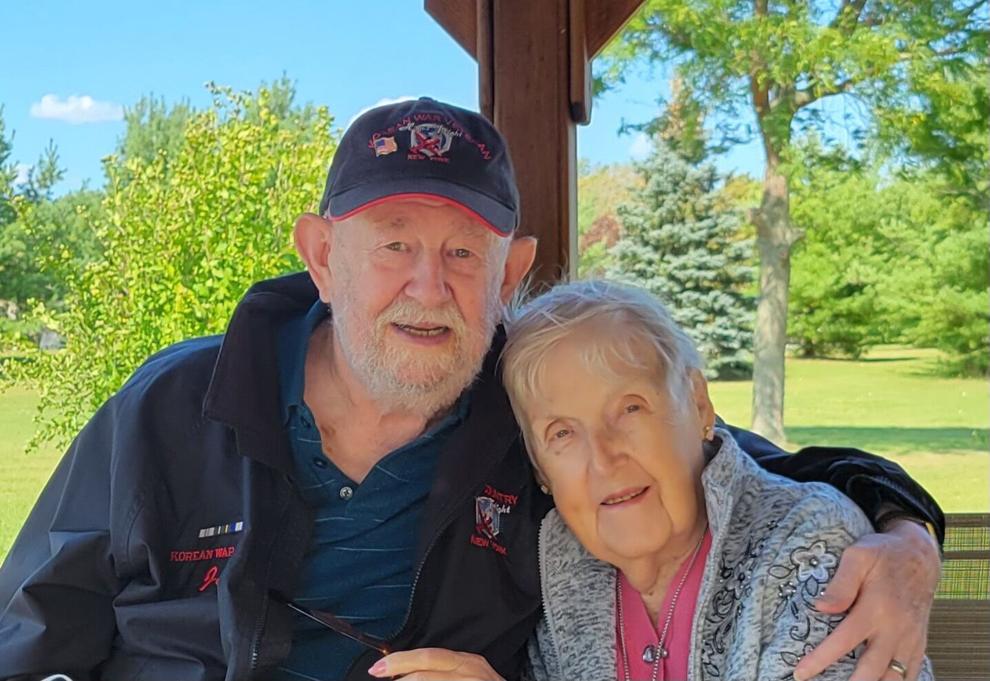 "I had more fun than the kids did," he said.
He and Mary said the origin story goes like this: When Jim was in his 50s, Geri Pfohl, one of their grown daughters, had two children – Susan and Dan – at St. John's School in Kenmore, whose teachers hoped Santa might visit the classrooms. Pfohl knew the right guy. She sewed together a red suit, and Jim already had a pair of boots that were just right. Santa was a hit, based on personality and buoyed by one impressive beard.
It turns out Jim Honer was also longtime president of the Holy Name Society at St. Mark, which for those who need Santa in December was like having Peter Parker as a parishioner if you needed Spider-Man. "He is the spirit of Christmas," Gallagher said. Pretty soon Jim was doing church parties and other gatherings, and when there was an opening in the 1990s for Santa at the vigil on Christmas Eve, everyone knew the best choice.
"He's so sacred, so reverent," said Rev. Joe Rogliano, pastor at St. Mark for more than a decade. "He brought it to a level of wonder."
The magic of Christmas comes alive in many ways for the Overdorf family, which holds dear memories of a downtown Santa.
Maybe it is because this Santa appreciates, in the deepest sense, the meaning of a gift. From Brothers of Mercy, Jim and Mary recalled in separate phone interviews how they met at a bake sale at the old St. Vincent de Paul Church on Main Street. They were soon dating, and they both recalled the trepidation and concern when Jim was drafted during the Korean War, and Mary said farewell from the Central Terminal.
To Jim's quiet surprise, he was never sent into the war. He and Mary became engaged when she met him in Columbus, Ohio, while he was still in uniform, and they walked to a jewelry store and began making their plans. Mary was again at the Central Terminal when Jim stepped onto the platform, home safely and for good. You would think that is a feeling you could never replicate, except for this: After the pandemic arrived in early 2020, they were unable to see each other for seven months at Brothers of Mercy, despite their proximity.
You want Christmas? Ask them how it felt at the moment they were reunited. Mary also has a holiday story she especially loves, how the couple and their growing family – they ended up with nine kids in all – were living upstairs in a classic Buffalo two-flat home when Mary started saying a novena: She prayed for help in finding a new house, and she asked that it might happen on Christmas Eve.
The grandmother of Elizabeth "Lill" Kress of West Falls arrived in the United States because of a community reaction to the sacrifice of a great-uncle, Antonio Varacalli, who died saving a young woman from drowning near a famous bridge in Seneca Falls.
That year, on Dec. 24, she was pregnant and decorating the tree in their flat when the phone rang. It was a friend, a Realtor, who had spotted a big house for sale on Crescent Avenue. Mary needed hooks for ornaments, which gave her an excuse to drive past that new address. She knew in her heart it was the place she prayed about, to the point where Jim had to ask her to stop saying how much she loved it during an open house.
"They're going to want more money!" he whispered, but before long they moved in.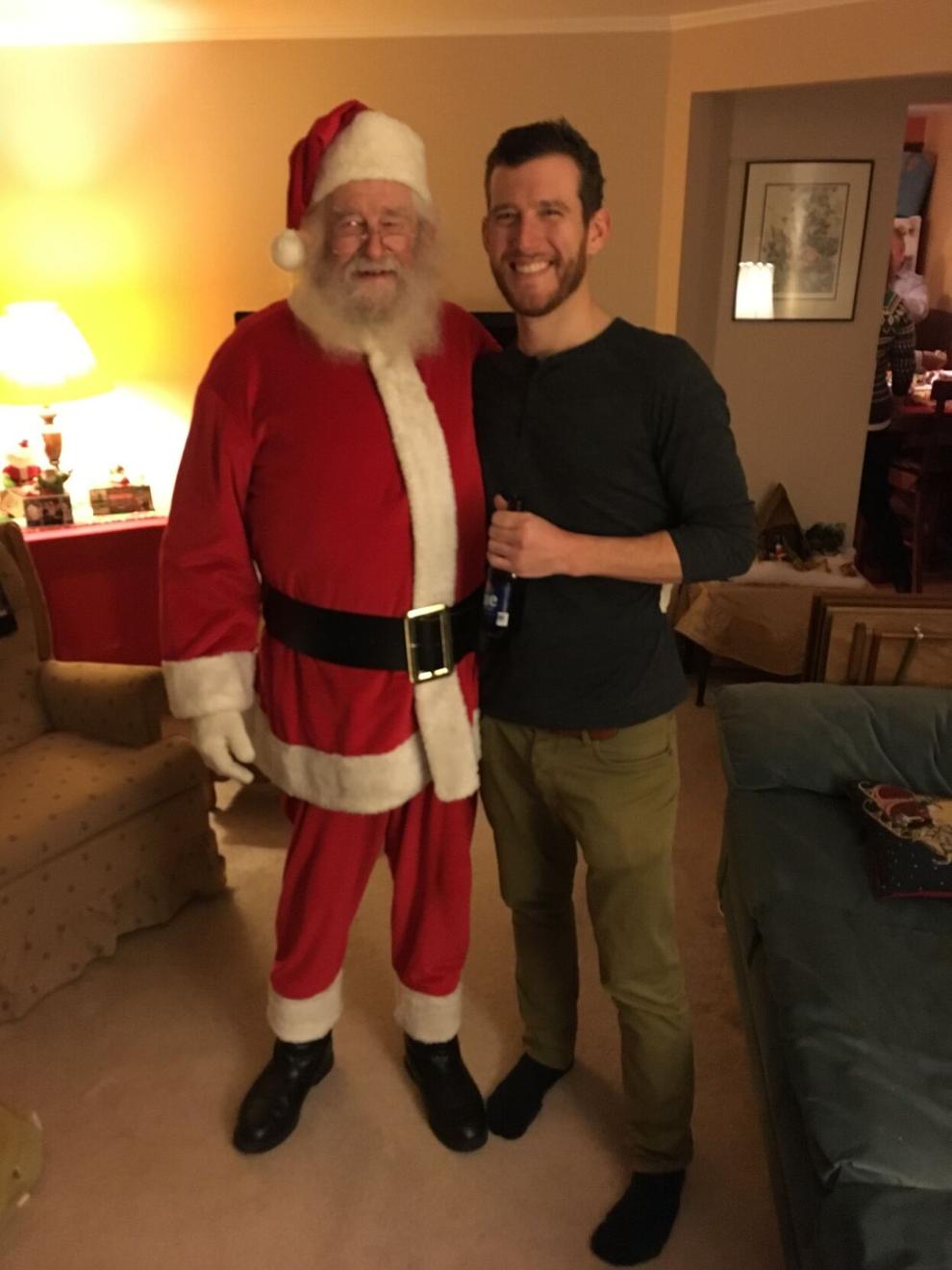 At St. Mark, Jim's longtime friends remain in awe, and not just of Santa. Longtime Holy Name buddies Dave Wilkins and Bill Parks speak of Jim as what Parks calls the "do it" person every organization needs – such as when Jim decided the school should replace some crumbling doors, then convinced the company he worked for to help make it happen.
Mary taught faith formation classes for a solid 30 years. Jim ran the church's Catholic Charities drive, and he was a cook at parish fish fries for so long that Parks insists the neighborhood cats, sniffing the aroma, tried to follow the two men home. As for Wilkins, he remembers Jim telling him how he would ask a barber to give his beard one good trim, in January.
The rest of the year was spent growing it out for Christmas Eve.
"Oh, he was the real thing," Mary said of her husband, a belief shared by generations in a parish that on Christmas Eve, more than ever, wants them to know how they are missed.