The last step, as it so often goes, was the hardest. Robert Benning was on the absolute doorstep Monday of seeing big-league baseball in Buffalo for the first time in his life when his son Scott asked the security crew for a little help.
Robert Benning has a pacemaker. Scott Benning did not want his dad going through the metal detector at Sahlen Field, and workers hustled over to help. So Robert sidestepped the barriers and made his way in. On the concourse, he stopped to absorb the larger scene: more than 12,000 people pouring toward their seats to watch the Boston Red Sox defeat the Toronto Blue Jays, 13-4.
The tickets were a Father's Day gift from Robert Benning's granddaughter, Chelsea, who did not want her dad or grandpa to miss Buffalo's big-league moment. Benning – who raised three children with his late wife, Adarienne – vividly recalled the last time he watched major leaguers play, in person. It was 1963, when baseball held an All-Star game in Cleveland, and Benning and a close friend from Orchard Park headed west for the chance "to see Mickey Mantle and all those guys, out on the field."
Everything went fine until their brakes gave out, just as they got home.
Benning spent a career driving a truck for Bauer's service station, a family business. As a child during the Great Depression, his first glove was for right-handers even though he threw lefty, because in those days you made do with whatever you could get. At first, he would catch the ball, switch hands, drop the glove and throw, but eventually he managed to find a glove for his left hand at Arthur's Hardware, a place that is still rolling.
Buffalo's midsummer fling with the Toronto Blue Jays is all but over.
From day one, he loved the game. He grew up to be a skilled enough pitcher to play as a minor leaguer in the old New York Giants system, before he pitched for a Marine Corps team, based at Quantico. If you Google him, his name pops up as a 6-foot-tall, 173-pound left-handed pitcher in 1951 for Muskogee, though he also pitched in Erie and St. Cloud.
"I worked out once with the Giants on the field in Offermann Stadium," Benning said, speaking in a faraway voice of an exhibition game played by a legendary New York team at a Buffalo ballpark, both long gone. Yet the nice part about Monday was that nothing at Sahlen Field involved a sigh about the past: At 90, one thing Benning had never seen in his long life was a big-league game in downtown Buffalo. He was rooting for the Jays, because this was Buffalo, and they were the home team. 
"This," he said, "is the ideal opportunity."
That sense of appreciation emanated from the crowd, much of it clad in the bright red that is the calling card of Boston's team.
Pam Leonberger, a retired postal worker who met her husband, Gary, 51 years ago in Lovejoy, wore one of her husband's Red Sox jackets as she threaded through the concourse with 8-year-old granddaughter Veronica, who had one thing on her mind: popcorn.
Leonberger said she and Gary are longtime Bisons loyalists, but their daughter Michelle – waiting in the stands with 10-year-old grandson Everett – bought them their seats for Father's Day.
"This is our first major league game, and my husband I have always been Boston fans," she said. "This is just such a big deal, and we waited a really long time for this."
She paused, drinking in this once-in-a-lifetime atmosphere. The only thing better, she said, would be if Major League Baseball in Buffalo could somehow, someday become permanent.
The Leonbergers made it to a game just in time. The road-weary Blue Jays will finally return to Toronto this week after a pandemic odyssey that began in spring of last year. The team spent almost two full months in Buffalo this summer, playing before fans after clinching a playoff berth in front of an empty ballpark a year ago. The Blue Jays undoubtedly forged new Western New York loyalties in a community grateful for its first big-league baseball since 1915. But Toronto – for its final homestand at Sahlen Field – ran into the fierce and sprawling allegiance of the Red Sox nation.
George McGrath of Lewiston, for instance, was there with his son Tim and grandson Ryan, both passionate Boston fans, as well Tim's brother-in-law, John Stodolka, and his son Eoin, just turning 10.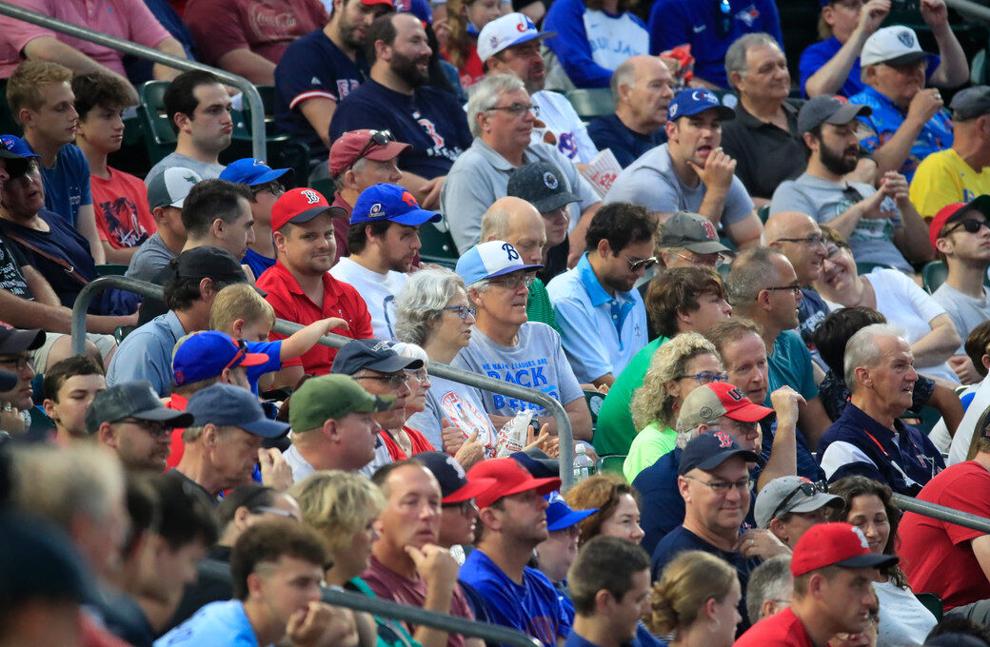 McGrath, a Brooklyn Dodgers fan as a child, never really embraced another team once the Dodgers left in the late 1950s for California. But Tim – in the mysterious way that such things happen for a child – became a fierce Red Sox loyalist. In some of the greatest memories of George McGrath's life, he used to take his kids on the relatively short drive from Lewiston to see the Jays play the Red Sox in Toronto's old Exhibition Stadium. Now he roots for Boston simply because he knows how much it means for his son, and the whole crew wore Red Sox gear, even young Eoin.
"If I didn't," the child said, "I think they'd disown me."
Mark Kronenberg of Hamlin, another Red Sox guy, had a lifetime moment of his own. Sox centerfielder Jarren Duran, running back to the dugout after snagging a flyout by Vlad Guerrero Jr., tossed the ball into the stands as a sea of people surged to their feet. They stretched and grasped, causing the ball to bounce around in the air, going person to person in a crazy chain of ricochets until it popped into the grasp of a startled and utterly thrilled Kronenberg.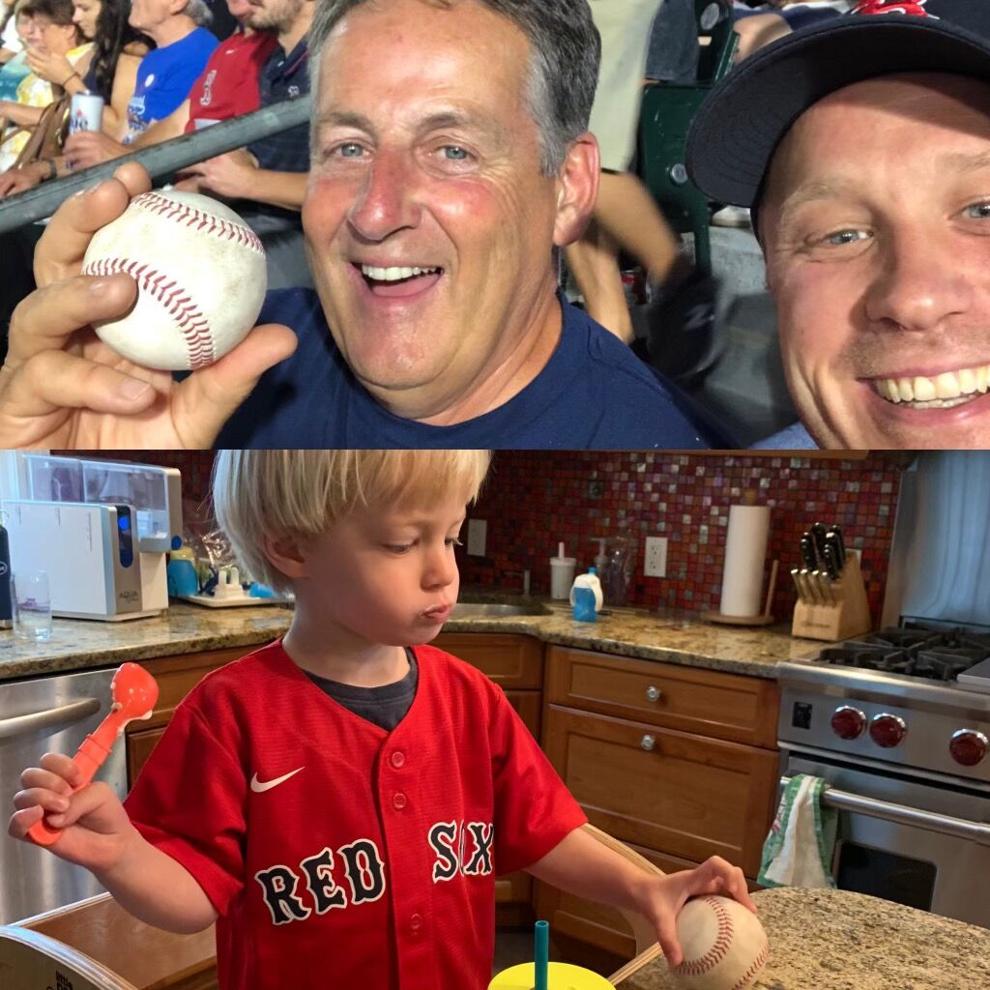 "Fantastic," he said. He held up this big-league talisman that he hardly expected in Buffalo. It is already in the possession of Kronenberg's 3-year-old grandson Theo, who was also in the ballpark – and who, as his grandfather pointed out, "was born in Boston."
Readers share reminders of just how much baseball is ingrained in the lives of countless families throughout Western New York.
While the Red Sox faithful made a lot of noise in a game their team won easily, there were still many Blue Jays fans in the place, offering their gratitude toward the club that finally brought big-league ball to Buffalo.
Daquan Barnes and Tania Cunningham waited patiently in line so that Barnes could buy and immediately wear a Guerrero Jr. jersey, honoring Toronto's brilliant young star, a jersey that to Barnes is the ultimate symbol of this summer at Sahlen Field.
"I've liked the Blue Jays since I was 10 or 11, since I was just getting into baseball," said Barnes, an aspiring photographer. "Just seemed to me that these boys have grit."
It was the first major league game the couple had seen, an experience they described as an astounding gift. Cunningham, thinking of all those months of solitude after Covid-19 arrived, gestured at thousands of jubilant people bumping shoulders, in blue or red. Even if they cheered for different teams, she knew they shared the wonder of seeing something that might never happen in Buffalo again. 
"Just everybody being here," Cunningham said. "That's it for me."