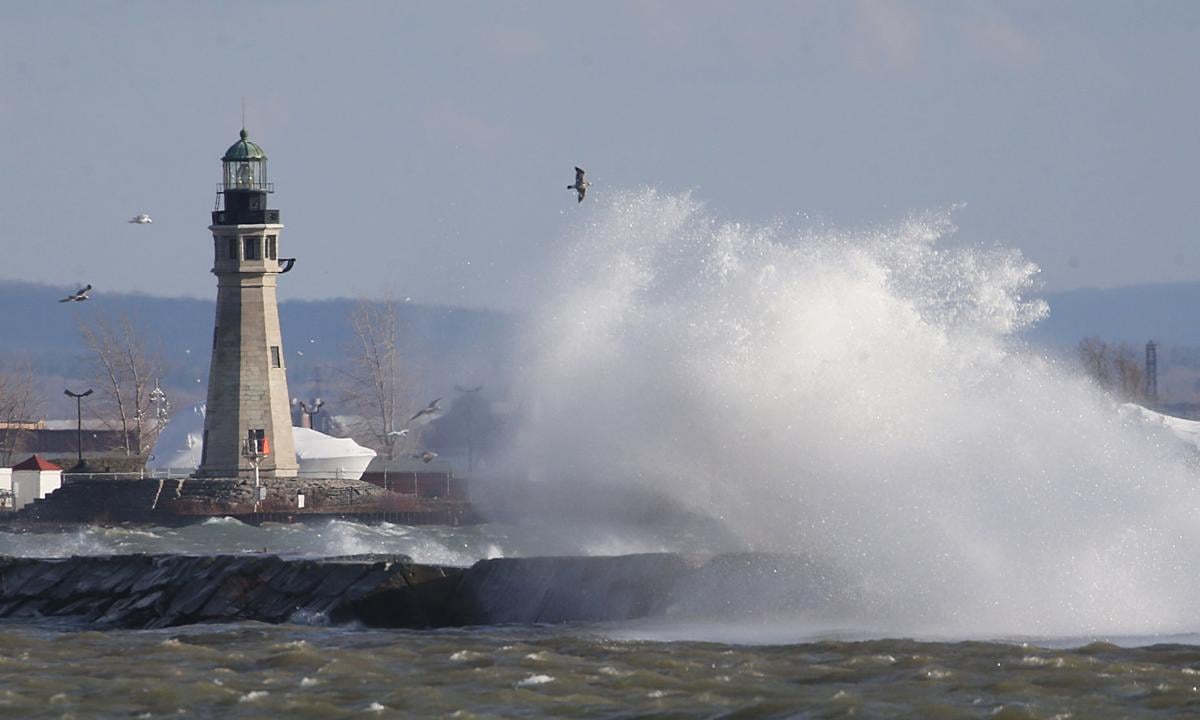 Buffalo may own a national reputation for snowstorms off Lake Erie, but it turns out some know us for our tsunamis, too.
No, not 100-foot wall-of-water, earthquake-driven tsunamis that swamp faraway places in the Pacific.
The tsunamis around here are different and pass with little impact. They're called meteotsunamis, and researchers have determined more than 100 of them happen on the Great Lakes every year. New research reveals Buffalo gets more of them than most other Great Lakes ports.
Lake Michigan's Calumet Harbor in Illinois gets the most. On average, there are 29 there every year. Buffalo is second with 17.
"It's a surprising term to hear on the Great Lakes," said Eric Anderson, an expert in hydrodynamics at the Great Lakes Environmental Research Laboratory in Ann Arbor, Mich. "We have an idea of what a tsunami is from movies and television."
Buffalo's position on the eastern end of Lake Erie makes its prime location for meteotsunamis because the dominant west-to-east weather pattern here allows the wind and atmosphere plenty of time to act on the lake waters.
"Buffalo is waiting on the other end of the lake for what the wind brings it," Anderson said.
So this potentially dangerous "wave without warning" is more common on the Great Lakes than commonly known.
A three-day summit last week hosted by the Cooperative Institute for Great Lakes Research brought scientists together to figure out ways to better predict meteotsunami waves.
A meteotsunami is a wave – or series of waves – created by weather, unlike the seismic tsunamis generated by earthquakes.
Great Lakes researchers at the Ann Arbor summit traded notes about what a recent scientific paper called an "underestimated" and "serious coastal hazard" in order to begin plans for a new tsunami warning system for the Great Lakes.
Meteotsunamis aren't new. But not much has been known about them, how or why they happen, where the waves crash most and when until recently.
Unlike wind waves, which can be counted on to arrive on shore every five seconds or so, or the wind-driven seiche wave that results in higher water levels from a "bathtub-like" sloshing that involves the entire length of the lake, the tsunami wave can be unpredictable and harder to forecast.
"A tsunami wave is a very specific kind of wave," Anderson said. "It does look like a seiche, but it's happening much faster."
Sometimes, a rogue wave can catch someone off guard, even on a perfectly clear day.
One like that swept over three swimmers near Cleveland in 2012 and pulled them a half-mile out into Lake Erie. The swimmers were later rescued.
Others on Lake Michigan weren't as lucky:
Seven people drowned in 2003 in what was found to be a "moderate meteotsunami" near Sawyer, Mich.
Seven fisherman died in Chicago on June 26, 1954, when a suspected 10-foot-high meteotsunami swept them from a harbor pier.
Another 10-foot surprise wave hit a Holland, Mich., state park and drowned five in July 1938.
On the Fourth of July in 1929, 10 people were swept to their deaths by a nearly 20-foot meteotsunami in Grand Haven, Mich.
The Ohio incident five years ago started with a passing storm. The initial meteotsunami wave reflected back north across Lake Erie and then back again toward Cleveland, said Anderson, who published a reconstruction study of the incident.
By then, about 4 1/2 hours later, the skies had cleared and the swimmers never saw it coming.
"They come when you don't expect them to," Anderson said. "That's the dangerous part."
Predicting meteotsunamis on the Great Lakes should continue improving, using the observation buoys and stations on the lakes that can measure wind speed and wave heights – along with advanced radar and more precise computer weather models.
He expects a tsunami warning system could be in place on the Great Lakes within a few years.
Driven by wind and changes in atmospheric pressure, meteotsunamis are usually associated with convective thunderstorms over the lake.
"This energy is transferred to the water and creates a wave," said Stephen Vermette, a SUNY Buffalo State professor who oversees the college's meteorology and climatology programs.
When the speed of the storm is synched with the speed of the wave and the storm overhead is traveling along with the wave, a meteotsunami is born.
"It can put all of its energy into the wave as it moves over it," Anderson said.
National Weather Service meteorologist Jon Hitchcock said it happens fairly frequently on all the Great Lakes, including Lake Erie and Lake Ontario.
"A line of thunderstorms with strong winds will move down the lake, and create a relatively minor seiche as winds increase with the line of storms," Hitchcock said.
Hitchcock said that although the waves don't match seiches that often strike Lake Erie in the late fall and winter, wave action can increase enough to create dangerous swimming conditions behind a line of thunderstorms with greater chances for rip currents and a stronger undertow.
Often, that requires the weather service to issue a beach hazard alert for wave heights exceeding 4 feet, Hitchcock said.
Because of the shallowness of Lake Erie, its meteotsunami season is longer than other Great Lakes, which usually peak in the spring.
Researchers found Lake Erie's season runs from the late spring to the late fall.
Anderson's research studied 32 spots throughout the Great Lakes over a 20-year period and found that on average, 106 meteotsunamis occurred annually.
Once or twice a decade, a meteotsunami makes news.
A sudden, unexpected rush of water will overwash a pier, push or capsize boats or rip swimmers or fisherman out into the lake.
"That's when it gets really dangerous," Anderson said.
The Buffalo News: Good Morning, Buffalo
The smart way to start your day. We sift through all the news to give you a concise, informative look at the top headlines and must-read stories every weekday.