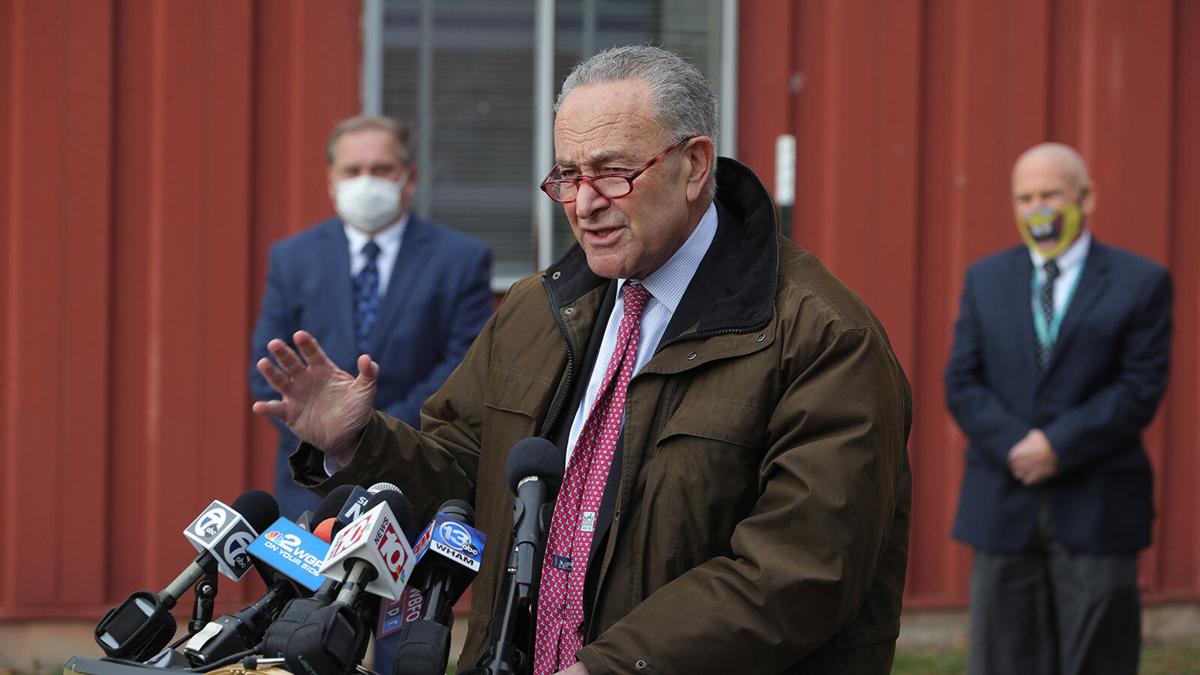 WASHINGTON – With the House moving to impeach President Trump a second time, Charles E. Schumer, the incoming leader of the new Democratic Senate majority, said impeachment won't interfere with his agenda, which includes confirming President-elect Joe Biden's Cabinet nominees and passing another coronavirus stimulus bill that includes bigger individual payments, as well as state and local aid.
In his first one-on-one interview since Democrats won control of the Senate with two runoff victories in Georgia last week, Schumer told The Buffalo News Sunday that he will not be deterred from pushing forward with an agenda that, in addition to a stimulus bill, includes a large infrastructure package.
"We'd like to do it in the first few months," Schumer said. "Of course, we have to get the nominees in place, and we hope our Republican friends, at such a crucial time, won't hold up these nominees. So after that we will turn to these priorities."
Asked if another impeachment trial – which could take weeks – could get in the way of that agenda, Schumer said: "We're going to have to do several things at once but we got to move the agenda as well. Yes, we've got to do both."
Schumer's comments to The News foreshadowed Biden's statement Monday that he is talking with Senate leaders about a plan that would "bifurcate" the Senate schedule so that it could conduct an impeachment trial and legislative business at the same time.
Speaking by telephone from his home in Brooklyn, Schumer said his elevation to majority leader would be a boon to Western New York and the entire state.
"All my minutes in the Congress I spent time thinking of how I can help New York, and now I'll have more clout to do so," Schumer said. "I will use that clout for Western New York and for New York in general."
Schumer is expected to become majority leader soon after Raphael Warnock and Jon Ossoff, the Democrats who ousted two Republican senators in Georgia, are sworn into office. That will happen soon after Georgia's secretary of state, Brad Raffensperger, certifies the runoff election results – which, under Georgia law, can happen no later than Jan. 22, two days after Biden is inaugurated.
Those two runoffs left the party split in the Senate at 50-50. In such situations, the vice president can break tie votes in the Senate, meaning incoming Vice President Kamala Harris, a Democrat, will effectively give Democrats control of the chamber.
Schumer seemed giddy last Wednesday, after the Georgia results became clear.
"It feels like a brand new day," he said at a news conference.
Less than two hours later, pro-Trump rioters stormed the Capitol and ransacked it, forcing Capitol police officers to rush Schumer and his congressional colleagues into hiding in a secure location.
"It was horrible to see what happened," Schumer said in the interview. "I was within 30 feet of some of the protesters. The acts of heroism and courage by some of those police officers were great."
The day after the Capitol riot, Schumer called on Trump's removal from office via the Constitution's 25th Amendment, which allows the vice president and a majority of the Cabinet to vote to remove a president who is "unable to discharge the powers and duties of his office."
In the interview, Schumer said he still prefers that approach over impeachment, which would force the Senate to conduct a trial to decide whether to convict Trump. While it's virtually impossible for all of that to happen before Trump leaves office on Jan. 20, Schumer said last week that impeaching Trump could and should include a charge barring him from ever running for office again.
In the interview, Schumer said: "I have not talked about impeachment other than to say what I've said all along: They should use the 25th Amendment. If that doesn't work, he should be impeached. He should not be in office. Period."
Schumer has said that's because Trump, through his tweets and a speech Wednesday morning calling on his supporters to march to the Capitol, incited the riot Wednesday.
"It will live in the minds of Americans for centuries as one of the worst days in American history," Schumer said. "We have to punish those who did it. We have to make sure Donald Trump gets the full blame he deserves. And we have to make sure it never happens again."
Schumer, 70, will be the first New Yorker ever to serve as Senate majority leader. The person in that post sets the Senate's agenda.
And even though he has the narrowest of possible margins to work with, he said he's confident that he will be able to win passage of another stimulus bill in response to the Covid-19 pandemic that continues to overwhelm the nation's hospitals and batter the economy.
Key to that legislation, he said, will be larger individual stimulus payments than the $600 outlays agreed to in a bill last month and paid out to many Americans in recent weeks.
"These checks are necessary, but they should be higher," Schumer said. "One of our highest priorities – and we have bipartisan support for this – is to get the direct payments to $2,000 per individual. That would be $4,000 for a couple."
State and local aid should be part of the next stimulus package, too, he said. Long resisted by Republicans who portrayed that money as a bailout to fiscally troubled big-spending states, Schumer insists that state and local aid is necessary to avoid government layoffs that would hamper the economic recovery.
"We need direct relief to all the localities – the counties, the cities, the towns, the villages," he said.
Schumer didn't outline exactly what he has in mind in terms of state and local aid, but he said the formula used to parcel out aid in the Heroes Act, a bill passed by the House but which the then-Republican Senate refused to consider, "is good."
Under the first version of that measure, New York would have received $34.4 billion, and more than $1 billion would have gone to the City of Buffalo over two years. A later, trimmed-back version of the Heroes Act would have brought the state $20.7 billion, while Buffalo would have received $432.3 million. Erie County and local municipalities would have received huge sums under both versions of the Heroes Act, too.
Schumer and Sen. Kirsten E. Gillibrand, also a New York Democrat, are expected to spell out their new proposal for state and local aid Tuesday.
Schumer said the next stimulus bill also should include the Restaurants Act, a Democratic proposal that would set up a $120 billion grant program aimed at keeping the nation's restaurants alive amid the pandemic and its related shutdowns.
Noting that restaurants are suffering more than most businesses, Schumer said the Restaurants Act would prop up restaurants for six months.
"Then, hopefully enough people will be vaccinated so that the restaurants can start making money again and open up again," he said.
Biden has made a $2 trillion infrastructure investment the key plank in his economic program, and Schumer is fully behind that idea – which, he said, could pay big dividends for Buffalo.
"We need all kinds of infrastructure in Western New York," he said. "The importance of finishing cars on Main Street, figuring out what to do with the Skyway in Buffalo – these are large expensive projects, but very necessary projects, and a large infrastructure bill would do that and much more."
A big infrastructure bill would also likely create tens of thousands of construction jobs in Buffalo, he added.
A major part of that infrastructure effort will aim to expand broadband internet access both in cities and rural areas. Noting that parts of Buffalo suffer from poor broadband access, as do rural stretches of Niagara, Cattaraugus, Chautauqua and Wyoming counties, Schumer said it is the government's job to fill those gaps.
Noting that poor internet access handicaps children who are trying to learn online, he said: "Franklin Roosevelt in the 1930s said every home should have electricity. In the 21st century, broadband is just as big a necessity and we think every home should have it."
Democrats have not decided yet, though, exactly how to go about trying to pass their infrastructure package. One possibility would be to combine it with the stimulus bill through a legislative process called reconciliation, which would allow Democrats to pass that giant legislative package with a bare majority and block Republicans from filibustering it to death.
Asked about his approach to passing the two bills, Schumer said: "They're both very important, and they both will be very high priorities whether they come across together or separately."
In the interview, Schumer also weighed in on several other issues important to Western New York.
• Schumer said he will push to restore the full state and local tax deduction that the Republican Congress trimmed in its 2017 tax overhaul. Trimming the SALT deduction has hurt high-tax states such as New York, but Schumer didn't sound optimistic about the possibility of restoring the full deduction, which Republicans vehemently oppose.
"We'd love to repeal the SALT cap," which limits the deduction to the first $10,000 of state and local taxes. "That'll be a high priority, but it won't be easy. A lot of people oppose it, but it's important," Schumer said.
• Schumer said he's interested in possibly expanding the number of federal judges in places such as Western New York, where the federal courts have faced long backlogs in dealing with cases.
"There's a real shortage (of federal judges) in Western New York and it is one of the things we'll look at," he said.
• Schumer also reiterated that he's hoping to see a woman appointed to the federal bench in Buffalo. He recommended two women judicial nominees during the Obama administration, but neither made it through the confirmation process.
• Schumer said he has already spoken to Pete Buttigieg, Biden's nominee for transportation secretary, about the last remaining unfinished federal regulation stemming from the crash of Continental Connection Flight 3407 in Clarence, which claimed 50 lives. That unfinished regulation will set up a pilot records database that aims to prevent the hiring of pilots with shoddy training records, such as the one that the captain of Flight 3407 had. The Trump administration is continuing to work on that database.
"If they don't finish it by Jan. 20, I told him (Buttigieg) it's got to be a top early priority," said Schumer, who in 2010 joined the Flight 3407 families in pushing for passage of a comprehensive aviation safety bill that called for the pilot records database.