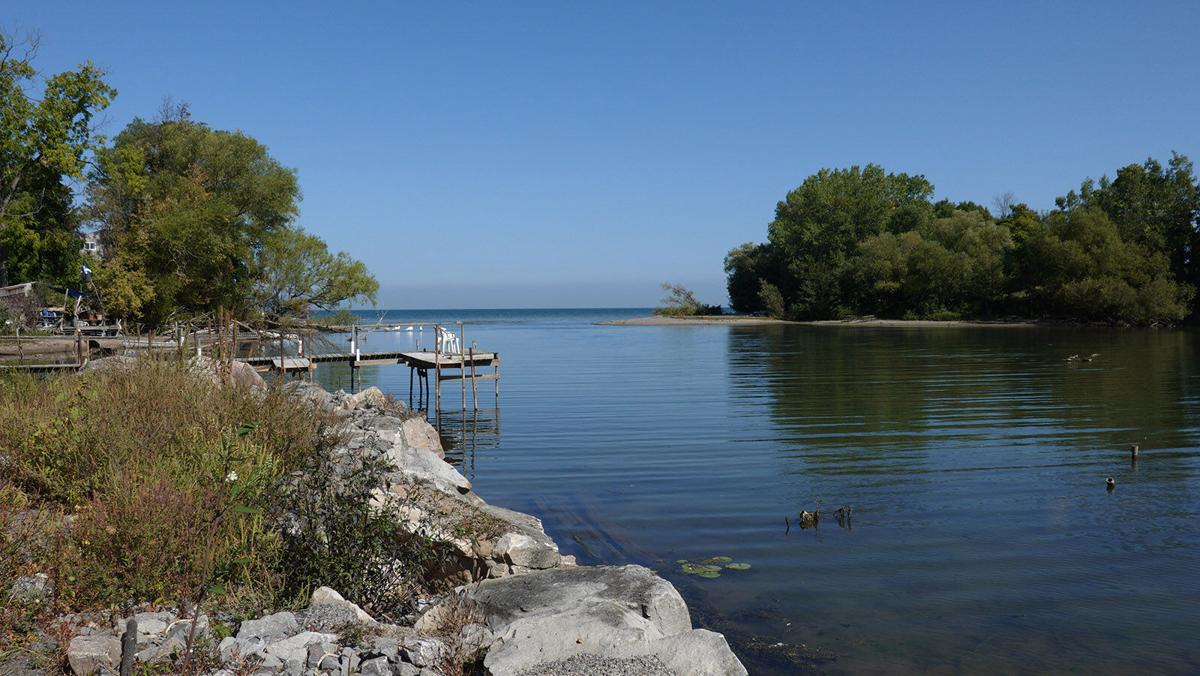 New York's two U.S. senators joined the call for faster outflows from Lake Ontario Tuesday, as the International Joint Commission met to discuss whether to grant permission to send more water down the St. Lawrence River.
Groups of lakeshore property owners have agitated in recent weeks for more water to be let out of the lake now, contending that would reduce the chances of damaging floods next spring.
But the IJC's engineers said during a public webinar Nov. 20 that faster flows would not guarantee those results. They said a snowy winter and a wet spring might trigger floods regardless of current flows.
The senators, however, wrote in a letter to the IJC that they are concerned about the other four Great Lakes, all of which show water levels well above normal for this time of year.
Lake Erie was 25 inches above its long-term average Friday, according to the Army Corps of Engineers. Lake Michigan and Lake Huron were 32 inches above average and Lake Superior was 11 inches above normal.
Although Lake Ontario was only 3 inches above normal for the first week of December, the water from the other lakes eventually will arrive there.
"Particularly as Lake Ontario communities and homeowners are more strained as they confront new challenges due to the Covid-19 pandemic, it is critical for the IJC to reduce water levels now to safeguard Lake Ontario communities from spring flood risks," Sens. Charles E. Schumer and Kirsten Gillibrand wrote.
Lake Ontario already is 15 inches lower than it was a year ago, the Corps said.
The IJC's subsidiary, the International Lake-Ontario-St. Lawrence River Board, regulates the amount of water that flows past the Moses-Saunders Dam at Massena, at the eastern end of the lake.
The board has altered outflows on Saturdays since Halloween, keeping them in a range between 2.13 and 2.18 million gallons per second.
Its decisions are supposed to be governed by the flow targets set in Plan 2014, the IJC's controversial Lake Ontario water management plan, which, despite its name, was approved in December 2016.
Since then, there have been two years of damaging floods, in 2017 and 2019, and two quiet years, 2018 and 2020.
The IJC insists that although Plan 2014 envisioned slightly higher water levels in the lake, the floods were caused by unusually wet weather.
In the Nov. 20 webinar, Anthony David, a member of the Lake Ontario-St. Lawrence board, noted that there were no floods this year although the lake's level was slightly higher this April than it was in April 2019. Drier weather made the difference, David said.
But the IJC authorized deviating from Plan 2014 with speeded-up outflows after President Trump's appointees, including former Assemblywoman Jane L. Corwin of Clarence as co-chairwoman, joined the IJC in May 2019.
"When Lake Ontario's water level climbed to more than 20 inches above the historical average in early 2020, residents were justifiably concerned that they were facing another flood-filled year," Schumer and Gillibrand wrote. "Then action by the IJC to boost outflows and deviate from Plan 2014, combined with some fortunate weather conditions, helped spare the region from a third year of floods."
The IJC already has ordered a three-year study of whether Plan 2014 should be modified.