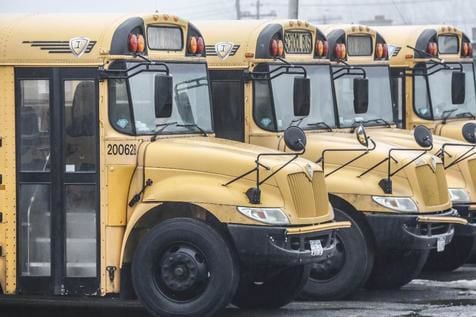 Gov. Kathy Hochul's announcement Sunday that the state will take more aggressive steps to address the pervasive school bus driver shortage couldn't come soon enough for local districts. 
Niagara Falls City School District Superintendent Mark Laurrie said his high school students are delayed between 45 minutes and an hour each day waiting for a yellow bus to take them home. And that extra down time has already led to a couple of after-school fights.
"Kids tend to get idle, and problems tend to occur," said Laurrie, adding that the district has to spend more money on supervision. "There's such a trickle effect."
Many districts have also been forced to run longer bus routes because of the driver shortage, keeping children onboard for far longer than they are used to.
In Buffalo, the region's largest school district is struggling to get a minimum of at least 50 more school bus drivers on the road for the district to function adequately this school year, after it reduced the number of routes from 667 to 515 because of the driver shortage.
Hochul announced a multi-pronged effort Sunday to fill bus driver ranks, with stronger outreach to and recruitment from among the state's half million commercial driver's license holders, as well as the elimination of the two-week waiting period for commercial license applicants and expansion of driver testing sites.
School districts and private contractors in New York State are reporting a 15% to 20% shortage in the driver force.
"While the shortage of school bus drivers is not unique to New York State," Hochul said in a release, "I have directed state agencies to utilize creative approaches and use every tool at their disposal to help districts affected by the bus driver shortage, so we can bring in as many qualified bus drivers as possible as quickly as possible."  
As part of the statewide effort, agencies will survey commercial driver's license holders and share their information about potential, interested candidates with local school districts. The schools can work through these lists to recruit interested drivers in their area. In addition, the state will target currently unemployed drivers through the Department of Labor. 
The state is opening up new commercial driver's license road testing sites by taking advantage of large parking lots at State University of New York, Thruway Authority, New York Racing Association, and the Office of General Services locations. For school staff who currently hold a CDL, the state will set up expedited testing to obtain a permit to drive vans and buses temporarily.
Laurrie said the plan to expedite the commercial driver's license application process is a big help for the district.
"We kind of felt like we were on our own trying to solve this," he said. "So the attention the governor is putting on this is certainly an appreciated and necessary thing."
Buffalo Public Schools Superintendent Kriner Cash said in a prepared statement Sunday that he appreciated Hochul's quick response to what has been a national challenge and looks forward to putting the state's new strategies to use.
"We also look forward to continuing the productive dialogue on other creative approaches that can help close the gap in available drivers," he said.
He has also floated the idea of having National Guard members serve as school bus drivers on an emergency basis.
Buffalo Public Schools Superintendent Kriner Cash on Wednesday raised the possibility of activating the National Guard – among other short term solutions – to mitigate a school bus driver shortage affecting the Buffalo Public School District.
The district needs a minimum of 50 more drivers and up to 167 more to get back to full capacity, he said. Buffalo Public Schools currently has about 500 drivers on the road on any given day. High school students do not take school buses, using regular public transportation instead.
Both Cash and Laurrie said their districts have recruited many new bus drivers. Buffalo's bus contractor, First Student, has received more than 200 applications. But getting interested applicants through the training and application process is lengthy, requiring between 90 to 100 hours of training – in addition to the paperwork – which is why efforts by the state to shorten the application process are helpful.
Commercial driver's license holders are in great demand, and even some full-time bus and trucking jobs are going unfilled. Laurrie pointed out that while Niagara Falls public schools normally offer fresh fruit and vegetable carts for students, there haven't been any in the last two weeks because the person making the delivery is so overburdened with other deliveries because of personnel shortages. 
The fact that school bus driving jobs are part-time makes them less attractive than other positions where CDL drivers could work full time with benefits. School bus companies are offering signing bonuses of $1,000 to $1,500 to entice new drivers.
Laurrie said Niagara Falls bus drivers are needed for only two hours in the morning and two hours in the afternoon. But to encourage more people to consider becoming drivers, the district is offering other part-time work at the schools in the middle of the day for recruited applicants. 
In a prepared statement Sunday, New York State United Teachers President Andy Pallotta said Hochul's short-term efforts are important, but that long-term changes have to be made to recruit and keep school bus drivers.
"Any steps the state can take to expedite the process for obtaining a commercial driver's license are welcome – as are steps on the local level to provide hardworking, deserving drivers with the fair pay and benefits that reflect the critical importance of their work safely transporting students," he said.