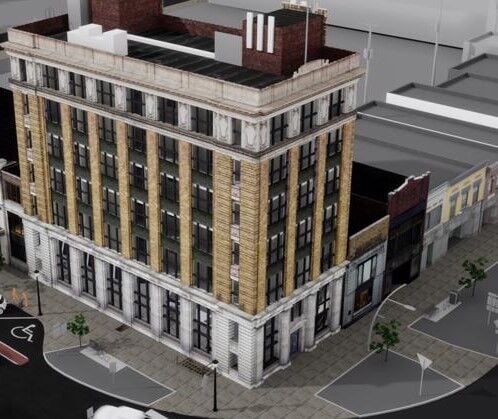 Buffalo developer Samuel Savarino's company has completed its purchase of the former First National Bank building in Olean – better known as the Manny Hanny building – in preparation for a $12.5 million makeover of the long-abandoned historic building.
Savarino Companies paid $183,450 for the seven-story building at 101 North Union St. and the adjacent two-story former Siegel's Shoe Store at 1107 North Union. The deal, which was approved earlier this month by the city and its Olean Urban Renewal Agency, has been more than two years in the making.
Savarino said it has now started construction work on the project to transform the two buildings into a mixed-use commercial and residential complex, with completion expected in December 2021.
"These beautiful and historic buildings have laid vacant for nearly 26 years," said CEO and owner Samuel Savarino. "We hope that our plans for their second lives as a mixed-use community prove to be worth the wait."
The two-tone, brick-and-stone edifice, erected in 1915, was home to the First National Bank of Olean for 57 years, until that bank was acquired in 1972 by Manufacturers Hanover Corp. of New York City – one of the predecessors to today's J.P. Morgan Chase & Co. The buyer, known affectionately around the country as Manny Hanny, occupied it until 1994, but the architecturally significant edifice at the corner of Union and State streets has been vacant ever since.
It was acquired by Southern Tier Environments for Living in 2004 for $150,000, with hopes of attracting a bank, commercial business or retail store for the first floor and apartments above, but that never came to fruition. The city in 2010 took title to the property, which suffered from vandalism.
Allegany-based Kinley Corp. had also planned at one point to redevelop it for ground-floor retail space and student or upscale apartments, as did Olean businessman Louis Magnano, who considered it for a boutique hotel.
And Carl and William Paladino's Ellicott Development Co. – which had owned the building two different times but sold it – has long toyed with the idea of a project, but ultimately turned down the city's entreaties to take it on.
The Siegel's building, meanwhile, was purchased by the city in a tax foreclosure auction and handed over to the Urban Renewal Agency. It had suffered water damage as a result of vandalism and a broken skylight, and city officials considered demolishing it, but ultimately sought to package the two buildings together instead since their walls touch.
Savarino just purchased both buildings – with Olean Mayor William J. Aiello personally handing the keys to Savarino on Nov. 19.
He now plans to convert the grandiose and high-ceilinged former ground-floor bank branch and offices into an art gallery, event space and a café. The upper six floors will contain 21 market-rate luxury apartments. Next door, the Siegel's building will become commercial office space.