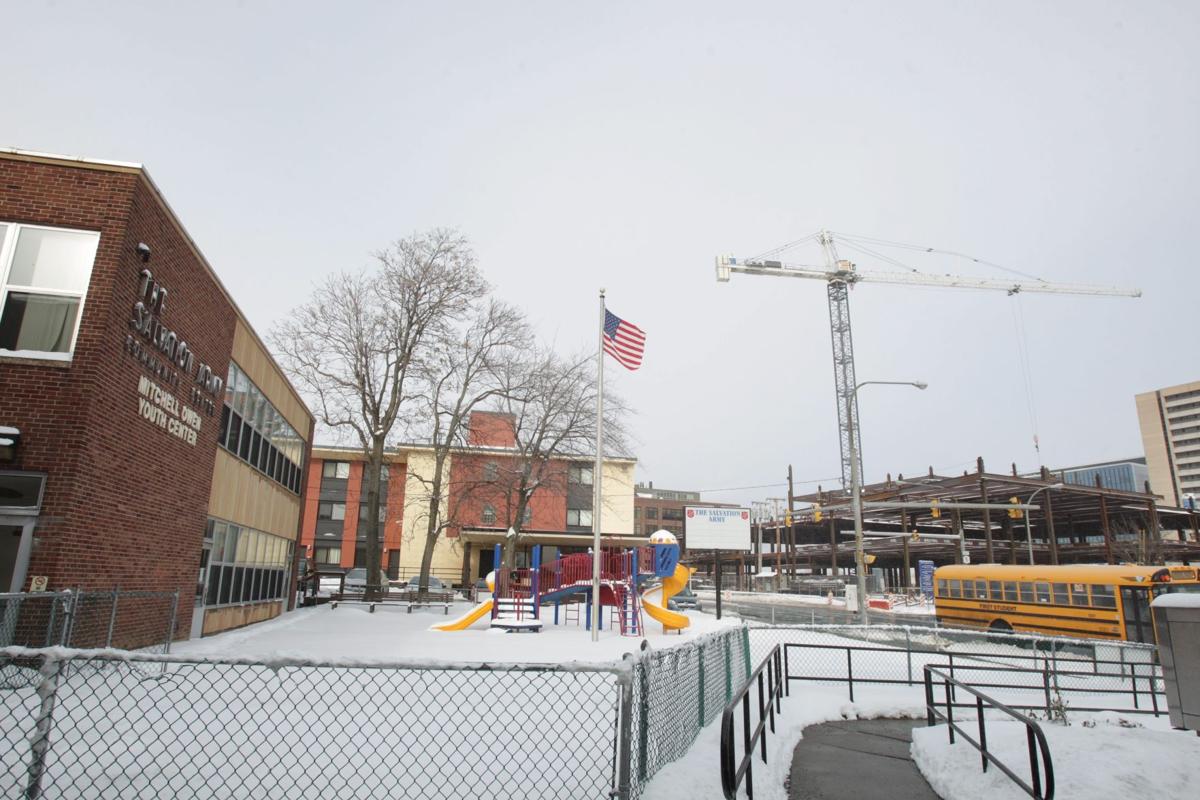 Five years after a developer acquired its neighboring building and then tried to buy its Main Street headquarters, The Salvation Army of Greater Buffalo Area Services has turned the tables, in one of several recent large transactions over the past month totaling more than $37 million. 
The Western New York division of the Christian-based charity bought the former home of EPIC-Every Person Influences Children at 1000 Main, paying $1.85 million to a partnership of investor Ronald C. Toski's Lakewood Management Services and Ciminelli Real Estate Corp.
Laurie Ellicott Krajna, the nonprofit's director of development, said The Salvation Army doesn't have any plans for the site yet. But the one-story building – which the partnership had owned through 1000 Main Street Development Company – is adjacent to the charity's existing operations on 2.1 acres at 960 and 984 Main St.
Combined with nearly an acre from the EPIC building, The Salvation Army now has about three acres at Main and High streets.
"An opportunity came up, when that came up for sale, for us to expand our footprint in the community, and we jumped on it," Krajna said. "It just gives us the flexibility. Now we have a larger footprint, so if we had to move some of our programming at 960 into that building, it just gives us a larger area to consider."
The building, constructed in 2001 on 0.8 acres, includes 27 parking spaces. It currently has a couple of tenants, but EPIC previously moved to Broadway.
Ciminelli had purchased the 14,548-square-foot facility in late 2015 for $2.185 million, citing its proximity to its Conventus Building and the larger Buffalo Niagara Medical Campus, with the potential for more development. The Buffalo-based firm even tried to negotiate with Salvation Army to purchase its nearby building but the discussions fell through, in part because the nonprofit would have needed a new location.
Krajna said the agency has since conducted a program study in the community to evaluate what services were needed and where, and how Salvation Army should react. That study identified a need for more affordable housing and a food pantry, along with other services in the neighborhood where it was already situated.
Krajna said Salvation Army financed the deal through investment income and "some very generous" donations and bequests it received within the last year.
In other recent deals, according to documents filed with the Erie County Clerk's Office:
• Life Storage completed its $12.53 million purchase of 400 and 410 Kenmore Ave. and 39 Seattle St. in North Buffalo from Dash's Market owner Joe Dash. Life Storage, which already converted the former Budwey's Market at the site into a self-storage facility, plans to erect a second one across the parking lot.
• A Southern California firm, Summit Equity Investments of Studio City, bought a pair of apartment buildings last month for over $10 million. The company paid $7 million through two limited liability companies to buy the four-story apartment building at 1040 Delaware Ave., and $3.4 million to acquire the Village Square Apartments at 6551 East Quaker St. in Orchard Park from James F. Jerge Jr.'s 6551 Quaker LLC. Formerly the vacant Lutheran Nursing Home until a 2013 renovation by Greenleaf & Co. and Paul Kolkmeyer's Priam Enterprises, the Delaware Avenue building has 49 one- and two-bedroom apartments and 2,000 square feet of office space. 
• Drs. Michael Rickwald and Stacy Dralle-Rickwald, through OPV Realty LLC, bought the Orchard Park Veterinary Medical Center at 3930 N. Buffalo Road in Orchard Park from Drs. David and Mary Brummer's 3519 N. Buffalo Road LLC, paying $6.21 million for the 3.1-acre property. All four are doctors at the practice.
• The acquisition of bankrupt retailer JC Penney Co. by national mall owners Simon Property Group and Brookfield Asset Management triggered the sale of real estate, including the $4.97 million sale of the Boulevard Mall store at 1303 Niagara Falls Blvd. in Amherst. The store is still open.
• Jeffrey T. Kuhn, former president and CEO of Hamburg Overhead Door, sold the company's headquarters property at 5659 Herman Hill Road in the Town of Boston to his son, Jason A. Kuhn, for $3.04 million. The seller was Boston Holdings LLC, while the buyer was 5659 Herman Hill LLC.
• Stark Real Estate Holdings of Tonawanda bought the 34,000-square-foot single-story office building at 2100 Wehrle Drive in Amherst from FLC Spindrift Drive Associates for $2.65 million. The seller is registered to Ciminelli Real Estate Corp.
• Real estate investor Ralph C. Lorigo sold more than 10 acres of vacant land at 5695 and 5731 Transit Road in Clarence – across from Transit Middle School – to David Kulbacki's Kulbacks Construction, through GS 5731 Transit LLC, for $1.75 million.
• West Herr Automotive Group, through WHAG Properties II LLC, paid $1.45 million to buy the former Chet Kruszka's Service station from Michael Kruszka.
• Agree Realty Corp. a real estate investment trust based in Bloomfield Hill, Mich., paid $1.07 million through Agree Stores LLC to buy the 1.7-acre property housing a Gerber Collision & Glass shop at 5788 Camp Road in Hamburg from Gerber Real Estate of Elmhurst, Ill.
• Linda Shay of Dansville, through Hasco Realty LLC, sold 3781 Broadway in Cheektowaga to Michael Lynch's 3781 BCNY LLC of Phelps, N.Y., for $1 million. The six-acre property includes a 29,038-square-foot warehouse, built in 1962, and is home to McCarthy Tire Service.
• Alden State Bank completed its $740,000 purchase of a former Citizens Bank branch at 6545 Transit Road in Clarence, where it plans to open a new branch of its own.