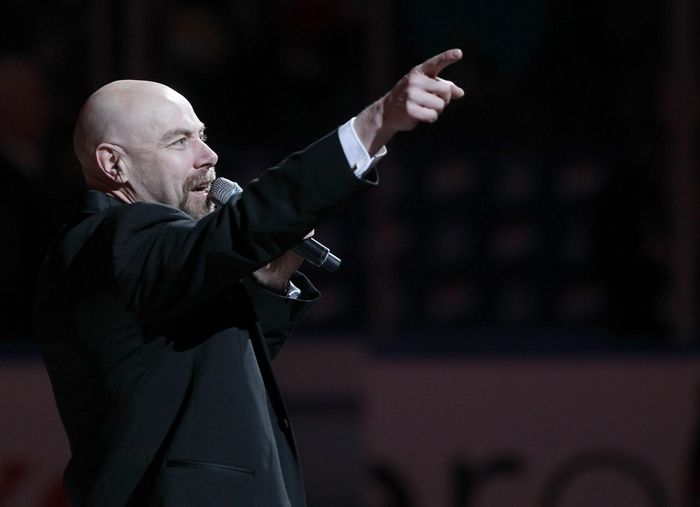 It's Saturday night, 12 minutes to game time in the First Niagara Center. A pair of Zambonis take a final lap around the ice. Fans file to their seats, balancing popcorn, beer and pretzels, awaiting the faceoff between the Buffalo Sabres and New Jersey Devils.
Standing in the bay of the Zamboni entrance is a sharply dressed man with neatly trimmed goatee and a cranium shaved as smooth as the just-cleaned ice. As the saxophones and trumpets of the 1997 hit "Zoot Suit Riot" blare through the loudspeakers, the man shuffles his feet to the beat.
To the unknowing eye, he might look nervous. And with good reason. Doug Allen is about to spend 150 seconds with 19,000 pairs of eyes and ears focused on him as he performs "O Canada" and "The Star-Spangled Banner." But the only thing nipping at his nerves is the need to keep his tuxedo tie on straight. "It gets crooked on me," he says.
Singing the anthems? No stress there. Allen has done this for 20 years. For the last nine seasons, he's been a fixture at First Niagara Center, singing at every Sabres game except those that conflict with his church obligations.
Now "Mony Mony" playing. Allen stretches his neck left and right, and loosens his vocal cords by harmonizing with the "Yeah! Yeah!" of the chorus.
A woman sitting in an aisle seat cuts into his warm-up.
"Excuse me!" she says. She's holding an iPhone. "Can I take your picture?"
Allen turns and flashes a smile. The woman holds up her phone, clicks a photo. She's capturing a moment with the man known as "The Anthem Guy," but that's not all there is to Allen. One day earlier, he was dressed in a much different uniform, doing tasks far less dazzling.
And the next morning, he would be singing again, on a stage much less glamorous, but one Allen considers far more important than any other.
In his tux, the 49-year-old Allen looks resplendent. He sings with the command of an opera star and delivers certain star-spangled syllables with the enunciation of a sportscaster: "…rockets' red glare, the bombs burst-ing in air."
He comes across as high class. Relatable, yes, but a cut above those of us who can't sing like him. And that gets Allen noticed. Once, at a gas station, the guy at the pump ahead of him recognized Allen and called out, "I thought you'd be driving a Cadillac!"
Recalling the story, Allen laughs. "No, it's a Saturn," he said, "and it's used."
That used car, and the places he drives it nearly every day, are the side of Allen very few hockey fans see. For nearly 23 years, Allen has worked for the Buffalo City Mission. Every Monday through Friday, from 7 a.m. to 3 p.m., Allen works as the facilities coordinator at the Mission's facility for homeless men, doing everything from shoveling sidewalks to repairing showers and toilets. He works from a basement office crammed with tools, spools of cord and wire, and shelves stocked with handy materials like bleach and Goo Gone and rubber-grip gloves.
On a recent Friday afternoon, Allen's to-do list looked like this: test the Mission's emergency lights and fix any problems; mend a broken door frame; and on a day with single-digit temperatures, see if he could finally get the salt to melt the ice in the driveway once the sun was at noontime shine.
If Allen's Sabres style makes him look regal, his City Mission uniform is pure rank and file: a blue-collar button-down with "Doug" embroidered on the right chest and "Buffalo City Mission" emblazoned on the left; neat-fitting, crisp blue khakis with cargo pockets on each leg.
"It's almost like Jekyll and Hyde," said Mike Smith, the Mission's associate executive director and Allen's boss. "You've got a celebrity, and a janitor. He's very humble."
This wasn't where Allen expected to be in life. He grew up on a small dairy farm in Gowanda that has been in his family for 170 years. The youngest of six children, Allen sang with his parents, Wesley and Dorothy, who performed at events around town. He graduated from Houghton College in 1986 with a music education degree and taught for the next three years, but admits working in the classroom "wasn't a burning desire."
"Teaching was something that could pay the bills until I became famous," he said with a laugh.
Allen dreamed of making it big on stage, and after three years of teaching, enrolled in a master's program at the University at Buffalo focused on music and theater. He wanted a job that would fit his college schedule, and found one in 1991 as a security guard for Cornerstone Manor, the City Mission's facility for women and children.
He had no intention of sticking around, but as Allen's life evolved, the Cornerstone Manor and City Mission job continued to fit. The job has provided a steady income, albeit a low one, as is common for a nonprofit. It also provided health care, which was important when he married his wife, April, in 1992, and even more vital as their family grew. (They have three children: Genesis, 16; Noah, 14; and Nathan, 11.)
Allen earned the master's degree, though his career in theater never materialized beyond a couple of shows. Instead, he settled in at the Mission, switching to a maintenance role with Cornerstone in the late '90s, shifting to the men's facility in 2008, and recently receiving a promotion to facilities coordinator.
"When people ask about my education, they are surprised I'm a maintenance guy," Allen said. "We all have strange paths in life, and that's mine."
During that same time period, Allen's role with the Sabres also evolved. In the early '90s, he sent the team a demo tape of himself singing the anthem, which landed him on the team's list of regulars through most of that decade and the early 2000s.
In 2005, the team decided to go with one primary anthem singer.
"Doug was the guy who stood out among everyone," said entertainment veteran Rich Wall, who then oversaw the Sabres' game-day presentation.
Allen is remarkably consistent: A video of him singing one night can be difficult to discern from the next. His voice marches through the anthems, delivering them with a cadence and enthusiasm that energizes fans and players. And there's an added benefit for the game-presentation crew: He uses a two-minute, 30-second organ track that makes it easy to plan commercial breaks.
"In our business, timing is everything," said Jenifer Rehac, now the team's director of game presentation. "Doug brings a little bit of tradition to the game. He sings it as it's written to be sung."
And he does it with just the right amount of pizzazz. On "land of the free and the home of the brave" Allen points to the crowd and, if a camera is trained on him, into the lens. Invariably, the fans erupt.
"That's the one piece of artistic latitude Doug takes," said Wall, who left the team in 2009 and now works for the Buffalo Niagara Film Office. "He really wants to emphasize to the crowd, 'This is your anthem.' He punctuates that feeling."
One time, Allen punctuated it a bit too much by dropping "Oh, say," at the end of the song and ad-libbing, "Tell me Buffalo, does that star-spangled banner still wave?"
Before the next game, Allen said, Wall reminded him, "Stick to the words."
Allen, who prides himself on keeping a level head, admits, "I've had my minor slip-ups. I blame that on ego."
Though Allen hasn't repeated it, even that isolated misjudgment elicited a huge roar from the crowd. Like the chorus of the Bills' "Shout!" song or longtime WKBW viewers yelling "Irv!" Allen's presence has become a part of Buffalo-specific pop culture: the point, the bald head, the goatee. Google him and you'll find Doug Allen tribute sites, fans dressed like him for Halloween, and YouTube videos of him performing in venues of all types. He earns part-time money singing at weddings (a bride once hired him to pop out of the curtain behind the head table to surprise her hockey-crazed groom), birthdays, corporate events and more.
Via Facebook, Allen's wife heard about a little boy who wanted his birthday cake to have "the pointer man" on it. The dutiful mom used decorating dough to fashion an edible, pointing, Doug Allen cake topper.
It's a highly concentrated form of fame, one that creates some funny anecdotes. Allen has been followed while shopping in BJ's. Every once in a while, when a fan notices the "Anthem Guy" bumper sticker on his Saturn, they'll slow down to shoot a cellphone picture of Allen himself – while driving.
The rock-star treatment is at its fullest in First Niagara Center, of course. After he sings, Allen heads to the 100 level, where he stands at the back of a section for a period or two, talking to fans and posing for pictures before heading home to his family. As he walks through the halls, fans greet him with, "Dougie!!!" and dish out the praise:
"You have the greatest voice, man!"
Allen keeps the feedback in perspective. He knows he's a good singer, but points out there are plenty better. He gets paid for appearances and by the Sabres (he won't divulge how much) but doesn't consider himself a professional. "I don't make a living at it," he says. "That's the difference."
He knows he's been successful. "I've sung in front of millions of people," Allen said, including both in-arena and television audiences.
But he's not yet reached that childhood goal of working as a well-known, full-time performer.
"Have I gotten to where I want to be?" he asked. "No."
If Allen has higher goals, why not pursue them? With his voice, his exposure and his charisma, he's well positioned to, say, build a measurable and reachable fan base via Twitter, develop a full-length album, perform at local venues, land some opening gigs for national acts, and see where his career can go.
He's open to most of that. (Not so much Twitter. "I don't feel a need to be sharing my thoughts with people every hour," he says.) But he's not going to chase it down.
The answer can be found in the place where Allen takes that used Saturn most days after leaving the City Mission. It's also the place where he can be found performing – and worshipping – every Sunday morning: Fellowship Wesleyan Church in West Seneca.
A devout Christian who was born again in college, Allen is the church's worship director, which means he plans music to accompany Senior Pastor Neil Koppen's weekly message. Allen spends about an hour at the end of most workdays in the church office. He also rehearses with a group of musicians every Thursday night – which is why you won't see him sing the anthems those evenings – and leads the group on Sundays.
In front of the congregation, Allen is passionate and demonstrative, singing with his palms open, his eyes closed and head titled up high.
"Doug singing at church is more impressive than at a Sabres game," April Allen said.
That passion and faith is the root of the reason why Allen has stayed at the City Mission. It's also why he's open to bigger opportunities as a musician, but instead of chasing possibilities – which could also result in losing his focus – he's choosing to do well with the work in front of him.
"Why pound on people's doors," he said, "when I'm already in their homes?"
On a recent Sunday, Koppen was preaching to his congregation about God's plan for each person – one, he said, which is already made, but not known to us. Allen was sitting just steps away, listening to words that perfectly captured his view on the future.
If God's plan is for him to make it bigger as a musician than he already has, then so it shall be.
"It's not a burning desire that I have to have," he said. "If that's where God wants me to be, then someday it'll happen."
And if not? Then he can keep on pointing to the thousands of fans he already has.